Added another bunch of SPS to Stake
Splintershards (SPS) is the governance coin of the splinterlands game. This is a leading play-to-earn game and we can earn real money through playing game. This was not possible before but now its a reality that we can earn money through games. I also earn money here but I reinvest all the earnings to add more value to my account. Its because I believe in the game for the long term and trying my ways to increase the overall holding. My game holing includes cards, packs, lands, and tokens, etc.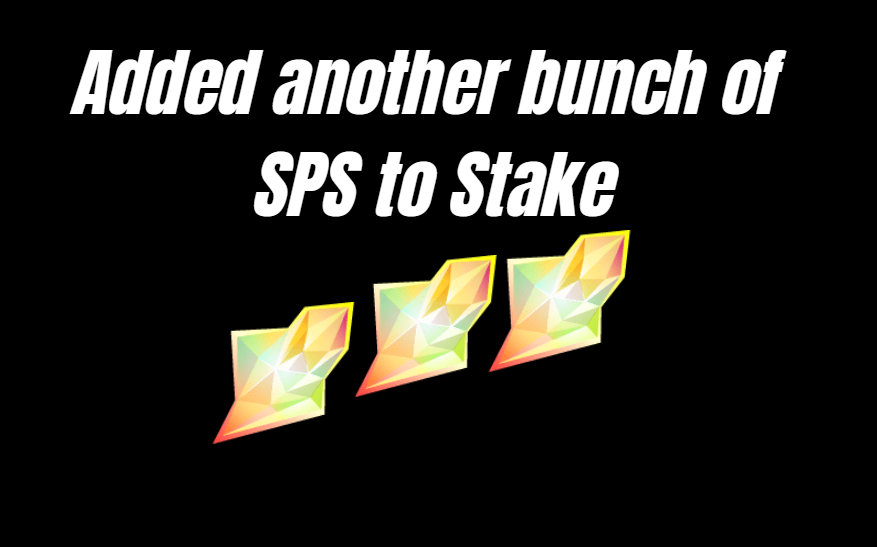 In this post today I am talking about SPS token only. SPS token was launched last year and since then it was airdropped to all the game players holding assests in the game. Luckily I had good assets and I was able to earn 100 tokens through airdrop and all of it I tried to accumulate. Its free money and I decided to hold it all for the long term so that even with airdrop I can build a good portfolio.
Like I said that I have been accumualting all SPS tokens received through airdrop but I also kept on buying the tokens from the market. This sps stake was also helping me to earn a good number of tokens but with each passing game season, the drop was reducing and it was because of the inflation. I was able to deal with the inflation through the ongoing apr. I set up a goal to have 100k SPS in my account in locked form. Keeping these tokens idle does not bring any return and this is why its always recommended locking the tokens.
Below is the snapshot of my current SPS holding and now I hold 72k SPS tokens in my account. As my goal is to have 100k SPS in my account so now I am left with 28k SPS and hopefully, I should be able to achieve the mark by year-end. Now the price is increased so I will also keep an eye on the price to see if there is any opportunity to buy. When the price goes down then its a good idea to buy and stake because the offered APR is more than 30%. It was increased to 40% now there is a dip and this APR is consist of the voucher tokens. This voucher token has also got some use case so I expect that this will be more valuable. I am not sure whether it will be able to reach its all-time high price but it should grow.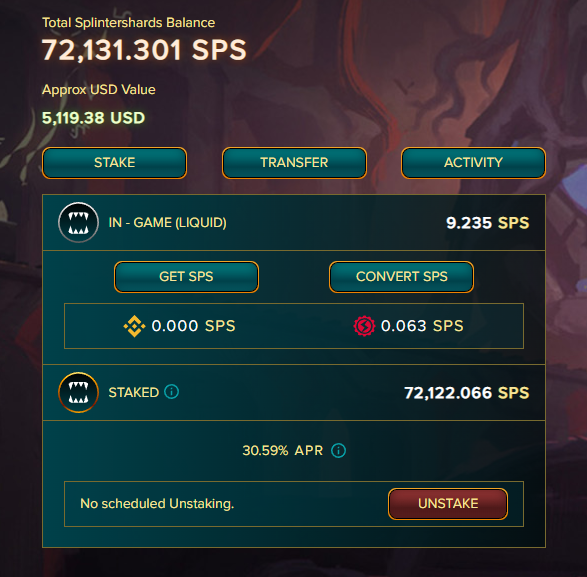 I have 3 months to make the sps stake 100k and if I want to achieve then I need to buy more than 9k sps in a month. This sounds like a higher amount but you never know when we can see some buying opportunity in the market. My plan to buy a license is still on and I am thinking long-term here. I expect that license will be even more valuable later so buying now can be a good idea however I need to spend more money. With the license, I hope that I should be able to earn some SPS and that can also help me to reach my goal faster.
I have taken a pause for card buying because focusing on multiple things is not good and this is why I try to focus on one thing at a time. Let's see how things will turn out in the next few weeks and where I reach with my overall plan. I will keep on sharing my update from time to time whenever there is a chnage in the number of the strategy that I follow with splinterlands.
Thank you.
Posted Using LeoFinance Beta
---
---