SPS moving to $1 ? Road to 10k SPS Tokens | #Play2Earn
Gaming is now not just for fun and entertainment but it has also become a segment for investment. It has certainly opened a door of investment opportunities where if we put the money right then it can get our investment multi-folded. Choosing the right platform and project is definitely important now those who are on splinterlands can say they have made the right choice. Its because the splinterlands game is growing significantly and to be honest it was not expected at all. Ultimately it really matters how much we are in profit and the kind of action the splinterlands team is taking seems like its just the beginning and there is a lot to come. So a question raise that what should we do to be part of this growing journey and reap the benefits? If I answer this question then I would do nothing instead of holding all your assets and that's all. This simple strategy will help us gain more benefits and returns.
Play to Earn is trending on alternate social media but I think that Stake to earn is also a great way on splinterlands which is now a leading blockchain game. Like Defi and NFT now blockchain gaming is trending and a lot of people have started exploring this segment to invest and I expect that things move significantly upward in gaming on the blockchain. Gaming is an additional segment of the crypto space.
---
SPS tone price has up by more than 25% in the last 24 hours and currently trading at a price of $0.90 approx which is 1.11 HIVE. It could be because upcoming CL packs and the pre-sale will be live in a week's time. There will be VOUCHERS provided daily based on the SPS staking which simply means that holding more SPS will make us eligible for the higher amount of vouchers allocation which will enable us to buy more CL packs. I expect with this speed price of SPS will touch $1 soon and this will all-time high price for SPS.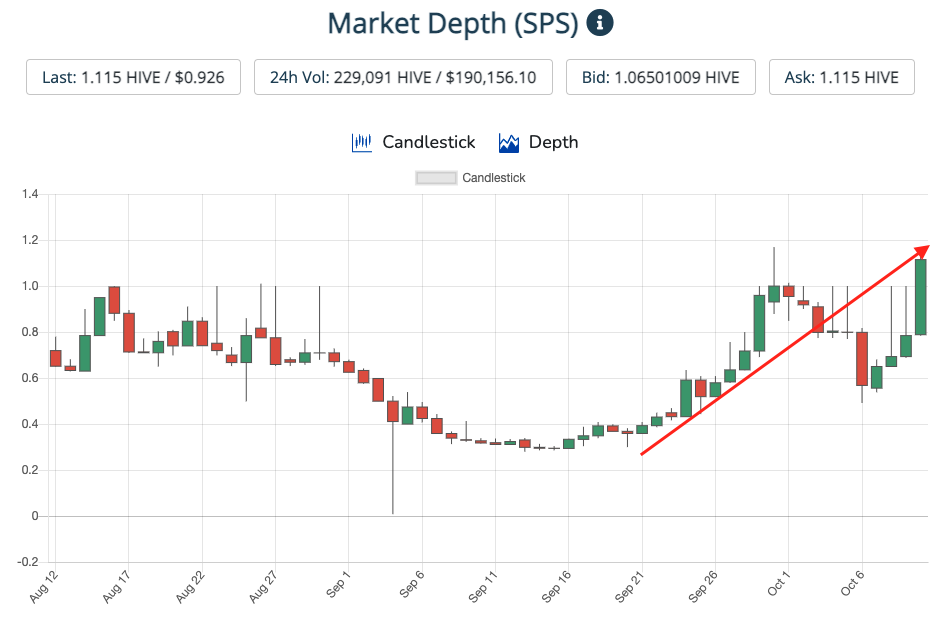 src
People say that they missed to invest in bitcoin and I think that there many projects which can give us similar returns we invest in at the right time. SPS token price has tripled in the last 2 weeks time and what else can we expect from any coin because getting 3X returns in 3 weeks is amazing.
---
I have been staking all my SPS airdrop tokens every day and now have almost 7k tokens. Its been 75 days of the airdrop and I am able to stake this much which values around 6.3K USD as per the current market rate. This value has increased because of the increase in SPS rice in the last 24 hours.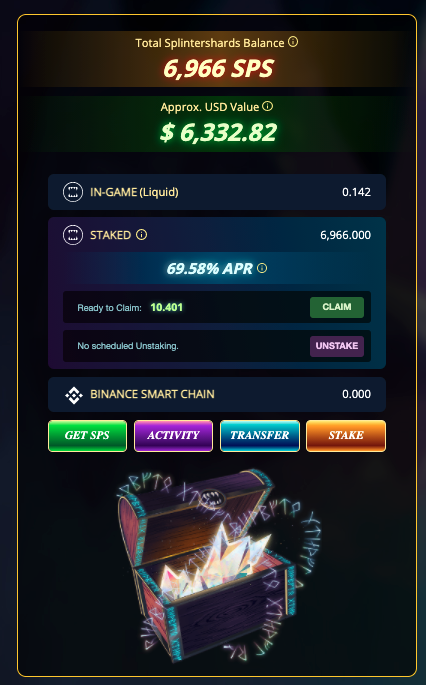 src
There is a tool https://www.splintercards.com/ which you can use to check and eligibility. Based on my staking balance as of now which is almost 7k so I will be getting 2 VOUCHERS every day. Now since I will be getting more SPS tokens which I stake then my stake will slightly increase. Earlier I was getting approx 85 SPS daily but this week I have increased my DEC holding so now I am started getting over 100 SPS tokens and now I am planning to increase this holding even further so that my daily airdrop gets higher even more.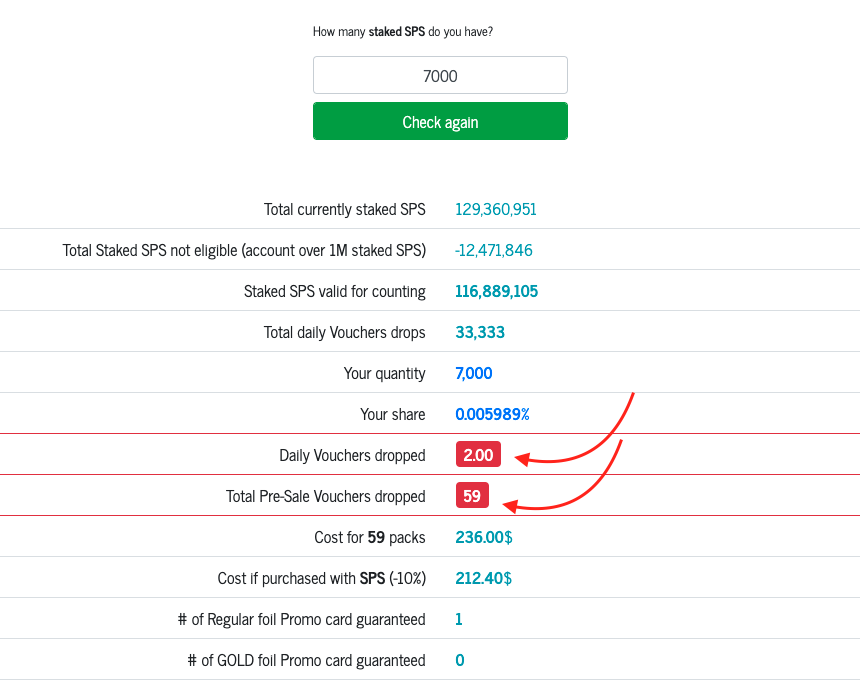 src
Now I have SPS holding of almost 7k tokens and my goal is to have 10k tokens soon. Although daily airdrop is getting staked and I wanted to buy more price is up so I am holding for now however whenever I see a good dip then will surely buy and in crypto anything is possible. I. Even if it does not happen then I expect that by mid-Nov month I would have 10k SPS staked in my splinterlands game account.
---
Overall I am very happy with my SPS Staking experince on splinterlands so far and going to hold all my SPS tokens. Selling at a high price now can be good profit in short term but in long run, it will give much more so its important to have a long term vision rather than booking profit in short term. SPS is now a newly added part of my crypto portfolio and its not less than bitcoin in my opinion and that's why I am focused on this token as it can give a great earning opportunity in the long run. Now I battle and stake every day on splinterlands.
Thank you so much
Posted Using LeoFinance Beta
---
---