[ENG/ESP] [Silver II League] amaillos's end season 58 rewards! And some tips! Recompensas de final de temporada y algunos tips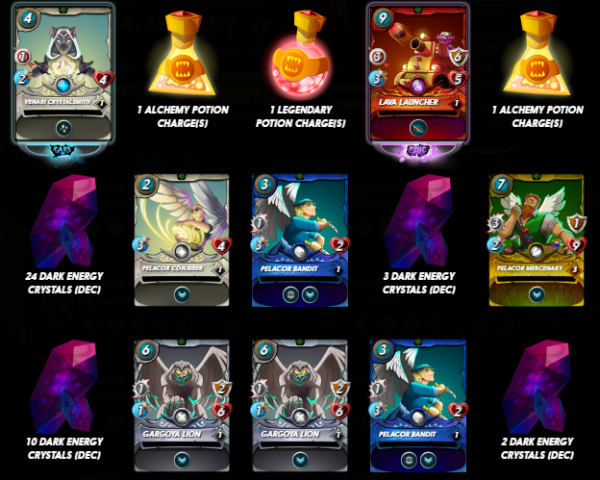 First of all, i published this in my splinterlands account @amaillo-m then edit>copy>delete, just to re-post it here lol. Also i can edit it more freely in this way, so is for better.
En primer lugar, publiqué esto en mi cuenta de splinterlands @amaillo-m, luego edit> copiar> eliminar, solo para volver a publicarla aquí lol. También puedo editarlo más libremente de esta manera, así que me es para mejor.
Oh heavens! in this season i had a big improvement in resources management in rents xD, I went from renting a few expensive cards to A LOT of cheap cards (0.10 DEC per day, except chicken, kelp and goldies) and i must say that renting more cards is better, at least in silver that is when have a wider range of possibilities really really helps.
¡Oh cielos! en esta temporada tuve una gran mejora en la gestión de recursos en rentas xD, pasé de rentar unas cuantas cartas caras a MUCHAS cartas baratas (0.10 DIC por día, excepto el pollo, kelp y y las cartas doradas) y debo decir que rentar más cartas es mejor, al menos en plata que es cuando tener un abanico más amplio de posibilidades realmente ayuda mucho.

Match Report
Performance
| Stat | # |
| --- | --- |
| Silver Rank | 4946 |
| Rating | 1878 - Silver II |
| Rating High | 1878 |
| Ratio (Win/Loss) | 1.00 (221/221) |
| Tournament Ratio (Win/Loss+Draw) | 1.40 (14/10/0) |
| Tournament Reward Placements | 0/2 |
| Longest Streak | 8 |
For the first time since i'am playing was able to reach Silver I Elo! WOW! (the past season i reached Silver II Elo, but just in Elo i was still in Silver III). Sadly i d was not specting something like this so i don't rented out enough cards to achieve the power to get in silver I, welps, will be for the next season i guess.
¡Por primera vez desde que estoy jugando pude alcanzar suficiente ELO para Plata I! WOW! (la temporada pasada llegué a Plata II, aun que solo en ELO, pues seguía siendo Plata III). Lamentablemente, no estaba esperando algo como esto, así que no renté suficientes cartas para lograr el poder suficiente para rankearme en Plata I, bueno, será para la próxima temporada, supongo.

Rewards Report
Standard Foil Cards
| Rarity | Quantiy | 🔥DEC🔥 |
| --- | --- | --- |
| Common | 18 | 90 |
| Rare | 6 | 120 |
| Epic | 3 | 300 |
| Legendary | 0 | 0 |
| Total Standard | 27 | 510 |
No legendary cards, but to me 3 Epic is just great!. IIRC got 2 Lava Launchers and 1 Uraeus.
No hay cartas legendarias, pero para mí 3 Épicas es simplemente genial. Si no recuerdomal, conseguí 2 Lava launchers y 1 Uraeus.
Gold Foil Cards
| Rarity | Quantiy | 🔥DEC🔥 |
| --- | --- | --- |
| Common | 1 | 125 |
| Rare | 0 | 0 |
| Epic | 0 | 0 |
| Legendary | 0 | 0 |
| Total Gold | 1 | 125 |
I got my first Gold foild card today! AAAHHH ! i was so excited when i saw it! Was Pelacor mercenary.
Conseguí mi primera carta dorada hoy ! AAAHHH! Estaba muy emocionado cuando la vi! Fue Pelacor mercenary.
Loot Chests
| Reward Chests | Dailies | Season | Total | 💲DEC💲 |
| --- | --- | --- | --- | --- |
| Legendary Potions | 5 | 1 | 6 | 240 |
| Alchemy Potions | 3 | 2 | 5 | 250 |
| DEC | 124 | 39 | - | 163 |
| UNTAMED Packs | 0 | 0 | 0 | 0 |
| Cards (Total) | 20 | 8 | 28 | 635 |
Captured DEC (Ranked Rewards)
| Ranked Play Wins | DEC Earned |
| --- | --- |
| 221 | 660 |
Total Ranked Play Rewards
Total Ranked Play Earnings
1948 DEC
Ooh! 1948 DEC, awesome.
Oh yeah talking about rents, did you know that you can extend the rents that you already have using peakmonsters? just go to your dashboard here https://peakmonsters.com/@YOURUSERNAME/cards and check it out! i learned about this some days ago, also, you can click on "Compare your rentals" to check the rental market price at the moment and compare with the yours, is a great tool!
¡Oh! 1948 DE DEC, impresionante.
Oh, sí, hablando de rentas, ¿sabías que puedes extender las rentas que ya tienes usando Peakmonsters? solo ve a tu panel aquí https://peakmonsters.com/@TUNOMBRE/cards y ¡échale un vistazo! Me enteré de esto hace unos días, además, puedes hacer clic en "Compare your rentals" para comprobar el precio de las cartas en el mercado de rentas en este momento y comparar con las tuyas, ¡es una gran herramienta!

Rental Report
| Type | DEC (fees) |
| --- | --- |
| Revenue | 30.299 (1.516) |
| Expenses | (2138.740) |
| Cancellation Refunds | 137.882 |
| NET | (1972.075) |
Then... i got 30.299 DEC from rentals, but used 2138.740 in rentals and also got some DEC refunded to end with a loss of 1972.075? Huh.... if we do 1948-1972 = -24 DEC! I did the changes in my rentals on the first week of the season, so probably a lot of my loss are for the first rentals, the rest probably were just the gold foild cards.
Entonces ... ¿obtuve 30.299 DEC de las rentas, pero usé 2138.740 en rentas y obtuve un reembolso de DEC para terminar con una pérdida de 1972.075? Eh ... si restamos 1948-1972 = -24 DEC! Hice los cambios en mis rentas en la primera semana de la temporada, por lo que probablemente gran parte de mis pérdidas sean por los primeros alquileres, el resto probablemente fueron solo las cartas doradas para subir el poder.
Hey, If you want to save DEC on gold foild rentals, try to rent Rare cards (but not the new ones, rent the older ones) at less than 4 DEC per day, those are usually the most balanced cards in terms of POWER and price.
Oye, Si quieres ahorrar DEC en el alquiler de cartas doradas, intenta cartas raras (pero no las nuevas, alquila las más antiguas) por menos de 4 DEC por día, esas suelen ser las tarjetas más equilibradas en términos de PODER y precio.

SPS Report
| Type | Amount Claimed |
| --- | --- |
| Airdrop | 2.135 |
| Staking Rewards | 0.161 |
| NET | 2.296 |
My stacking is being upgraded everyday, sadly i don't think to be capable to get at least 100 in the next season to get a 1 VOUCHER in the presale... Talking about vouchers, did you (yes, YOU!) know this tool? https://splintercards.com/tool-vouchers.html you can check how many VOUCHERS you will get with a X quantity of SPS stacked, pretty neat huh! So, to have 1 VOUCHER per day you need to have stacked 2980 SPS currently, PERFECT! (for rich people e_e, lol).
Mi stacking se mejora todos los días, lamentablemente no creo que sea capaz de obtener al menos 100 en la próxima temporada para obtener un 1 VOUCHER durante la preventa ... Hablando de VOUCHERS, ¿sabías que puedes comprobar cuántos VOUCHERS obtendrás con una cantidad X de SPS stackeados aquí? https://splintercards.com/tool-vouchers.html bastante bien ¡eh! Entonces, para tener 1 VOUCHER por día, necesita tener 2980 SPS en stacking actualmente, ¡PERFECTO! (para gente rica e_e, jejeje).

And this is...the end. Yeah the eeeeeeeeeeeeeeend, why do you keep reading? want u know something interesting? Ok, look:
Y este es ... el final. Sí, el finaaaaaaaaal, ¿por qué sigues leyendo? ¿Quieres saber algo interesante? Ok, mira:
Some people can track the team that you upload in a match using a cheating tool, BUT FRAID NOT! you can avoid be cheated (not from your couple, haha) just by activating this option:
Algunas personas pueden rastrear el equipo que registras en una poartida en splinterlands usando trampas (así estos pueden ver que jugarás y jugar algo para contratacar), ¡PERO NO TEMAS! puedes evitar ser presa de estos con solo activar esta opción:


Just take in count that if the opponent surrender, your victory will not count to finish the daily quest, a little price to pay for some extra wins i guess, sounds nice to me.
Solo ten en cuenta que si el oponente se rinde, tu victoria no contará para terminar la misión diaria, un pequeño precio a pagar por algunas victorias adicionales, supongo, suena bien para mí.
---
Posted using SplinterStats Season Report Card. A useful tool, yeah yeah~ to help a lazy people like me.
Publicado usando SplinterStats. Una herramienta útil, sí, sí ~ para ayudar a personas perezosas como yo.
This once a season tool for Splinterlands players provides a template to reflect on and share their performance, card usage statistics and rewards summary for the season. More features will be released in the future.
Follow @splinterstats and come visit us in Discord if you have any questions.
Esta herramienta para los jugadores de Splinterlands proporciona una plantilla para reflexionar y compartir su rendimiento, estadísticas de uso de cartas y resumen de recompensas de la temporada. Se lanzarán más funciones en el futuro.
Sigue a @splinterstats y visítenos en Discord si tiene alguna pregunta.
Hey, if you want to get some extra income in Hive (because yeah, never is enough income xD), why do not to try Rising Star? And also Cryptobrewmaster!, both of them are good and easy games! HUH?! did you don't like games?! O_o
Oye, si quieres obtener un ingreso extra en Hive (porque sí, nunca hay suficientes ingresos xD), ¿por qué no pruebas Rising Star? Y también Cryptobrewmaster!, ¡ambos son juegos buenos y fáciles! ¡¿EH?! ¡¿No te gustan los...juegos?! O_o
Welps, you can emm stake 20 PIZZA, to get some more PIZZA and also be capable of give pizza in your comments! What?! The pizza makes you fat u say? O_o
Bueno, puedes stackear 20 PIZZA, para conseguir más PIZZA y también ser capaz de regalar pizza en tus comentarios! ¡¿Qué?! La pizza engorda, dices? O_o
Ok, you can also delegate some of SPT to (@)monster-curator (i don't want to ping him, want to see if can come here by himself xD) to get some pasive SPT (in case you aren't doing nothing with it), I probably could add more ways to get some income in Hive, but i don't want to make this wall of text bigger.
Ok, también puedes delegar algo de SPT a (@)monster-curator (no quiero hacerle ping, quiero ver si puede venir aquí solo xD) para obtener algo de SPT pasivo (en caso de que no le estés dando uso para hacer curaciones/dar votos). Probablemente podría agregar más formas de obtener algunos ingresos en Hive, pero no quiero hacer que este muro de texto sea más grande.
Mental note: make some banners for better advertis-- erm i mean, don't look!
Nota mental: hacer algunos banners para mejores anunci--. ¡Eh, quiero decir, no mires!
I hope you had fun reading. Has been a while since the last time that i did a big post.
Espero que te hayas divertido leyendo. Ha pasado un tiempo desde la última vez que hice un post grande.
---
---