Did you see the angry gladiator? - Hast du den verärgerten Gladiator gesehen?

ENGLISH
Today I play my third brawl with gladiators. As a reminder, the Gladiators cards can only be played in Brawls and that's why it's not possible to train with the cards. That's why I look carefully at what options I have before the battles.
This time I play a silver fray with no card limits.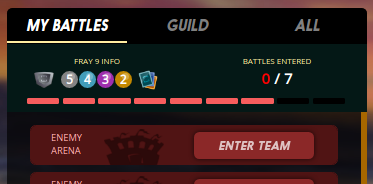 Last time I was limited to Untamed cards, so I looked very carefully at which Splinters I could play with leveled cards: Playing my gladiator cards the second time
This time I don't have that limitation. However, my Summoner levels are not quite up to being at the top of the Silver League. I'm curious to see how I manage to compensate for this disadvantage with gladiators. And maybe I'll even meet an opposing gladiator. So let's go! In front of my eyes I have the table from last time, which I shared at the top of the post.
My first opponent doesn't have a gladiator, because the guild ALPHA has its barracks only in level 1. In our group of 10 in this brawl, however, the guild is the favorite, because their league rank is better than ours. So watch out.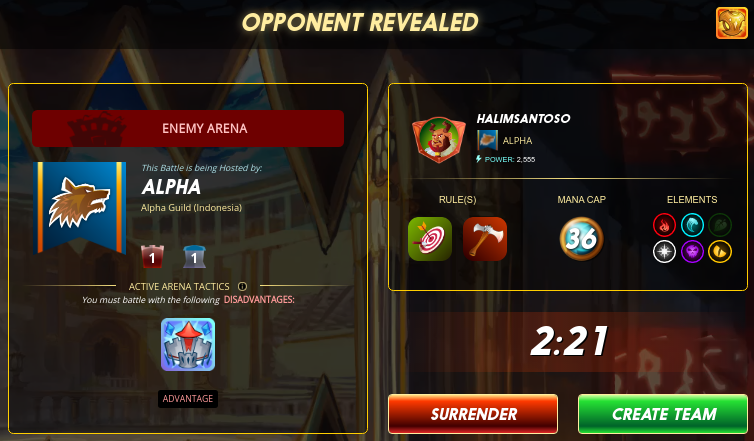 The Melee Mayhem ruleset tempts me to send one of my Water Gladiators into the arena. 36 mana isn't all that much, so I refrain from Fire - even though it's tempting to get one more Melee for each monster with the Summoner - because my one Fire Gladiator already costs 10 mana. I was aiming for my Alva the Crusher for 6 mana instead.

Time finally ran out after my son pointed out Relenor Cleaver to me. I didn't take a snap, but the gladiators weren't all shown to me side by side. Added a Demented Shark for another Melee (Inspire) and then there were only five mana left. While I was thinking about getting two more cards on the team instead of just one, time was running out by then, and it was just enough to make the best possible selection.

After sending, we were unfortunately surprised not to be able to watch the fight yet. If the opponent still sends his team, I will add the fight here. On to the second one!
---
Updated: The battle actually did take place. In hindsight, a look at @halimsantoso's deck shows that the stakes were high with only two playable splinters.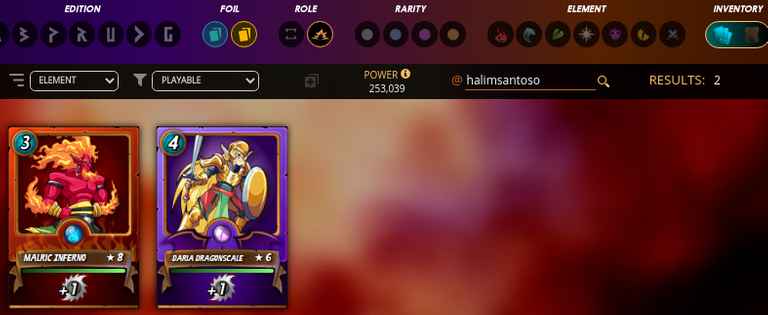 Here both Splinters came out with all the strength of a Silver League battle. The Gladiator was once close in bloodlust and in the end made no difference.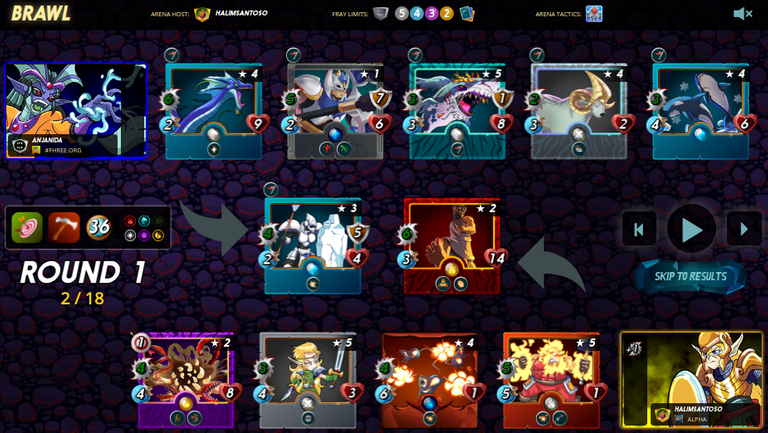 https://splinterlands.com?p=battle&id=sm_DAgKxhsewbgrnsVfUtra&ref=anjanida
However, as the battles progresses, it becomes clear that gladiators can make a difference. So on to the second fight!
---
This opponent will not have gladiators either. After the fight, however, I realize that since the new preview of the arena, I no longer have a preview of the opponent's last five teams played.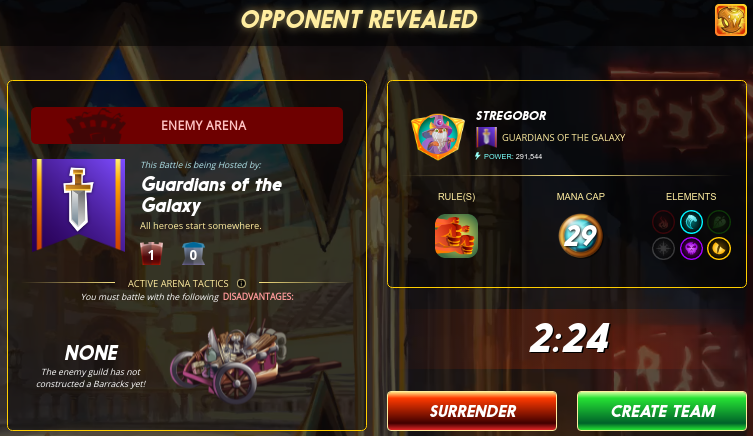 This time, the only splinters to choose from are Water, Death, and Dragon. And since I'm here to play gladiators, only water is still an option (see table in previous post).

With this selection, I once again run out of time. I had quickly decided on Isgald Vorst, but selecting something further back was difficult. The opponent then revealed himself to be powerful. The levels of the opponent's cards are completely maxed out. A look at the cards showed that only Death and Dragons were playable for our fight: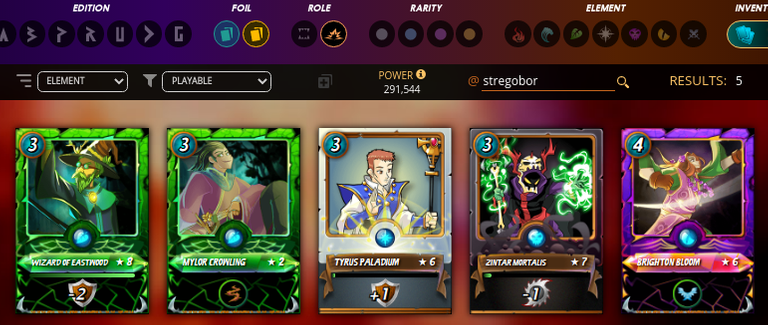 My fate was now to lose a Melee due to Zintar Mortalis. And that looked bleak, and not just for my gladiator. But see for yourself.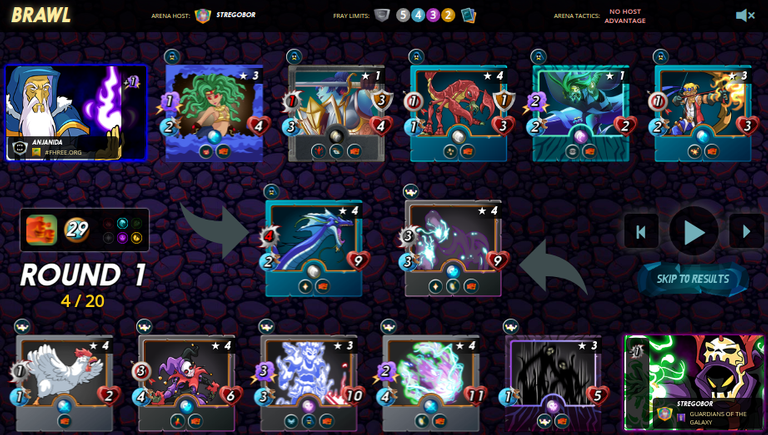 https://splinterlands.com?p=battle&id=sm_u1x4GoDt600drrZ8h4Gk&ref=anjanida
Things looked quite different again in the third fight. First there were connection problems. This can be seen from the advanced clock in the screenshot.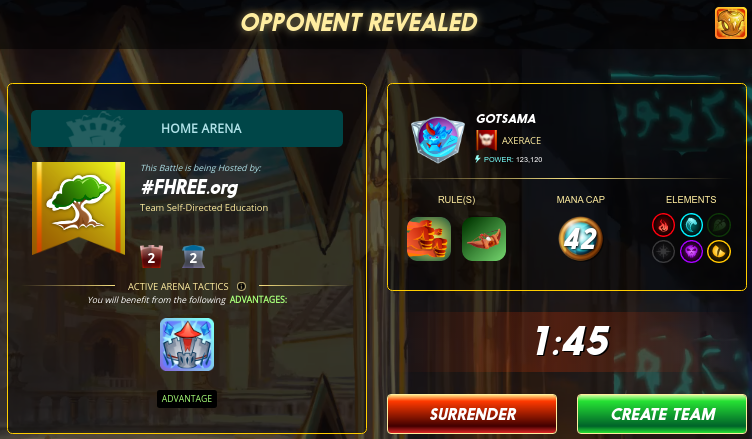 With 42 mana and Fire, I didn't think twice. Chimney Wallstop became my first choice for the second row. It's also slow enough as a Gladiator to not make the first strike. As you can see, time was running out again. There was even one mana left unused.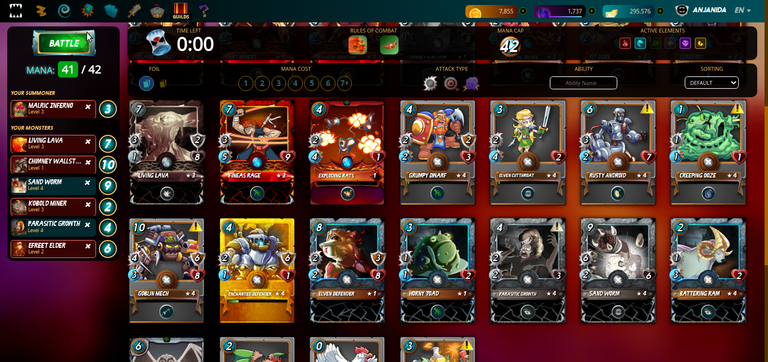 The fight is worth seeing, even if the gladiator didn't really get his bloodlust. But see for yourself.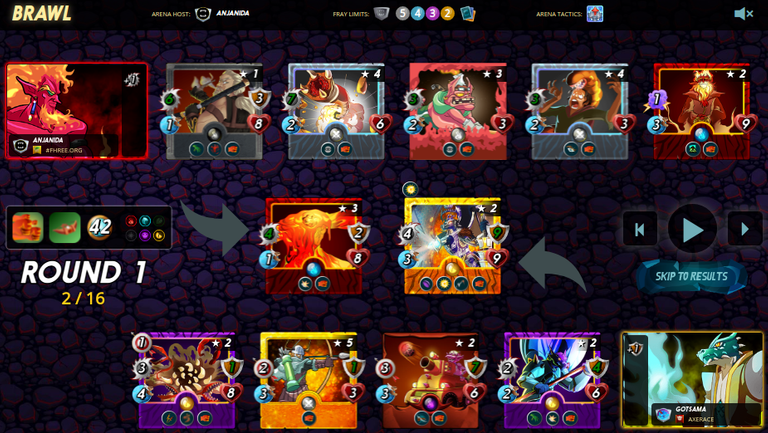 https://splinterlands.com?p=battle&id=sm_xTxV9bTRWXK7AYo9TDRj&ref=anjanida
On to the fourth! Only 15 mana. That doesn't leave much choice when it comes to gladiators. The first choice was Isgald Vorst with 5 mana.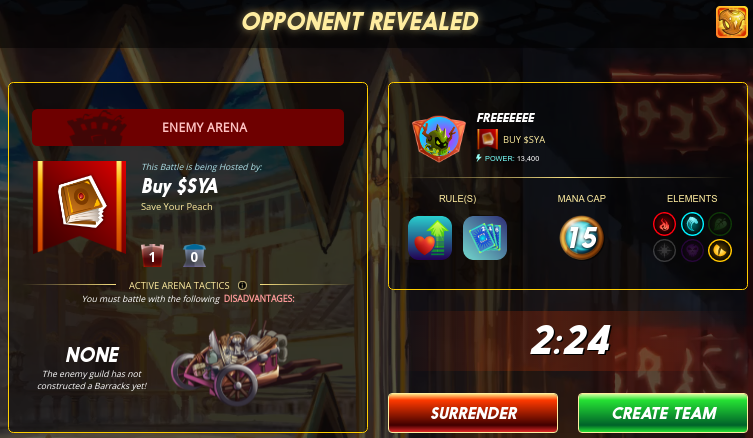 In the team selection first the small water tank "Spineback Turtle" came into the team and then the disappointment: only cards with even mana values. So I decided to change to "Alva the Crusher" as a tank and took the turtle out again.
Due to the "Equilizer" ruleset, which increases all health to the value of the highest card, now only cards with 2 mana came into question: more cards, more health. But then one mana remained unused.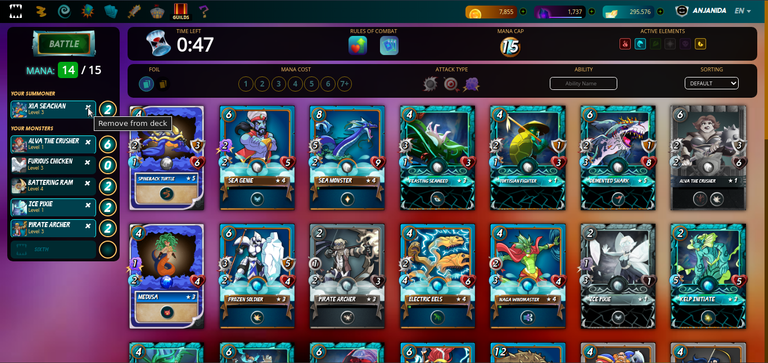 However, the time was sufficient to change the summoner and so now Ice Pixie gets not only loads of health, but also additional attack power.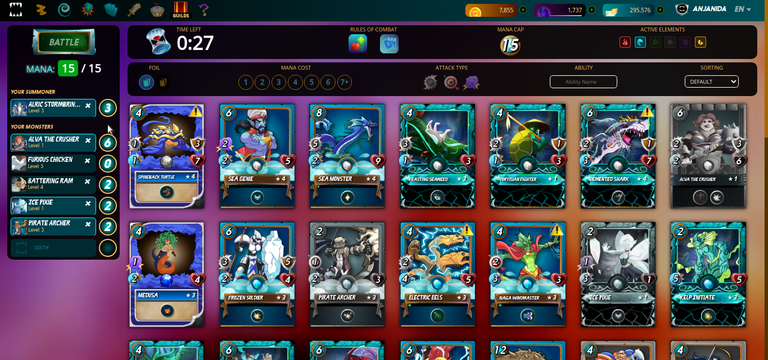 The fight started out tough. At one point, I and my son shouted "Too bad!" at the same time. Now here is a spoiler warning from me. The moment can be seen in the extra picture below. Therefore, the link now before:
https://splinterlands.com?p=battle&id=sm_NO2m21EQmcAnmZZ0tCqO&ref=anjanida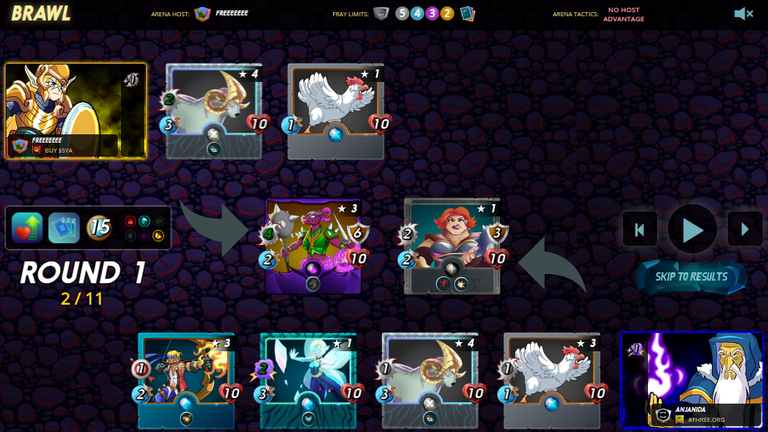 We would have so liked to see that here the axe flies only after an attack of the gladiator: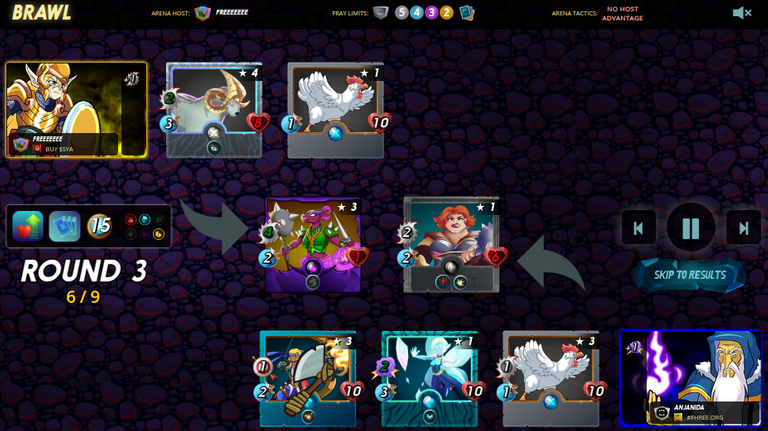 Now there are still three fights open. I can hardly wait to see what will follow.
In the fifth battle there is an "Earthquake" ruleset. My gladiators are not prepared for it. I don't have the summoner "Brighton Bloom" in my deck, which gives flight skill to all monsters. And if I did, the Dragon Splinter would not have been possible. After all, the opponent doesn't have that option either. The most powerful Gladiator I can play is in the water, and 28 mana is not too short, so let's go!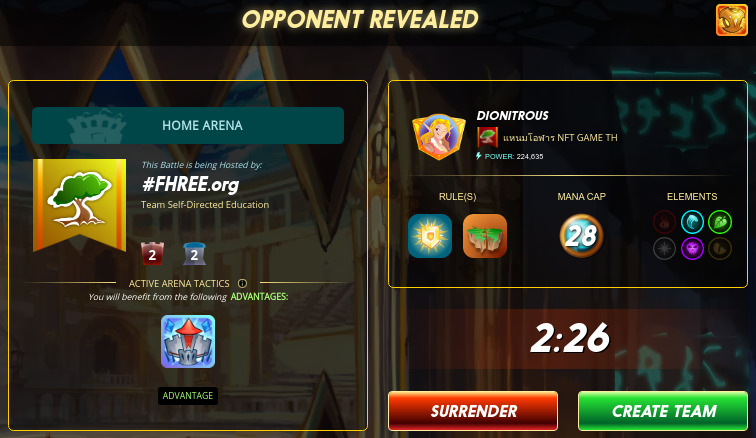 First I get two flying ones in the team. Then I add the Relenor Cleaver for 9 mana. There are 8 mana left. So I put a Sea Monster in the front and the Chicken in the first row, so that the Sea Monster can avoid an attack and get healed once from the earthquake.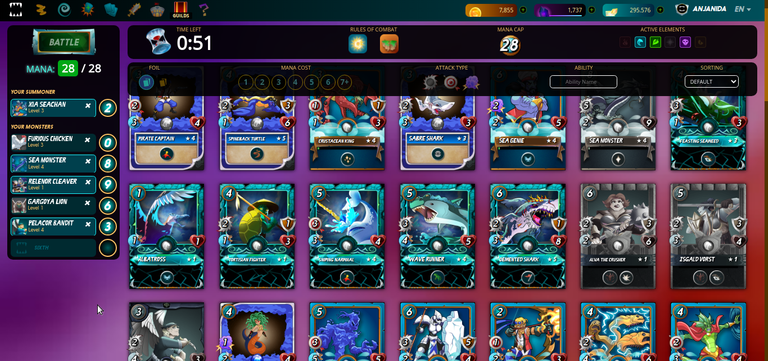 Okay, there's no point in going into more detail. It simply went wrong.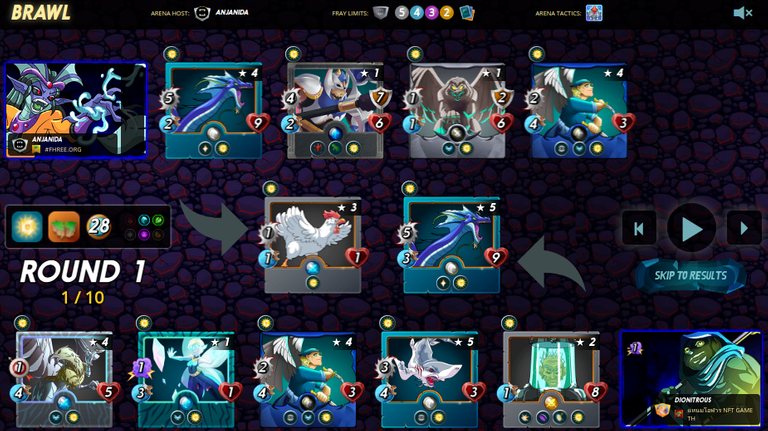 https://splinterlands.com?p=battle&id=sm_qHdD3BVZV8mAmsiYwb88&ref=anjanida
In the sixth fight there is a "Havy Hitters" rule set. An opponent gets double damage when it is stunned. In my deck I have a Fire "Pit Ogre" with the skill "Stun", which I like to use for this ruleset. But fire is not possible here and with 20 mana and my gladiator, fire would be out of the question. So once again water. It can work out once in a while, can't it?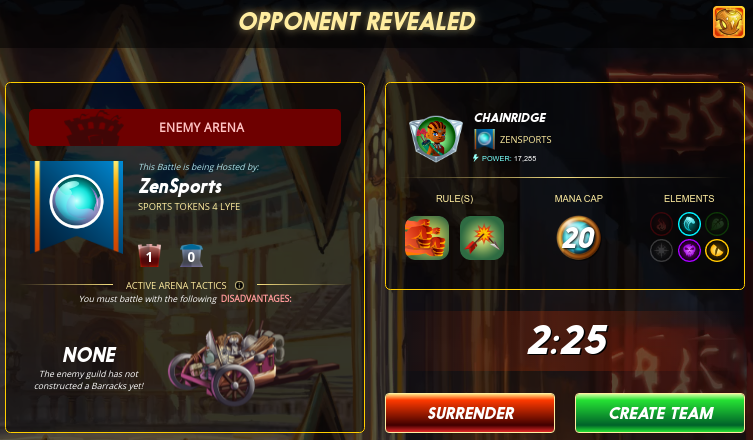 The team selection is easy. Small tank in front, Medusa behind. Then the Gladiator and 4 mana remain. More magic can't hurt and in the back rather buffer a bit instead of attacking and be out of the game quickly. Do not forget the chicken, because another card fits!!

Already at the first view my fingers tingle. My gladiator has the prospect of three times bloodlust. And what happens then, I want to see! Please leave me a comment if you have seen the battle.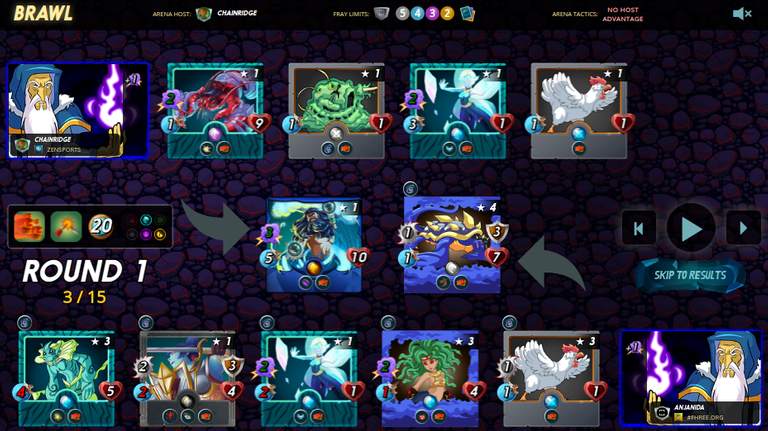 https://splinterlands.com?p=battle&id=sm_aQ1Bg2khCCkrIlM5RZJJ&ref=anjanida
And now, to top it all off, the seventh. With 46 mana and, after so much water, now finally (again) fire.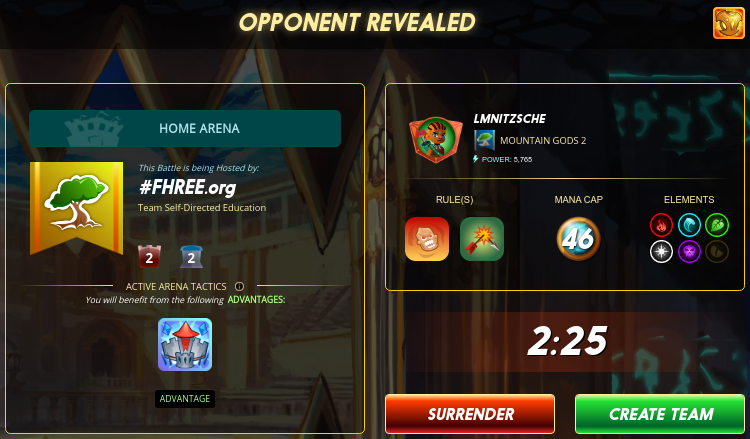 With one click on the 7+, the team is quickly assembled. I don't even know where all the time went. The chicken was put in the first row so that it wouldn't get in the way elsewhere.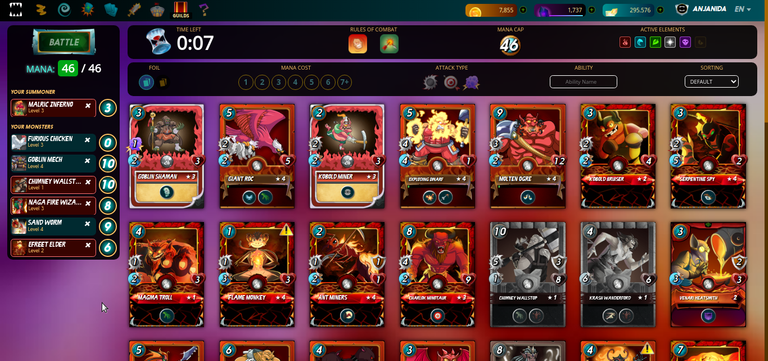 The sandworm of the opponent is not a pretty sight. The Magnor in the last row will first attract the attention of my team. It's fire against fire. Ouch!!! Someone is getting angry! See for yourself.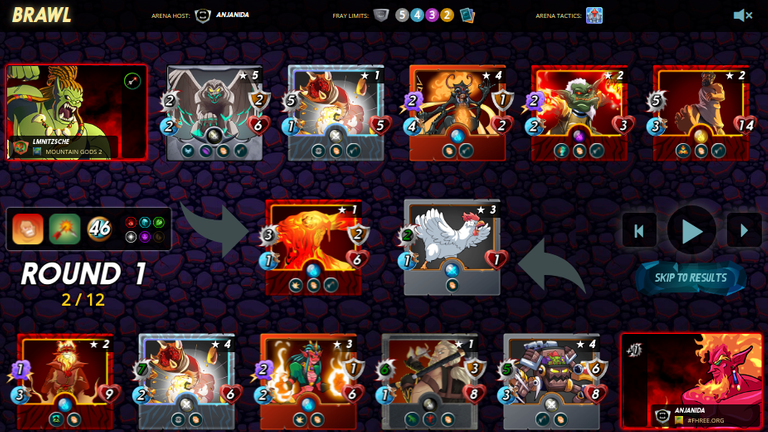 https://splinterlands.com?p=battle&id=sm_oiKoWPLnfzCLpRiAmwlc&ref=anjanida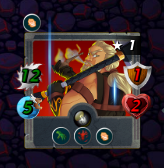 Well, that was once again an evening-filling program. I hope you liked it, then leave me a comment.
We hope to see you soon!
PS: If you want to read more from us, please have a look at our summary from 2019: Recap, Present, and Prospects
---
DEUTSCH
Heute spiele ich meine dritte Rauferei mit Gladiatoren. Zur Erinnerung: Die Gladiatoren-Karten können nur in Raufereien gespielt werden und darum ist es nicht möglich, mit den Karten zu trainieren. Darum schaue ich mir vor den Kämpfen genau an, welche Möglichkeiten ich habe.
Diesmal spiele ich ein Silber-Fray ohne Kartenbegrenzungen.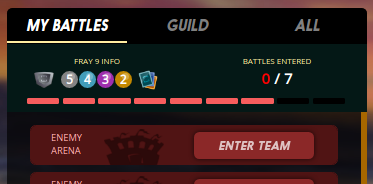 Beim letzten Mal war ich begrenzt auf Untamed-Karten und schaute darum sehr genau hin, welche Splinter ich mit gelevelten Karten spielen konnte: Spiele meine Gladiatorenkarten zum zweiten Mal
Diesmal habe ich diese Einschränkung nicht. Meine Summoner-Level sind jedoch nicht ganz ausgereizt, um in der Silber-Liga vorne mitzuspielen. Ich bin gespannt, wie es mir hier nun gelingt, diesen Nachteil mit Gladiatoren auszugleichen. Und vielleicht begegne ich ja gar einem gegnerischen Gladiator. Also auf geht's! Vor Augen habe ich jetzt wieder die Tabelle von letztem Mal, die ich ganz oben im Beitrag teilte.
Mein erster Gegner hat schon mal keinen Gladiator, denn die Gilde ALPHA hat ihre Barracken nur in Level 1. In unserer 10er Gruppe dieser Rauferei ist die Gilde jedoch Favorit, denn deren Liga-Rang ist besser als unserer. Also aufgepasst.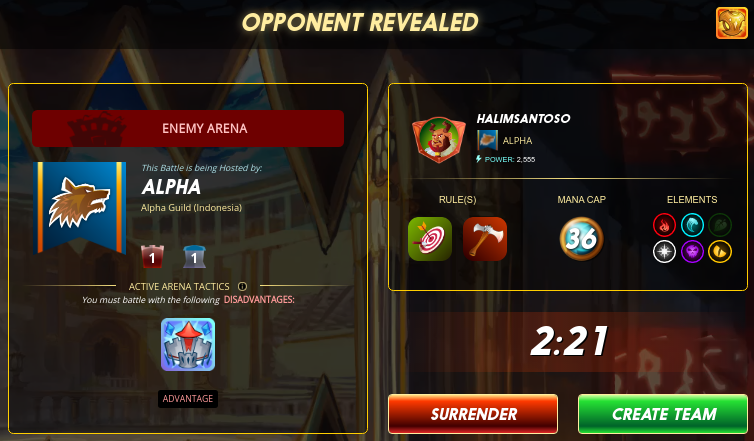 Der Regelsatz "Melee Mayhem" (Nakampf Chaos) verleitet mich dazu, einen meiner Wasser-Gladiatoren in die Arena zu schicken. 36 Mana sind nicht all' zu viel, so dass ich von Feuer absehe - auch wenn es verlockend ist, mit dem Beschwörer für jedes Monster noch einen Melee mehr zu bekommen - denn mein einziger Feuer-Gladiator kostet bereits 10 Mana. Ich hatte es stattdessen abgesehen auf meine Alva the Crusher für 6 Mana.

Letztlich wurde die Zeit knapp, da mein Sohn mich auf Relenor Cleaver hinwies. Ich hab kein Bild gemacht, doch die Gladiatoren wurden mir nicht alle nebeneinander angezeigt. Noch ein "Demented Shark" dazu für einen weiteren Melee (Inspire) und dann waren nur noch fünf Mana übrig. Während ich überlegte, ob ich noch zwei Karten ins Team bekomme, statt nur einer, war die Zeit inzwischen knapp und reichte gerade noch, um die bestmögliche Auswahl zu treffen.

Nach Absenden wurden wir leider damit überrascht, den Kampf noch nicht ansehen zu können. Sollte der Gegner sein Team noch senden, werde ich den Kampf hier einfügen. Auf zum zweiten!
---
Aktualisiert: Der Kampf hat tatsächlich noch stattgefunden. Ein nachträglicher Blick in die Karten von @halimsantoso zeigt, es war hoch gepokert mit nur zwei spielbaren Splintern.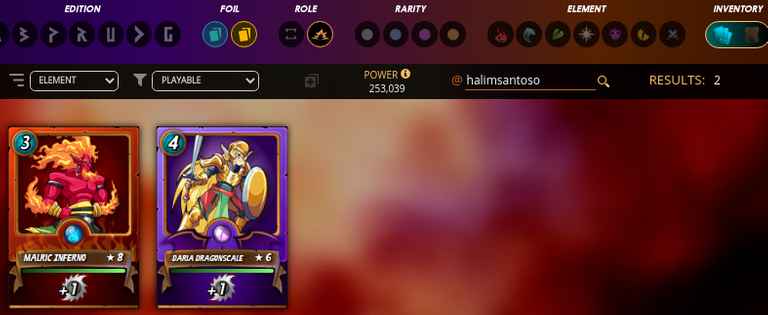 Hier kamen beide Splinter mit aller Stärke eines Silber-Liga-Kampfes zum Einsatz. Der Gladiator war einmal knapp im Blutrausch und machte letztlich keinen Unterschied.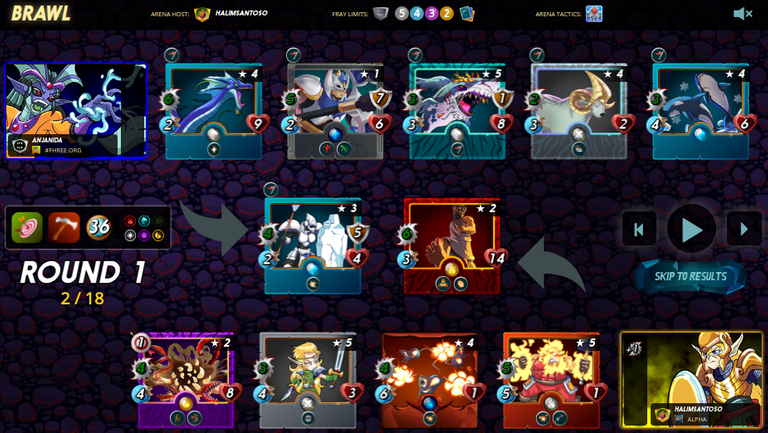 https://splinterlands.com?p=battle&id=sm_DAgKxhsewbgrnsVfUtra&ref=anjanida
Im weiteren Verlauf wird jedoch noch deutlich, dass Gladiatoren durchaus einen Unterschied machen können. Also auf zum zweiten Kampf!
---
Auch dieser Gegner wird nicht mit Gladiatoren aufwarten. Nach dem Kampf wird mir jedoch klar, dass ich seit der neuen Vorschau auf die Arena keine Vorschau mehr auf die letzten fünf gespielten Teams des Gegners habe.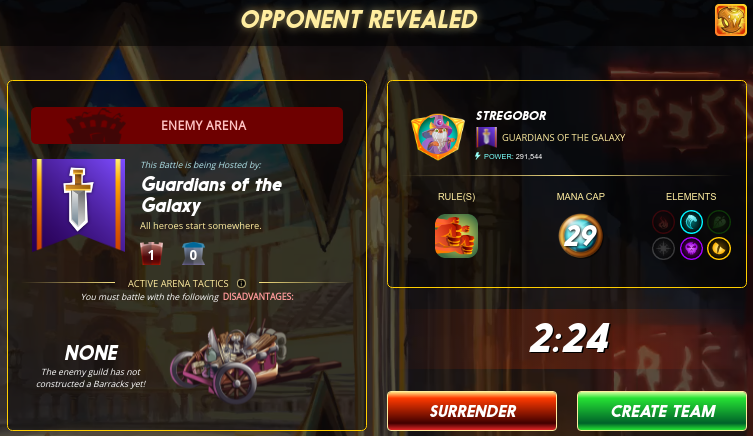 Diesmal stehen nur die Splinter Wasser, Tod und Drachen zur Auswahl. Und da ich hier bin, um Gladiatoren zu spielen, kommt nur Wasser noch in Frage (siehe Tabelle vorheriger Beitrag).

Bei der Auswahl wird mir erneut die Zeit knapp. Für Isgald Vorst hatte ich mich schnell entschieden, doch weiter hinten viel mir die Auswahl schwer. Der Gegner offenbart sich anschließend als kräftig. Die Level der gegnerischen Karten sind vollständig ausgereizt. Ein Bick in die Karten offenbart, dass nur Tod und Drachen für unseren Kampf spielbaren waren: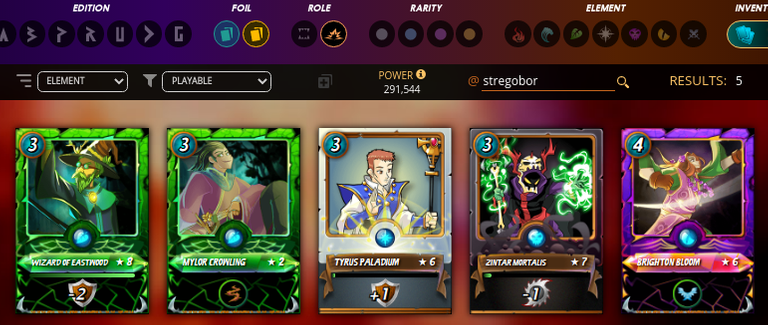 Mein Pech war nun, aufgrund von Zintar Mortalis einen Melee einzubüßen. Und das sah nicht nur für meinen Gladiator trübe aus. Doch siehe selbst.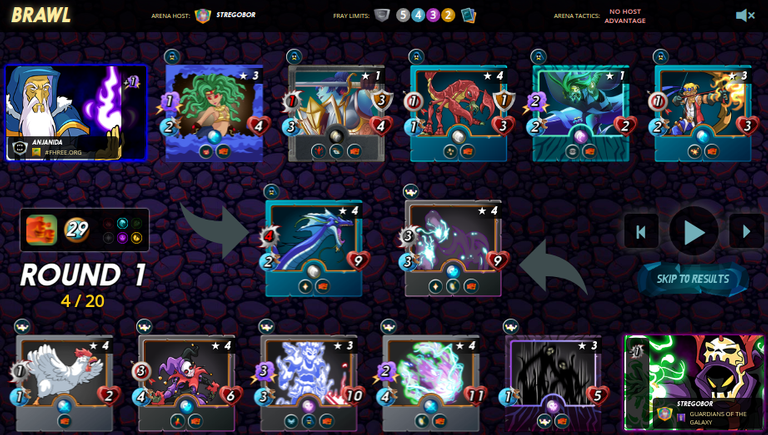 https://splinterlands.com?p=battle&id=sm_u1x4GoDt600drrZ8h4Gk&ref=anjanida
Wieder ganz anders sah es nun im dritten Kampf aus. Zuerst gab es Verbindungsprobleme. Das ist an der fortgeschrittenen Uhr im Bildschirmfoto auch zu erkennen.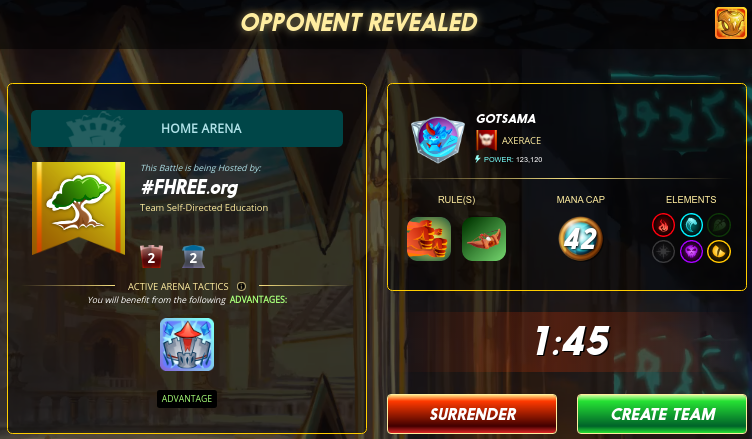 Mit 42 Mana und Feuer überlegte ich nicht lange. Chimney Wallstop wurde meine erste Wahl für die zweite Reihe. Der ist als Gladiator auch langsam genug, um nicht den ersten Schlag zu machen. Wie zu sehen ist, wurde die Zeit erneut knapp. Es blieb gar ein Mana ungenutzt.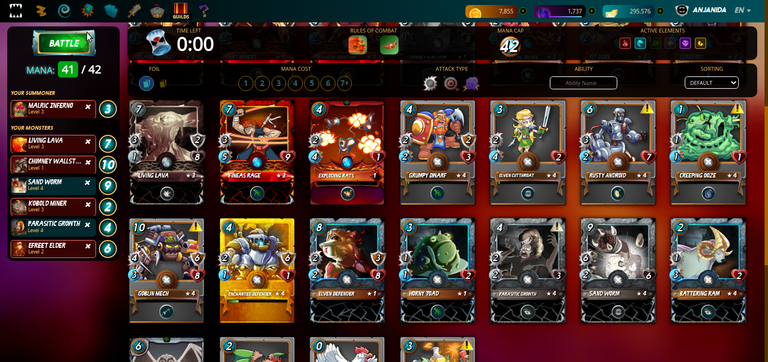 Der Kampf kann sich sehen lassen, wenn auch den Gladiator nicht so recht zum Zug kam, was seine Blutlust betrifft. Doch sieh' selbst.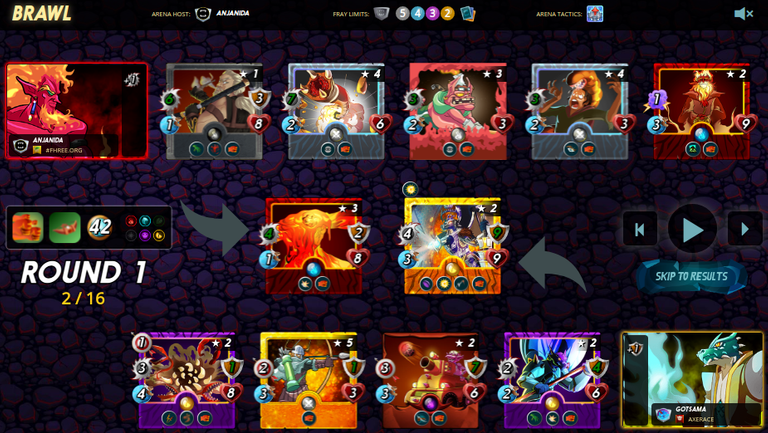 https://splinterlands.com?p=battle&id=sm_xTxV9bTRWXK7AYo9TDRj&ref=anjanida
Auf zum Vierten! Nur 15 Mana. Da bleibt nicht viel Auswahl, was die Gladiatoren betrifft. Die erste Wahl fiel auf Isgald Vorst mit 5 Mana.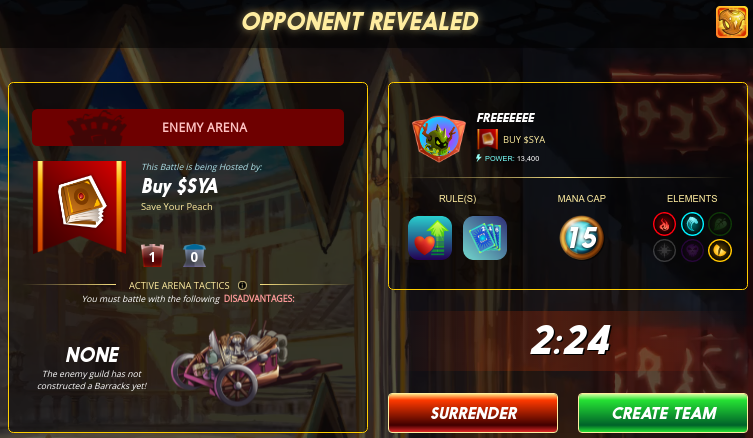 In der Team-Auswahl kam zuerst der kleine Wasser-Tank "Spineback Turtle" ins Team und dann jedoch die Enttäuschung: nur Karten mit geraden Manawerten. Also entschlossen auf "Alva the Crusher" als Tank gewechselt und die Schildkröte wieder raus genommen.
Aufgrund des Regelsatzes "Equilizer", mit dem alle Herzen auf den Wert der höchsten Karte aufgefüllt werden, kamen nun nur noch Karten mit 2 Mana in Frage: Mehr Karten, mehr Herzen. Dann blieb jedoch ein Mana ungenutzt.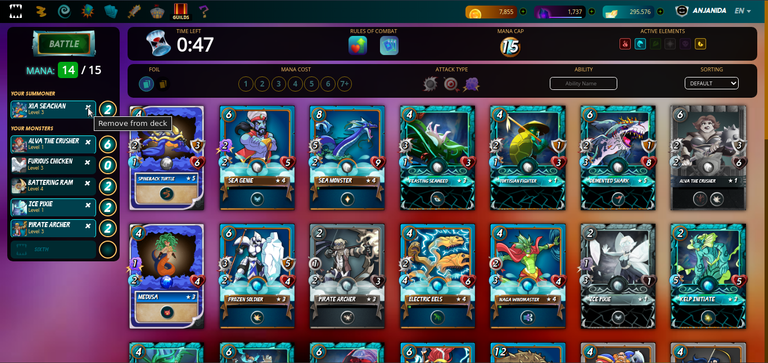 Die Zeit reichte jedoch locker aus, um den Beschwörer nochmal zu wechseln und so bekommt nun Ice Pixie nicht nur viele Herzen, sondern auch noch zusätzlich Angriffskraft.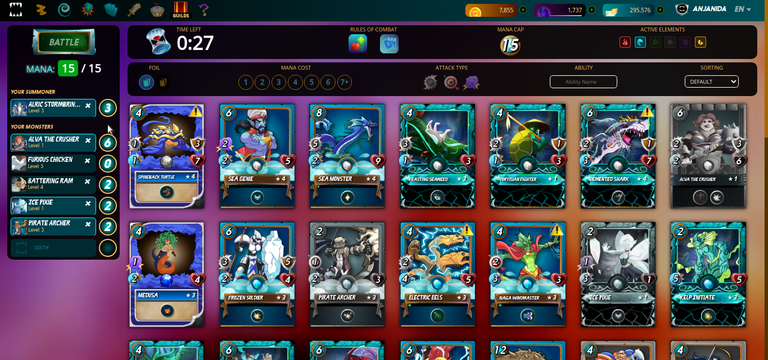 Der Kampf fing zäh an. An einer Stelle riefen ich und mein Sohn gleichzeitig "Schade aber auch!". Hier gibt es jetzt von mir eine Spoiler-Warnung. Der Moment ist im zusätzlichen Bild unten zu sehen. Darum den Link nun vorher:
https://splinterlands.com?p=battle&id=sm_NO2m21EQmcAnmZZ0tCqO&ref=anjanida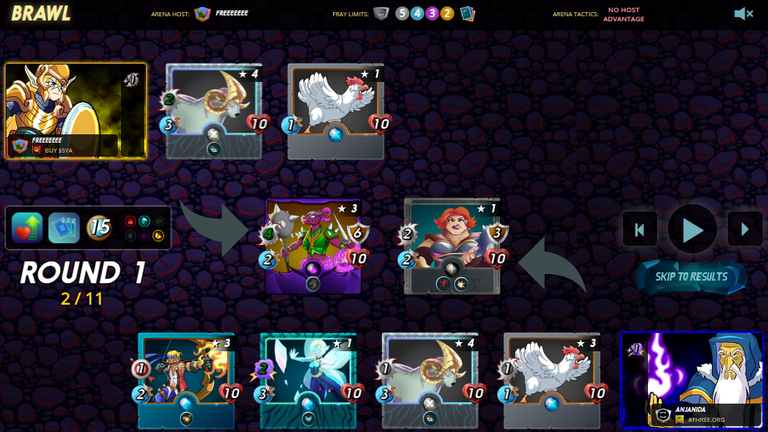 Wir hätten so gern gesehen, dass hier die Axt erst nach einem Angriff des Gladiators fliegt: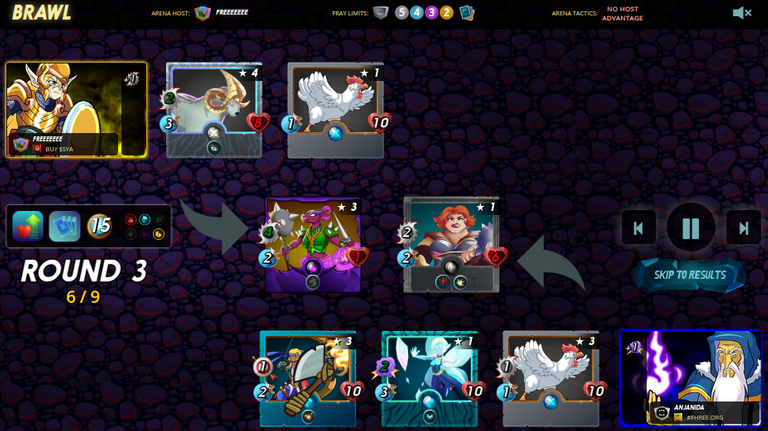 Nun sind noch drei Kämpfe offen. Ich kann kaum erwarten, was noch folgt.
Im fünften Kampf gibt es einen Regelsatz "Erdbeben". Meine Gladiatoren sind darauf nicht vorbereitet. Den Beschwörer "Brighton Bloom", der allen Monster Flugfertigkeit verschafft, habe ich nicht im Deck. Und wenn, wäre der Drachen-Splinter nicht möglich gewesen. Immerhin hat auch der Gegner diese Möglichkeit nicht. Der kräftigste meiner Gladiator, den ich spielen kann, ist im Wasser und 28 Mana sind nicht zu knapp, also los!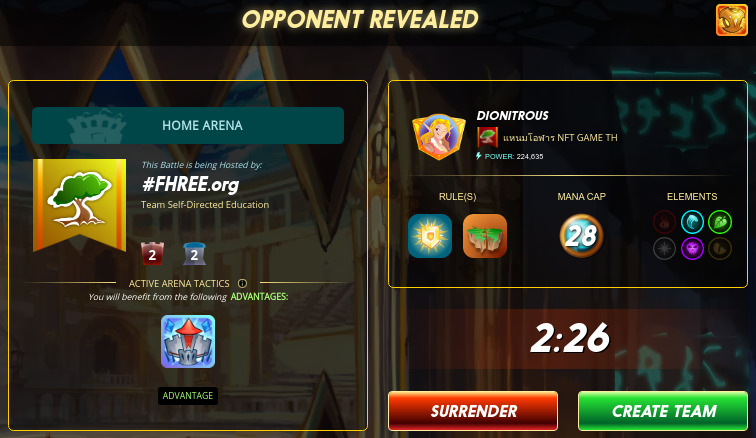 Zuerst hole ich mir zwei Fliegende ins Team. Dann den Relenor Cleaver für 9 Mana hinzu. Es bleiben 8 Mana. Also nach vorne ein Sea Monster und in die erste Reihe das Huhn, auf dass sich das Sea Monster einem Angriff entzieht und vom Erdbeben einmal geheilt wird.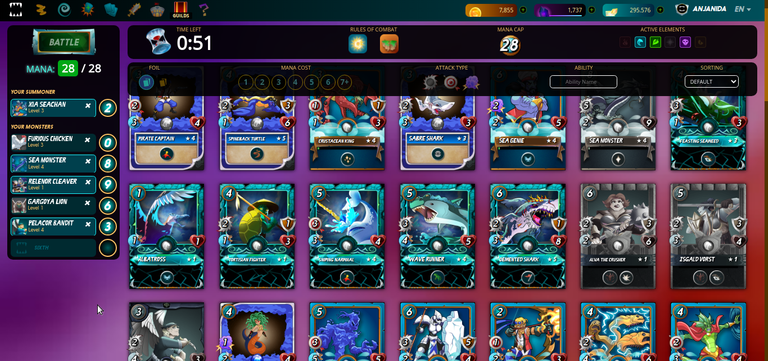 Ok, das hat gar keinen Sinn näher zu berichten. Es ging schlicht schief.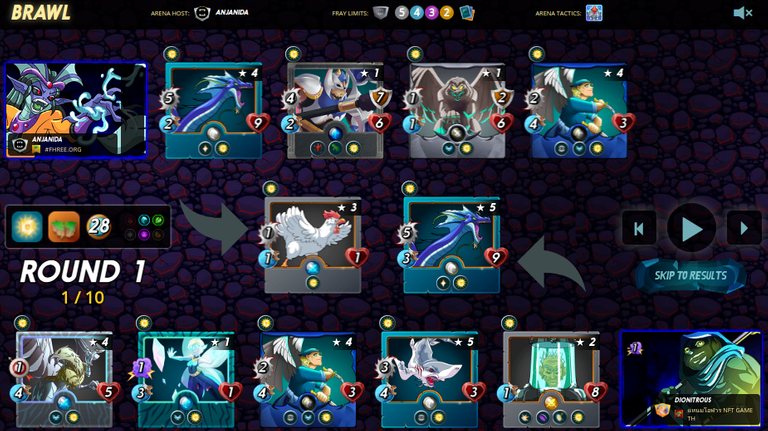 https://splinterlands.com?p=battle&id=sm_qHdD3BVZV8mAmsiYwb88&ref=anjanida
Beim sechsten Kampf gibt es einen "Havy Hitters" Regelsatz (Starke Schläger). Dabei bekommt ein Gegner doppelten schaden, wenn er Stunned (ausgenockt, betäubt) ist. In meinem Deck habe ich mit der Fertigkeit "Stun" (ausnocken, betäuben) einen Feuer "Pit Ogre", den ich für diesen Regelsatz sehr gerne nutze. Doch Feuer ist hier nicht möglich und bei 20 Mana und meinem Gladiator wäre an Feuer auch nicht zu denken. Also noch mal wieder Wasser. Es darf doch auch mal klappen, oder?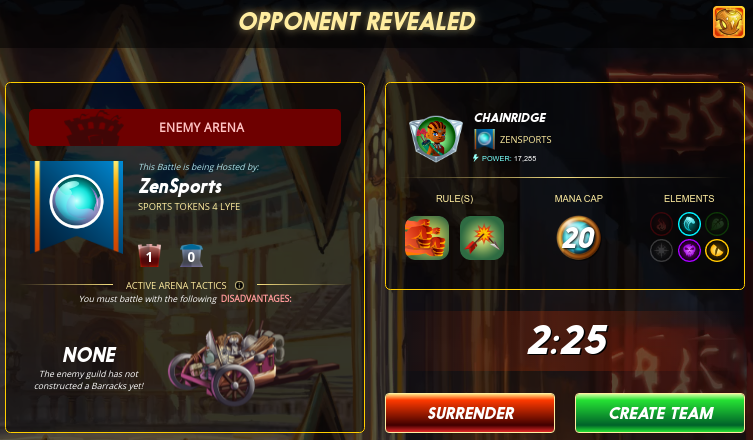 Die Teamauswahl ist leicht. Kleiner Tank vorne, Medusa dahinter. Dann den Gladiator und es bleiben 4 Mana übrig. Mehr Magie kann nicht schaden und hinten lieber etwas puffer statt angreifen und schnell aus dem Spiel sein. Das Huhn nicht vergessen, denn es passt noch eine Karte!!

Schon bei erster Ansicht kribbeln mir die Finger. Mein Gladiator hat die Aussicht auf drei mal Blutrausch. Und was dann passiert, das will ich sehen! Hinterlasse mir bitte einen Kommentar, wenn du den Kampf gesehen hast.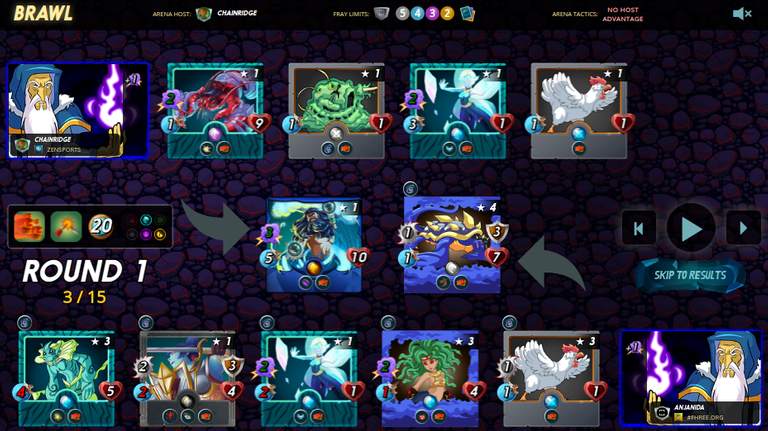 https://splinterlands.com?p=battle&id=sm_aQ1Bg2khCCkrIlM5RZJJ&ref=anjanida
Und nun zu guter Letzt der Siebte. Mit 46 Mana und, nach so viel Wasser, nun endlich (noch mal) Feuer.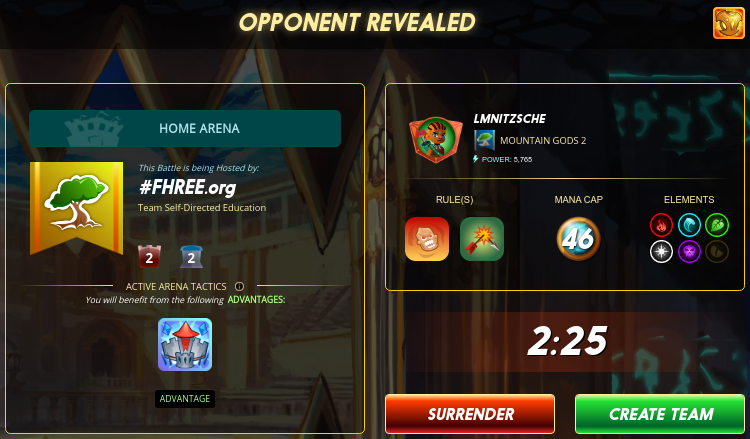 Mit einem Klick auf die 7+ ist das Team schnell zusammengestellt. Ich weiß gar nicht, wo die viele Zeit hin ist. Das Huhn noch in die erste Reihe, damit es anderswo nicht im Weg ist.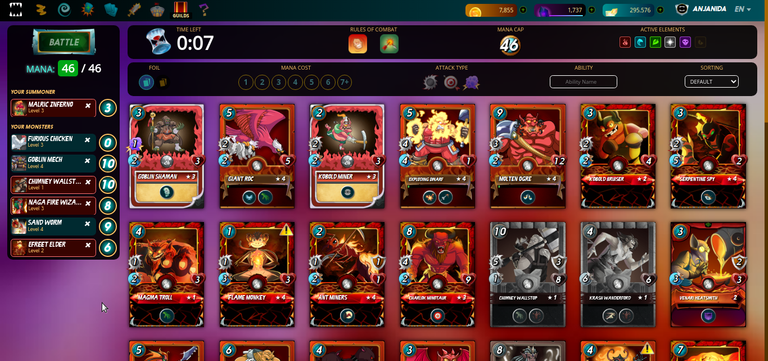 Der Sandwurm des Gegners ist kein schöner Anblick. Der Magnor in der letzten Reihe wird zunächst die Aufmerksamkeit meines Teams auf sich ziehen. Es geht Feuer gegen Feuer. Autsch!!! Da wird einer Wütend! Sieh' selbst.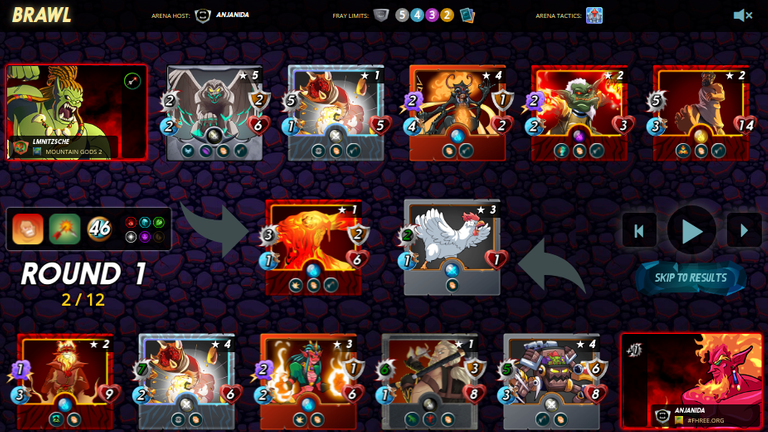 https://splinterlands.com?p=battle&id=sm_oiKoWPLnfzCLpRiAmwlc&ref=anjanida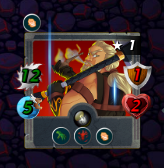 Na das war doch mal wieder ein abendfüllendes Programm. Ich hoffe es hat dir gefallen, dann lass mir doch einen Kommantar da.
Hoffentlich auf bald!
PPS: Wenn du mehr von uns lesen möchtest, wirf bitte einen Blick auf unsere Bilanz aus 2019: Rückblick, Gegenwart und Ausblicke
---
---