Legendary Gladiator and battle spirit - Legendärer Gladiator und Kampfgeist
ENGLISH
My fourth gladiator brawl is coming up. Before that, however, I have the pleasure of buying a Gladius Case - that is, a Gladiator Pack from the Merits earned in the Guild.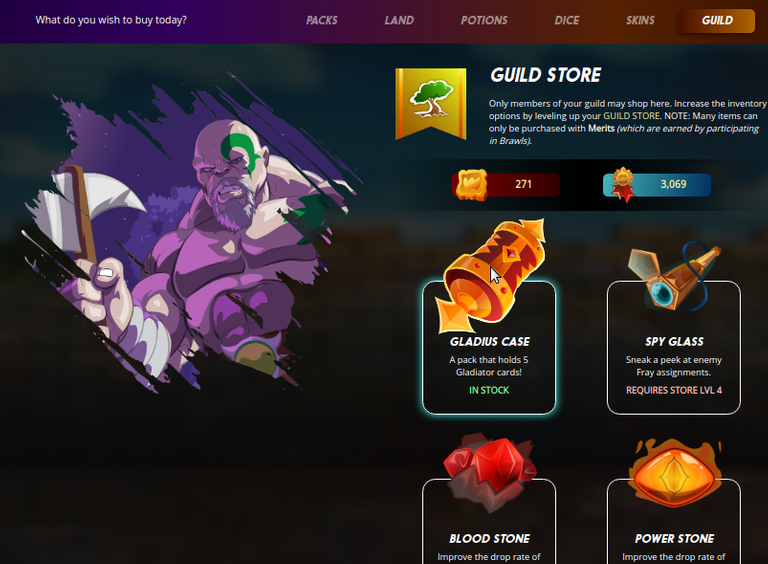 Merits are not for sale and are only available in guild brawls. A Case costs 2,000 Merits.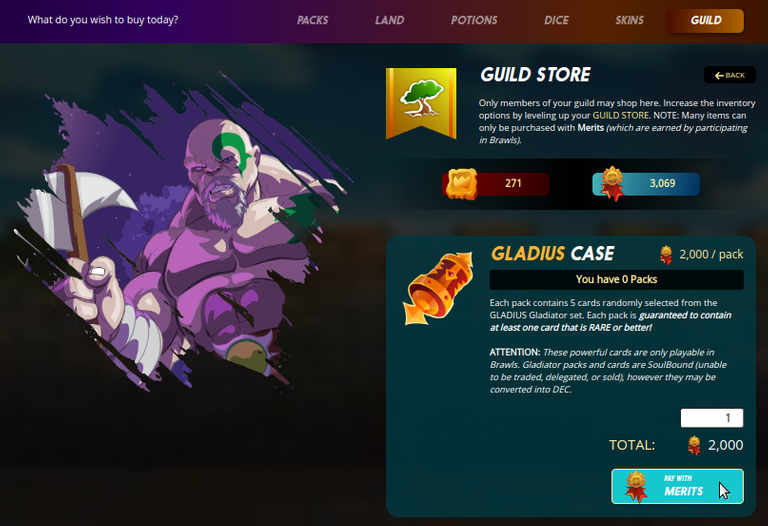 At opening a few typical light and sound effects.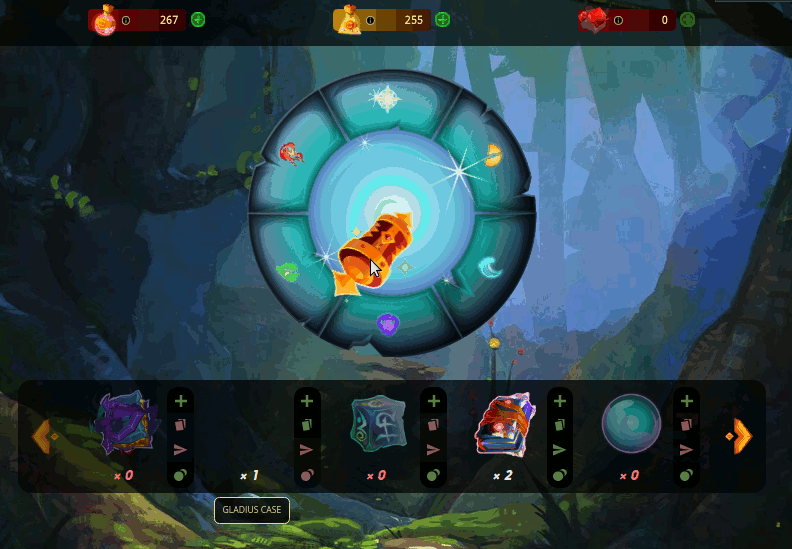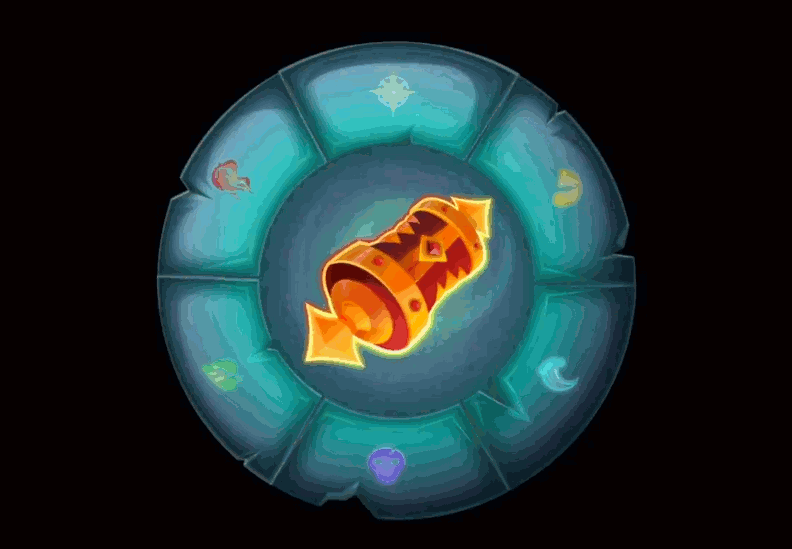 While opening, the cards with their backs are displayed first. Hovering the mouse over the card, a glowing border appears, announcing the color of rare, epic and legendary cards. Here, a legendary card will reveal itself next to a rare one! (I combined two images).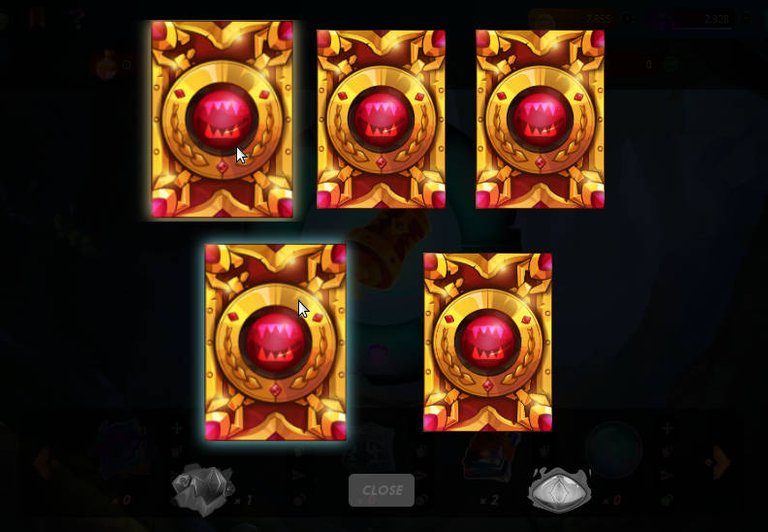 Lo and behold, I get a legendary neutral Tatiana Blayde for 8 mana. Neutral here means the card can be played with any summoner.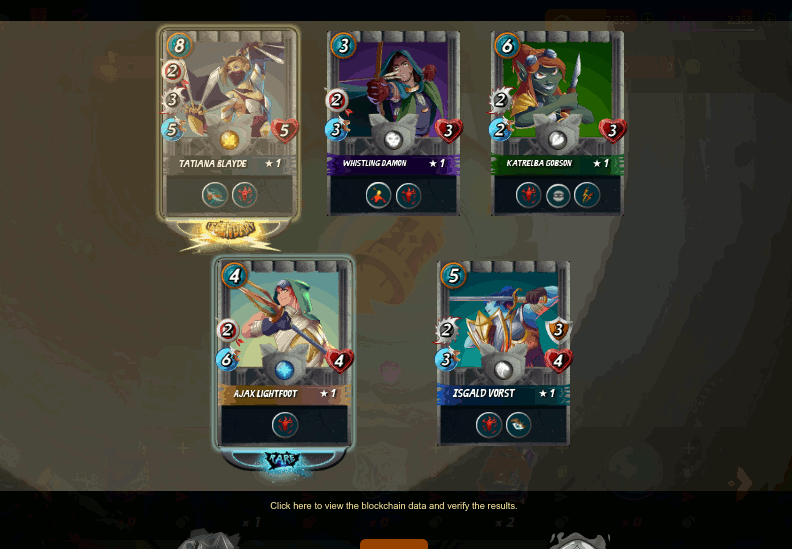 I am already very curious how and how often I will use this card in the now following battles. It shoots also from the first row and is suitable swell with the rule sets "Melee Mayhem" or "Super Sneak" as a card for the back rows. Provided there is enough mana.
My card selection is now significantly larger and I have my first duplicate ones.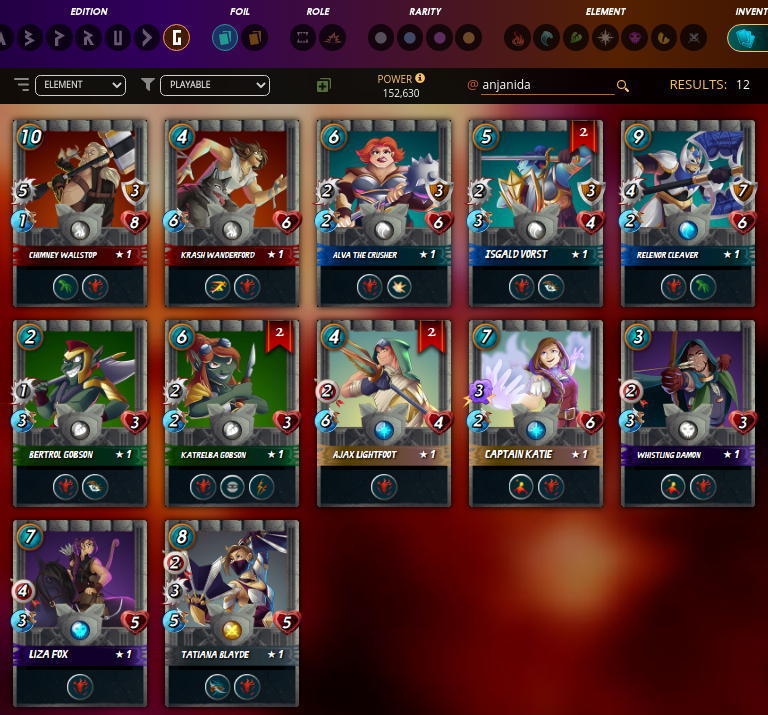 Except for dragons, I now have gladiators in every Splinter. I am also curious when I will get routine in the game with it. At the moment, the greatest joy is still to consider very carefully the respective battle conditions and to choose the summoner based on a favorite among the gladiators. Let's go!
I have six battles in silver ahead of me. My previous gladiator brawls are at Did you see the angry gladiator? I have four hours left of the total 48 hours of the combat phase.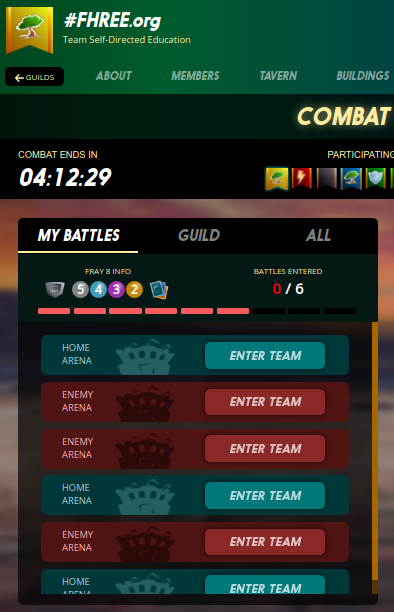 In front of my eyes I now have the view of my gladiators again and the following arena preview with the battle conditions.
The first fight does not offer much mana. Based on the gladiator for 2 mana, I decide on forest.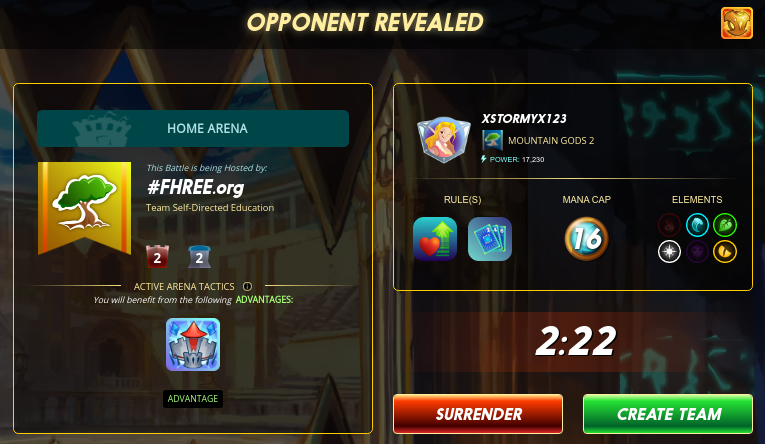 I take the epic summoner. Not only does it only cost 2 mana, but it leaves me with an even amount of mana for monster selection.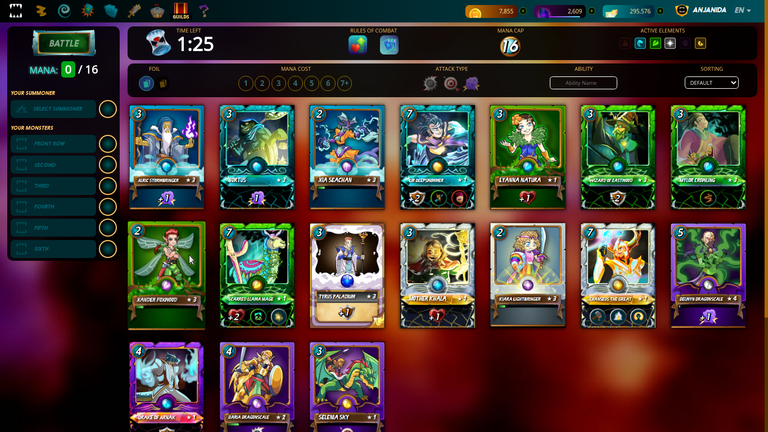 I choose the Gladiator first and decide to use the Flesh Golem as a tank. Next, I look at the Centaur, which, after sending the team, turns out to be reckless when I look at the following screenshot. With the Khmer Princess and the Swamp Thing I would have been much better off, concerning the Equilizer, with which all health of the monsters are filled up.
Well then, the choice is made. I also added Battering Ram and the chicken.

The opponent only has level 1 cards and does not bring any gladiators.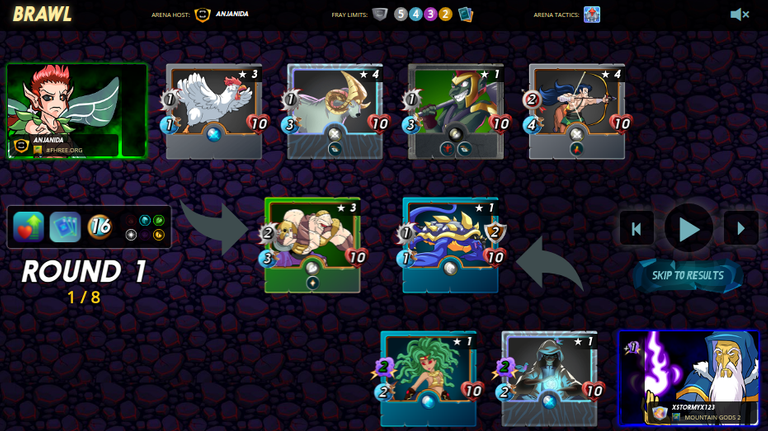 https://splinterlands.com?p=battle&id=sm_CpIqdhhEPQFwWD4Dkh38&ref=anjanida
The self-healing Flesh Golem proves to be a good choice, the gladiator licks blood once and the battle is quickly decided. Straight to the next fight!
The arena preview looks unimpressive at first. The enemy arena is only level 1 and there are no barracks, so no enemy gladiator either.
With 40 mana, I immediately decide to use my legendary neutral gladiator.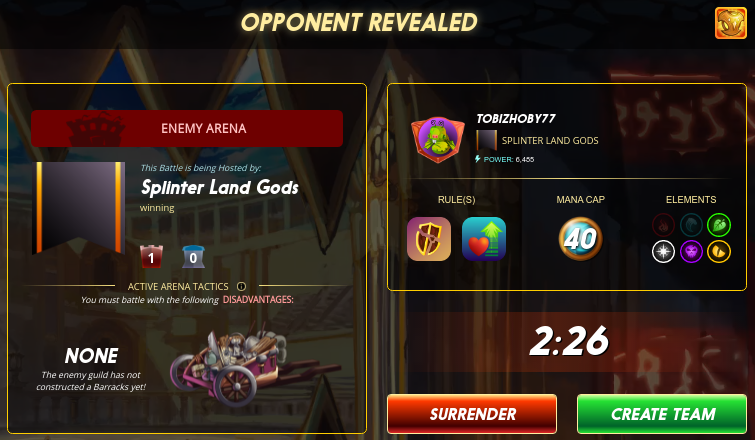 With the summoner I already lose important time, because with neutral gladiators I have the agony of choice here. I decide for Selenia Sky, which will turn up the gladiator.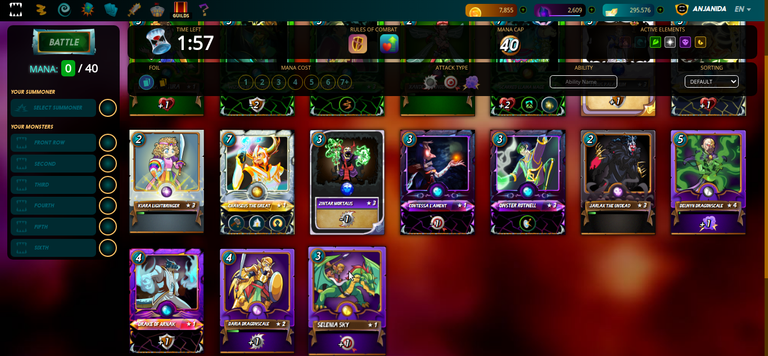 Since I took the Dragon Splinter, another choice followed, which again took me some time as I pondered what would be a good fit. Considered life, then death, and finally decided on life, since I like to play the ranged in it with Selenia if there is enough mana.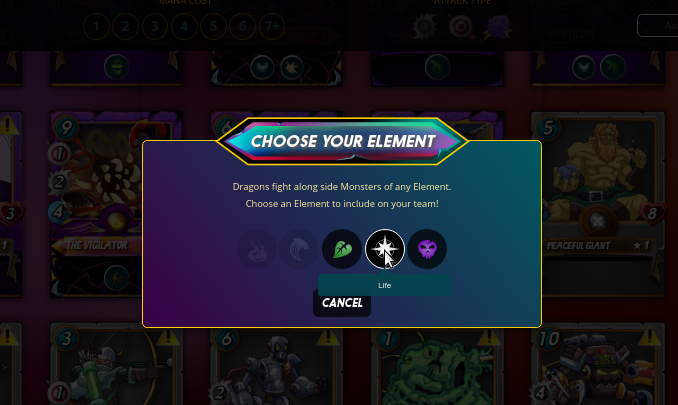 The team selection then becomes very tight in time, which is why I don't even use up the 40 mana. I had clearly overdrawn the time. But as is known a few seconds delay are possible.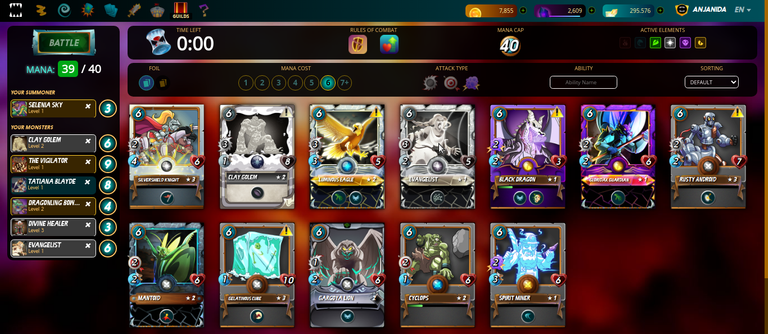 Then comes the surprise: a Llama with a Kron the Undying that heals itself. My shooting sneak attack is thus in vain right from the start. I would have needed a worm for 9 mana. But I could not foresee that. So I am curious if I can stop the typical Llama progression ...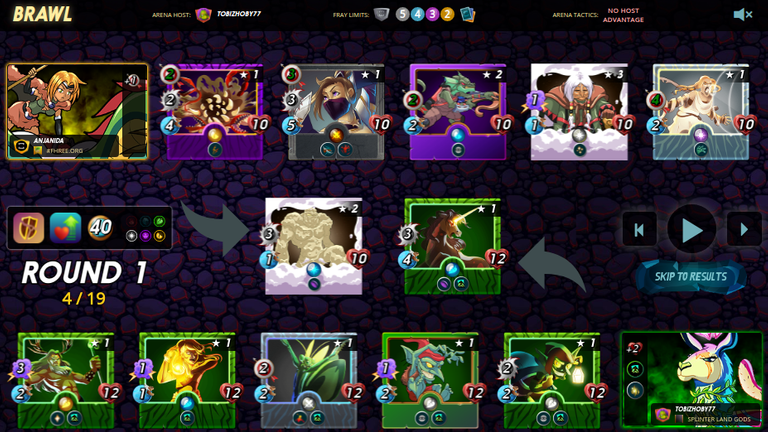 https://splinterlands.com?p=battle&id=sm_dNlugOnFckTBLEJnAoip&ref=anjanida
My Divine Healer proves useful and is untouched by the opponent during the course. The Gladiator, however, is much too fast to deal a lethal hit to get into a bloodlust.
By round 5, all of the opponent's cards are out of play except for Kron. With 17 attack on a Kron with 18 health, it looks promising. Will it work?!
This much I will reveal: The Gladiator licks blood for once.
Two battles are actually made within a few minutes each, but the coverage is elaborate. My time is running out. I have a lot of battles left.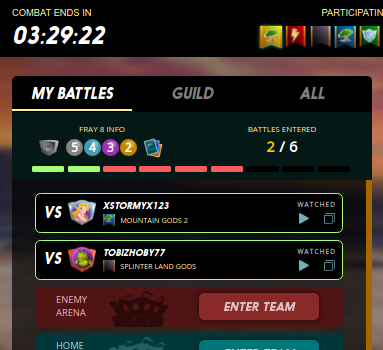 So I will try a quick run through. From the next battle a few views and not many words. First of all: A "Keep your distance" with 23 mana causes me to use a "Captain Katie" Gladiator. And with the team selection I had almost forgotten the chicken.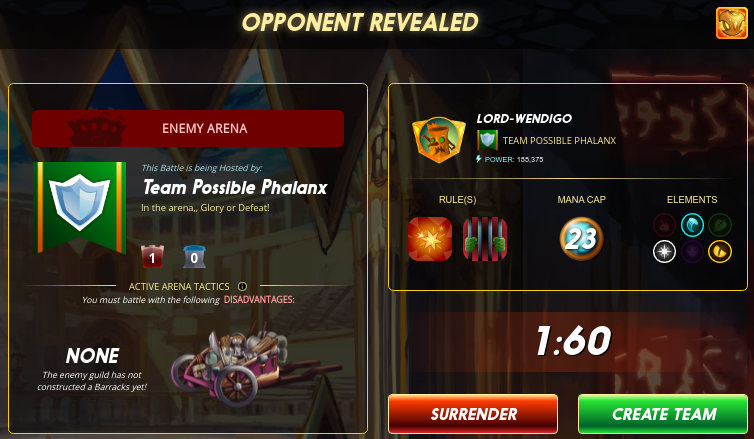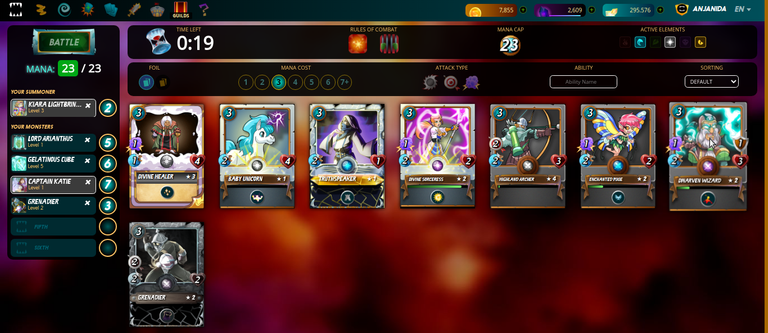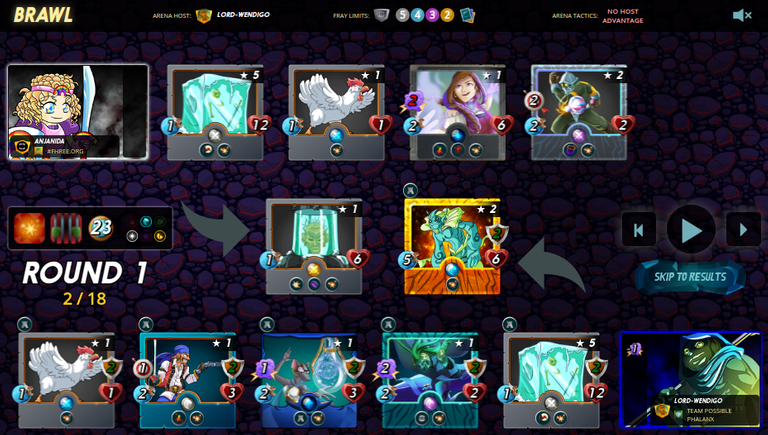 https://splinterlands.com?p=battle&id=sm_8BJcaW6qyJRWAmOz8uZ8&ref=anjanida
The Gladiator takes all the credit. After losing two cards, I was so excited that I forgot to count the number of bloodlust!
The time I needed for this is felt significantly shorter. But in fact another quarter of an hour is joyfully and busily lost. Three battles remain for me.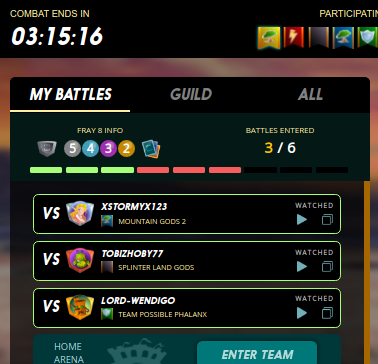 The fourth battle was fun, worth watching, but doesn't end well. Again in fast forward.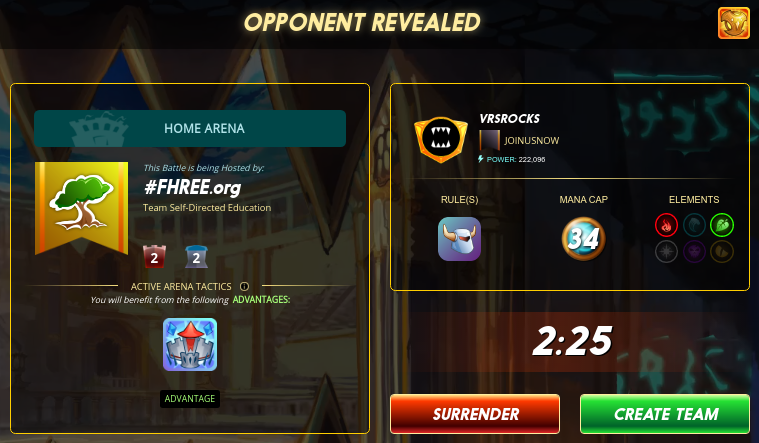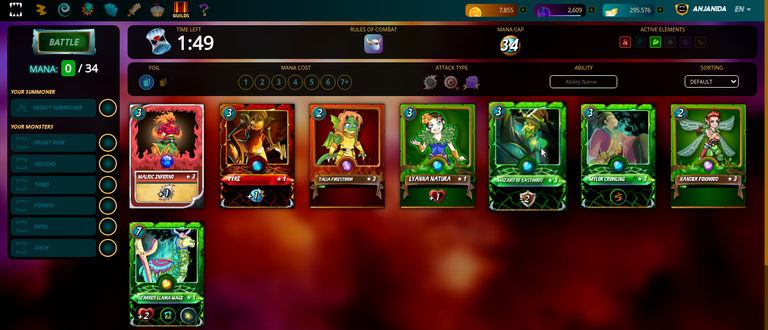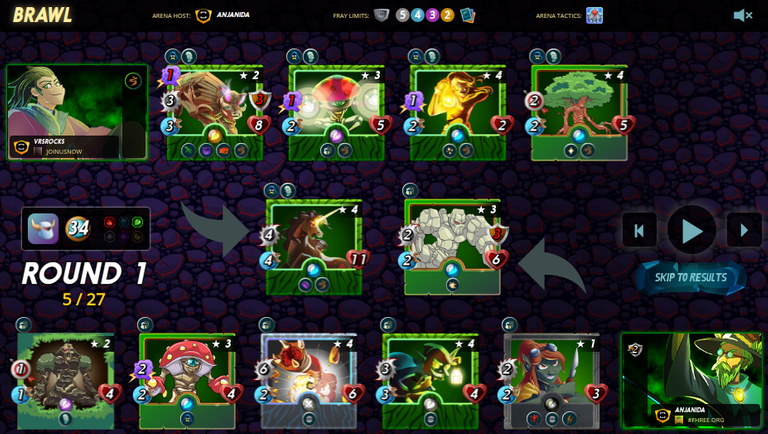 https://splinterlands.com?p=battle&id=sm_esQxS7JXkP1TfRbxKw5f&ref=anjanida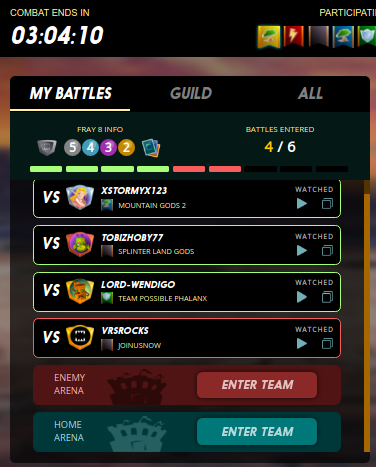 Battle 5
With poison and earthquake, it takes a lot of health. I try "Chimney Wallstop." And even though he doesn't achieve bloodlust, it turns out well in the end.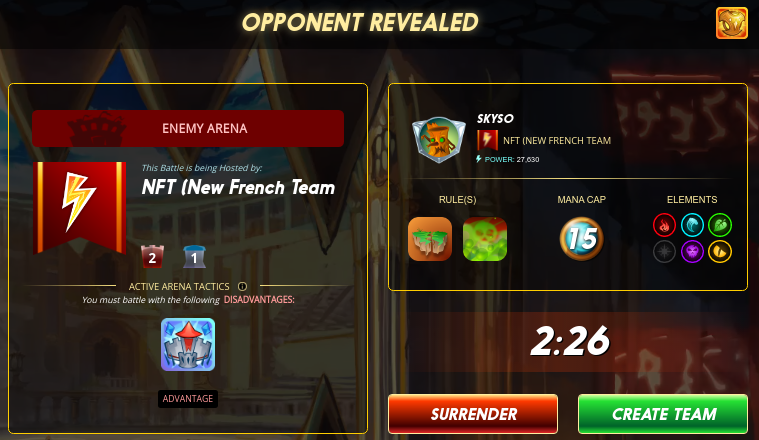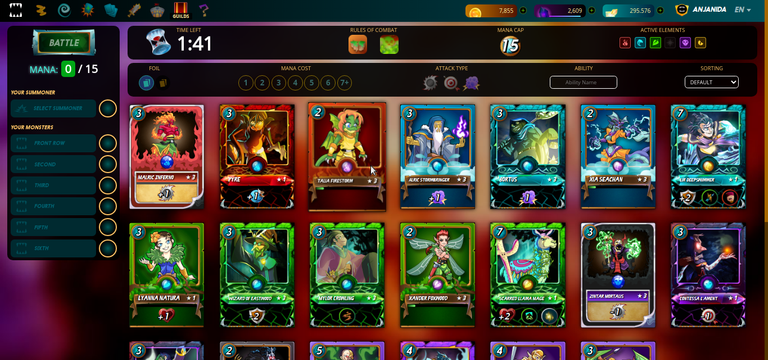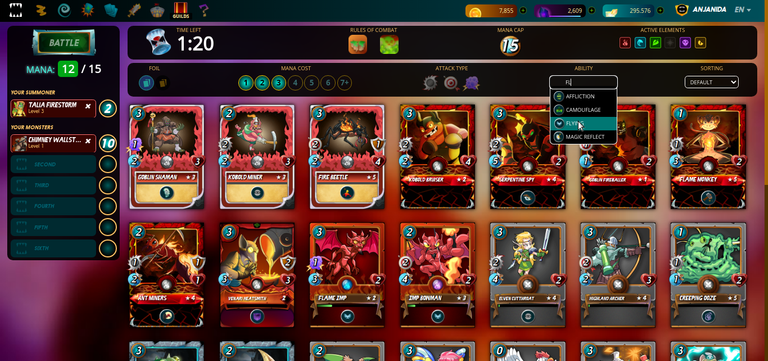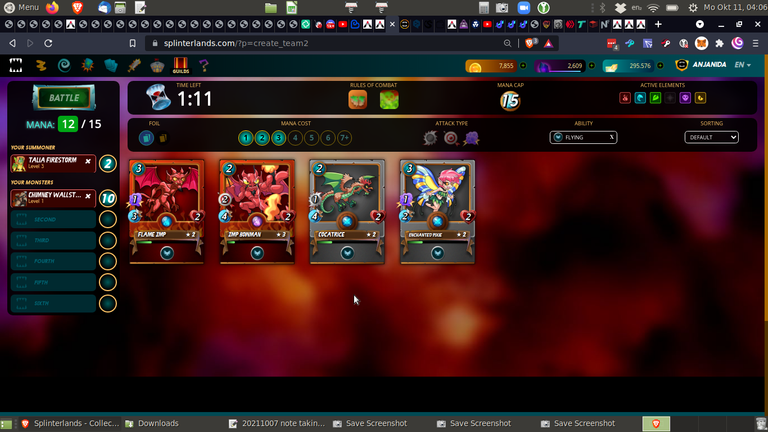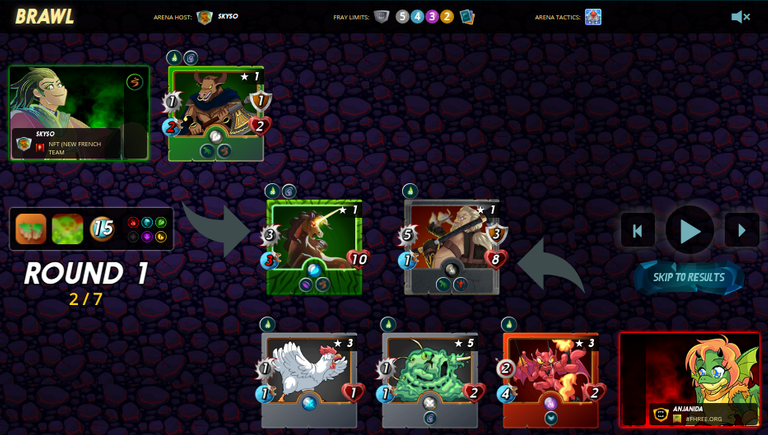 https://splinterlands.com?p=battle&id=sm_7bRctPe4o8RebvPbUgbl&ref=anjanida
Battle 6
Again little mana. Only this much: The gladiator licks blood twice!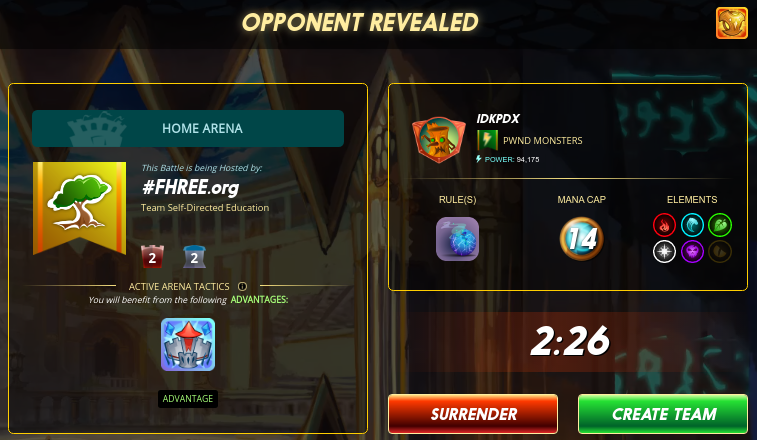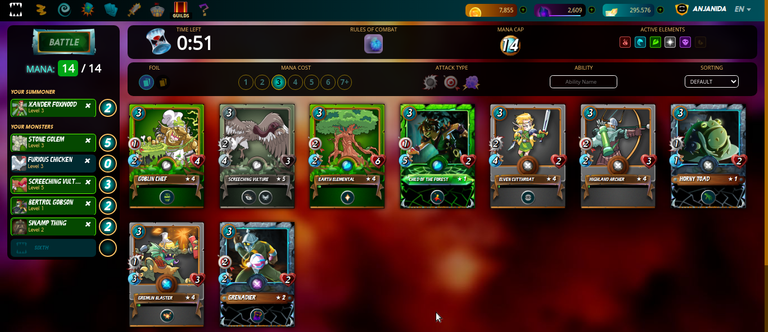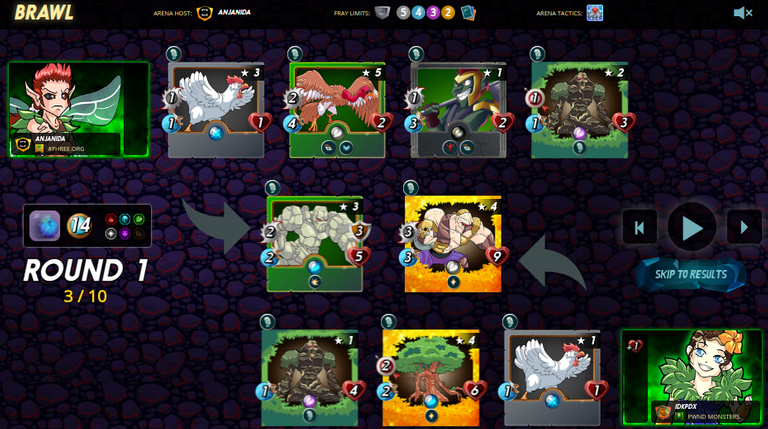 https://splinterlands.com?p=battle&id=sm_OtAFt439qp9gBKNwHMNC&ref=anjanida
I'm curious when I'll finally meet a gladiator from my opponents. If you like the way of reporting, please leave me a comment.
And now again we hope to see you soon!
PS: If you want to read more from us, please have a look at our summary from 2019: Recap, Present, and Prospects
---
DEUTSCH
Meine vierte Rauferei mit Gladiatoren steht an. Vorher jedoch habe ich die Freude, ein Gladius Case - also ein Gladiator Pack von den in der Gilde erspielten Merits zu kaufen.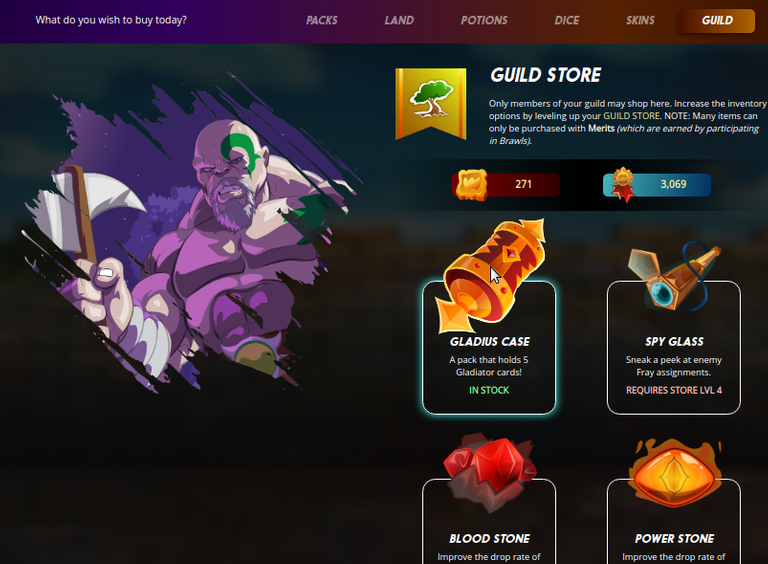 Merits sind nicht käuflich und nur in Gilden-Raufereien erhältlich. Ein Case kostet 2.000 Merits.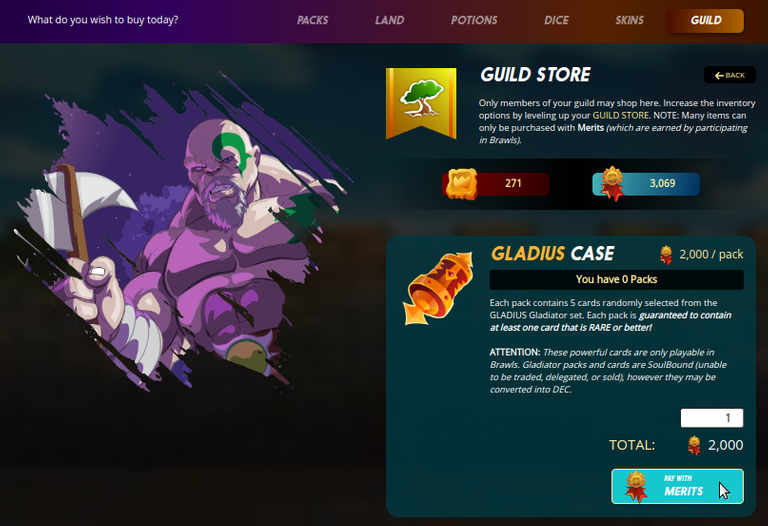 Beim Öffnen ein paar typische Licht- und Soundeffekte.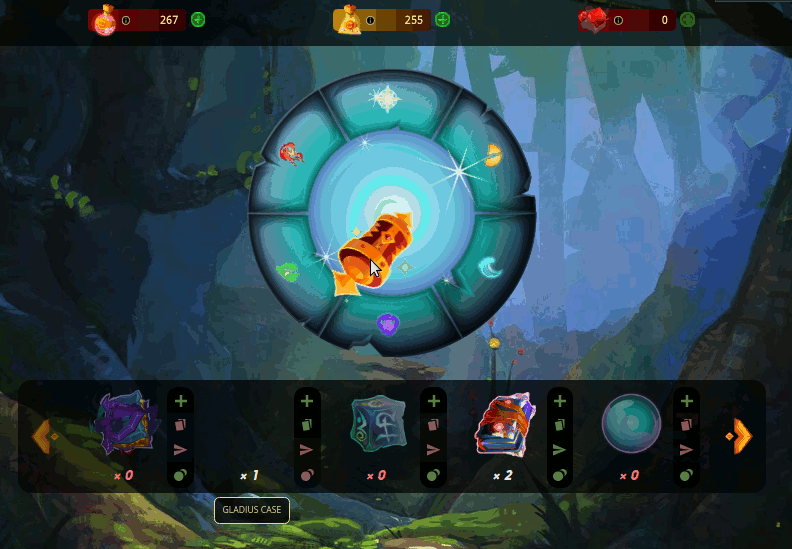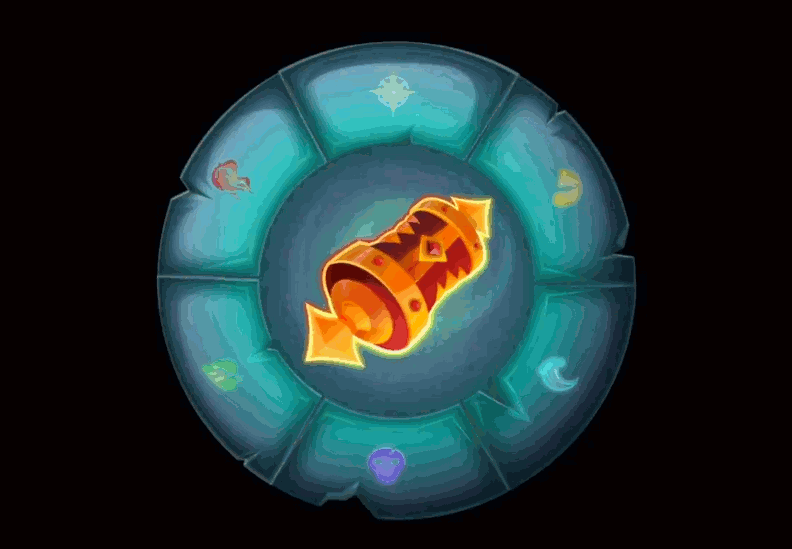 Beim Öffnen werden zunächst die mit Karten mit ihren Rückseiten angezeigt. Mit der Maus über die Karte gefahren, erscheint ein leuchtender Rand, der die Farbe von seltenen, epischen und legendären Karten ankündigt. Hier wird sich neben einer seltenen Karte eine legendäre offenbaren! (Ich hab zwei Ansichten kombiniert.)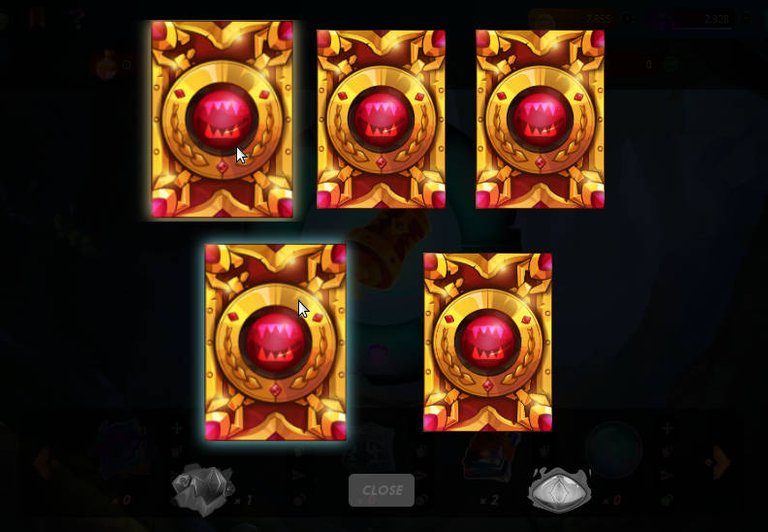 Und siehe da, ich erhalte einen legendären, neutralen Tatiana Blayde für 8 Mana. Neutral bedeutet hier, die Karte kann mit jedem Beschwörer gespielt werden.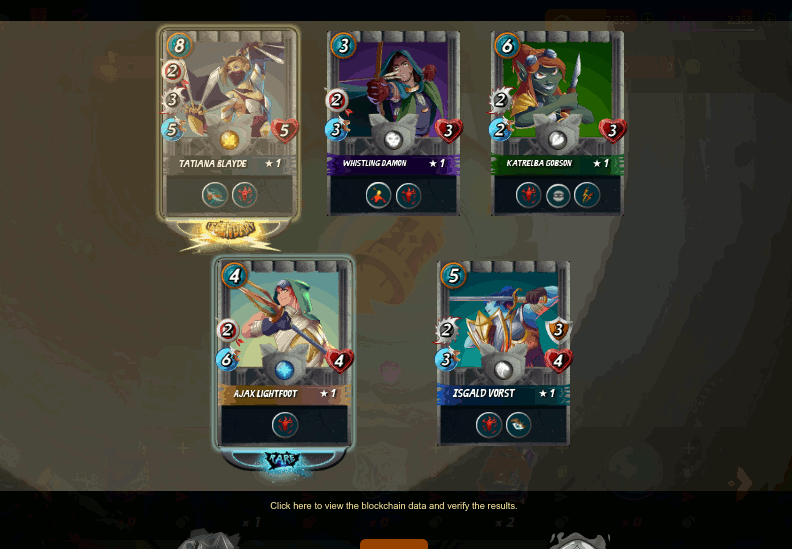 Ich bin schon sehr gespannt, wie und wie oft ich diese Karte in den jetzt folgenden Kämpfen verwenden werde. Sie schießt auch aus der ersten Reihe und eignet sich prima bei den Regelsätzen "Melee Mayhem" oder "Super Sneak" als Karte für die hinteren Reihen. Vorausgesetzt es gibt genug Mana.
Meine Karten-Auswahl wird damit nun deutlich größer und ich habe meine ersten doppelten Exemplare.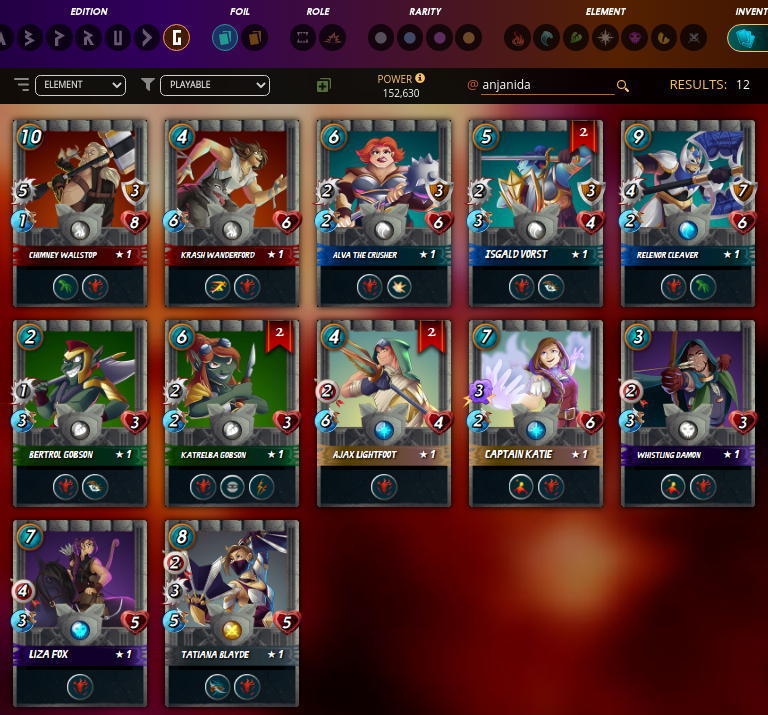 Bis auf Drachen habe ich nun Gladiatoren in jedem Splinter. Auch gespannt bin ich, wann sich Routine im Spiel damit einstellen wird. Im Augenblick ist noch immer die größte Freude, sehr aufmerksam die jeweiligen Kampfbedingungen zu bedenken und den Beschwörer anhand eines Favoriten unter den Gladiatoren auszuwählen. Auf geht's!
Ich habe sechs Kämpfe in Silber vor mir. Meine vorherigen Gladiatorenkämpfe sind in Hast du den verärgerten Gladiator gesehen? Vier Stunden bleiben mir noch von den instgesamt 48 Stunden der Kampf-Phase.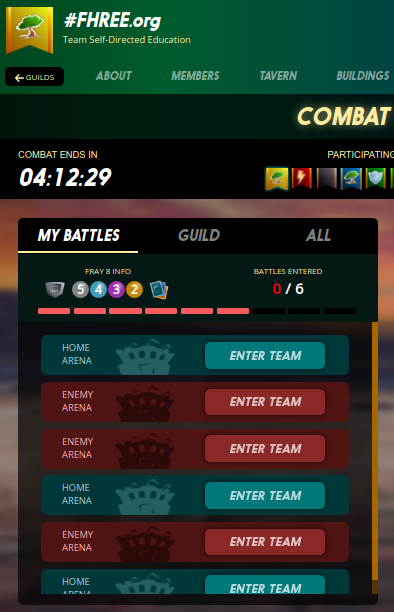 Vor Augen habe ich nun wieder die Ansicht meiner Gladiatoren und die folgende Arena-Vorschau mit den Kampfbedingungen.
Der erste Kampf bietet nicht viel Mana. Anhand des Gladiators für 2 Mana entscheide ich mich für Wald.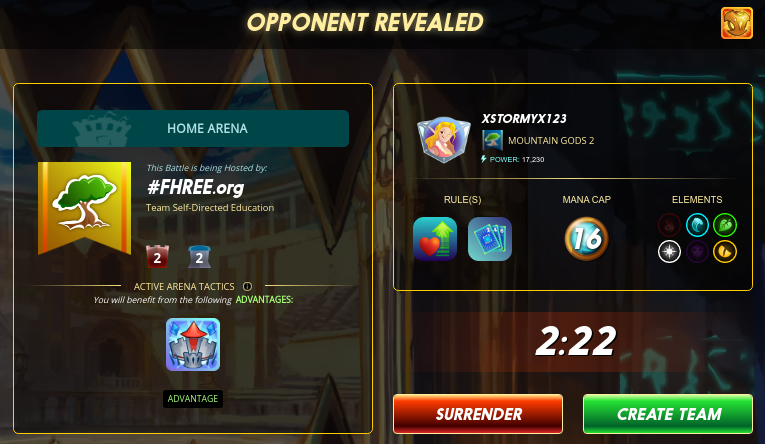 Ich nehme den epischen Beschwörer. Dieser kostet nicht nur lediglich 2 Mana, sondern lässt mir eine gerade Menge Mana für die Monsterauswahl.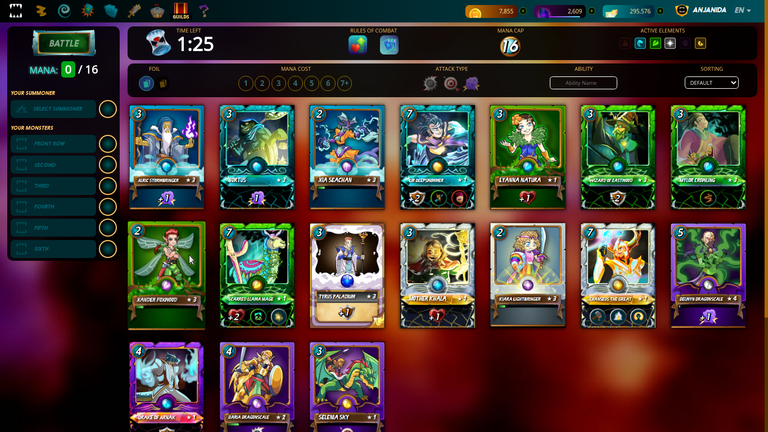 Ich wähle zuerst den Gladiator und entscheide mich für den Flesh Golem als Tank. Weiter fällt mein Blick auf den Centaur, was sich nach Absenden des Teams mit Blick auf das folgende Bildschirmfoto jedoch als leichtfertig herausstellt. Mit der Khmer Princess und dem Swamp Thing wäre ich deutlich besser bediet gewesen, was den Equilizer betrifft, mit dem alle Herzen der Monster aufgefüllt werden.
Nun denn, die Wahl ist getroffen. Battering Ram und das Huhn nahm ich noch hinzu.

Der Gegner wartet lediglich mit Level 1 Karten auf und bringt keinen Gladiatoren mit.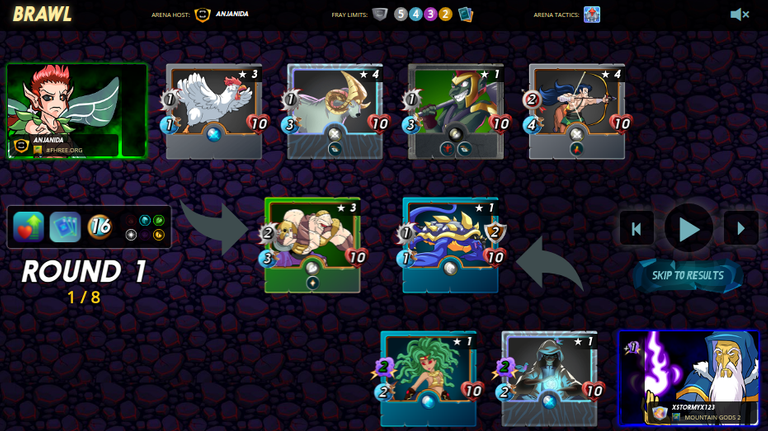 https://splinterlands.com?p=battle&id=sm_CpIqdhhEPQFwWD4Dkh38&ref=anjanida
Der selbst-heilende Flesh Golem zeigt sich als gute Wahl, der Gladiator leckt einmal Blut und der Kampf ist schnell entschieden. Gleich zum nächsten Kampf!
Die Arena-Vorschau sieht zunächst unscheinbar aus. Die gegnerische Arena ist nur in Level 1 und es gibt keine Baracken, also auch keinen gegnerischen Gladiator.
Mit 40 Mana entscheide ich mich sogleich für meinen legendären, neutralen Gladiatoren.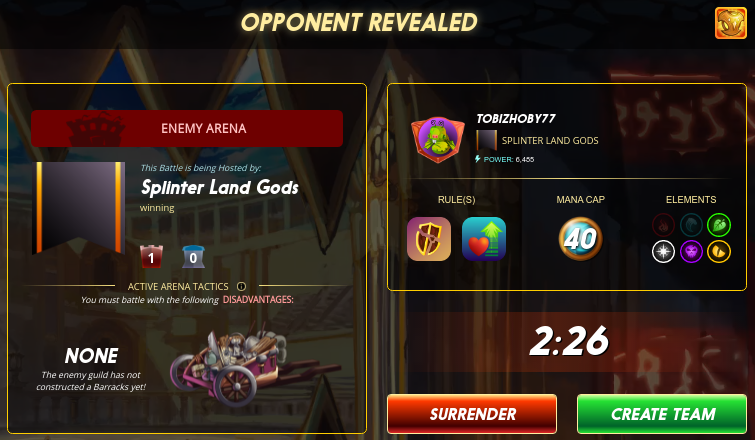 Beim Beschwörer verliere ich bereits wichtige Zeit, denn mit neutralem Gladiatoren habe ich hier die Qual der Wahl. Ich entscheide mich für Selenia Sky, die den Gladiatoren aufwerden wird.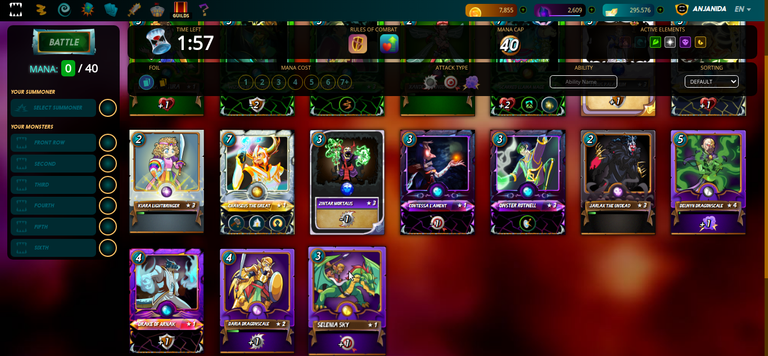 Da ich den Drachen-Splinter nahm, folgte eine weitere Wahl, die mich erneut einige Zeit kostete, da ich grübelte, was wohl gut passend wird. Er erwog Leben, dann Tod, und entschied mich schließlich für Leben, da ich die Schützen darin bei ausreichend Mana gerne mit Selenia spiele.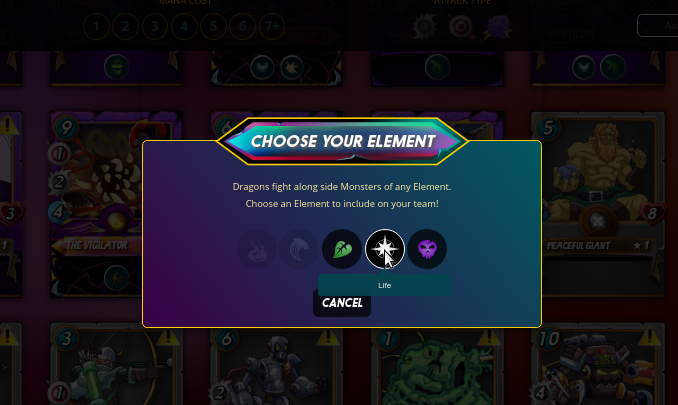 Die Teamauswahl wird dann zeitlich sehr knapp, weshalb ich die 40 Mana nicht mal auskoste. Die Zeit hatte ich deutlich überzogen. Doch bekanntlich sind ein paar Sekunden Verzug möglich.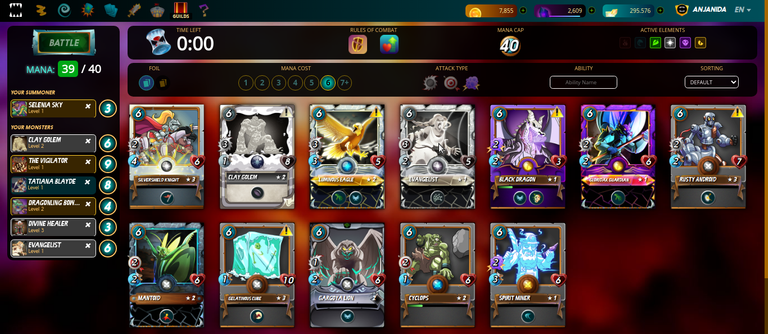 Dann folgt die Überrauschung: Ein Llama mit einem Kron the Undying, der sich selbst heilt. Mein schießender Hinterhalt ist damit schon von Beginn an vergeblich. Einen Wurm für 9 Mana hätte ich gebraucht. Doch das konnte ich nicht ahnen. Ich bin also gespannt, ob ich den typischen Llama-Verlauf aufhalten kann ...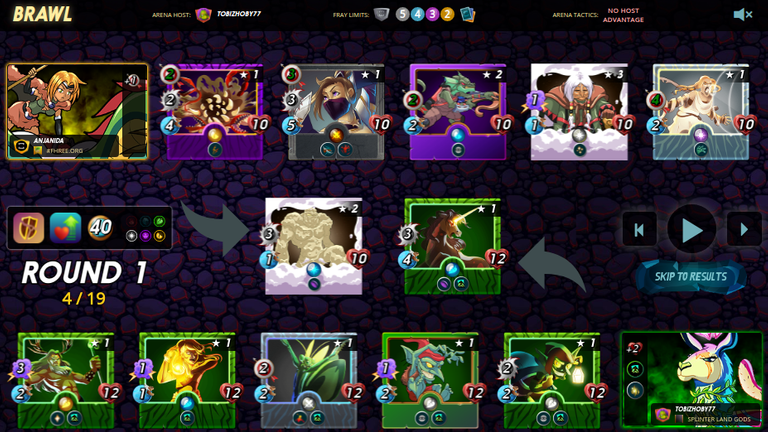 https://splinterlands.com?p=battle&id=sm_dNlugOnFckTBLEJnAoip&ref=anjanida
Mein Divine Healer erweist sich als nützlich und wird im Verlauf vom Gegner nicht angetastet. Der Gladiator jedoch ist viel zu schnell, um einen tödlichen Treffer zu ergattern und in Blutrausch zu kommen.
Bereits in Runde 5 sind bis auf Kron alle gegnerischen Karten aus dem spiel. Mit 17 Angriff auf einen Kron mit 18 Herzen sieht es vielversprechend aus. Wird es klappen?!
So viel will ich verraten: Der Gladiator leckt einmal Blut.
Zwei Kämpfe sind eigentlich jeweils innerhalb weniger Minuten gemacht, doch die Berichterstattung ist aufwändig. Meine Zeit zerrinnt. Es bleiben mir viel Kämpfe.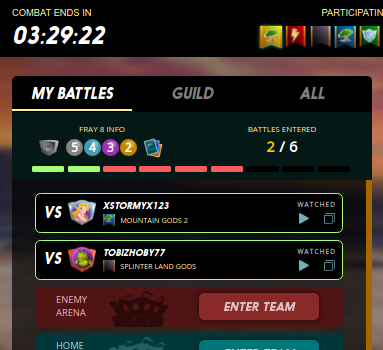 Ich will also mal einen Schnelldurchlauf versuchen. Vom nächsten Kampf ein paar Ansichter und nicht viele Worte. Vorweg noch so viel: Ein "Keep your distance" mit 23 Mana veranlasst mich zu einem "Captain Katie" Gladiator. Und bei der Team-Auswahl hatte ich fast noch das Huhn vergessen.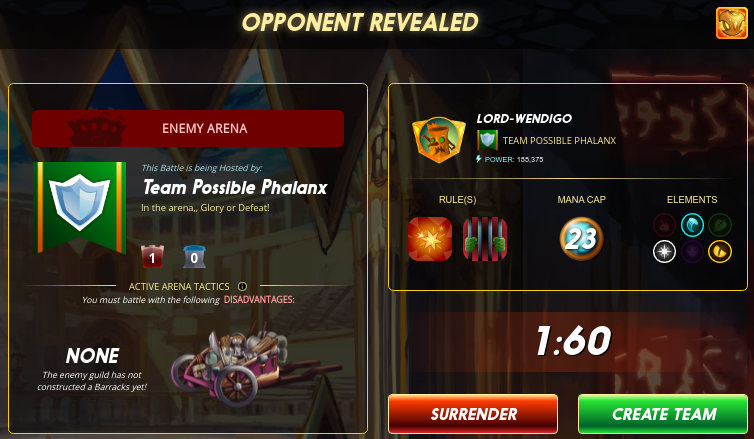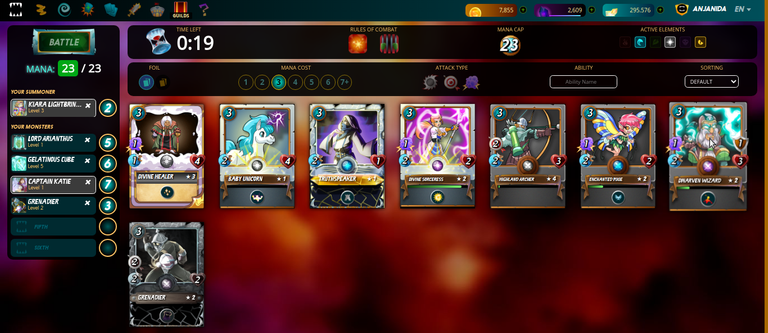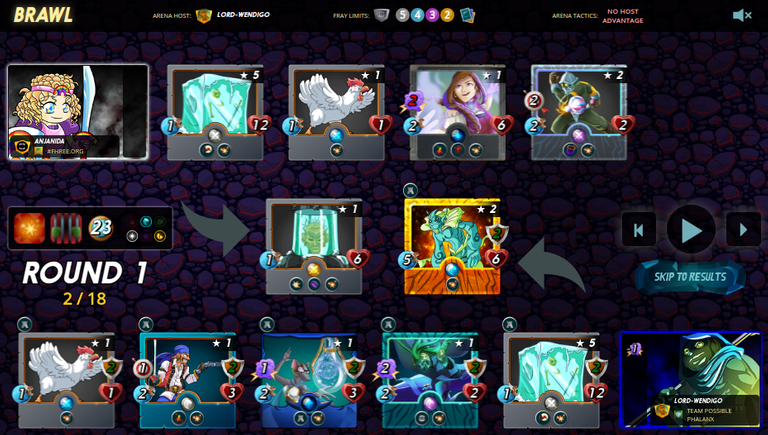 https://splinterlands.com?p=battle&id=sm_8BJcaW6qyJRWAmOz8uZ8&ref=anjanida
Der Gladiator macht sich alle Ehre. Nach zwei verlorenen Karten hatte ich derart gespannt mitgefiebert, dass ich vergessen hatte, die Anzahl Blutrausch zu zählen!
Die Zeit, die ich hierzu brauchte, ist gefühlt deutlich kürzer. Doch tatsächlich ist eine weitere Viertelstunde freudig und geschäftig verrannt. Es bleiben mir drei Kämpfe.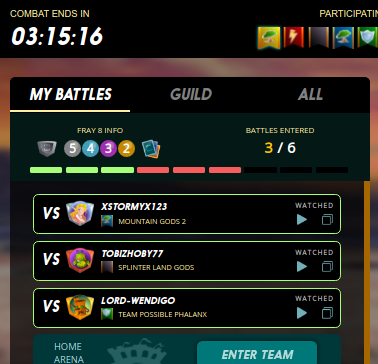 Der vierte Kampf hat Spaß gemacht, ist sehenswert, geht jedoch nicht gut aus. Wieder im Schnelldurchlauf.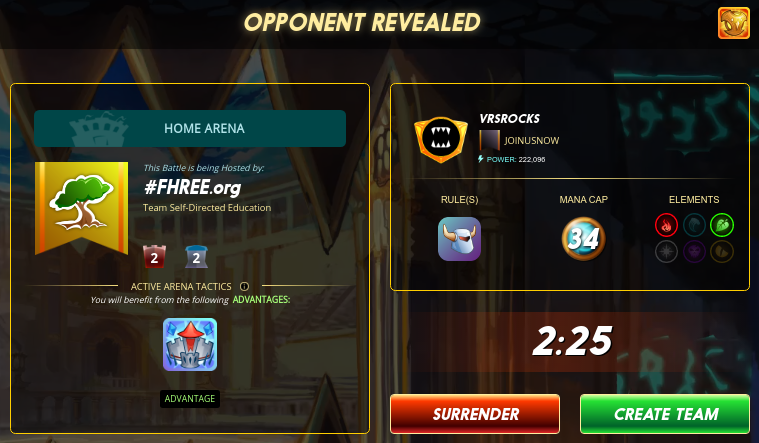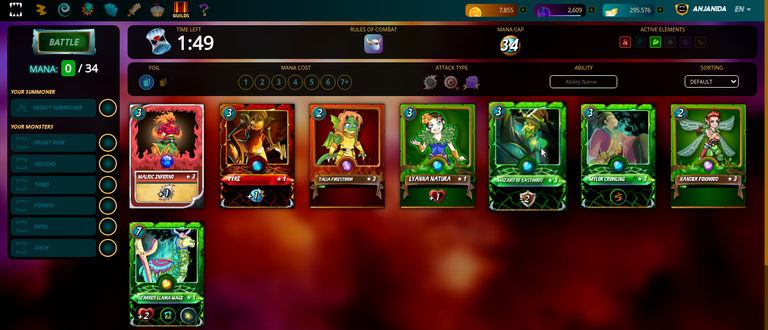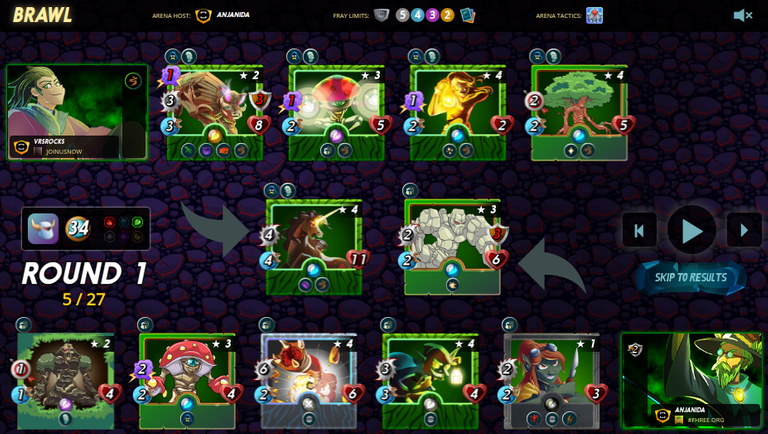 https://splinterlands.com?p=battle&id=sm_esQxS7JXkP1TfRbxKw5f&ref=anjanida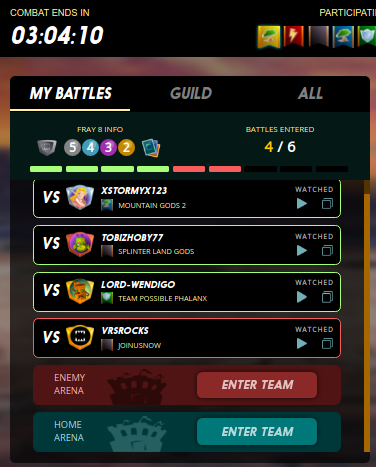 Kampf 5
Bei Gift und Erdbeben braucht es viele Herzen. Ich versuche "Chimney Wallstop". Und trotzdem er keinen Blutrausch erreicht, geht das letzlich gut aus.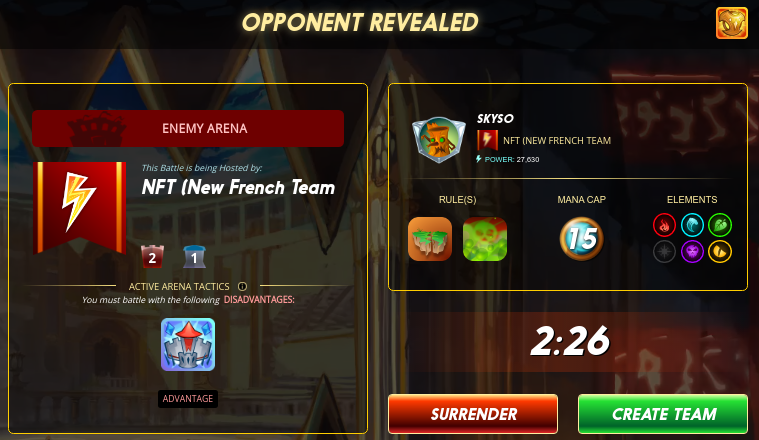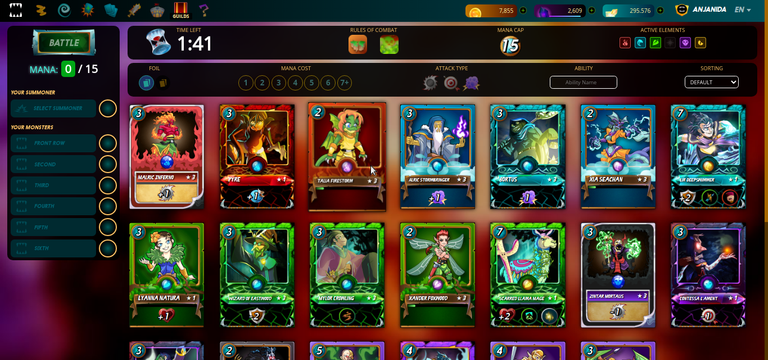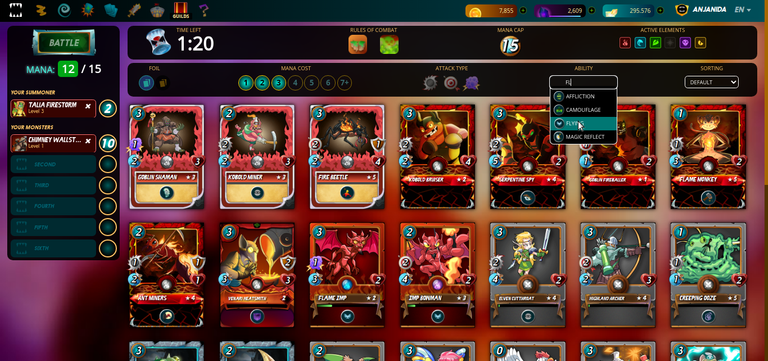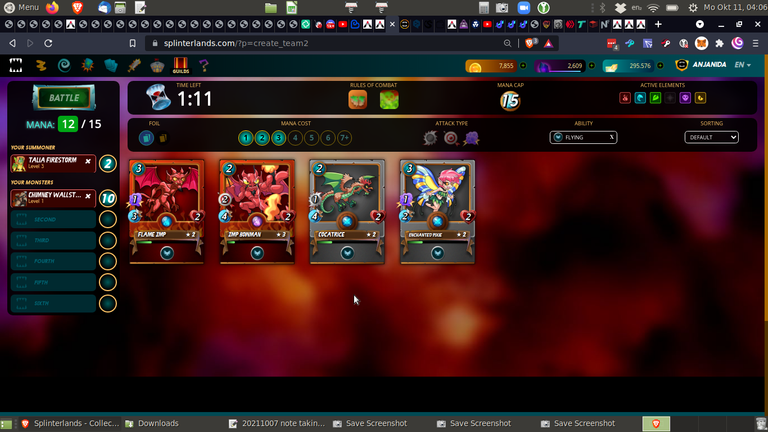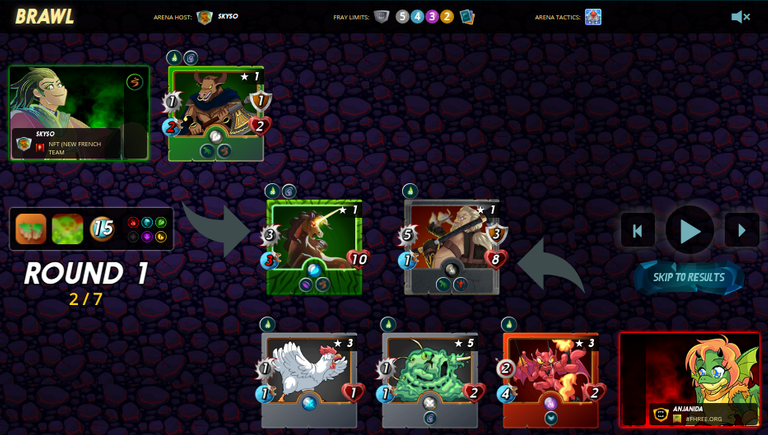 https://splinterlands.com?p=battle&id=sm_7bRctPe4o8RebvPbUgbl&ref=anjanida
Kampf 6
Wieder wenig Mana. Nur soviel: Der Gladiator leckt zwei Mal Blut!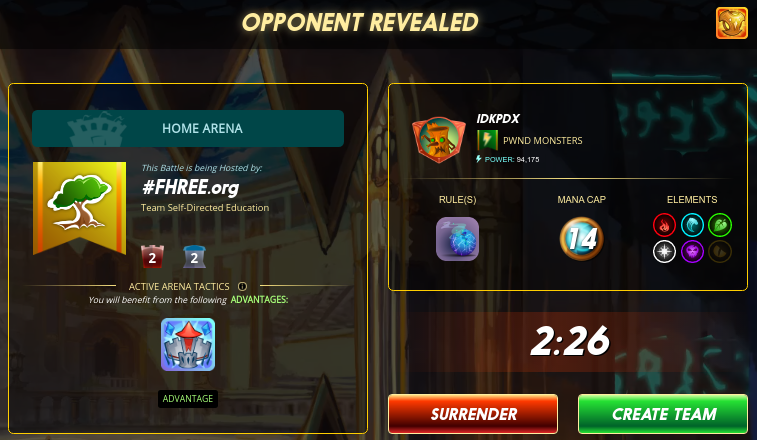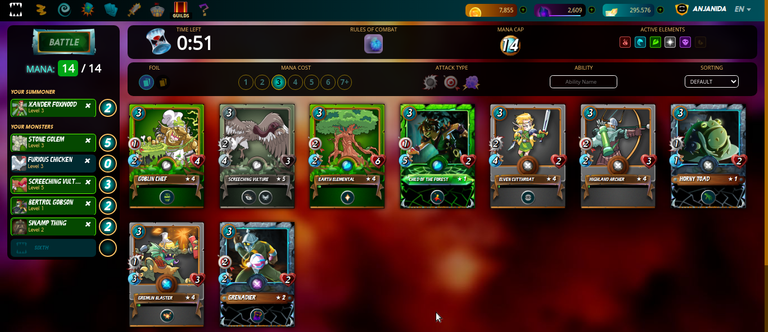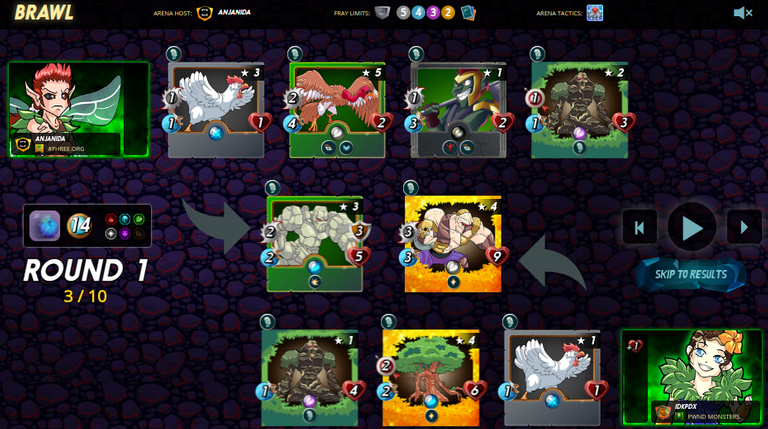 https://splinterlands.com?p=battle&id=sm_OtAFt439qp9gBKNwHMNC&ref=anjanida
Ich bin ja mal gespannt, wann mir endlich ein Gladiator vom Gegner begegnet. Wenn dir die Art der Berichterstattung gefällt, hinterlasse mir bitte einen Kommentar.
Und nun wieder hoffentlich auf bald!
PPS: Wenn du mehr von uns lesen möchtest, wirf bitte einen Blick auf unsere Bilanz aus 2019: Rückblick, Gegenwart und Ausblicke
---
---