How to counter the Torn ability (and Mylor Crowling)?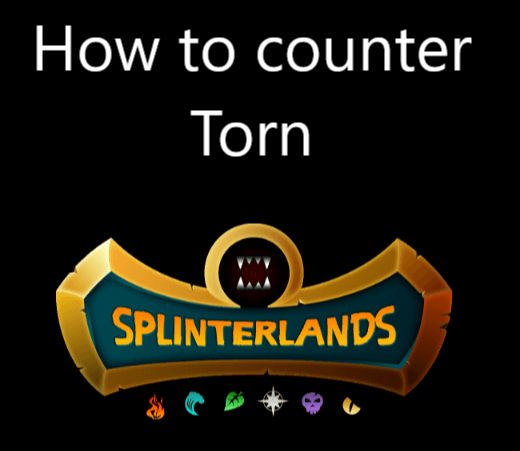 I'm playing usually in Bronze and Silver 3 leagues and one of the most annoying enemies around is Mylor Crowling and Djinn Chwala. So I have tried to counter him.
I believe most of you, who read this article, already know what I'm talking about: Torn.

Torn : When hit with a Melee attack, does damage back to the attacker. This is a max of 2 damage which hurts first the armor of a unit and then it's life. It can be decreased to 1 with the Shield ability and nullified once with Divine Shield.
So let's get to it. Here are some of my most successful strategies, unfortunately there is no silver bullet between them:
---
1. Tanks with armor and shield
I always start my strategy by selecting a tank with shield. Best if it has Armor as well.

These cards have a double advantage: they reduces the damage received from melee and ranged attacks, as well as the torn ability (so only 1 damage from torn/round).
In the Starter deck you can use:
| Element | Card name | Card | Description |
| --- | --- | --- | --- |
| Fire Element | Serpentine Soldier | | This card is a decent low mana card to set up the defenses. |
| Fire Element | Living Lava | | My favourite card on high mana matches against Torn, as it has high health, attack and has shield as well |
| Water Element | Frozen Soldier | | I rarely fight against torn characters with water attack cards. I prefer to use a magic team with Peaceful Giant as tank. |
| Earth Element | Stone Golem | | Stone Golem needs a strong backwind, which will do the damage instead of him. |
| Holy Element | Silvershield Paladin | | We will see a fight with this card later on. With 2 healing cards Shieldbearer can also be useful |
*If you were very lucky with your daily/end of season chest rewards, then you could also have a Death element card: Harklaw.

Another option is to use a tank with no attack so it won't loose 2 health each round. In the started deck such card is the Peaceful Giant, which has high health and is a perfect meat shield in front of your backline ranged attackers.
Here is a fight where I utilize the above information:
Ruleset:
15 mana
Every element can be played
Super Sneak
Up Close & Personal
The fight can be watched here:
https://splinterlands.com/?p=battle&id=sl_74c5fd4cd61af752048ac43a9e3ae459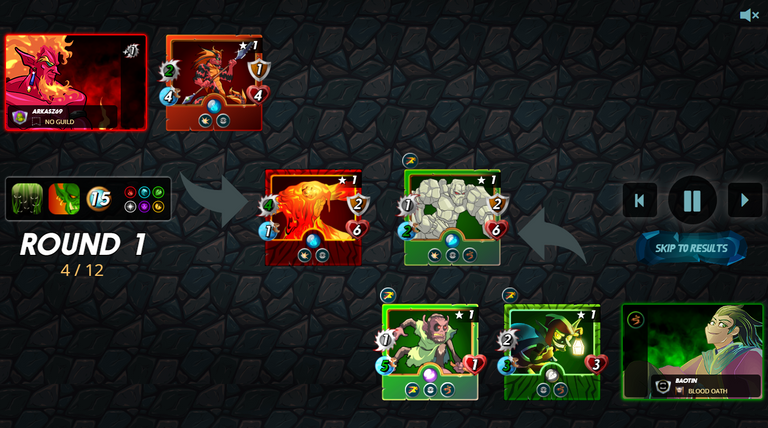 ---
2. Ranged and Magic attacks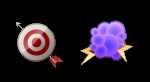 Ranged and Magic attacks are unaffected by torn and as such are the backbone of each strategy against this skill. Unfortunately these cards have usually low health, so the right tank has to be used, see above.
Another example, a win with a starter holy deck with Venari Crystalsmith (which was useless, as healing was not allowed in this fight).
Ruleset:
32 mana
Healed Out
Rise of the Commons
The fight can be watched here: https://splinterlands.com/?p=battle&id=sl_a656ac133c7927ef61c12f3baf377cc7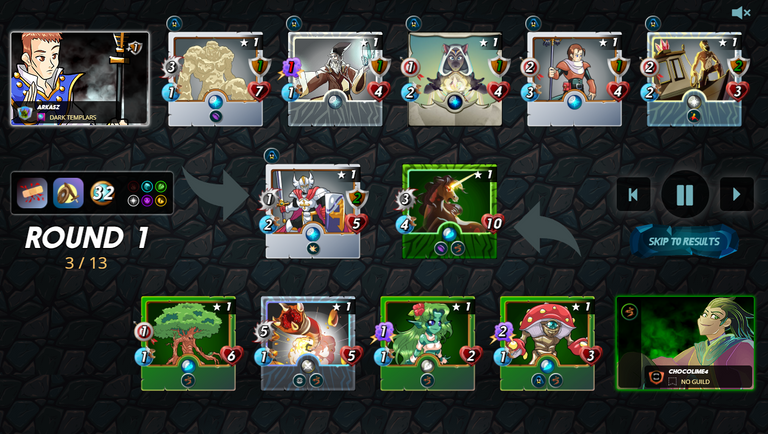 ---
3. Heal your tank and kill enemy healers
To keep up the fight a bit longer we can use healers in our teams. The holy team has a Divine Healer in their base set, but the current reward cards offer also the Venari Crystalsmith, who has 1 ranged attack already on the first level. A great addition to the team.
But also the players who have a creature or summoner with the torn ability often use a tank healer in their team as well, like Wood Nymph. All tank heal cards in the lower leagues are ranged or magic cards.

To counter these cards it is advisable to have a strong sniper in the team (2 damage) to eliminate the healing effect at the beginning of the game. A lower mana card could be also used with a card having the weaken ability, like Goblin Shaman or Undead Priest.

In this fight I have utilized the tank healers, I have also seen one of the rulesets is the Spreading Fury, which I will get to in the next round, in this case a few sacrifices are well worth it! Sorry that in this I used a lot of rented cards.
Ruleset:
Earth, Holy, Death
46 mana
Unprotected
Spreading Fury
You can see the fight here: https://splinterlands.com/?p=battle&id=sl_b581f28bed08abfb230ccc72a19045f9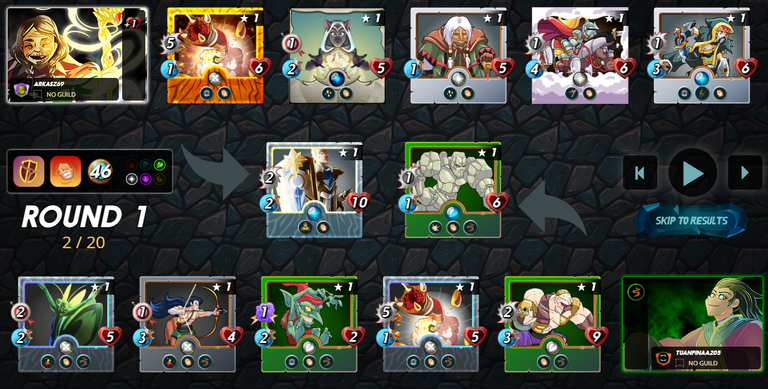 ---
4. The ruleset which can help against torn
These are the best rulesets agains torn:
| Icon | Name | Description | How does it help |
| --- | --- | --- | --- |
| | Explosive Weaponry | All Monsters have the Blast ability. | As blast hits the neighboring monster/s as well we can damage more cards and melee monsters receive the damage from torn only once |
| | Keep your distance | Monsters with Melee attack may not be used in battles. | Makes torn useless |
| | Little League | Only Monsters & Summoners that cost 4 Mana or less may be used in battles. | As low mana cards have also low health and only a few special abilities, so it is easier to kill them |
| | Spreading Fury | All Monsters have the Enrage ability. | This is a hidden gem: when a melee character hits an enemy they will loose health, which makes them faster and stronger this means that the enemy monsters can be killed faster, maybe with 1 hit. |
| | Target Practice | All Ranged and Magic attack Monsters have the Snipe ability. | This can help to eliminate cards with healing on the enemy team |
Rulesets like Armored Up, Holy Protection, Close Range, Earthquake, Noxious Fumes can also be helpful, but I tried to focus on rulesets, which give a clear advantage if torn is in play.
One of my favorite rulesets is Spreading Fury. I like to use a monster with higher health and reach on second position, which will get damaged as well, and after that will be much stronger and faster helping to kill of the enemy monsters. Often the damage caused with Enrage is a much bigger, then the damage received. Great reach cards in the starter deck are: Orc Sergeant, Luminous Eagle.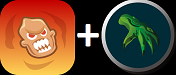 This post is getting to long, let's look at the end on another fight in the Little League ruleset. In this fight we have 1 reward card - the Exploding Rats.
Ruleset:
Available elements Fire, Earth, Death
24 mana
Unprotected
Little League
https://splinterlands.com?p=battle&id=sl_e3ab5e2efd5763bda6ca1b23ed579e01&ref=arkasz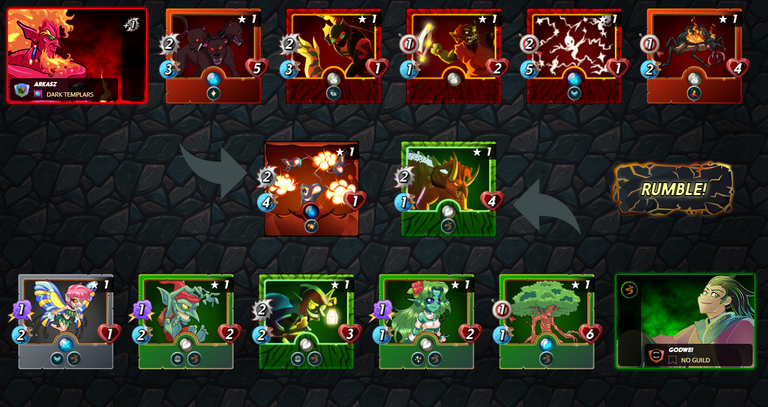 ---
I hope you liked this overview. Feel free to share your strategies in the comments. Also I would be happy if I can get Upvotes/comments/PIZZA/BEER/WINE/LUV and every other options, so I see that it was worth it to work on this content ;)
Have a great day and good luck!
PS: If you would like to start the game, pls use my referral link: https://splinterlands.com?ref=arkasz
Let me know if you used it and I will help you out in your first season :)
---
---