One hard nut - SHARE YOUR BATTLE Weekly Challenge! PIRATE CAPTAIN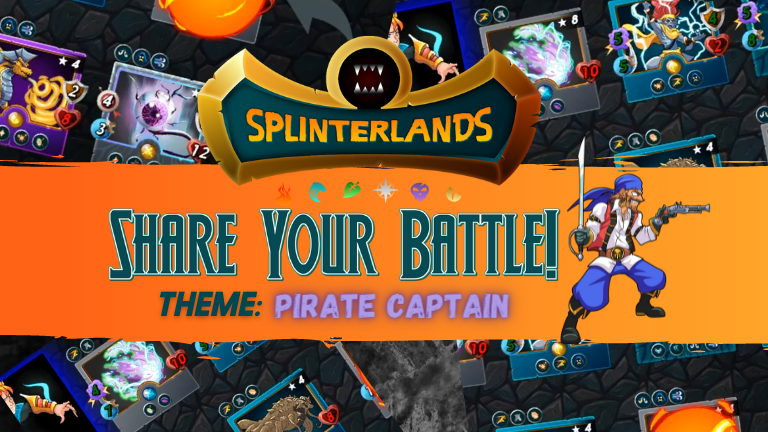 I was very unhappy when I saw the Share Your Battle Challege for this week, as I could not think of a strategy with Pirate Captain. Let's be honest here, the most used water teams in Bronze and Silver leagues are not build around this character. But I don't want to jump ahead of myself, let's make an overview about this card.
Overview
Here are the stats of the card: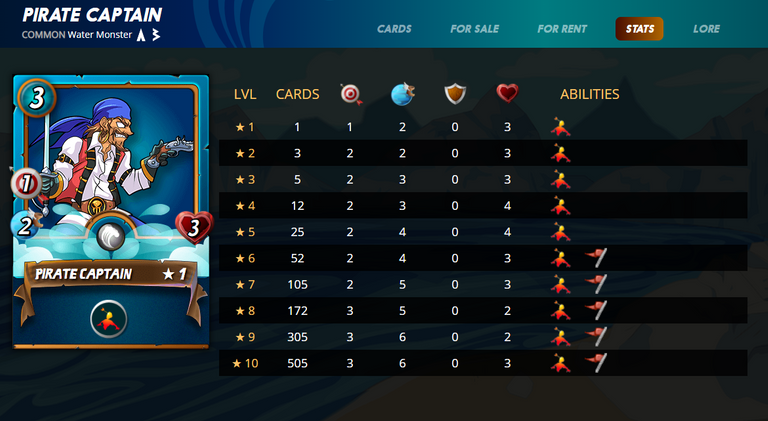 The level one card available in the starter deck has 1 ranged attack, 2 speed and 3 health for 3 mana and the ability Snipe. The health and speed for the price is superb, what this card lacks to be useful 1 more damage. The snipe ability would be then great to fight against the healers in the enemy team.
This is fixed right on the 2nd level, but unfortunately that card is available for bit below 15 USD or 0.6 DEC a day for rent and we would need a higher level summoner as well to use this card in both cases. So this is not a way to take in the bronze and silver leagues.
On level 6 it gets Inspire, which gives the water deck another damage. Combined with Demented Shark this gives a huge punch to each water melee character. Combined with a Goblin Mech (Piercing) it would do massive damage even to cards with shield.
What cards could make the Pirate Captain more appealing to me? Let's start with the summoners. Only Water and Dragon Summoners can use this card:
| Card | Name | Reason |
| --- | --- | --- |
| | Selania Sky | This card provides the 1 missing ranged attack I was mentioning in the previous section. Unfortunately this is a legendary summoner |
| | Archmage Arius | This card also provides the missing 1 damage. Unfortunately this is a legendary summoner |
I did not find any other summoners or monsters, which would improve his skills on level 1. It is also possible to use this card as a meat shield...
Battle
I'm happy to present my battle against Cthuhlu himself, which with a lot of luck I could win! The backbone of this strategy was again the magic background team, and as only cards costing odd numbers could be used I chose the Pirate Captain as a meat shield in the group. He almost killed the Death Elemental and at the end sacrificed himself to Cthuhlu, but saved the game with his sacrifice! This was also the 5th Water element win I needed for my daily reward, which is quite hard without Torhilo the Frozen, Djinn Oshannus or Axemaster in my team. A double thank you for this victory! :)
https://splinterlands.com?p=battle&id=sl_867d9436fc1542cb45eda55ed67f665c&ref=arkasz69
---
This post was made for this weeks share your battle challenge: https://peakd.com/splinterlands/@splinterlands/share-your-battle-weekly-challenge-pirate-captain
I hope you enjoyed this and keep climbing the ranks :)
---
---