SHARE YOUR BATTLE Weekly Challenge! STONE GOLEM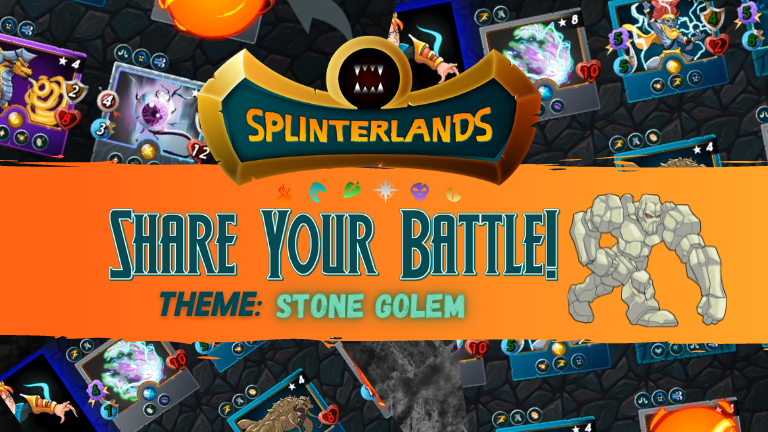 This weeks character is a though nut already in the starter pack. It takes some time to discover the games it is good at, but it can definitely shine in the right light, so let's look into Stone Golem.
Overview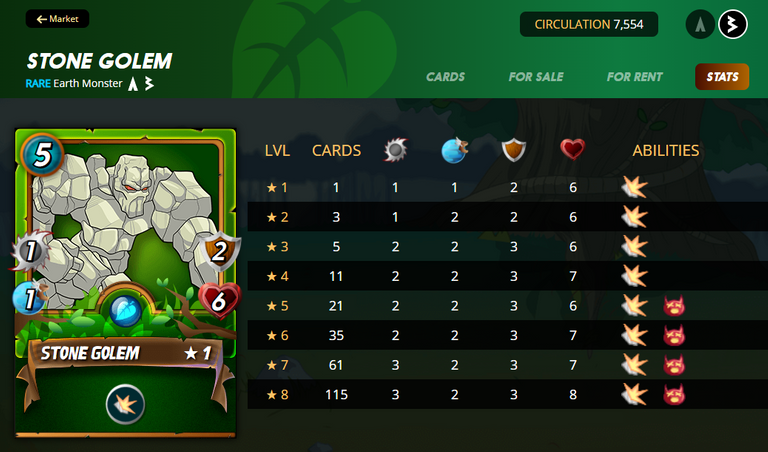 What makes this card shine is it's ability to block damage in the first levels: Shield. It makes 1 damage melee and ranged enemies useless and as mentioned in my post how to counter Torn in the lower levels this is one of the cards to choose: https://peakd.com/hive-13323/@arkasz/how-to-counter-the-torn-ability-and-mylor-crowling
Let's say they are best friends and enemies at once, as he is also perfect match with Mylor Crowling lowering the melee attacks and even retaliating with torn against there enemies.
On higher levels Stone Golem receives additional toughness through health and shield, but his damage increases also to 3 on Level 7. What is also noteworthy is the stun ability at level 5, which can stop the enemy Stone Golem hit from acting next round.
The main weakness of this card is against magic users, who get easily through his hard shell.
Battle
This was a fight against Llama a Creeping Ooze with a Flesh Golem against my Mylor Crowling leading a Stone Golem, a Goblin Sorcerer and an Earth Elemental.
Llama provide an extra 2 health to Flesh Golem, and a Last stand buff, but it still was enough to break through the Stone Golem. Though it was defeated, the torn ability gave the final hit. See, with the Torn ability Stone Golem did instead of 1 damage/turn - 3 damage/turn. A card without Shield and the same stats would have fallen within 3 rounds.
https://splinterlands.com?p=battle&id=sl_87dc56b6974101a1bf7313b207a7f270&ref=arkasz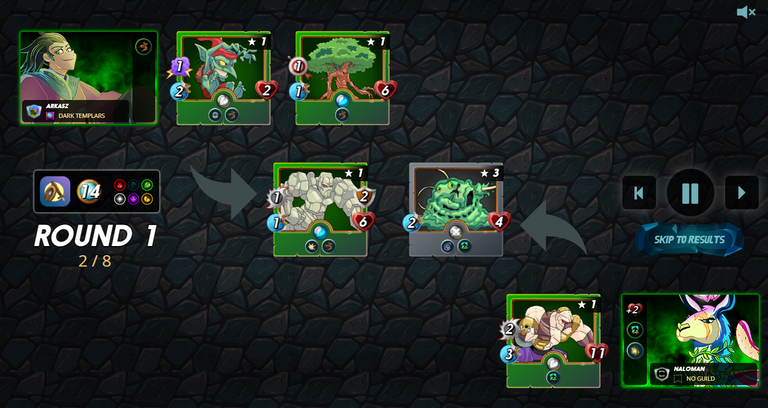 ---
This post was made for this weeks share your battle challenge: https://peakd.com/hive-13323/@splinterlands/share-your-battle-weekly-challenge-stone-golem
I hope you enjoyed this and keep climbing the ranks :)
---
---