Opening 75 Loot Chests for EoS Rewards on June 30th & Opening 2 Chaos Legion Packs

---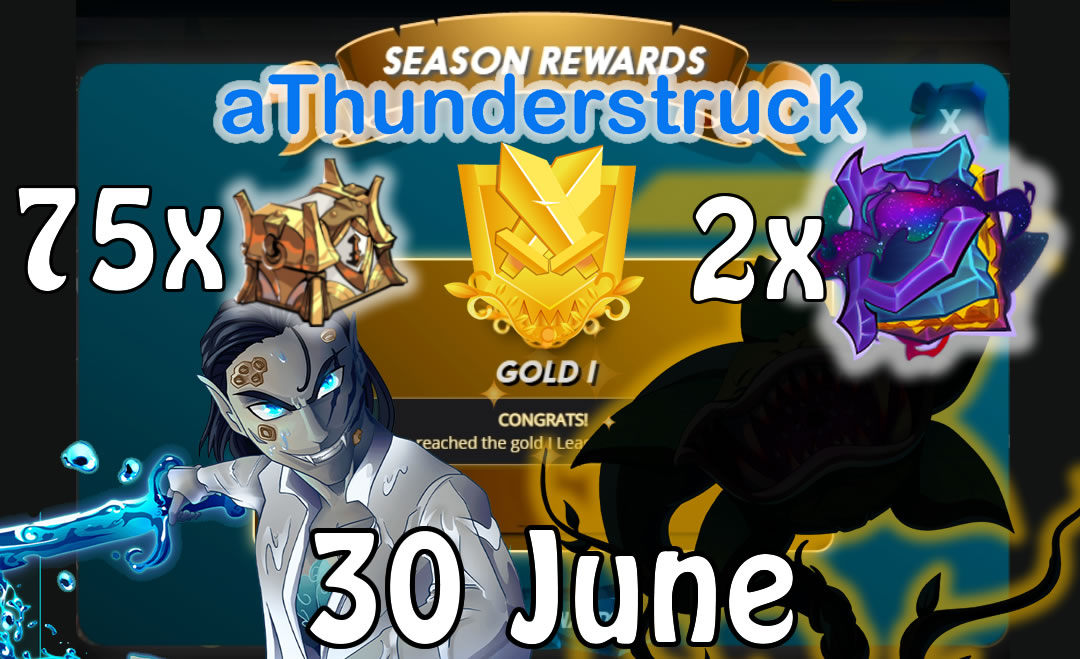 thumbnail image
Ahoy, this June 30th the latest Season in Splinterlands has ended.
This time I couldn't include my last Daily Focus of the season in the opening rewards, because I've been busy in the past two weeks and sometimes couldn't properly claim them. Since there is currently a 24h runtime on the new Focus, it meant that the time at which I can claim my Daily Focus rewards has been postponed several times.
On the other hand I did get more End of Season Loot Chests! Last season I managed to get 64, but this season I was able to get 75 of them! I finished this season in Gold 1 like usual. I still played quite some battles in the last hour or two before the season ended to get those chests up to 75.
This time when I refreshed the page, the pop-up with the End of Season report and the claim button properly showed up and stayed! So I was able to have that one at the start of the video and I use that one to start claiming the 75 Loot Chests.
From opening those 75 Loot Chests I get the following rewards displayed in a screenshot from splintershare info made by deadzy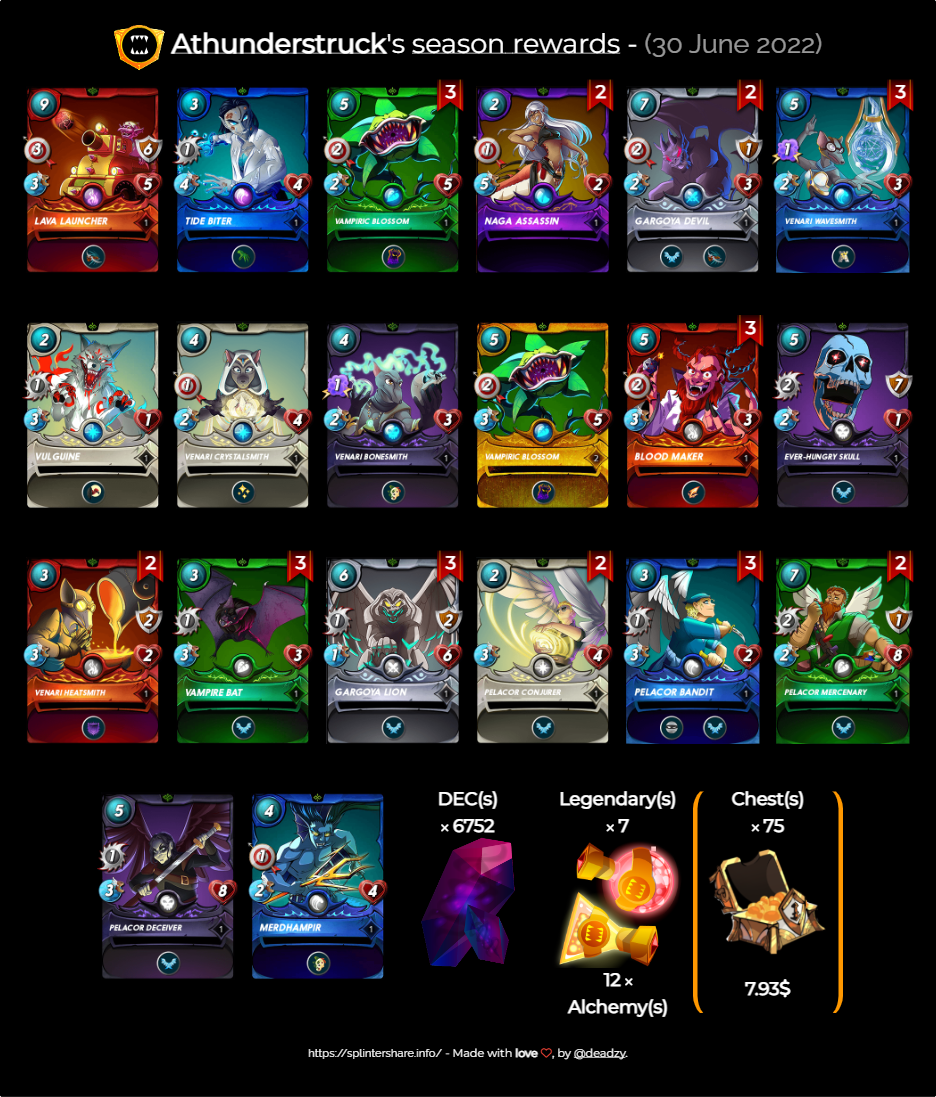 And in bullet list form the rewards I got are:
DEC: 6752 total, with one BIG drop of 5000 DEC!
7x Legendary Potion
12x Alchemy Potions
Common Cards:
1 Merdamphir
1 Pelacor Deceiver
2 Pelacor Mercenary
3 Pelacor Bandit
2 Pelacor Conjurer
3 Gargoya Lion
3 Vampire Bat
2x Venari Heatsmith
1 Every-Hungry Skull
3 Bloodmaker
Rare Cards:
1 Venari Bonesmith
1 Venari Crystalsmith
1 Vulguine
3 Venari Wavesmith
2 Gargoya Devil
2 Naga Assassin
3 Vampiric Blossom
1 GOLD FOIL Vampiric Blossoù
Epic Cards:
1 Tide Biter
1 Lava Launcher
Sweet, some Epic cards and also a Gold Foil Rare card! That's some good rewards. No Legendary unfortunately, but perhaps I will see one with the next End of Season rewards! And wow that 5000 DEC drop was quite big! That can be used to buy some Epic or Legendary cards.
Throughout the season I got 2 Chaos Legion Packs from two of my different Daily Focus. Like usual I saved them to open after claiming my End of Season Rewards.
From opening them I notice at first glance there are only 9 cards to flip over, that means one is a duplicate.
These are the cards I got from opening them:
Common Cards:
1 Scavo Chemist
1 Gargoya Scrapper
2 Blinding Reflector (aha, seems this is the one that was the duplicate!)
1 Supply Runner
1 Antoid Platoon
1 Venari Knifer
Rare Cards:
1 River Nymph
1 Diemonshark
Epic Card:
Some pretty good packs as I got 2 Rares and an Epic from them. No Gold Foil unfortunately, but perhaps I will get one in the next packs! 😄
How many chests did you end up getting for your End of Season rewards and what was one of the best rewards you got from them?
Thanks for watching!
If you haven't signed up for Splinterlands yet and want to check it out, you can do so with my referral link at: https://splinterlands.com?ref=athunderstruck
---
▶️ 3Speak
---
---