Opening 76 Loot Chests for EoS Rewards on July 13th & Opening 13 Chaos Legion Packs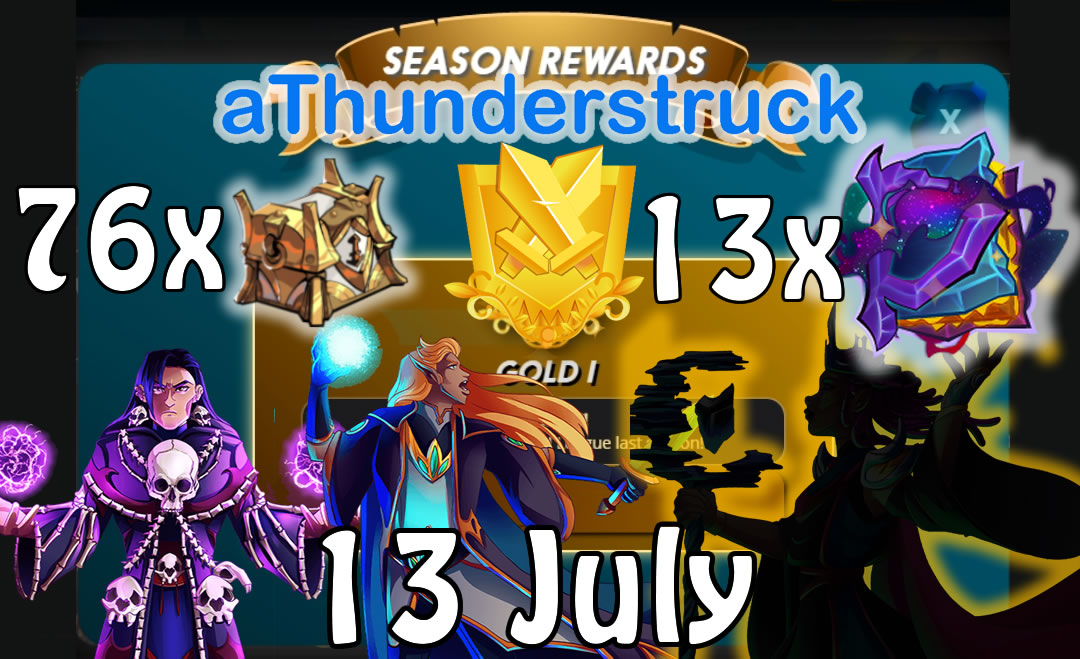 thumbnail image
---
Ahoy! Earlier this week on July 13th the latest season in Splinterlands has ended! I claimed my End of Season rewards in the evening of the day. But still had to make sure the video was proper, and make a thumbnail as well. I had to do those things today, which is why there's quite some delay between claiming the rewards and publishing this video.
My Daily Focus is still ready really far from the End of Season time, so I once again couldn't include those rewards in here.
I played about half of the season in Silver and then moved onto Gold and play there for the remainder of the season.
On the day the season ended I played a bit more until like an hour before it finished as I had to leave then. I made it to right above 76 Loot Chests for the season, which is 1 loot chest more than I got with the previous End of Season.
When I opened the page, the pop-up with the amount of chests didn't properly stay. So I went into the season details to hit the claim button. Unfortunately the amount of chests I earned wasn't displayed there either, but luckily I remembered it! At the start of the video I scroll through the chests to find a single row with one chest at the bottom. Which indicated that I had 76 chests indeed, because of 5 chests per row and then one final one in its own row at the bottom.
From opening those 76 Loot Chests I get the following rewards displayed in a screenshot from splintershare info made by deadzy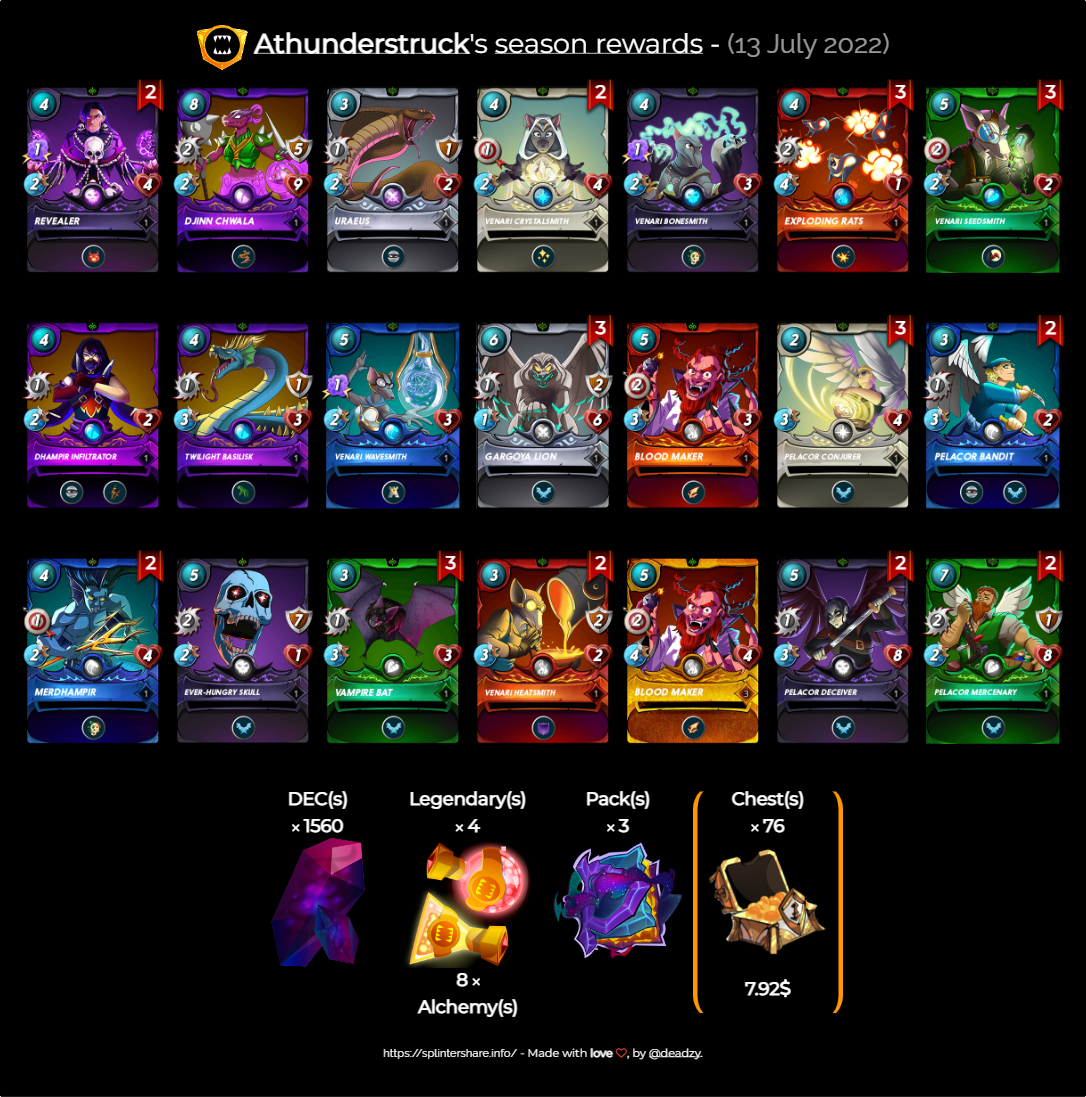 In bullet list form the rewards that I got are:
DEC: 1560
4x Legendary Potion
8x Alchemy Potion
3x Chaos Legion Pack
Common Cards:
2x Pelacor Mercenary
2x Pelacor Deceiver
1x Blood Maker
1x GOLD FOILD Blood Maker
2x Venari Heatsmith
3x Vampire Bat
1x Ever-Hungry Skull
2x Merdhampir
2x Pelacor Bandit
3x Pelacor Conjurer
3x Gargoya Lion
Rare Cards:
1x Venari Wavesmith
1x Twilight Basilisk
1x Dhampir Infiltrator
3x Venari Seedsmith
3x Exploding Rats
1x Venari Bonesmith
2x Venari Crystalsmith
Epic Cards:
1x Uraeus
1x Djinn Chwala
2x Revealar
That was a good amount of Epic Cards, and I'm glad that I also received a Gold Foil card. Unfortunately once again no Legendary in the End of Season chests, but maybe next season! I suppose my luck for those was already taken by my recent Gladius Cases opening 😋
I got 3 Chaos Legion packs from the rewards, and had a few saved up that I got throughout the season to open them all together. Some of these were from my Daily Focus' throughout the season.
A few of the others were given to me by the amazing @clove71 . Earlier this week Clove hosted a tournament in which I participated and won! Here is the link to the tournament. https://splinterlands.com/?p=tournament&id=c25bf653621796734c82c6557b03df6993caa4df
In that tournament I defeated splinterlands-ru in the finals, and as a reward I received some Chaos Legion Packs from Clove! Thank you so much! 😄
The tournament was livestreamed on Twitch by Clove71, if you're not following the Twitch channel yet click here to go to the channel.
I show a brief overview of the battles I had against splinterlands-ru in the finals of the tournament, and talk a little bit about our line-ups.
Now to the opening of those packs. As it's 13 Chaos Legion Packs I won't write all of them here, I'll leave out the Common Cards.
Rare Cards:
3x Mycelic Infantry
1x Pelacor Arbalest
1x Venari Spellsmith
1x Regal Peryton
1x Scavo Firebolt
1x Tenyii Striker
2x Diemonshark
1x Celestial Harpy
1x Molten Ash Golem
1x Kelya Frendul
2x Xenith Monk
1x Dhampir Stalker
1x Life Sapper
1x General Sloan
1x Time Mage
1x GOLD FOIL Obsidian
Epic Cards:
1x Weirding Warrior
1x Nerissa Tridawn
Legendary Cards:
Sweet, 2 Epics and a Legendary in those packs! I didn't have that Legendary yet so that makes it even more awesome. Also a really good amount of Rare cards for 13 packs!! And a Gold Foil Obsidian!! That's so awesome to get a Gold Foil Summoner from those packs! 🤩
That wraps it up for this video.
How many chests did you end up getting for your End of Season rewards and what was one of the best rewards you got from them?
Thanks for watching!
If you haven't signed up for Splinterlands yet and want to check it out, you can do so with my referral link at: https://splinterlands.com?ref=athunderstruck
---
▶️ 3Speak
---
---