Opening 69 Loot Chests for EoS Rewards on August 16th & Opening 10 Chaos Legion Packs
---
Ahoy! This August 16th the latest season in Splinterlands has ended, so it's time to claim the rewards! I opened them yesterday, but I'm posting the video today.
This season was a bit shorter again than the previous one. In Modern format I was in silver, I didn't play that much in Modern. Most of my battles have been in the Wild format. I battle in Silver a lot first, made it to within the top 20 on the leaderboards too. Eventually, sometime just past halfway through the season, I moved on to gold and continued playing there. I finished the season in Gold 1 like usual.
This time I got 69 Loot Chests. I was at 65 or 66 Loot Chests on the day the season would end and I still had some time to battle so I did. Through those battles I managed to get my season loot chests up to 69.
Before the season ended I closed the site, and then when I returned later in the day to claim my loot chests I opened the site again. It seems that this way I did properly receive the overview screen with my highest rank in the season and the amount of loot chests. So I'll try to do it like that from now on.
From opening those 69 Loot Chests I get the following rewards displayed in a screenshot from splintershare info made by deadzy
In bullet list form the rewards that I got are:
DEC: 1390
Merits: 444
Legendary Potions: 99
Alchemy Potions: 48
Chaos Legion Packs: 4
Common Cards:
1x Merdhampir
1x Pelacor Deceiver
1x Blood Maker
3x Venari Heatsmith
3x Pelacor Mercenary
2x Ever-hungry Skull
3x Pelacor Bandit
4x Pelacor Conjurer
Rare Cards:
1x Vulguine
1x Gargoya Devil
1x GOLD FOIL Vampiric Blossom
Quite some potions, especially the Legendary ones. Unfortunately no Epic or Legendary cards this time. I did get a Gold Foil Rare Vampiric Blossom so that was really awesome! Also 4 Chaos Legion Packs from those end of season loot chests, daaamn!!
Just like in the last video I decided that I'll open up 10 Chaos Legion Packs, because I do still want to keep some of them as they could also contain the next airdrop legendary summoner if I open some after the next airdrop is released.
From opening the 10 Chaos Legion Packs I get:
1x Gold Foil Hardy Stonefish (Common)
1x Gold Foil Hill Giant (Common)
Rare Cards:
1x Molten Ash Golem
1x Regal Peryton
1x Venari Spellsmith
1x Pelacor Arbalest
1x Xenith Archer
2x Djinn Apprentice
2x Portal Spinner
1x Life Sapper
1x Diemonshark
1x Merdaali Guardian
1x Angelic Mandarin
Epic Cards:
1x Insidious Warlock
1x Weirding Warrior
Legendary Card:
Oh wow 13 Rare Cards, 2 Epic Cards and a Legendary Card from those 10 Chaos Legion Packs that is a pretty great opening! On top of them I also got 2 Gold Foil Common Cards.
The Legendary Iza the Fanged is great to have. I don't use her that often, but have had some really awesome wins with her when I used her! I have her at level 2 currently, which is the highest level I can use with my Summoners max at Silver level. It's great to have one additional one ready to level up towards Gold level when I get some Summoners at that level.
Here is a photo of Iza the Fanged at level 1: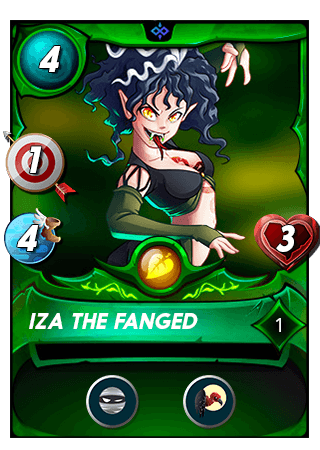 At level 2 her ranged attack increases to 2 so in some games she can really help well in taking out the backline once she's level 2.
That wraps it up for this video.
How many chests did you end up getting for your End of Season rewards and what was one of the best rewards you got from them?
Thanks for watching!
If you haven't signed up for Splinterlands yet and want to check it out, you can do so with my referral link at: https://splinterlands.com?ref=athunderstruck
---
▶️ 3Speak
---
---