SHARE YOUR BATTLE Weekly Challenge! WOOD NYMPH
Welcome Guys!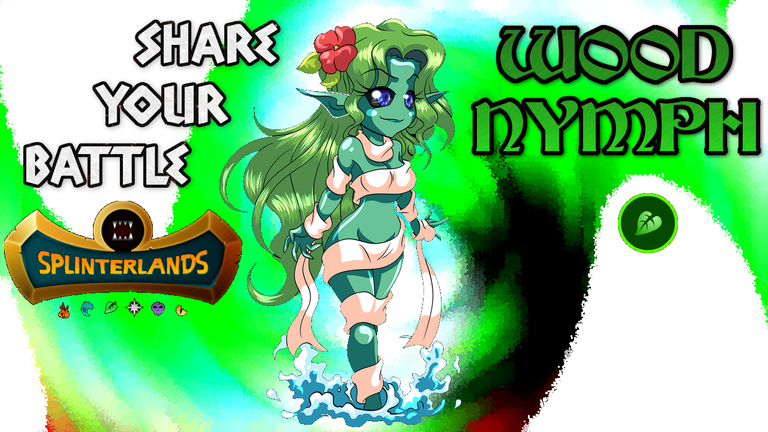 Wood Nymph presentation
In this weekly challenge Super Star is Wood Nymph! Card, which have not so many hp and magic damage! Wood Nymph mainly is used for tank heal. Can deal really not so big damage, but her main tole is to heal tank and buff all monsters with additional +1 hp. She is really powerful support monster for only 4 mana. Which means that can be used in almost every battle. Have average stats, have only 3 speed at level 8, 2 magic damage and 3 hp. I share battle, when I used her in diamond league with 8 level. Unfortunately I can't play with max level, so I used her at level 8, but I need to admit, that I can play with gold foil card!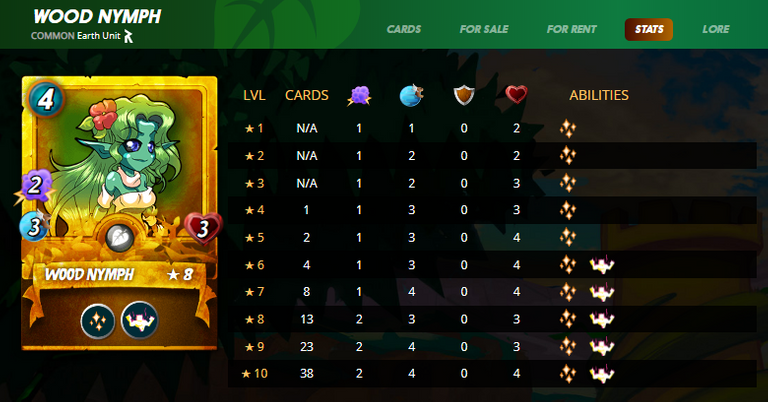 This is card from reward edition, but this is old reward card. So can't be used in new modern format with untamed, dice, and chaos cards. Her element is earth, so you can play with this cards only when play with earth summoner or with dragons. Really good card, have heal tank ability from 1 level, so many people like to use her in any league even, if she is not leveled well. At level 6th, she get hp buff for all ally monster +1. This is really good ability, which helps our team survive whole battle. This is card for 4 mana so can be used with rule, that only cards with 4 or less mana can be used. Probably when you play with powerful tank with bunch of hp, you can play with this card, even when you know that enemy will have anti heal. Played with Llama make her really useful, because every turn your tank get cleanse and you can heal him over again!
SplinterLore:
A peculiar new bud appeared at the tips of the highest branches of the Elder Tree. The animals living in the tree watched as the strange buds grew, and in a matter of days, burst open. From each bud zoomed forth a tiny sprite. These Wood Nymphs quickly scattered around Anumün in a frenzy of mischief.
For what I like Wood Nymph?
I am really happy, that in this week I can talk about this monster, which I really like. Earth element is one of my favourite, so playing with her makes me happy!
This was one of my first card, which I wanted have at max level, when I start my Splinterlands journey years ago. Tank healer is really useful card, can be playable in almost every battle, maybe not when heals are disabled. She looks so cool, I think she found balance her natural talent to heal ally monsters :)
Battle strategy with Wood Nymph
Now you know any lore and battle aspect, so we can go to the main point - share your battle!
Monsters in Splinterlands are used in battles, so I show you my strategy and why I pick him during this battle.
All my strategy and line up I will describe below.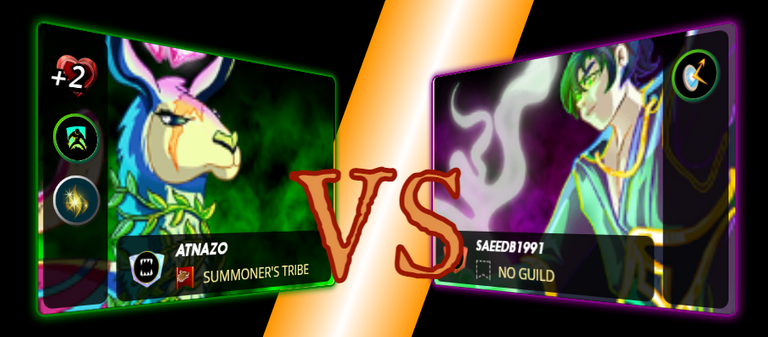 My team
Summoner Scarred Llama Mage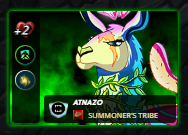 Very powerful summoner for 7 mana.
Llama have 3 abilities!
Cleanse, +2 hp, last stand.
All of these abilities are really useful during battle, many people like the cleanse and last stand, which buff out last monster! Additional +2 hp make ally last stand monster almost unkillable :)
Flesh Golem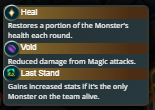 Really old card from alpha/beta edition. So many players use this card as main tank, because have really many hp, void ability to tank many ability power damage, this tank have 4 ad on level 9, so can hit really hard!
Failed Summoner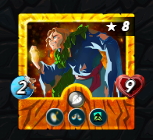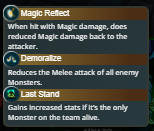 Secondary tank monster in this battle. Card for only 2 mana with melee attack -1 debuff and reflect all magic attack to attacker. Really powerful card with so many hit points.
Mushroom Seer


Monster used in third position. Just in case I would say. When I play with Flesh Golem I really so badly want him to be ALIVE! Yeah that's what I am saying. If my enemy will have strategy to play with magic monsters instead of using attack damage monster, then my Flesh Golem can get some more damage from magic. We don't want Golem to be fragly. We want him to be last stand monster, so we want cover him with anti magic debuff. You want our Flesh Golem to chill during battle in the forest with his friend mushroom. That's AMAZING nature synergy trust me.
Goblin Psychic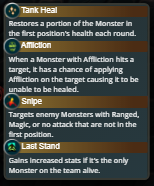 In my opinion very powerful tank healer monster. In this battle used in fourth position, because he have more health than our secondary healer Wood Nymph. Of course you can say that his 1 speed is not good, but have affliction ability, so I no need use Dr Blight when I play with this monster. With Llama summoner I can play with duo healers, which is awesome!
Wood Nymph


Our golden Queen super star I can say, because I played with her using gold foil card! Healer Monster used in fifth position. You never know when healing will be needed and of course some ability damage. What, if my enemy decided to play with only attack damage monsters without magic resist? Then we will have great front lane with ambulance on the backline with decent ability damage with hp buff for each monster. Bro that's dope!
Sand Worm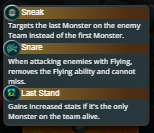 My last pick monster. Role of this card is to be little tanky to cover my double healers and of course to deal so many damage to my enemy backline monsters. Snare ability can be really useful, because with snare Sand Worm never miss flying monsters :)
Enemy Team
Summoner Owster Rotwell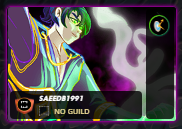 Really simple summoner for 3 mana, which buff all his friendly monster with buff for reflect magic damage. I was little bit scary about this summoner in my weekly challenge battle, because I used some magic monsters, which were my tank healers. So every time I heal and deal damage to my enemies, I get half of damage dealt back.
Goblin Mech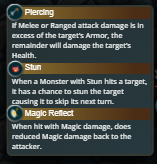 Really powerful monster for 10 mana! His main problem is not so many hp with no resist for magic and attack damage. Basically can be kill quickly by magic damage monsters.
Peaceful Giant


Monster with bunch of hp, but no have any ability. In this battle only can reflect magic damage, because this card was played with Owster Rotwell. My enemy really want to put down my magic dealers, when he used so tanky monster like this with magic reflect ability!
Disintegrator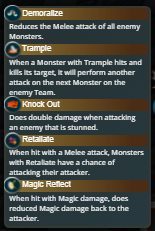 Let's talk about third monster used by my enemy. Monster, which can help with melee damage dealers. Not so tanky and so slow mana and normaly can't attack from third position. Have retaliate ability, so the only way to attack is to return damage, when get hit by melee monster. This ability can be useful, but not all the time work, so this is like wild card.
Vampire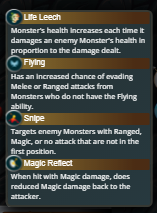 Monster with only 1 hp. This card is played really hardly ever. Maybe have really good speed, but when hit monster with armor, can't leech hp from that target. Can be really easy killed by monsters with opportunity, by monsters with return fire damage. In my opinion can be used, but only when sneak monsters are disabled at last position or when is equal hp rule, so can have really much hp from the start.
Venari Bonesmith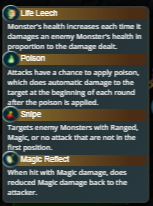 I really like to play with this monster. Is for only 4 mana with poison ability. Can stack so many hp during battle, so when you want use this monster somewhere in backline at late can be really tanky. Speed is good for monster for only 4 mana. Really good choice for my opponent!
Uraeus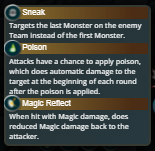 Monster for only 3 mana with decent speed at max level. Have sneak ability and 1 armor. Using only one sneak monster is disaster, because it take too many time to get down any monster even with poison ability.
Game Rules
Let's start from game rules.

Rule 1
Target Practice

All monsters ranged and magic have snipe ability, which means that these monsters can attack monsters without melee attack as first choice and which is important they will not attack tank until there will be ranged, magic or monster without attack alive.
Rule 2
Lost Legendaries

You can't use legendary monsters, but still you can play with legendary summoners :)
Mana cap

All monsters from one summoner on battleground can't be for more than 44 mana.
Colors active in this battle
There were able to play only 3 colors. Earth, Death and Dragon element.
I decided to play with Earth Summoner and my enemy want to play with Death Summoner. It's funny, because I used 3 ability power monsters and my enemy decided to counter me with reflect magic damage summoner, but it will be enough for defeat me this time?!

My strategy
My strategy was really simple. I used Flesh Golem as first tank, because I want have attacking monster as a tank with void ability to tank so many damage from magic and some from melee source.
I used 2 tank healers Wood Nymph with Goblin Psychic. Really powerful duo, which heal my tank with different speed in middle and last moment of each round in battle. I used Mushroom Seer for attacking main tank with poison and of course for reduce ability power damage. Poison from Mushroom really help with taking off powerful tank. I used Scarred Llama Mage with cleanse, 2 hp buff and last stand ability. Monster with melee damage debuff - Failed Summoner. My strategy was to sustain my Flesh Golem to last stand rule, or to the moment, when all enemy attackers will be killed by Mushroom poison and melee damage from my Golem. Of course some, but small damage goes from my support healers. Sand worm was ready to deal damage with backline monsters. Did my strategy work well? Watch battle or my battle with commentary on this video!
Battle time - Clash of Summoners!
Ok, so now you know, which monsters were used in this battle. Now is time to prove, which strategy with these powerful monsters was better!
Link to battle - share your battle challenge:
https://splinterlands.com?p=battle&id=sl_4478ddf3ec8d96c3b12c8f57702ec715&ref=atnazo
Watch my video with full commentary of this weekly battle challenge with WOOD NYMPH super star!
Did my strategy work?
I won the battle and I am happy of that fact. I was good prepared for anything which could happen during battle. My strategy work perfectly! I almost lost my healers, because of this magic reflect ability, but finally at the end my Flesh Golem survived and I won a battle, which was not easy with 3 ability power monsters playing versus Owster Rotwell!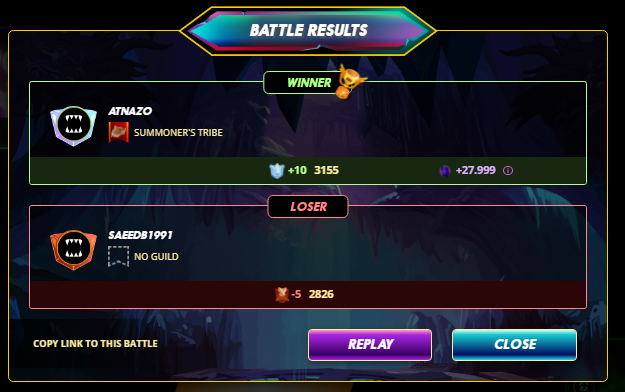 You never played Splinterlands before?
You can join now by register from my affiliate link:
https://splinterlands.com?ref=atnazo
---
---