How do you rank yourself among splinterland players?
Splinterland saw a massive growth in last months, we long time players all are witness to this recent explosion.
When I first signed up to the game, back in April 2020, I guess something like 5-6k players were actually active daily, and maybe some of them were bots. I remember people on Discord complaining that other blockchain games, like Alien Worlds, were exploding, while Splinterlands suffered to attract new players.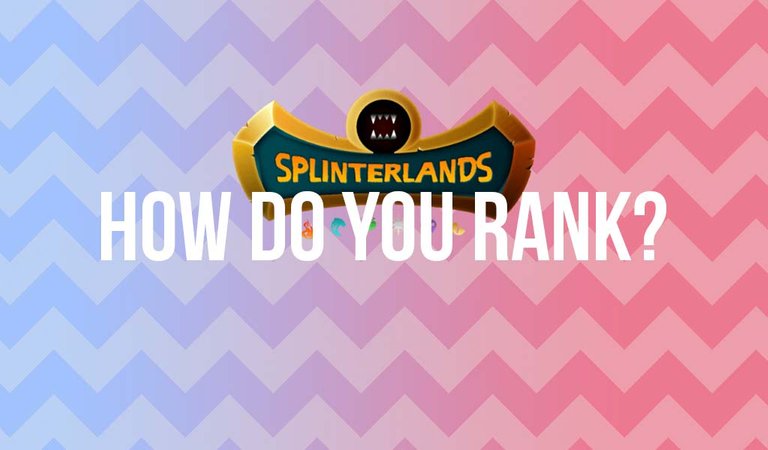 The Boom
Well, I guess we all know that everything changed in the last 4-5 months, with thousands of new players buying the Spellbook every single day.
If you want to have a quick overview of how big the growth of Splinterlands was, please check this article.
I also guess that being an early adopter really changed the life of a few people that found themself with decks of cards worth hundreds of thousands dollars, if not millions.
There's people going full on Blockchain Gaming that can represent a real life changer in many parts of the world.
I know the Splinterlands team is currently collecting stories of the top players and of how blockchain gaming impacted their life and their financial status.
The big question
The Splinterlands community actually goes from totally newbies, that just signed up and are facing the firsts steps in the game, to people whose life was completely changed by the opportunities given by blockchain games.
But how do you rank yourself in this graded span? At what point of the general ranking of Splinterlands players are you currently at?
Is not easy to provide an answer to these questions: the game is becoming every day more complex, with many parameters building what we can consider an "overall value" of a Splinterlands player.
Collection Power is maybe the main parameter, (let's not forget Splinterlands at his core is a beautiful game), followed by SPS owned, DEC and credits owned, Packs, Land plots and other items.
I tried to put them in order of importance but, again, I think we have to consider all of them to build an overall ranking of players.
To have a full overview of all this parameters, we use one of Peakmonsters.com most underrated features: the Top Holder, or "richlist" section: it's a super useful tool to understand how much "big" whales are, and to put in perspective some of the aspects of the game.
With this tool, you'll be able to see the top 100 player for every aspect of the game we mentioned before, and see how do you rank compared to them.

For example, you'll realize that there are accounts with 24M+ collection power, worth probably millions of dollars, and accounts with 200M+ DEC (at current rate valued more than 1,5M$).
You'll also notice that the top spots for every category are owned by different players, and this kind of gives a tool to profile the different kind of users:
the "players", people who enjoy the game and invest in the cards
the "DEC holders", people who take benefits from holding huge amount of DEC, maybe providing liquidity to pools
the "investors", people who invested is various assets to benefit from SPS airdrop
Where do I rank?
As you may know from previous posts, Splinterlands was a very good shot for me, as I was able to build an account worth a few thousands dollars with a very small investment (under 30$).
I was able to build a quite good deck just by playing, being an active member of the community and participating in airdrops.
But how good am I actually? I always thought I was in the top 3-4k players of the game, and Peakmonsters Top Holders tools sort of confirm that.
I'm currently in the top 5K position for Collection Power, SPS staked and in top 3K for DEC, which underline my balanced profile as a player, trying to take advantage a little bit from everything.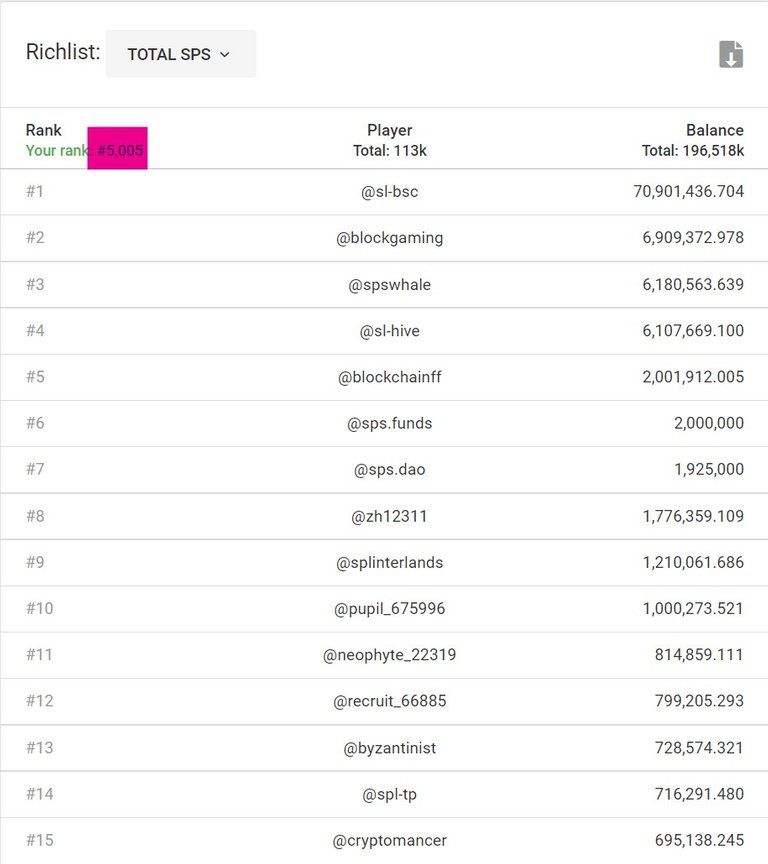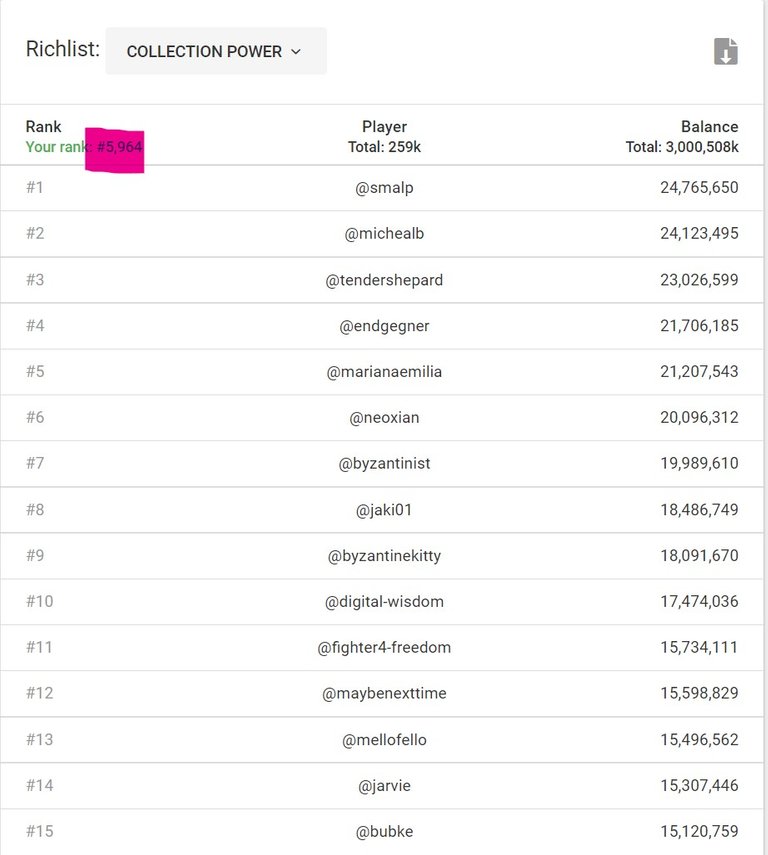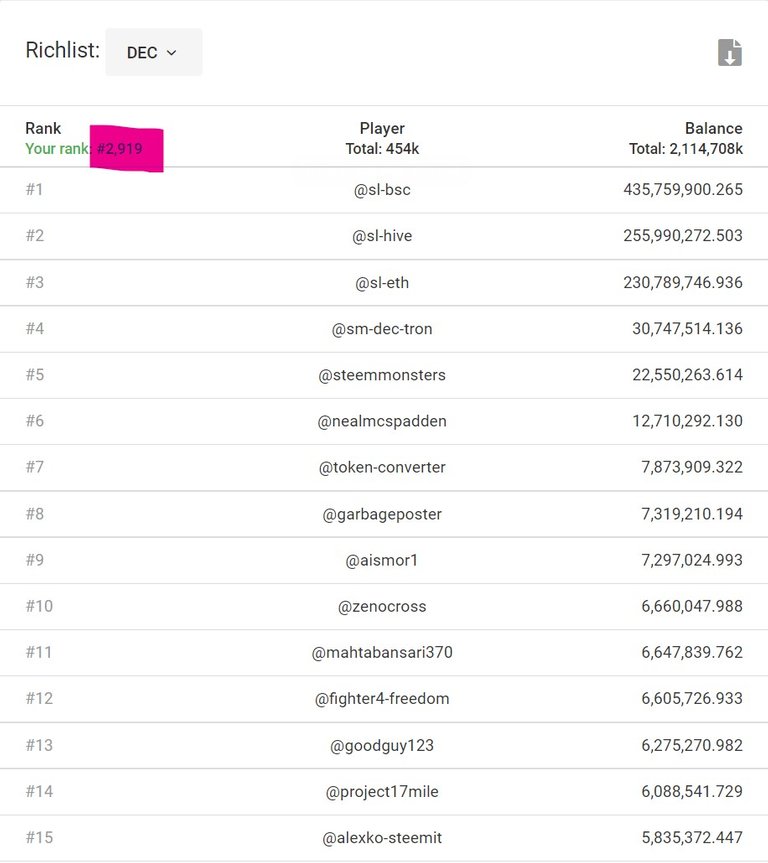 ---
You're not playing Splinterlands? Shame on you! Go try it!
Support my blog!
Here's the super-trusted earners I support. Please consider using my referral if want to give them a try
Binance Exchange with the best earning solutions.
Coinbase Earn crypto while learning about crypto.
Cake DeFi Passive income, staking made easy.
Cointiply - Best Earner - Earn Bitcoins by doing offers, watching ads and PTC ads
BetFury - Crypto casino with Faucet: Top Earner! Claim -> Play -> Stake -> Earn
PipeFlare - Best Faucet.Pays immediately to your wallet
Presearch Earn tokens for surfing the web!
---
---