This Spider is pure Gold! SHARE YOUR BATTLE Weekly Challenge! HAUNTED SPIDER

Hey guys, it's been a long time since I have been doing one of this Share Your Battle Weehly Challenge!
I've been so busy with all this staking and vouchers and Sps and Chaos Legions...This is serious stuff, who has time to play?😂
Still, at the very end of all of this, I found some minutes to enjoy one of the most entertaining game around.
Splinterlands is super fun to play, let's not forget it!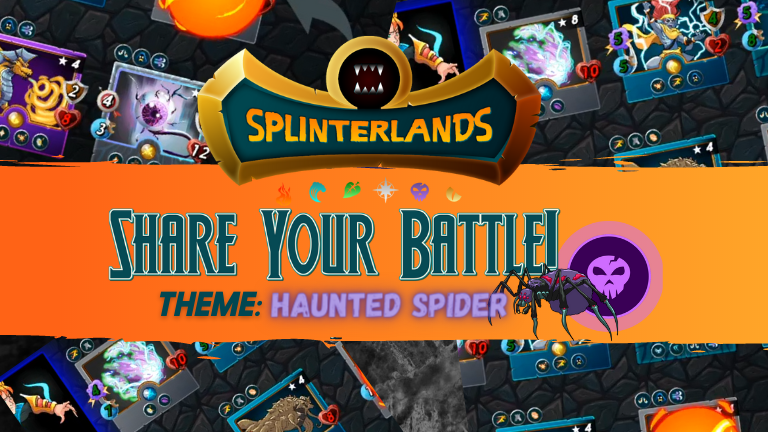 This week challenge is about a card I personally love, Haunted Spider.
Due to its low mana evoking cost, it's really perfect for almost every battle.
Unfortunately I only own one at level 1, which is still good. But it's at level 4 that this card becomes lethal with it poison ability.
Poison for this low mana evoking cost is seriously OP, and that's the reason why I see a lot of first generation players, who started playing before Untamed, using this card a lot in battle.
HAUNTED SPIDER
Haunted spider is supposed to be quite cheap on market, valued around 1.24$ per BCX. But in the end, since it's one of the card in the game, and market prices are rocketing, you'll not be able to buy one for less than 3.5$.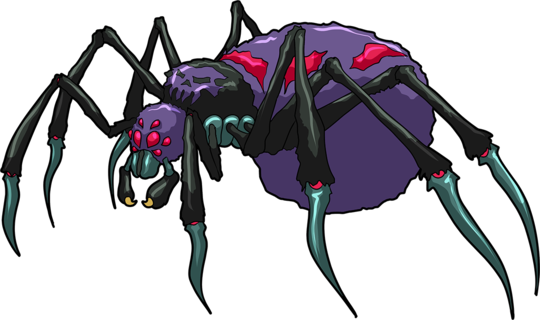 #Edition: ALPHA/BETA
#Rarity: COMMON
#Element: DEATH
#ATTACK: RANGED
#ABILITIES: Poison at level 4
The second form of a Dark Eternal is determined by the state of the soul. Some of the more twisted souls take insect form, and the Haunted Spider is the favorite. The projectile venom and massive, armored thorax make the Haunted Spider a formidable (and intimidating) enemy in any battle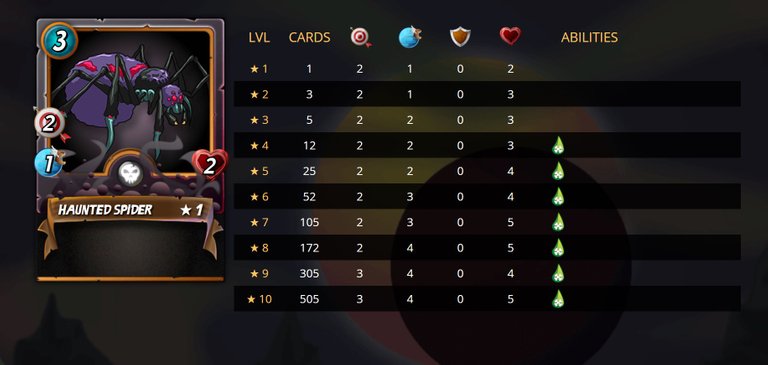 MY STRATEGY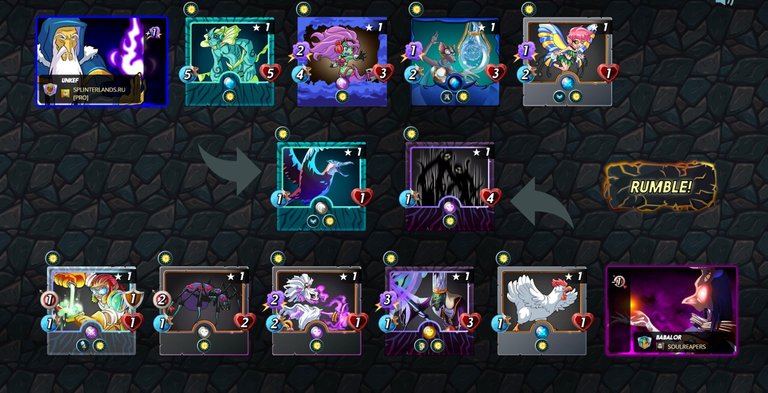 As I said this before, this little spider fits almost every occasion. I use it in a lot of low-mid mana cap battles. Its only weakness is that it's a little bit slow, but, if you protect it wisely, it could be a good weapon.
I decided to use it in a battle with "Reverse Speed" ruleset, where I could turn its weakness into a strength. With this ruleset i really like using the Death deck: this time I choose Ancient Linch, Screaming Banshee, our Haunted Spider and a always useful Halfling Alchemist.
To slow down enemy's attack I protected my lineup with a Shadowy Presence and Furious Chicken: by doing that, I was able to give time to my Ancient Linch to become a Tank, due to its Life Leech ability.
All the cards I selected are good cards that turn into excellent with the Reverse Speed ruleset.
My strategy turned out to work extremely well, and I was able to win against a very good opponent that used a pretty much similar strategy: he went full magic and protected his lineup with low mana - high life cards.
---
You're not playing Splinterlands? Shame on you! Go try it!
Support my blog!
Here's the super-trusted earners I support. Please consider using my referral if want to give them a try
Binance Exchange with the best earning solutions.
Coinbase Earn crypto while learning about crypto.
Cake DeFi Passive income, staking made easy.
Cointiply - Best Earner - Earn Bitcoins by doing offers, watching ads and PTC ads
BetFury - Crypto casino with Faucet: Top Earner! Claim -> Play -> Stake -> Earn
PipeFlare - Best Faucet.Pays immediately to your wallet
Presearch Earn tokens for surfing the web!
---
---