My Runi Chronicles - 3 rulesets boost Runi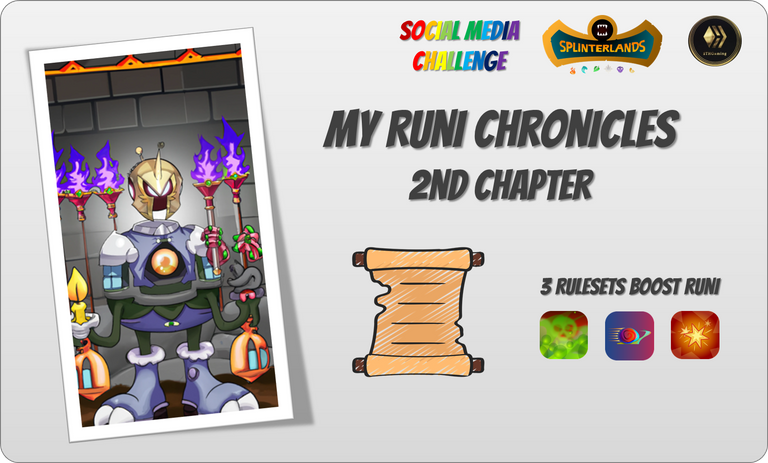 One of my best Twitter accounts is Splinterlands. It keeps me informed about all the important news in the ecosystem and #Hive posting events like a media challenge. In my opinion, those challenges are an incredible way of increasing the pride of being part of this community, as every player shares his/her game experience with others, allowing others to learn about everyone's successes and mistakes. For this one, there has been a huge change in the game that affects all Runis: 3 rulesets per battle. I will share how this circumstance affected positively the most special NFT in the game. Hope you like it!
3 rulesets update - boosting Runi
Huge news has come to the game recently. Up to three rulesets may be active at the same time in the Gold league and higher-ranked battles, as well as all Tournament and Guild Brawl battles. This change affects how we approach every single card in the game. The more restrictions, the more cards you will need to take profit to every single condition. I leave the complete post of Splinterlands with all the information, while I resume it into the main highlight: 75% of Gold league and higher will have 3 rulesets. So be prepared!
Runi is resilient, which means that has tons of survivability alone. It's the only creature that can auto-resurrect (with the cleansing of poison), is immune to blasting damage, and also to thorns thanks to his reflecting shield, and his true strike allows him that his 1 speed only influences his position when striking but never missing his attacks. On the other way round, this 1 speed boosts him in reverse speed battle conditions.
The more rulesets that are active, the more effort will be required of our army, and there are 4 of these rulesets that make Runi Shine:
Referred to the game concept Runi's main strengths could be grouped as follows: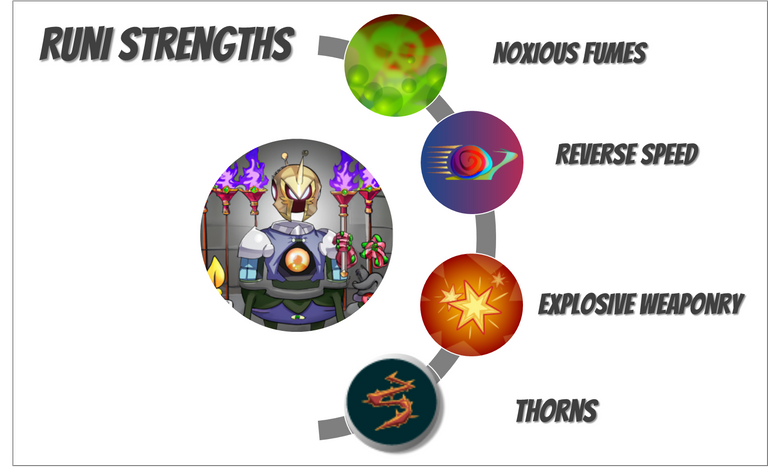 Runi shines in this battle condition. His rebirth ability allows him to resurrect once per battle. And every resurrected unit is not affected by noxious fumes anymore. He resurrects with 1 life and 1 armor, allowing him to buy an enormous amount of time and lead your team to victory.

He is the master of this battle condition. His 1 speed allows him to hit first. Like every other opportunity creature, he loves unprotected enemies, so bring always rust in your team to guarantee casualties fast. And what's more. His true strike ability allows Runi to never miss a single hit. All these attributes turn Runi into a reliable assassin.

One of his defensive roles appears when speaking about blast damage (either coming from the battle condition or an enemy creature). His reflecting shield turns him immune to this source of damage. He is then placed as an off-tank in these battle conditions, absorbing all the blast damage incoming from our tank. He can also be placed %th close to Wavebrood or Mycellic covering the blast damage of a back taunter.
Finally but not less important, we've got thorns (either from Mylor, creature ability, or all creatures on the battlefield affected by the battle condition). Similar to the previous point, Runi is immune to this source of damage thanks to his reflecting shield
Now that we've got the chance of getting 3 of these conditions together, there are many battle scenarios where Runi can perform great. In addition to this, we should not forget that being a neutral card allows him to be played with every summoner and he is a promo card (+10% on RP like Lux or Doctor Blight!!). On the other hand, the more that you require on other creatures will increase the possibility of Runi standing alone at the end of the combat.
Runi last standing in Champion tier
As the Japanese say, an image is worth a thousand words. I faced a 24-mana battle with 3 Rulesets!!! (be ready guyz for this huge change!!): - 2 of the 3 Runi Rulesets were active (Noxious Fumes + Explosive Weaponry), and adding to ranged creatures were forbidden. The battle looked as follows: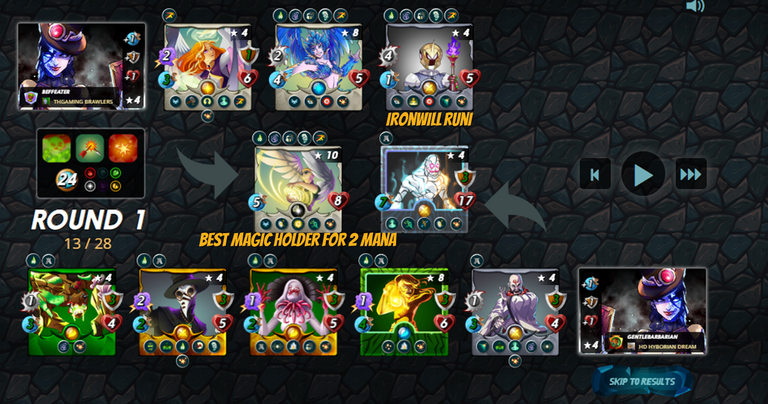 At first glance, I thought I had no chance to win this. My opponent had superb cards with Almo in the front, Venator, Priestess, Queen, and Blight. No chance
Pelacor Conjurer is an outstanding card when holding incoming mana damage (evading at first and reflecting if hits). His reflecting damage added with the opportunity of Harpy and Runi managed to destroy all enemy Magic creatures (the opponent had a couple of triages and hoped to sustain more turns) by the end of Round 3. On the other hand, Almo's reflecting
At the beginning of the fourth round, Runi resurrected without opposition, it was his time to bring my army to victory. Remarkably, 2 armor helped runi to survive Venator: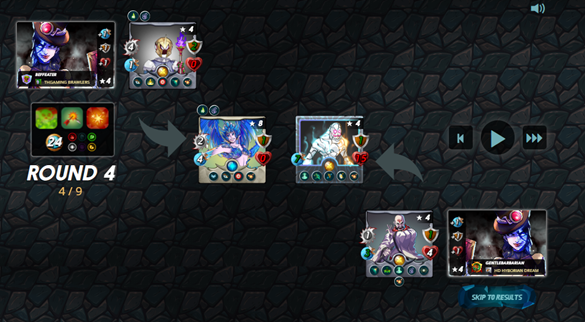 I leave you the entire battle here
With 3 rulesets in 75% of top competitive leagues, the Splinterlands walks to a kind of game where every single card wins in importance. It has been shown in this post that conditions will be more restrictive and battles will be decided even by closer details. Be prepared because this is the beginning of a new Era. Current rewards will be out printed in a few days, and soulbound will come. In a few months Rebellion will take his place in the Modern Board and Untamed will jump to Wild. The best is to come!


THANKS FOR REACHING HERE!
Hive - Splinterlands is a great ecosystem to grow in the Crypto world, we are in the best community and we play a game with a solid project and a great future. The only thing we've got to do is believe in the project and fight hard in the arena! Thanks for reading and feel free to share your thoughts. Happy weekend splinters!
In case you are new to this wonderful game here, I leave you my referral
---
Linktree Official - All Social Media links

---
---