Remember remember, those days of September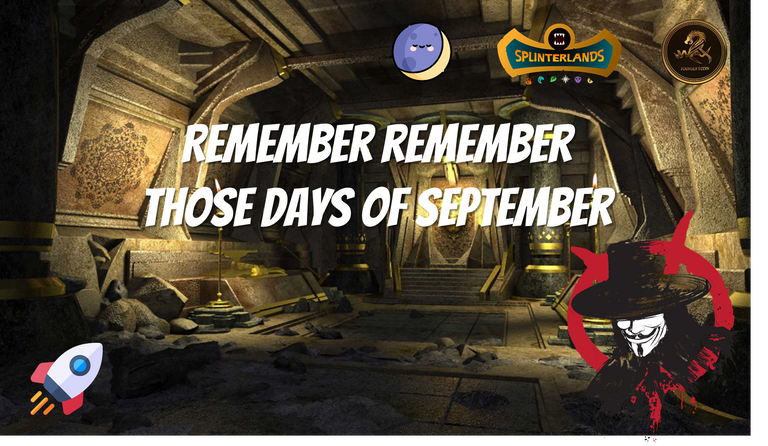 September 2022 is almost over. The most frenetic, surprising, and incredible month in Splinterlands history it's reaching to end. Riftwachers and Tower Defens presale, the end of the first tranche of license nodes, Runi whitelist, and when we thought that was it, Jacek came to the battleground. In this post, I will explain all the decisions I've made and how I've decided to invest my money. Hope you enjoy it!
Riftwachers presale burned over in less than 2 minutes
I am so hyped with this small set inside the Chaos Legion collection. It will bring some great mechanics, and enhance every player's card collection referred to long mana battles. 6 new epic summoners that will change the dynamics of every type (for example, I wrote in this post how Fernheart can change the typical magic composition of Obsidian-Nature). But the most important aspect of this launch is the financial part of it. All the money spent in RW will go direct to DAO and not to company benefits. This means that those SPS tokens used to buy RW are now out of liquidity and closed in DAO (this amount of tokens can't be used for the Governance of the game). This action showed the compromise to the community (the Splinterlands project is to be a decentralized game). I had prepared around $1000 for 200 packs, but I did not spend any SPS there, and the reason was not the less-than-2minute fast sell.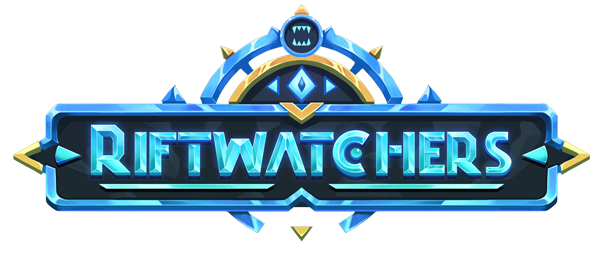 1st Tranche of Node Licences sold out
This point comes directly linked to the RW presale. As all the players were told, to get RW packs, staked SPS was not possible to be spent to acquire them. So I decided to buy SPS at the end of August which was about $0,053 and when the presale was about to go live, I found SPS at $0,083, which was +50% in less than 2 weeks!!!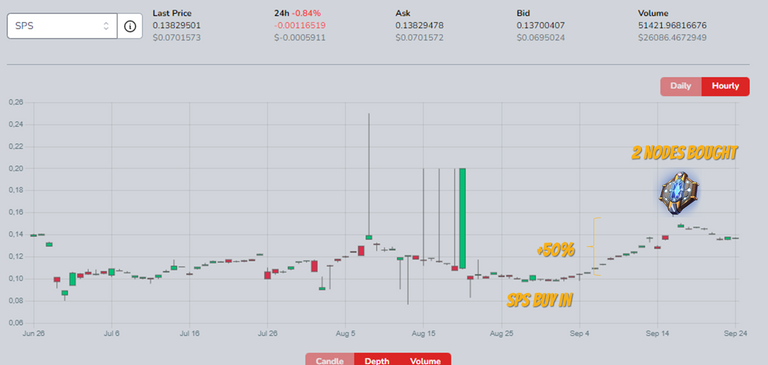 I decided to change my RW funding for a couple of nodes. We've been told again and again that nodes will be an important part of the ecosystem. My couple of babies is generating me 45 SPS and 8 vouchers per day PASSIVELY. I can't express how happy I am buying this resource in the first Tranche of its sale. Today, we've reached tranche 2, and what was $1.500 is now $2.500 with voucher discounts.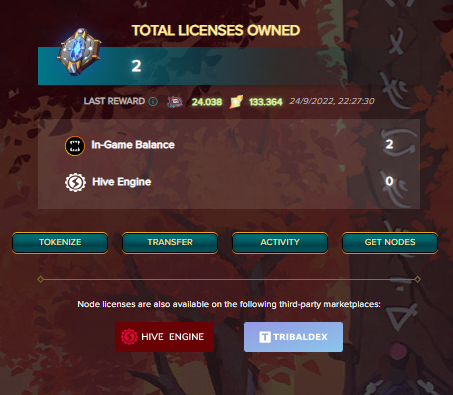 Tower Defense presale
As we were warned, there are not enough Vouchers, DEC and SPS for all the #Splinterlands players. Although I love PVE and I believe in the project, I had to skip this presale because all my funding has gone to node licenses. I will hook in (dunno where I will find the money!) when the general sale begins.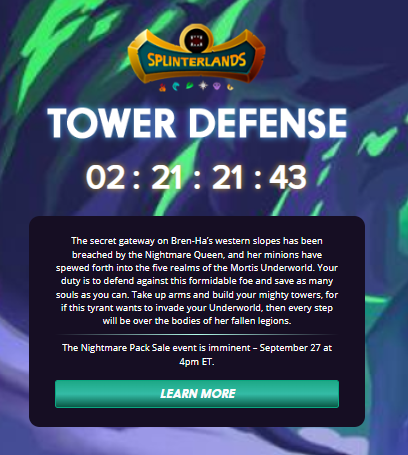 Runi Whitelist

When I thought I would not plan to put any single funding in a while, the Runi announcement came and caught me from the first moment. I am so hyped about this chance, but I had to pass a major proof. I knew that the whitelist process would be as fast as the RW presale. I had to be prepared Thursday 22nd September, at 18:00 with my ETH walled synced and 100 vouchers for a 50% discount on a $500 NFT card. Only 6.500 will be minted and every single one will be different from the other (in the aspect part, not referred to in game). Also, Runi holders will keep some other important rights: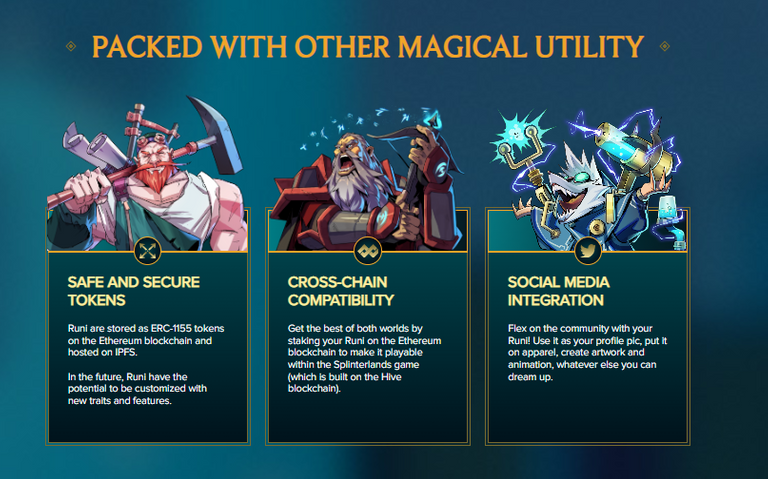 As content creation and blogging about #Splinterlands is an important part of my plan, I am given the chance to receive an avatar that will also help me in battles. It's a win-win chance that I couldn't miss. The night before the Whitelist I did not sleep well. I felt nervous and anxious. I am 41, a dad and husband, and nervous for a Whitelist for an NFT of a play2earn game. Am I crazy? I was so lucky to enter the Whitelist! Now just imagine if I am one of the 180 lucky players that the mint process turns into a Gold Foil Run.

Jacek has gone live!
Finally, we reached 10M packs! The lack of luck that I got with GrandMaster, not getting any single copy with 541 packs, was returned to me in earnings as I received 4 Jacks!! This will be my summoner that will bring me to Champion. I've been finding a lot of difficulties getting the right summoners to get to Champion (the rental market is empty). I need 11 Jacek to play Champion standards. Now I've got 4. Thank you Splinterlands!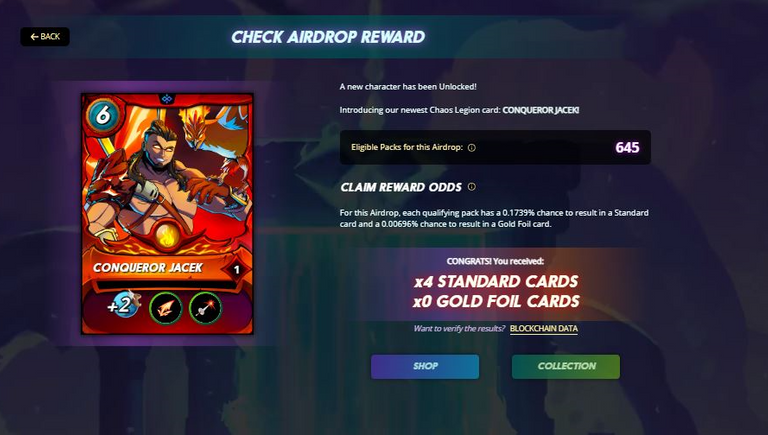 Many of us will remember those in September 2022. But I think that every one of us should fasten his/her seat belt, the party has only just begun.
 
None of the advice I leave in my post is financial advice. And remember that nobody will ask you for your keys for none of your wallets to do the payment (none Hive or ETH).


THE END
Grammarly
If you would like to join @THGaming and explore the #metaverse with us our Social Media links are here:
Official THGaming Social Media Links:
🔸 Twitter
🔹 Discord
🔸 Linktree - All Social Media Links

---
Threshold.Guardian.Gaming (@Threshold_GG)
We are a #PlayToEarn Gaming Guild 🏆🎮
#Crypto #NFT #Gaming #AxieInfinity #Splinterlands
---
---