Season balance + Swamp Spitter report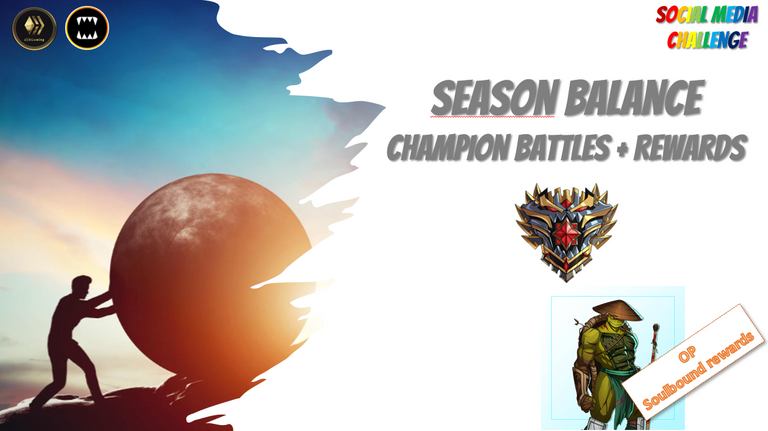 One of my best Twitter accounts is Splinterlands. It keeps me informed about all the important news in the ecosystem and #Hive posting events like a media challenge. In my opinion, those challenges are an incredible way of increasing the pride of being part of this community, as every player shares his/her game experience with others, allowing others to learn about everyone's successes and mistakes. For this one, I bring a summary of my last season where I managed to play Diamond and hit Champion 3 days before the end. Made a huge investment to build a complete roster that can hit Champion every season and finally I will share a Champion battle where a much lower-level Champion card made an important role. Hope you like it!
Season Balance

The rewards went much better than my previous one and I am much happier! On the brightest side, I've managed to pull my first gold foil legendary reward: Terracious Hulk, a couple of Will-O-Wisp gold foils, and, what's more, important to me right now 35 summoners. Every day I end my focus and especially when opening season rewards, I've got the feeling that my collection is getting stronger. So don't stop the party!
And finally comes the best part of the Season, when you claim all your earnings from the final push and shove. Managed claiming almost 40SPS from battles, 40 SPS from focus chests, 90 SPS from focus, and another 35 from brawls. Adding my 125 SPS from 3-day nodes ended in a +330 SPS to my account. Every little helps!
First Incorporations Balance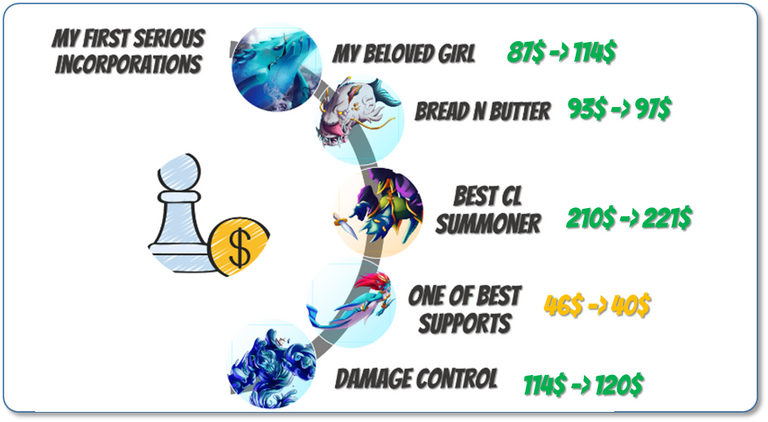 In my last post I shared my investment strategy focused on buying the most expensive rental cards in the market. This became a re poker of Incorporations worth 552$ that today are almost 600$. These cracks are helping me a lot in my main season objective of reaching Champion. With all land updates and Chaos Legion printed out, I know for sure that these creatures will be worth the investment. I've bought the most flexible summoner of all the edition (except Lux), and I've complimented my favorite summoner with 4 creatures, a great tank - Baakjira, perfect carry - Deeplurker, Wavebrood, hugely boosted recently with new rulesets and Merdaali guardian, one of the best supports in the game. These 5 cards allow me to save around 1k DEC per day in rentals.
Swamp Spitter report
New soulbound creatures are fantastic, they will give the game a variety of options. As they are being leveled up, they are being used in top-ranked battles. Swamp Spitter is one of my favorites from this set and he has the strengths as follows: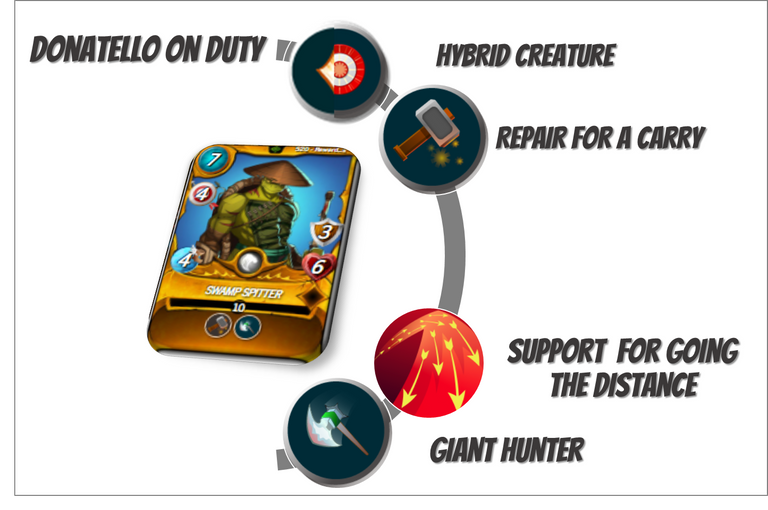 I like creatures that can play a variety of roles and Swamp Spitter is one of this group. 4 ranged damage is not a joke, so he can help a ton carrying the game. Also has enough health and armor to resist some shots waiting for support (Water shines in this aspect of the game) to help.

Complementing the previous aspect appears repair as one of the best defensive abilities in the game. The repair can be very annoying stopping an independent focus of an enemy (this is, the typical Deeplurker stuck because his target gets repaired again and again). Just a repair on your side can frustrate whole battle-plan damage.

Water summoner shines in this Battle condition, being able to bring a couple of supports (Swamp Spitter and Angelic Mandarin), and Wave Brood taunting all the damage and reflecting part of it (while being supported by both supports). Pay attention to the battle I attach :)

Finally, don't underestimate Giant Killer. The new meta is full of beefy creatures and high mana battles are a temptation to bring Grund, Grum, and Uriel,... They will suffer double damage! Coeurl Lurker and Agor Longtail will suffer double the double in Fury rulesets ...
So can't wait to play him in high-ranked matches, but oh wait! I've been successful using him as level 4 in Champion!!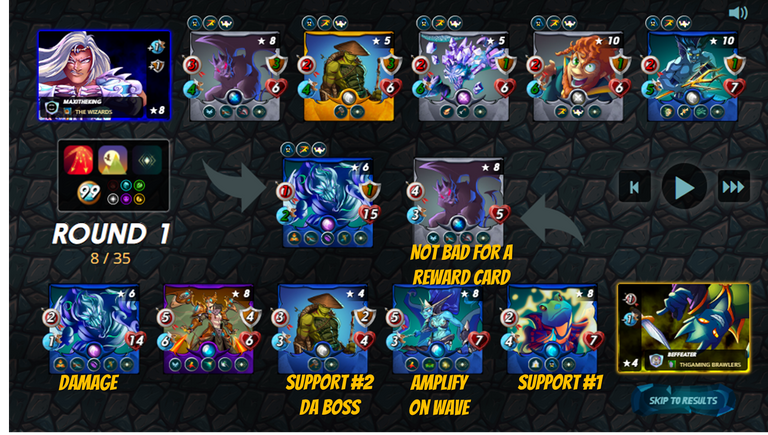 I've spent tons of months not giving the right value to Gargoya Lion, underestimating her. Having new rulesets and 3 per battle in Diamond or higher has increased the frequency I pick her. Earthquake resistant and tank thanks to her close-range ability in Rangers only. Not bad for a 6$ max level. Remember this price in one year when new players will be looking for this kind of card.
Water summoner outstands in this Ruleset being able to bring two supports in battle (Angelic mandarin and Swamp Spitter) and a creature able to reflect incoming damage that receives healing and repairing. Beat it.
To complete this team I chose a couple of great Riftwatchers cards that I use more and more. Sea Stalker, boosting Wave's reflecting damage and Runic Skyclaw (ignoring my opponent reflecting).
I share the complete battle here. Love how balanced my army was!
So thank you for reading this post. I hope I encourage everyone to climb higher on ladder and fight with the best players of the game. It's hard but it's where one learns faster!

THANKS FOR REACHING OUT HERE!
Hive - Splinterlands is a great ecosystem to grow in the Crypto world, we are in the best community and we play a game with a solid project and a great future. The only thing we've got to do is believe in the project and fight hard in the arena! Thanks for reading and feel free to share your thoughts.
In case you are new to this wonderful game here, I leave you my referral
---
Linktree Official - All Social Media links

---
---