THGaming Brawl Reports - May 26th 2022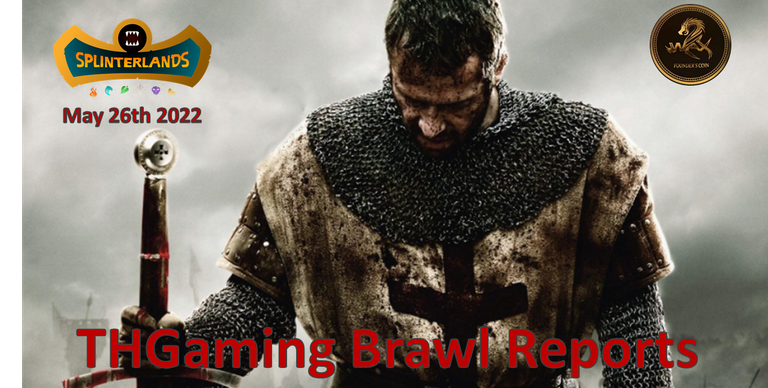 THGaming May 26th, 2022 Brawl Report
In this post, I will present the main highlights of our 2 top guilds. I am also bringing great battles of our best brawlers, including tactical analysis and tips that increase your WinRate % (as it will be very important for the next seasons due to changes to the reward system. This is my last post in the actual reward format. So many changes will come to the game in the following days. This is a great time to be a Splinterlands player!
THGaming Brawlers
After a 5/5 winning strike broken with a second place, Brawlers are on their road to glory again. Their new strike has begun with their second win in a row. This time they reached 71 Wins 5 more than their direct rival. They are cracks of this game, fill frays in great coordination and their effort is turned back by almost a Gladius case per battle.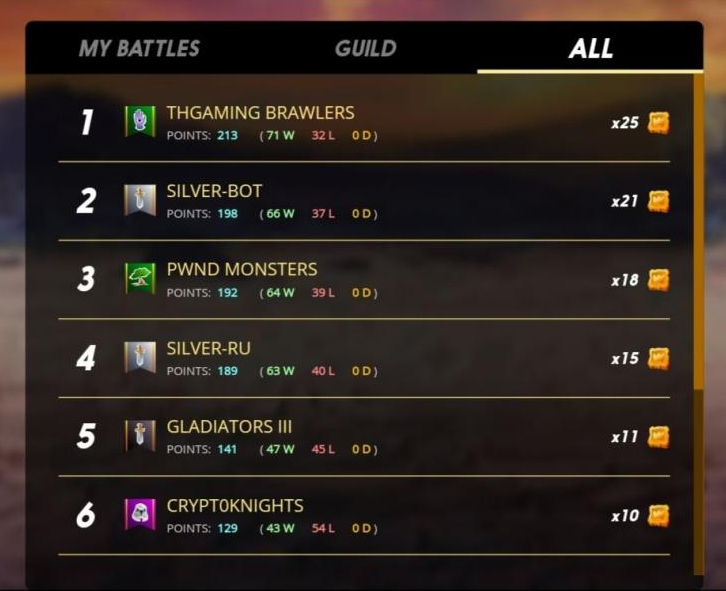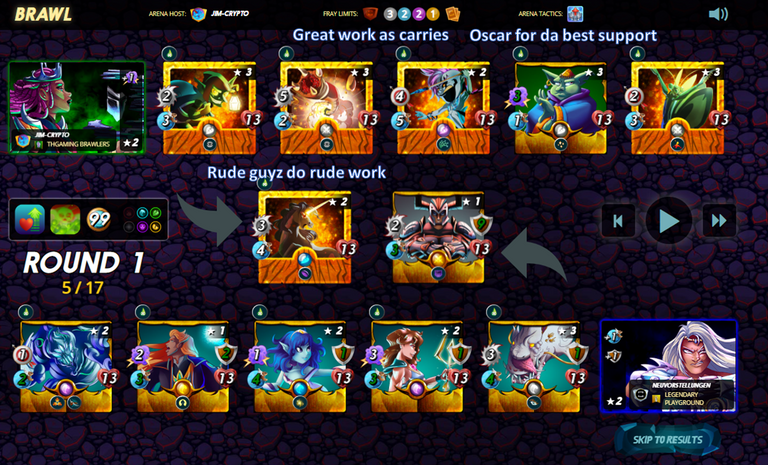 Our gold tier brawler @jim-crypto shares with us an example of how to face a hard Poison and Equalizer brawl with gold foils. This battle is an example of how card prices can evolve next days, and even most of the gold ones, as they contribute to various factors such as gold brawls and increasing DEC rewards. If you take a look at both army compositions, while Jym had an open modern one with Untamed cards, the opponent had a pure Chaos Legion modern one. Having maximum components in your army will increase everyone's Win Strike while boosting the amount of DEC rewarded. Speaking about the battle these were the factors for the great victory:
Summoner chosen Obsidian proved to be a better choice thanks to her variety of options. She could bring a healer that detailed 3 Magic damage and a great tank with Void armor.
Rude guyz do rude work Mustang did a great job in the first rounds, absorbing a huge amount of damage while receiving a Psychic's help. I hoped had bought more Mustangs for my army.
Psychic is da boss Although everyone should think that River Nymph would be a better option than Psychic, things went a bit different. This game was about details. Psychic had 13 life which meant 7 rounds doing 3 damage and healing the same amount to the tank. River prevented 2 for Noxious and 1 damage. This difference of +3 to Jim was a strong point in his success.
Carries for the win Finally and not less important, these 9 damage point from both carries was impossible to manage for his opponent. Enjoy

THGaming 1
Unfortunately, we weren't as luckier as in our past brawl and we ended 3ths at 6 victories from the second place. As I often say, brawls are decided in detail and we will do our best to improve our marks from the next one. I bring you some interesting reports!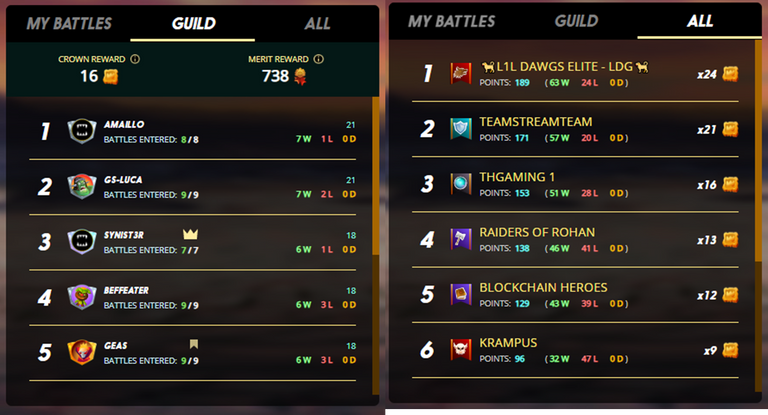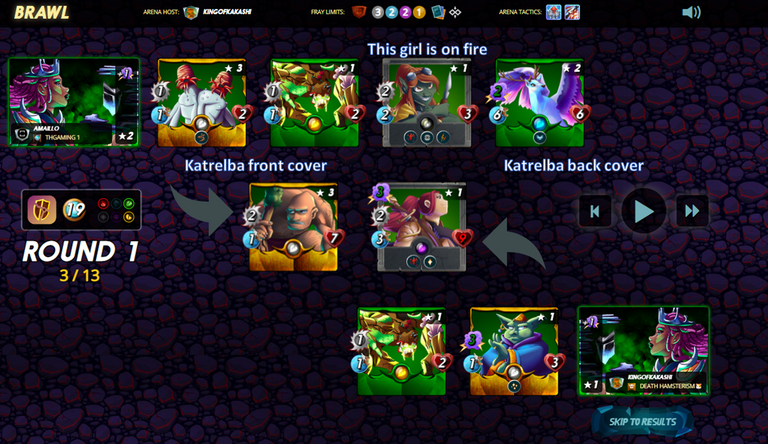 If somebody thinks that this game is about using the best cards and taking the victory, he/she is wrong. Everybody talks about Quora and thinks is an easy victory for the summoner. Our dueler @amaillo gives us a great lesson on how to counter her. He planned a 3 front cover for Katrelba with a huge mana efficient Hill Giant as a star, and also a great back covering with Regal Peryton. Katrelba well protected is a beast. This girl is on fire! Enjoy!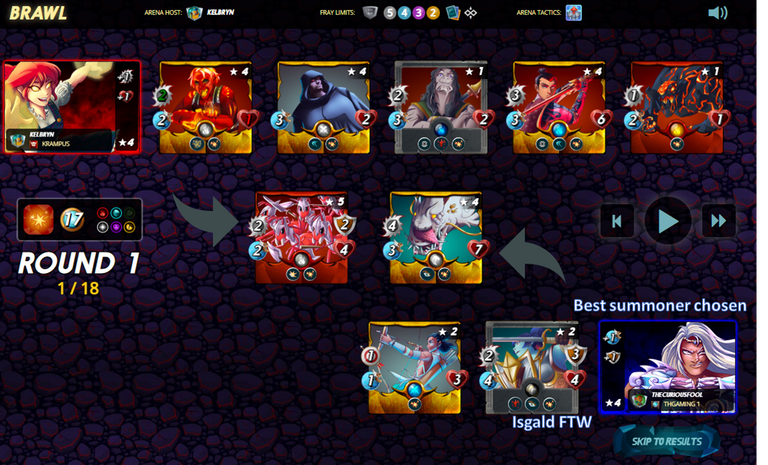 My friend @thecuriousfool shows one of the greatest combats I've seen lately, in a 4 level summoners duel (things are serious there), Kelia vs Tharsa with Explosive Weaponry. He made Deeplurker make a role he is not used to, setting him in the front line, and buying precious time for Israel to take the victory in a very tied fight. Hope you enjoy!

Best Gladius pull ever
Finally, I would like to congratulate a #THGBrawler (if he wants to reveal his identity he is free to do it, but I won't), that has made the pull of the pulls. I bet everyone to beat this: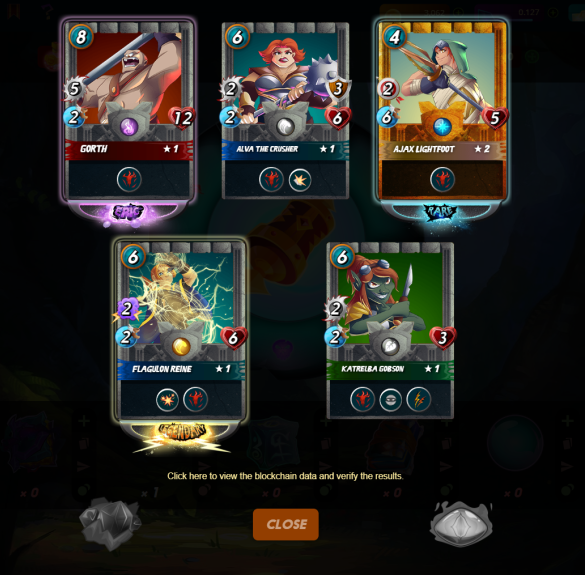 This is a 3.240 CP Pull with a legendary card. For players like me that have begun playing Splinterlands seriously with the Chaos Legion arrival, this can be the difference between Bronze I and Silver III. All these assets will generate SPS and will help his team to win more brawls (even more than they do). You can be the next who makes a similar pull that helps to increase your league ranking.
In case you are interested in playing #Splinterlands for the first time, I leave you my referral link
THANKS FOR READING & THANKS FOR SUPPORTING!
Our #Splinterlands Guilds still have places available. Join our discord and let us find you a position in our ever-growing Splinterlands legion! Social media links at the bottom.
THE END
---
If you would like to join @THGaming and explore the #metaverse with us our Social Media links are here:
Official THGaming Social Media Links:
🔸 Twitter
🔹 Discord
🔸 Linktree - All Social Media Links

---
Threshold.Guardian.Gaming (@Threshold_GG)
We are a #PlayToEarn Gaming Guild 🏆🎮
#Crypto #NFT #Gaming #AxieInfinity #Splinterlands #
---
---