THGaming brawl reports May 6th 2022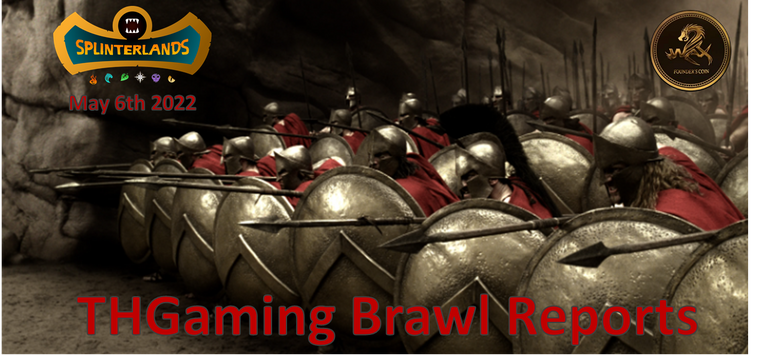 THGaming May 6th, 2022 Brawl Report
In this post, I will present the main highlights of our 2 top guilds. I am also bringing great battles of our best brawlers. I would like to thank all the support that I am receiving from the community supporting me as a content creator. Hope you enjoy this # brawlreport!
THGaming Brawlers
Our top guild is on fire, winning 6 from their last 7 brawls with a global result of 51W10L. This guy breaks their stats again and again and for them playing a brawl is like getting a Gladius for 'free'. I imagine that as long as they keep their ambition and their great cooperation they will succeed in everything they purpose.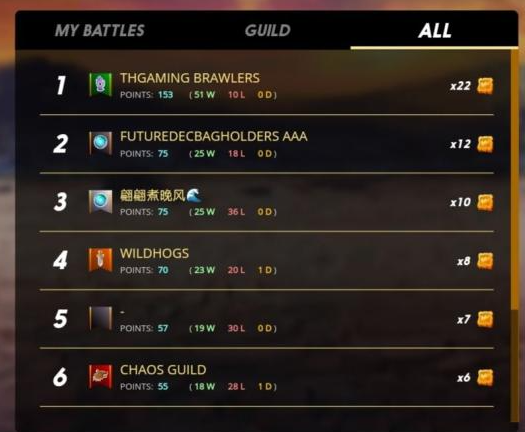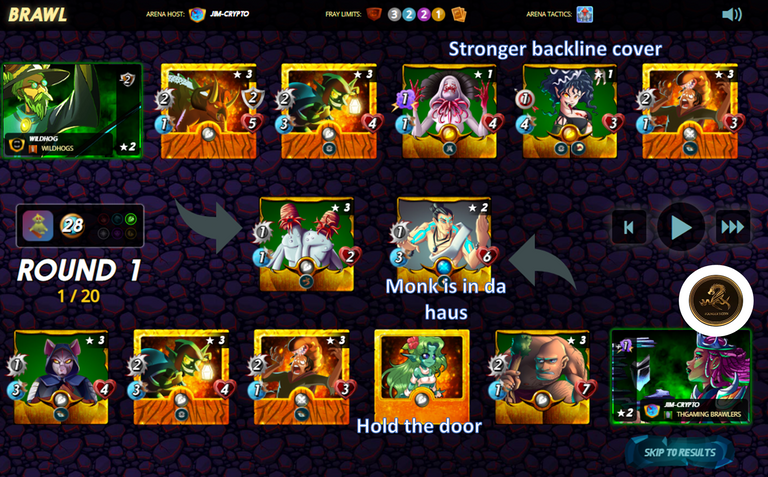 This time, the founder of the THGaming community @jim-crypto brings one of the most epic duels I've ever seen. He always takes the challenge of getting one gold tier. Every single point on this tier can be the difference between the glory or the Hell (not for THGaming Brawlers but yes for the rest of the mortals). This time he faced my favorite Battle condition, Littel League. In this condition both Summoners have to calculate where they spend every single mana and which role they assign of each asset of their army:
Hold the door: Jim chose to double heal his Monk as much as he could.
Monk is in da haus This creature is one of my favorite roles in all RPG games (specially Kharazim in diablo 3 or Hearthstone, also D&D. Splinterlands couldn't be less. This battle resumes perfectly what a Monk is. Perseverance.
Opponent chose a stronger back cover and won this mini-battle. But in the end, victory goes for the ones who pray to the right Gods! And Jim did it! Enjoy
THGaming 1
We have repeated our last performance and we reached the third position for the second time, drawing in winnings with the seconds and just with one victory less than the winners. Tough brawl decided by details. We will keep trying hard to find the path to success again.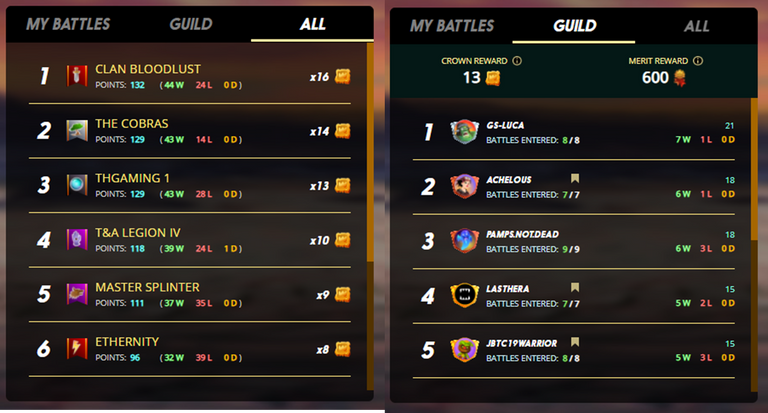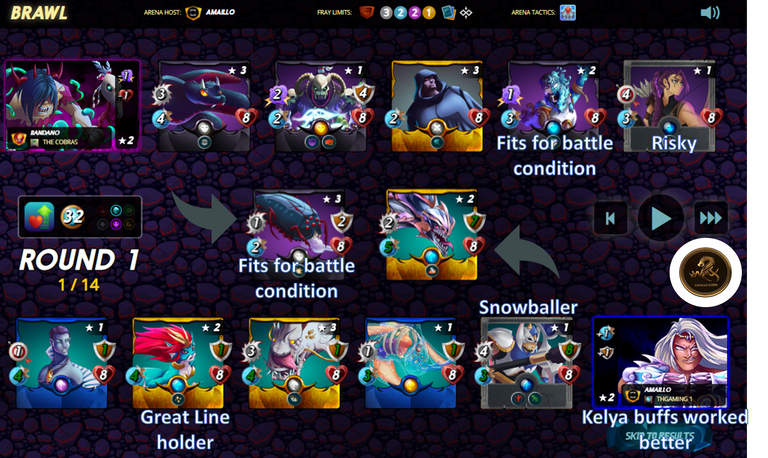 My guildmate @amaillo took the point home with a great performance in a match with Equalizer (all creatures with health equalized to the maximum) He took the victory thanks to 3 main factors:
Kelya's buff's worked much better than Thaddius in this battle, the +1 Speed went crucial allowing creatures to hit first and avoid some attacks. Also, the +1 Armor is a great guarantee for survivability.
In this kind of long battle (Equalizer battles aren't decided in two rounds, it's better to bring support, well protected for all kinds of attacks. The medal was only vulnerable to Sniping attacks, and luckily our rival didn't bring any.
All 2 previous points were the prelude to the Relenors snowball showdown that began in round 3. Before this, 2 heals on Diemonshark were placed and this time is gold for the victory.
Also, @bandano took a couple of great decisions although he was not lucky in the battle. He placed low creature mana with a shield in the first position and placed a creature with Life leech that could have turned things difficult if Telenor hadn't had this annoying bloodlust. Also, in my opinion, the placement of Liza was too risky to expose her to sneakers. Hope you enjoy!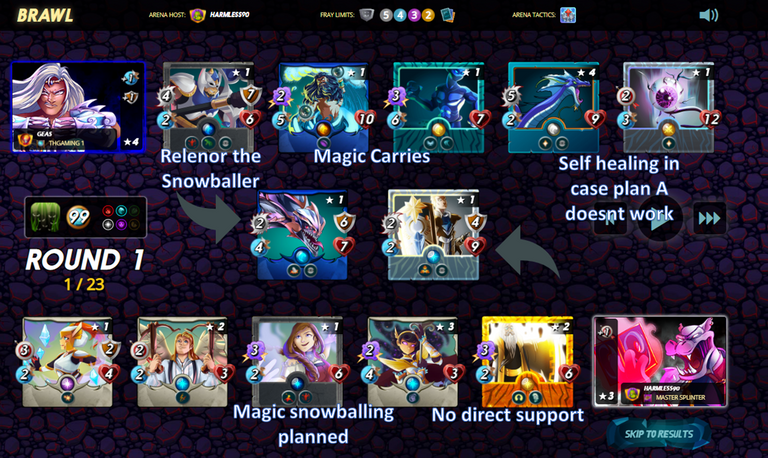 One of our greatest duelers @geas brings a great exhibition of tactics and battle planning in this 99 Mana and Melee Sneaking battle. He did a great brawl with a total result of 7W1L and took the victory thanks to 3 factors.
As in the other battle, Diemon in front and Relenor as off-tank do a great job together. Most of the time Diemon absorbs enough damage to prepare the terrain for Relenor.
Magic Carries were placed in positions 3 and 4 and did a great job destroying the enemy frontline.
There was an excellent plan B if plan A missed in the back composed by SeaSerpent and Cornealus with a double objective: Absorb all sneaky damage without casualties, and take the victory if other units failed.
Also, @harmless90 took some interesting decisions. The placement of taunt with resurrection was correct but resulted overwhelmed by @geas. He planned tough magic snowballing with captain Katie. All around missed somehow support that could have helped Shieldbearer to manage all the incoming damage. A great battle for both!
Enjoy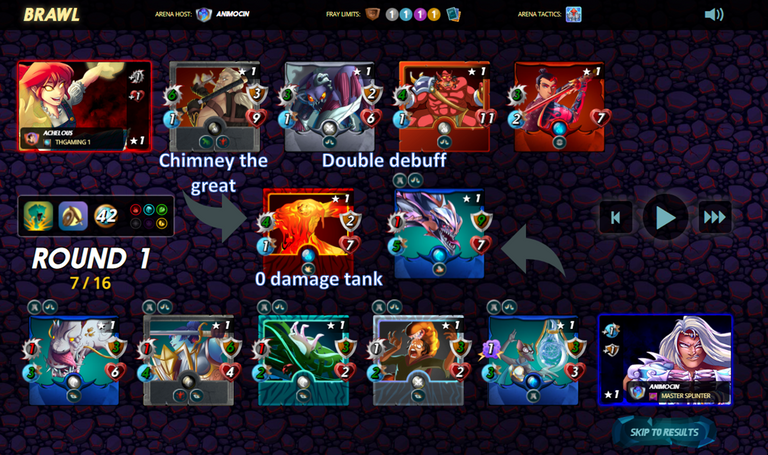 Finally, @achelous brings a great plan that worked fantastic on the battleground. He faced a battle with Stampede and Rise of the commons. He thought that everything would be about melee damage and this thinking worked fantastically for him
Double debuff: the double melee debuff placed by Disintegrator and Molten Ogre reduced drastically enemy damage, interrupting his/her plan based on opportunity creatures.
When rains it pours: Al this damage reduction made that Living Lava was 0 damaged, again and again, frustrating enemy plans.
Chimney and Tenly striker made the rest of the job.Enjoy!
Gladius assets update
Finally and thanks to our last 3rd place, I have reached my Gladius collection up to 30 assets. So happy with this part of the game and I do believe that the devs will find them even greater role than they got nowadays!


THANKS FOR READING & THANKS FOR SUPPORTING!
Our #Splinterlands Guilds still have places available. Join our discord and let us find you a position in our ever-growing Splinterlands legion! Social media links at the bottom.
THE END
---
If you would like to join @THGaming and explore the #metaverse with us our Social Media links are here:
Official THGaming Social Media Links:
🔸 Twitter
🔹 Discord
🔸 Linktree - All Social Media Links

---
@entrepidus @dynamicrypto @synist3r @spiritsurge @jbtc19warrior @amaillo @captainquack22
Threshold.Guardian.Gaming (@Threshold_GG)
We are a #PlayToEarn Gaming Guild 🏆🎮
#Crypto #NFT #Gaming #AxieInfinity #Splinterlands #Blankos
---
---