Is Hive pumping my deck value?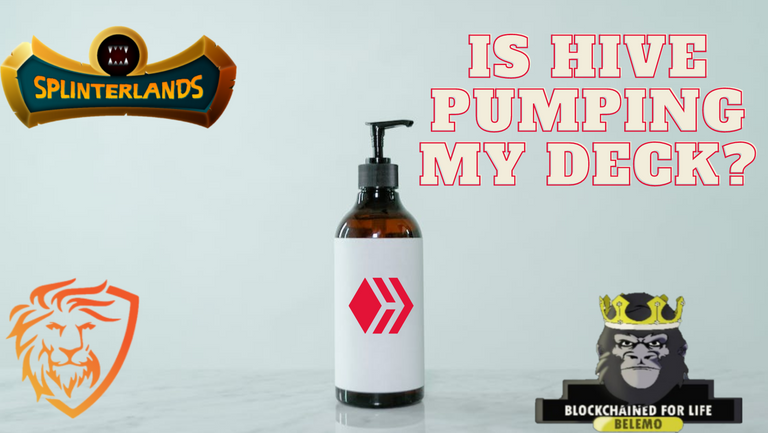 I still don't understand the dynamics of the relationship between my Splinterlands deck and Hive coin but it seems like when Hive pumps, my deck value rises as well. According to Peakmonsters, the recent pump in the value of Hive corresponded to a mild pump in my Hive deck value.
As you probably already know, Hive has been testing 30 cents for a while now and there are signs that it could potentially shoot up in the coming days. The charts show an asset preparing to breach resistance and set a higher low, as we swim through this gruelling bear market.
Hive is affected by the whims of Bitcoin but it also has a mind of its own. So, while Bitcoin still holds ground at 17K range and also looks like breaching resistance, it is not out of the question to think that Hive could actually do it first.
Anyway, seeing Hive at 30 cents has been a little bit refreshing, in the face of the bear market. It is not a mouthwatering state but it does feel good to see something green and experience upward movement these days.
Pumping my deck
I don't have the specific percentages to compare but Hive's pump from 25 cents to 30 cents in the past couple of days has also corresponded to a roughly $100 rise in the price of my deck. This could be due to a variety of reasons since Splinterlands assets are NFTs and don't necessarily follow trends in the general crypto market.
One thing we can say for sure is that the bear market affected the value of Splinterlands assets. Other than tokens like SPS and DEC that is still far away from the desired peg, Splinterlands NFTs have also taken quite the beating.
During the course of the bear market, I've seen my deck value drop from upwards of $2500 to around $1300 range when things were really sour. Again, I'm referring to NFTs in Splinterlands, so take what I say loosely but it really does seem like activities in the general market affect the price of NFTs.
NFTs are assets that generally don't follow market trends but it is not out of the question to see their value affected by the whims of the general market. Despite having their own unique marketplaces and trading activities, they are still priced in crypto.
The above is perhaps a good explanation for the relationship between Hive and Splinterlands The route between Splinterlands assets and Hive coin could be contributing to this phenomenon.
Splinterlands assets are priced in dollars but to pay that amount, you use a DEC equivalence. DEC is in turn mostly traded against Hive, and that could explain why Hive pumped my deck.

Posted Using LeoFinance Beta
---
---