Staking Leo, Discount Hive and HBD savings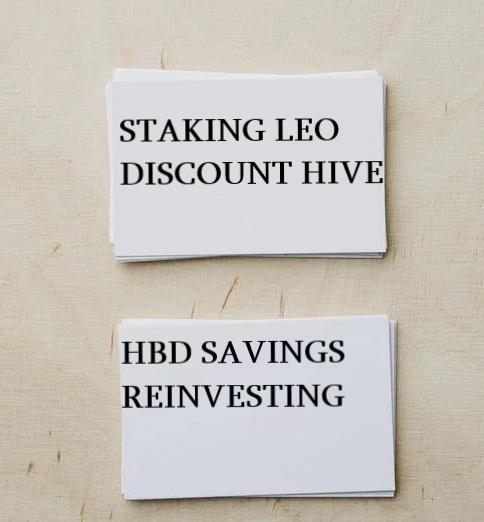 The entire crypto market is in the shitter these days, so virtually every crypto in the land is heading in the red direction. Daddy bitcoin is currently trading at around $31k, which technically means that virtually every other crypto could be screwed in the short term.
I'm a glass half full type of guy, so I try to look at the positives in the situation. So, right now, while my portfolio is clearly in the negatives, I figured I could bolster the volume to make it look prettier.
At the time of writing, Hive, Leo and the majority of second layer tokens in the community are swimming in the reds. Second layer tend to suffer whenever Hive goes down, so there's nothing new there.
For me, this slump in price offers an opportunity to add some cheap tokens to my collection. You'd be surprised what investing a couple of dollars regularly could amount to in the long run.
Bought more Leo
My Leo curation activities suffered a bit because I sold half of my stake to raise funds for our future plans. It was a situation that couldn't be helped but I always planned to get it back and be bigger than I was before.
I spend a lot of time in the Leofinance community, so it's only natural that I'd be earning Leo tokens regularly. However, I also decided to buy a couple of Leo tokens for staking purposes.
I'll be repeating this process until I've gotten back the roughly 10K Leo tokens that I had in my main account. I expect this process to span a couple of weeks but I know it will be achieved.
This week, I added 239 Leo tokens to my collection. If you factor in the Leo that was already in my wallet, that's roughly 303 Leo tokens staked. If I rinse and repeat this process, it'll take about 16 weeks to get back the 5000 Leo that I initially sold.
It is worth pointing out that this transaction was carried out with hive at $0.694 and Leo at $0.116. I could be buying more or less, depending on the price of both assets.
Thanks to Tribaldex, buying Hive-engine tokens is extremely easy. I get tired of filling buy orders and competing with bots, so this works nicely.
How to get more Hive
The inflation mechanism on Hive tweaks the minting rate of Hive for post rewards. Basically, the lower the dollar value of Hive, the more Hive gets printed. Of course, you also have to consider the fact that when Hive drops lower, so does the value of upvotes.
Anyway, considering Hive is my major source of income, I suffer from a lack of external funds that enable me to get in more Hive. Things will change when I get a job in the outside world but that can only happen when I've left this country.
Anyway, for now, the easiest route to get more Hive is to double up on my activities around here. This means publishing consistently, making more friends and expanding my network.
I've also been searching for content writing gigs, so if you have any openings, please hit me up. If I find a way to bring in more external funds, I'd be adding to my Hive collection.
HBD to the rescue
In the midst of everything going on in the crypto market, I've managed to have a steady source of income at low risk thanks to HBD. My savings, at the end of the one month period should fetch me around $124 and that's really good.
I'm going to be compounding the income I receive from HBD savings but I will be pulling out a little bit to reinvest into different projects in the community. I believe that with $40 taken out monthly, I should be able to get in a small number of various tokens or maybe even invest in my Splinterlands deck.
I've already shown what can be achieved with a 25 and $15 investment in your deck. If prices of SPlinterlands assets continue to drop, I could end up doing a lot more with a lot less funds thrown into the fray and that will most likely come from my HBD savings.
I'm still out here waiting for a miracle but with each passing day, it continues to seem unlikely that anything monumental will happen in the market. All I can do is continue to work within my capacity and grow my portfolio by investing in projects that I believe in.
Posted Using LeoFinance Beta
---
---