My first Midweek Headline Slot Mission

This is my first Midweek Headline Slot Mission.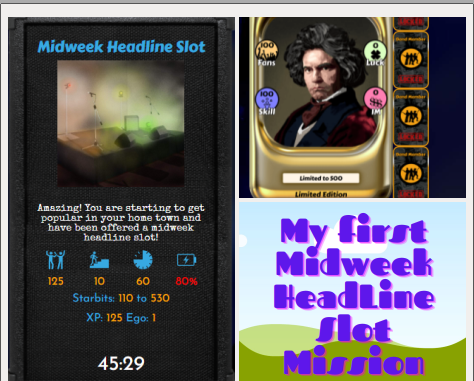 When mission finished I have got 232 starbits and 1 ego. As a prize I got 1 discarded pizza. I also got 10 starbits as a first time finisher for the mission.
Below are the some of my statistics:
| Missions | Achivements |
| --- | --- |
| Illegal Busking | 30 |
| Open Mic night | 36 |
| Midweek Support | 16 |
| Licensed Busking | 8 |
| Basic Singing Lesson | 1 |
| Guitar Lesson | 5 |
I am currently at Lvl 12. I have bought 3 pizza boxs, 3 coffee cups and 3 cold pizza slices to support my daily missions. I have box 36 packs and I now have 119 cards, I should only have 110 cards but I don't know why do I get that extra cards. This is somehow amazing. Maybe someone gifted to me. Thanks to the RisingStars who gifted to me.
How can I find who is giving cards to me?
I enjoy playing RisingStar and spend a lot of time to it. Thanks to the creators who make a lot of people happy.
I also need some advice from my friends and community to get more stratety to get more fun.
---
---