Big Things For Hive / Splinterlands This Year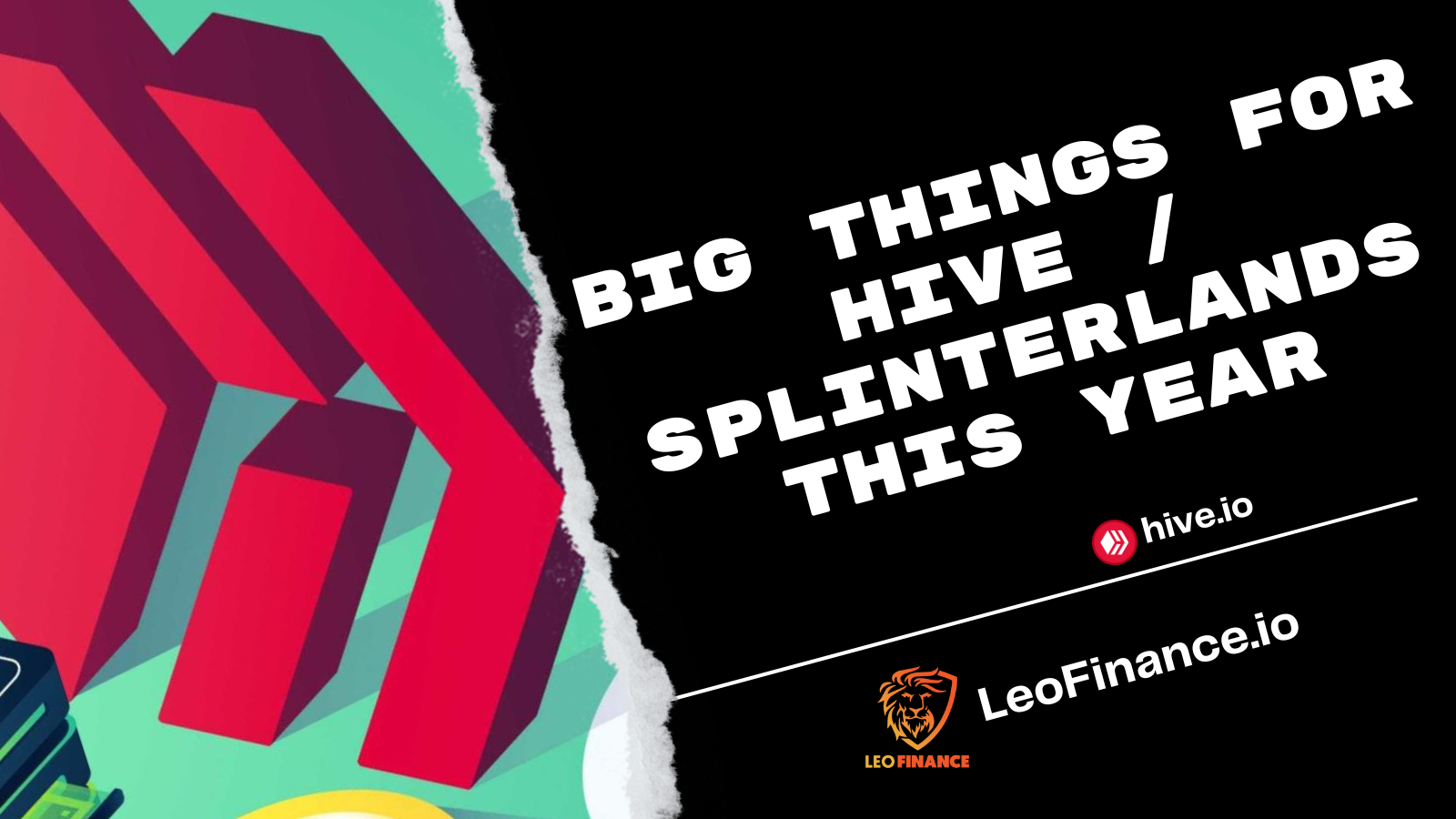 Big Things For Hive / Splinterlands This Year
I'll admit this year was looking to shape up to not all that much going on in the crypto space besides a steady decline in prices across the board. However that tune seems to be change and primarily within Hive!
LeoThread / Project Blank
LeoThreads has come a long way and this week it's getting a number of big updates to it that are going to take it up another level. Threads blew open the gates when it was first launch but it was a seriously rough beta. Honestly I'd call it an Alpha testing which is now going into Beta.
This week we are already seeing a lot of cool features such as emojis and gifs which are more in line with how people use twitter for example. There's also a bunch more which I feel are really going to bring threads full circle and get it pretty much ready for main stream. I would highly encourage you to use it daily or a few times a day and start getting a feel for it and building your following there. I'm sure once project blank releases you'll be able to port or bring a lot of those thread users over into project blank and hit the ground running.
Hive
Hive finally had a hardfork which feels like it was delayed by at least a month or more. This hardfork code named Evolution applies a few changes.
There's no longer a 3 second time delay when voting on others posts but the same amount of vote value will be reduced on each vote.

HBD now has a 30% haircut and full details of that can be found here Haircut Rule

The rest are mainly developer updates and go over the costs associated with transactions on the chain. It also looks like you're going to need more hive powered up for other things like comments and posts so I would highly recommend you continue to power up to at least 100 Hive perhaps 500 hive to have a fully functional hive account that runs into no limits if you're using a bunch of applications.
Splinterlands
I really feel like this month and moving into 2023 that Splinterlands is going to be one of the hottest assets to have. This is because of the huge roadmap of hype including everyone's favorite to talk about airdrops!
From the looks of it the first airdrop will be happening a little later this month in about a week. This airdrop looks to be for a new game called Genesis League and what's awesome about that is it's focused on Soccer one of the biggest sports in the world! Full details on this will be shared soon but we can see their main website has already been updated about the pre-sale starting on Oct. 19th.
Splinterlands also has other major things coming such as the tower defense game we should see fully running in early 2023. My hopes are land will be no later than Q2 of 2023. There's a lot going for SPS however in the next coming months so the time to stack it is now I believe as it's only going to get harder to get month over month moving forward.
Posted Using LeoFinance Beta
---
---