SPLINTERLANDS - The Amazeballs Truth of the Future of this Game from A CARD HATING AUSSIE GIRL
I have never played a card game before in my life!!!
Do let me know your personal thoughts on SPS price? I'm curious. Can #SPS do an Axie?
HAS ANYONE ELSE NEVER PLAYED THIS SORT OF GAME BEFORE?
I am a girly girly sewing, painting, gardening non nerdy mother of two who has NEVER PLAYED A CARD GAME IN MY LIFE.
like
NEVER
I mean card games are for nerds right? rolls eyes and laughs
This is me. Super new to #Splinterlands been playing a month. got nerfed with my 1600 power in the new season. I rented some only to get to about 3000 power and struggled. Until lovely Matt delegated me a wowza of a card to get me over the 15K mark for silver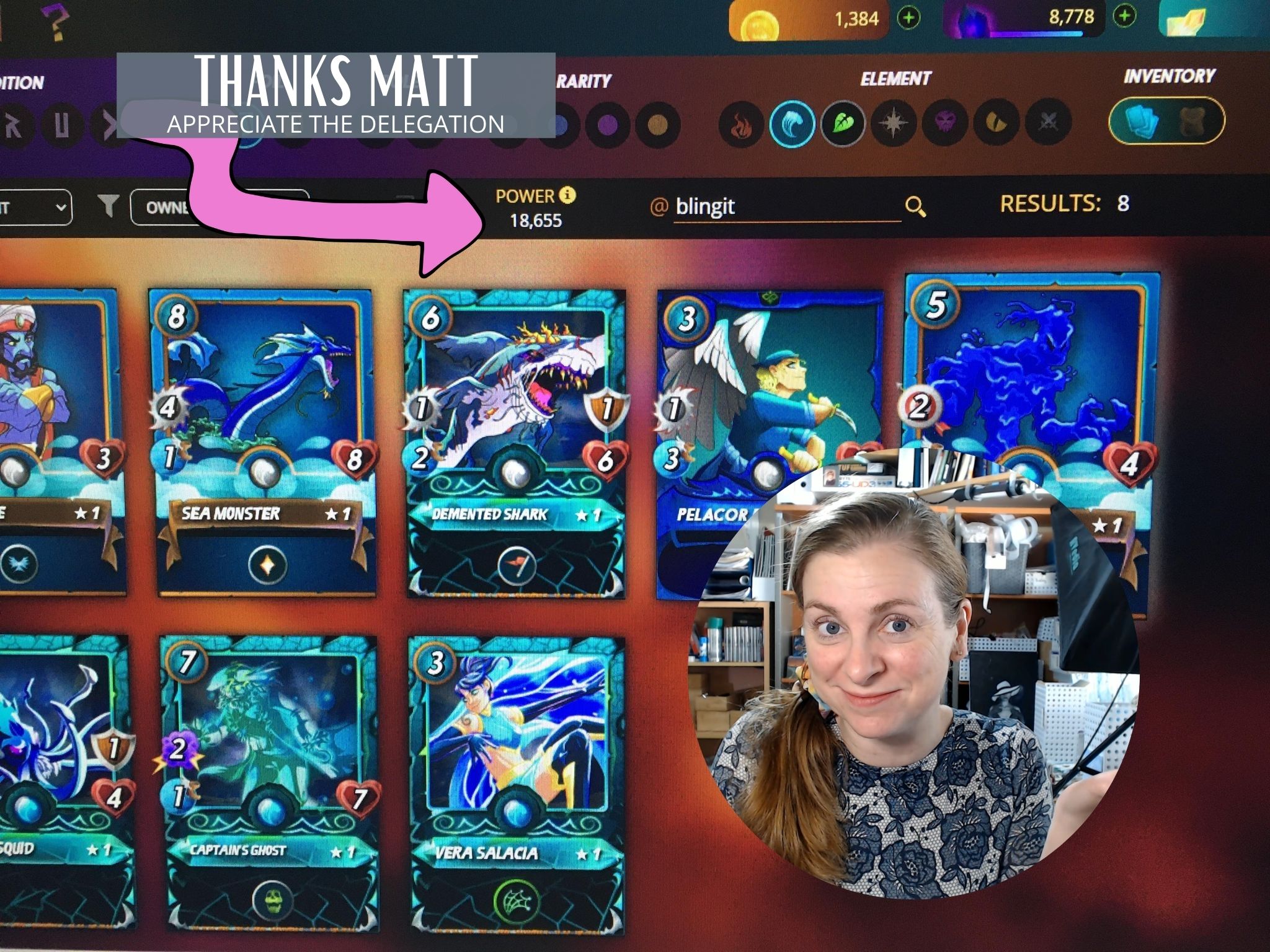 I play "The Sims" and build houses. I laugh at my Dungeons and Dragon playing husband and his friends. I used to gold farm in WOW for my husband. For those that care i used to buy all the defias gear for like 30 copper and sell it for 10 -15 G a piece and farm the instances :-) lol
Now i got HIM into this game (and my daughter but thats another story)
Many a time i wished that WOW gold was "REAL" (Yes i know you could buy it with fiat)
Ive dabbled in Bitcoin, Believe in Defi but NEVER EVER PLAYED THIS SORT OF GAME BEFORE.
IT'S
AMAZEBALLS
WILL SPLINTERLANDS JUST DIE?
As a newbie who is not "emotionally" invested into the future of the game, i'm not a die hard 2018 adopter who lives the game with my 2 million power lording it up in my land plots... This seems really fun and while i know they have nerfed the bronze league to stop spammers taking advantage, that just shows there is potential here. Especially with all the future development that is in the air. (I 've been reading). Even if it was just staying where it is now its great but the future plans seem awesome.
Blockchain games are the future - 100%
Long have i wanted the ability to make real money farming and playing games and now it is here and i missed the start! This is not something that will go away. But it WILL need careful management to keep the game economy right.
LAND = Future Development - Game Growth
I was reading a post by @solaito this morning talking about the future of land this sounds like it will really add something else to the game and this isn't going to be a 2 year wonder game that dies and trickles into nothingness.
To keep the value in the game you need new things, interesting things, and new challenges. Typically i admit, i like to set the cheats on a game and play freestyle so that might be a bit hard for me but a game needs a future to survive and new challenges to keep moving forward. Sounds like there are big plans and we are still early in the game. Thoughts????
Investement - Cards and SPS token
Yes i really feel both of these are an awesome thing. Gosh i wish i had 500,000 power in my account... lol... well done to the folks that do. Bravo.
Fun
I can't believe i'm saying that i enjoy this game... but i do. This game is big on fun and i enjoy reading about it as well as playing. Ive started a few other games in the cryptoworld first because i like the sound of "blockchain games" and they were rubbish. Great ideas.. too big though... just painful with just no fun... oh... click mine with a picture of a shovel. And collect rents from houses when there is 90% of houses still vacant... (Great concept not sure dev is right there yet)
NOW SOME CHALLENGES..............
There will be a few issues i can see as a newbie
Obviously Game Economy,
Making it viable enough for people to play but difficult enough for bot spammers not to create a monoploly in the game. Naturally the more money you can make the more it will be exploited and the dev team will need to continue to work hard here.
Game Development
I said above that moving the game forward will keep the game fresh and keep the price moving forward. If people stop playing then the investment is not worth it. That being said, moving too much or too fast will leave new players behind and you will have no fresh blood in the game.
We need to be able to get and retain new players and have a way for them to move forward in the game.
Also though... If you change a game too much or too fast you end up with people quitting because they don't like the way the game is going. I'm like that... the continual patches in WOW and i totally lost interest as i wasn't a devoted play every day player. mostly i just popped along as a healer on my husbands second account when he needed me. lol
Keeping the players fresh.
Growth the game needs growth and stability - what a tricky balance. Seems like they are doing a great job though!
I'm excited to keep playing and see what this can bring. I doubt that being a bit late to the party that i can make my millions from this game (If you think im wrong PLEASE enlighten me) But i will enjoy playing the game for sure.
Many thanks to the team and also the lovely bloggers writing cool articles.
LOVE TO HEAR YOUR THOUGHTS ON THE FUTURE OF THE GAME
I'm loving chatting about the game, squeee, so please let me know what you think or link me any cool posts you have found. I'm loving reading lots about
@BLINGIT
---
---