Splinterlands & PIZZA Brawl Report : My 37th Brawl Report with 🍕PIZZA 2 The Deep Dish Guild🍕 ⚔️🛡⚔️🛡⚔️🛡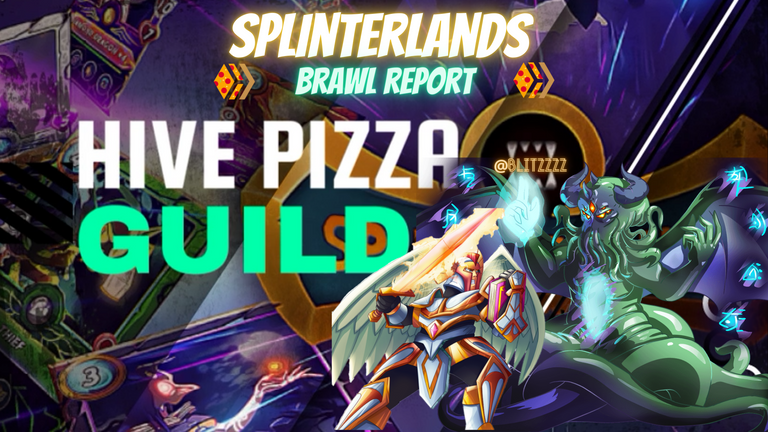 Here's my 37th Splinterlands Guild Brawl Report for PIZZA 2 The Deep Dish. 🍕⚔️🛡️
---
It's the ✨🏅✨Gold Foil Chaos Legion Fray no.12✨🏅✨ for the 20th week in a row for me.
Instead of listing out the results since week 1, I shall just tally up the total wins/losses from now on, as seen in the table below 😁. 📊📊📊
---
| Current Tally for the past 19 brawls | | | | |
| --- | --- | --- | --- | --- |
| Number of Battles⚔️ | Wins✅ | Losses❌ | Draw➖ | Overall Win % ⚖️ |
| 75 | 42 | 28 | 5 | 56.0% |
---
My overall win rate in the Fray 12 (Gold Foil Bronze Chaos Legion) remained the same after last week's results. I'm still undecided if that's a good thing or not 🤣. It isn't progress, but it's not getting worse. 🤔 I think what irked me more than a loss was the "bugged surrender" where both players were automatically surrendered after entering their teams. I always look forward to what teams my opponents put out against mine, and it was anti climatic, to say the least, at having a bug rob us of that.
As usual, I make an extra effort to rent ✨Gold Foil Chaos Legion✨ cards that align with my daily focus during Guild Brawl days.
Hopefully Lady Luck continues to shine on me 🍀🍀🍀 and I don't get too many weird ruleset combinations which will completely screw up my limited Gold Foil selection of cards. (🤣 yeah, that's how terrible I am, to have to rely on luck for my wins)
---
Some thoughts I have about my exploits in the Gold Frays. 💭🤔
I feel like I'm winning because my opponent has even less Gold Foil cards available to him than I do. Personally, I find it slightly flattering to me. The teams I field are definitely not the absolute strongest, but more of what is available to me.
It also doesn't account for HOW I win some of the fights though. I've realised that a fair number of them are from opponents who just gave up and did not even face me in battle. ⚔️⚔️⚔️
My choice of picking up the Gold Foil frays is to simply give the Guild a better chance at accumulating more wins, seeing especially that IN THE PAST, many Gold Frays were left empty. Even if I were to lose everything and win just 1 match, it would definitely help in securing a better finishing position overall. 🥇🥈🥉
---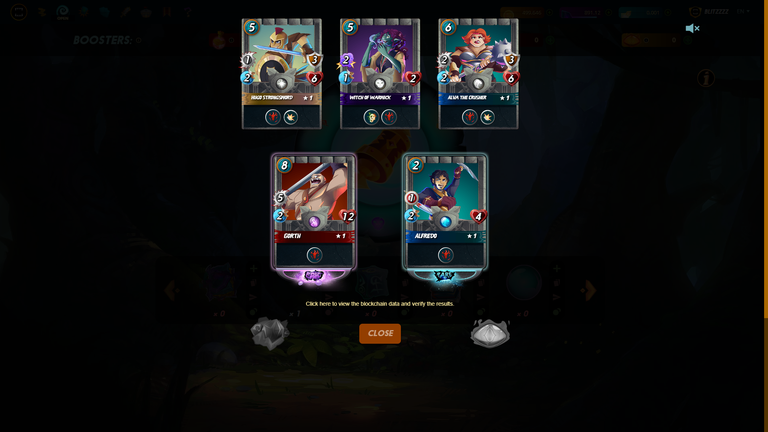 I managed to get enough merits after the conclusion of this recent brawl to buy and open another Gladius pack. I would say this is a good pull. An Epic and a Rare amongst them. And 🤣 the irony of getting this Epoic Gorth card. The RNG Gods are mocking me even as they bestow some luck upon me. (You'll get what I mean later on during my battle reviews 😉)
No Gold Foils this time round (as can be expected based on the probability 😜).
🤞🏻🍀🤞🏻🍀🤞🏻🍀 Fingers crossed for a Gold Foil (Legendary!!!) I hope 🤣🤑 for my future Gladius packs. (or any packs/rewards chest for that matter 😉)
---
I've joined the Pizza 2 Guild over at the PIZZA DISCORD and was introduced to the world of Guild Brawls in Splinterlands. It has been an interesting experience to say the least. 🎉🥳🎊
Guild Brawls are generally the same as Battles, but with some minor tweaks (of which I'll save for another day). Lets get right down to business as I analyze my brawls. 🧐⚔️🛡️
---
With all that said, lets FINALLY get down to a review of my battles 😁, or in some cases where my opponent fled 🏃🏻💨 - non battles 😨.
---

⚔️🛡Let the Battles Commence⚔️🛡

---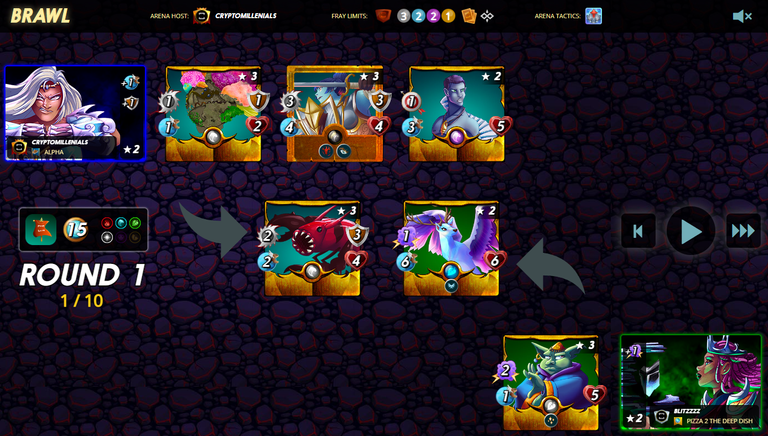 WON.
A good start to my battles. This was a really low mana ruleset. Even though I won with all my units left standing, the battle was actually closer than it seemed.
The opponent's Isgald Vorst was extremely dangerous with its OPPORTUNITY attacks and very nearly took out my backline healer. Had he padded his frontline with more cannon fodder or perhaps moved that unit to the last position in his deck, it could have well been a loss for me instead.
As it was though, I managed to burn down his tanks quickly enough and the Isgald Vorst was moved safely to the frontline where it had to face my tank. It was an assured victory after that.
---

WON.
I continued with the good run of results. Or rather, it was gifted to me on a platter 😁.
The opponent FLED! 🏃🏻🏃🏻🏃🏻 Yay? I guess. A win is a win - no matter how it comes about.
---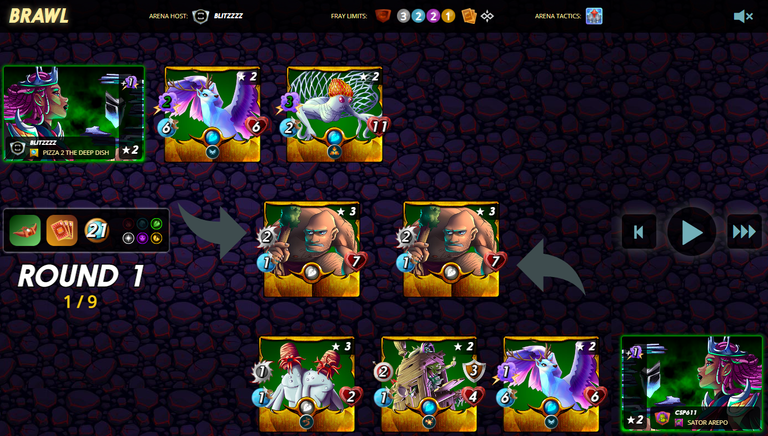 WON.
This turned out to be a really close fight.
Both me and my opponent fielded VERY similar lineups. Both of us used the Obsidian Summoner, fielded the Hill Giant in slot 1, and Regal Peryton in slot 2.
My choice of the Mycelic Slipspawn VS the opponent's Goblin Tower and Mycelic Morphoid proved to be the difference which would grant me the edge to win the battle.
The Slipspawn allowed me to spread out the damage taken from my tank and my focus fire resulted in his units dying faster. A straightforward victory in the end for me.
---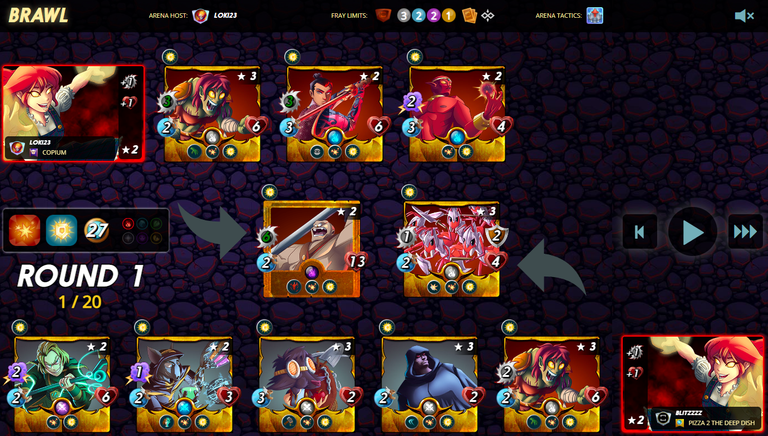 LOST.
I was actually dreaming of a perfect win at this point. And upon the initial cursory glance of our lineups, I would have thought so too. Alas, it wasn't meant to be.
Remember I mentioned the RNG Gods having a warped sense of humor with the gift of an Epic Gorth in my Gladius pack opened?
Well, here is the opponent's Gold Foil Gorth in all it's glory and power out wrecking my entire team. This card is a monster with huge damage and health. Not to mention the BLAST ruleset ensuring he dealt even more damage and was able to activate his bloodlust from killing my backline too.
I think had it been any other unit, my repair and platoon combo would probably have held the line lone enough for my magic DPS units behind to win the game for me.
Needless to say, it was a complete and utter defeat. 😭
---

📊📈📉My Overall Results📊📈📉

---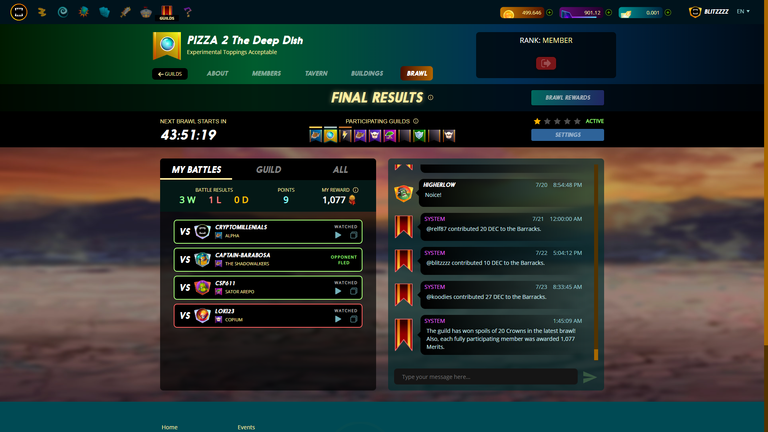 3 wins and 1 loss. I'm quite pleased with this result. I was so close to that perfect string of victories, but that Gold Foil Gorth in the final battle was just too devastating. I don't think I could have done much to turn that into a win with the cards I have available. So a good result overall. 😊
---
I feel it's important that Guilds are able to fill out all the frays - even the significantly "harder" Gold ones. It is very likely that most guilds (at our level) skip the Gold frays completely, or are unable to even field a team if they've got no Gold Foil Summoners. This therefore leads to a better overall score.
---

🥇🥈🥉Final Standings🥇🥈🥉

---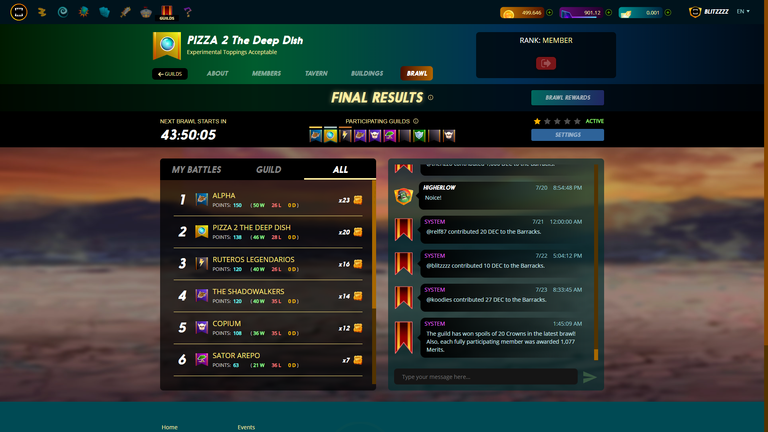 PIZZA 2 Guild managed to finish in 2nd place! 🏆🏆🏆
We were SO CLOSE to getting 1st. Just 4 wins away. Considering one of our players missed entering any teams at all for his 7 battles, I would like to think that had that not been the case, we MIGHT have managed to get enough wins from that to finish 1st.
Oh well, such is life. We'll go for it again the next time round. 😁
Great Job from everyone who took part in the Guild Brawls! I'm proud of you all! 👍🏻👍🏻👍🏻
---

✨✨✨This Week's Events✨✨✨


Over at PIZZA DISCORD, there are always loads of planned Events lined up (and even impromptu ones). The events listed here are localized to my Time Zone GMT +8. For the absolute latest updates, please check in the Pizza Discord.

---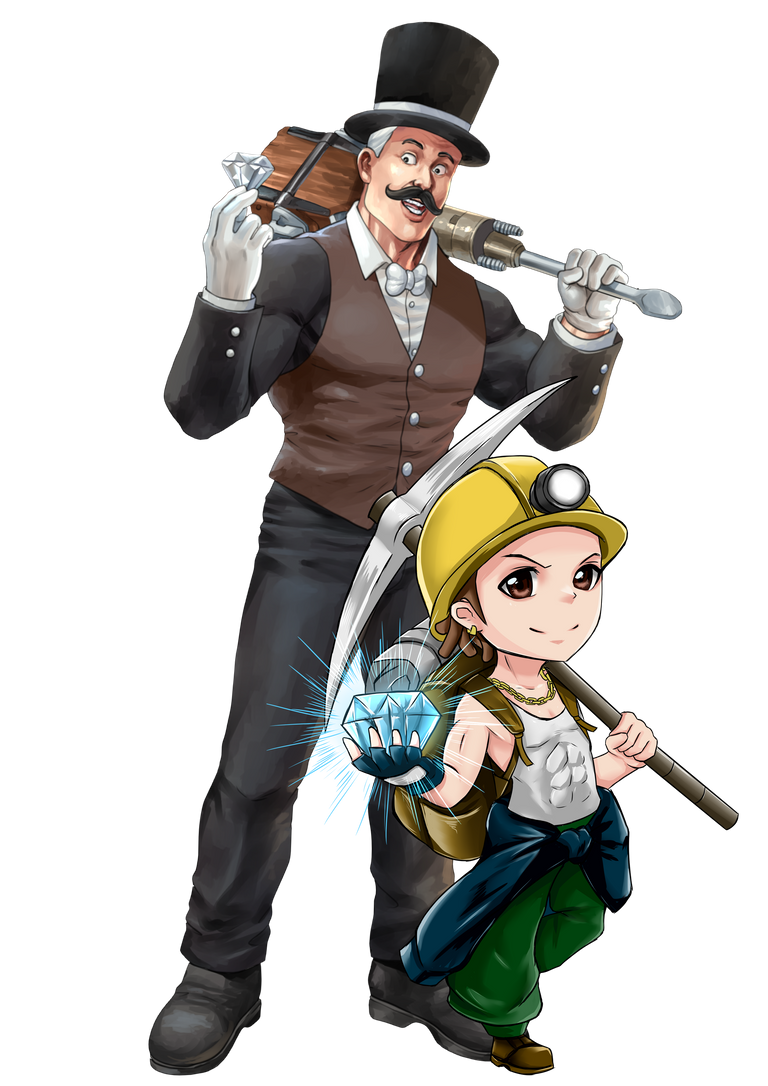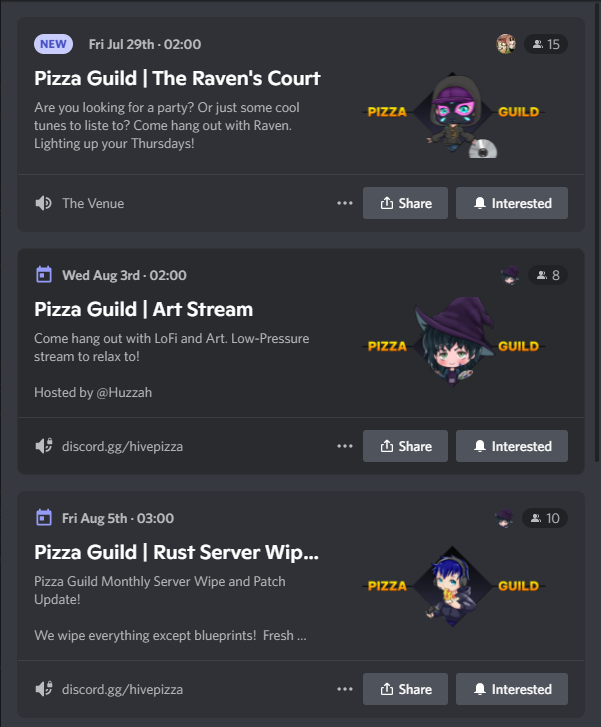 ---

🎁🎁🎁This Week's Contests & Giveaways🎁🎁🎁


A lot of FREE prizes up for grabs at the moment too! Don't miss out! 🎁🎁🎁💰💰💰 What are you waiting for? It's all here in the PIZZA DISCORD.
🤑💰🍕Added Bonus of PIZZA Token🤑💰🍕
-I will use my staked 🍕PIZZA🍕 to share a slice of 🍕PIZZA🍕 with anyone in the comments who also FOLLOWS & REBLOGS my post in the interests of spreading the Word of Pizza.
-Just let me know if you've done that so I can easily keep track. 👍
-Any fellow 🍕PIZZA🍕 connoisseurs who !PIZZA me will also receive 🍕PIZZA🍕 back from me. 😊

---
🍕🍕🍕🎁🎁🎁💰💰💰 PIZZA has weekly giveaways of NFTs from Rising Star, Exode, Hash Kings, WOO, not to mention several different types tokens, including PIZZA itself of course, and Oneup, DEC, Starbits, Buds, Utopis, AND several Steam game keys with values of up to $60!!! There's seriously so many prizes up for grabs EVERY WEEK that I can't keep listing it all down 😜 so go check out our Discord channel under #pizza-giveaways 🍕🍕🍕🎁🎁🎁💰💰💰

---

PIZZA is an active gaming and creative arts crypto community on the HIVE blockchain. Popular games on HIVE like SPLINTERLANDS, RISING STAR, EXODE, HASHKINGS, WOO, BANG!DEFENSE have their own PIZZA communities here.



Don't miss out more events that are always being organised. Join the PIZZA DISCORD. Even if you aren't interested in the 💰🍕🎁GIVEAWAYS & AIRDROPS💰🍕🎁, there is a vibrant and friendly community there awaiting you.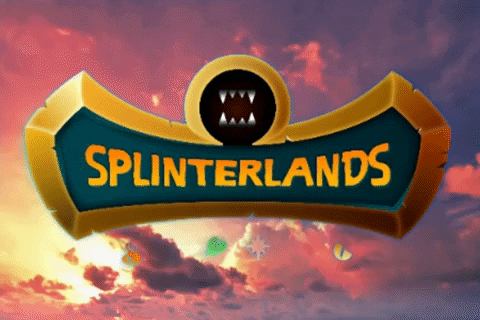 Here's to wishing everyone all the best for the upcoming week 🎉🍀.
To any new players who wish to explore the world of Splinterlands, do feel free to sign up with my REFERRAL LINK 😊.


---
---