Splinterlands SHARE YOUR BATTLE Weekly Challenge - ☄️💥🔥YODIN ZAKU☄️💥🔥 "Too HOT to Handle!" Lv 1 beats a $$$ 6-figure Gold Foil Archmage Arius team!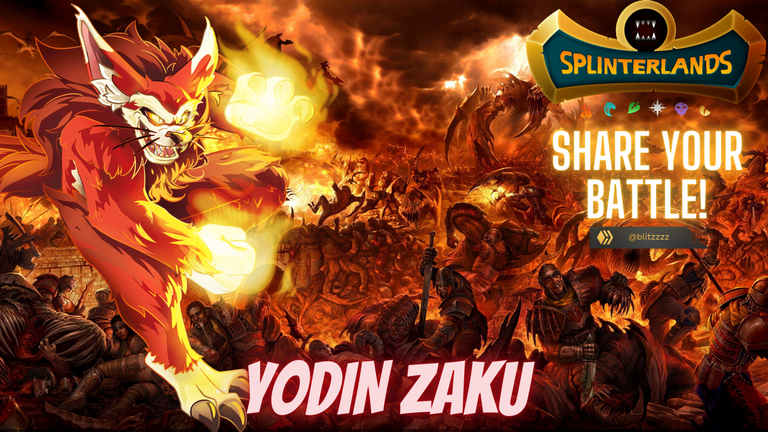 This furry feline is too hot to handle! ☄️💥🔥
A hybrid of an Efreet and a Demon. The resulting combination is sure to become a being even more powerful and dreadful than it's 2 parent races.
This summoner is known to be one of the strongest and most overpowered cards in the game. Many a player have had their armies torn apart just by virtue of him making the difference in battle. I present to you - YODIN ZAKU ☄️💥🔥
(I've decided to write about Yodin instead of the Temporal Master for this week's Share Your Battle Challenge. This battle was simply too amazing not to share it 😉.)
---
Yodin Zaku was a War Demon of the times before the Splintering so long ago. He was a hybrid child born of two warring races, the Efreet and the Bulludae, the Demons of War. But he never perished. His being was imprisoned in an ancient artifact that preserved his life, and now, nearly a thousand years after the Splintering, Yodin has opened his eyes and risen from his bondage.
☄️💥🔥From Splinterlands Lore on YODIN ZAKU☄️💥🔥
---
Yodin Zaku is a Legendary card released during the Untamed expansion. It has definitely found it's place in many Fire decks given its availability and usefulness. It's effects on the battlefield are 🏹+1 RANGED ATTACK🏹, ❤️+1 HEALTH❤️ and the 💥BLAST💥 ability to all your units. It's summoning cost is, like all other Untamed Legendary Summoners, 7 🧪MANA🧪.
The stat buffs it gives are nothing out of the ordinary, so at first glance, he might look pretty bland. However, it is the BLAST ability that makes this Summoner one of the strongest in the game!
Blast allows any unit which attacks to also deal half it's damage to adjacent units. You can see then how Yodin has the ability to multiply your unit's damage 😱. The battle will very quickly turn against the opponent after a round of attacks wears down his backline.
This could make all the difference if the battle comes down to the wire where the slightest advantage is the fine line between victory or defeat! 👍🏻👍🏻👍🏻
---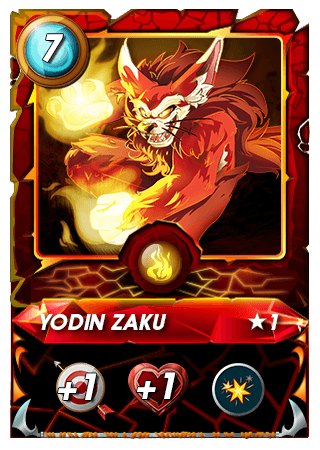 ---
The release of Untamed gave the Fire splinter what is probably one of the most iconic cards in the game! With Yodin's unique ability among summoners to confer the BLAST ability on all his troops, he adds an unmatched level of firepower. This is definitely what I'd consider game changing! 😱😱😱
---
📊Card Stats by Level📊
---

As a summoner, his stat growth is pretty much as standard as they come along. The higher the level of your summoner, the higher the level of Common, Rare, Epic and Legendary cards can be fielded. Of course, this is also subject to the limits of the League you play in. At the Diamond and Champions League levels, the full power of a maxed level Summoner can be unleashed with no limits! 😱
---
📝Important Rulesets Rundown📝
---
Here, I detail the list of combat rulesets that may affect my choice of team (which is, in this battle scenario, going to be an even mix of Melee, Magic and Ranged) when I use Yodin Zaku as my Fire Summoner choice.
---
🤔💭✅❌🤔💭❓❓❓
👍🏻 Attacks will never miss
👍🏻 Gives units more protection.
👍🏻 Units lose all their abilities. But that doesn't really affect Quix's abilities on the battlefield.
👎🏻 Ranged units can't be used.
N.A. Ranged units can attack from the front.
👎🏻 Units with no flying will die.
N.A
👍🏻 Units can attack from anywhere
N.A. Even summoning cost
N.A. Blast damage
N.A
N.A
Situational. Could add more damage if the opponent's front unit is stunned
👍🏻 Improve units survivability
N.A. Melee units are affected.
👎🏻 Costs 4 or less mana
👍🏻 Doesn't affect summoners
N.A. Magic units cannot be used
👍🏻 Gives melee the positional attack advantage enjoyed by ranged/magic
👎🏻 Will die to poison.
N.A. Odd summoning cost
N.A. Slow units become fast
👍🏻 Doesn't affect Summoners
👎🏻 Strips all Summoner abilities
N.A.
N.A
👍🏻 All abilities stay intact
👍🏻 Allows melee to attack even if it's not in the first slot.
👍🏻 It is NOT a Neutral unit.
N.A. All ranged/magic units have the Snipe ability.
N.A. Loses all armor.
👎🏻 Only Melee units can be used.
N.A.
---
⚔️🛡My Battle Showcase🛡⚔️
---
Let me present a battle I fought recently in which I used Yodin Zaku. My opponent used the Legendary Promo card Summoner Archmage Arius from the DRAGON splinter as his main pick, while I used the FIRE deck. 🐉 VS 🔥
At first glance, it would seem like my opponent had a HUGE ADVANTAGE over me.
He was using the EXTREMELY RARE Archmage Arius, one of the most limited cards in the game!
This card is SO RARE that I can't even find a price value for it's Gold Foil version, with only 3 in all of existence! 🤑 For reference, the normal version last sold for $10k 💸, I can only imagine how much this Gold version is worth, It's definitely in the 6 figure range.
His Summoner was at LEVEL 3 compared to my level 1 🤯

And if that wasn't enough, ALL his units were significantly higher levelled than mine! (Not to mention it was all Gold Foils) 🤯🤯 Just like Arius, some of those cards are also worth 5 figures!

Talk about a huge level imbalance. My units weren't even fully maxed out even for the level they were at 🤣.
I was honestly expecting this to be a crushing defeat 😜🤣. Who on earth would expect me to even win against such overwhelming force? Would I be able to turn the tide of battle against such an opponent then? Victory or defeat would lie in the small details.
I would say that Yodin Zaku was DEFINITELY the MVP of this match, having played it's role in turning the tide of battle.
The sheer additional firepower conferred upon my team with Yodin's BLAST, and the extra boost to my unit's defense with it's +1 Health, definitely provided the edge that I needed to overcome my opponent.
This ensured that the other units could eventually wear down the opponent until victory was achieved! 🏆🏆🏆
---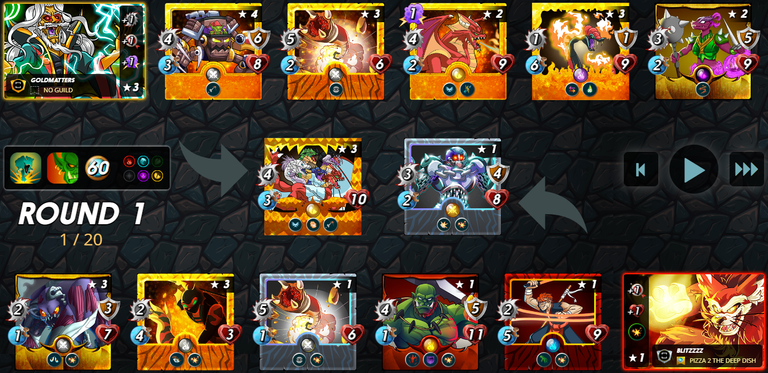 LINK TO MY FIGHT USING YODIN ZAKU
---
👯‍♀️👯👯‍♂️LINEUP CHOICES👯‍♀️👯👯‍♂️
---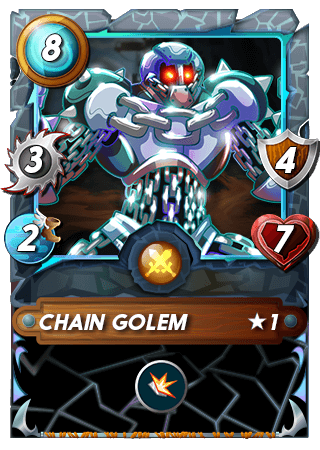 1st CARD SLOT
The Chain Golem is chosen for this slot. It has very high armour and has SHIELD which thus allows it to take reduced physical damage. Thus makes it perfect for tanking. It will be the most important role since the backline will fall if the Main Tank goes.
---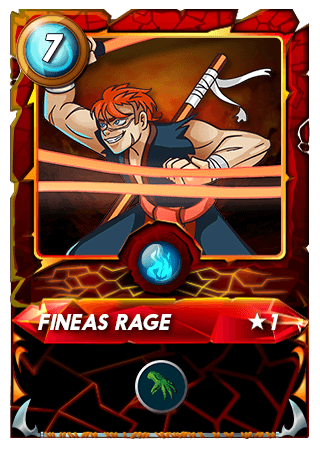 2nd CARD SLOT
Fineas Rage takes up the second slot. It has been chosen for it's REACH ability, allowing it to deal damage as a melee unit even from this position. It also has high speed and health thus making it capable of being the backup tank if called upon.
---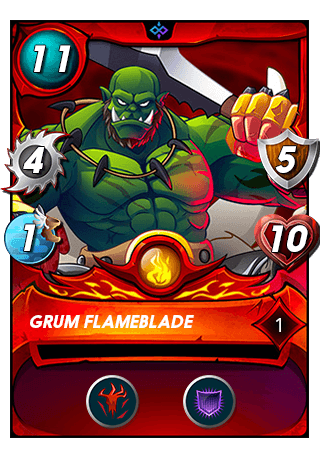 3rd CARD SLOT
Grum Flameblade occupies this slot. He is extremely hard hitting and one of the few units with BLOODLUST available in general gameplay. He is being placed here as a reserve backup for the entire team, ready to be unleashed on the opponent after everyone has fallen.
---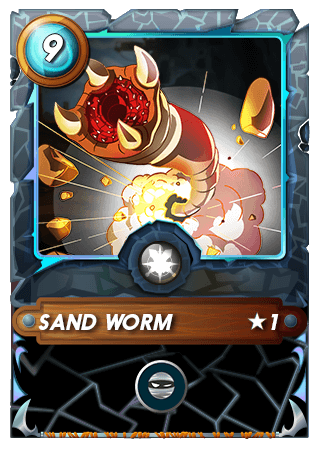 4th CARD SLOT
The Sand Worm takes the 4th slot. It is an extremely hard hitting DPS unit, albeit with really slow speed. Furthermore, it's SNEAK ability combines well with Yodin's BLAST and allows it to target the back units.
---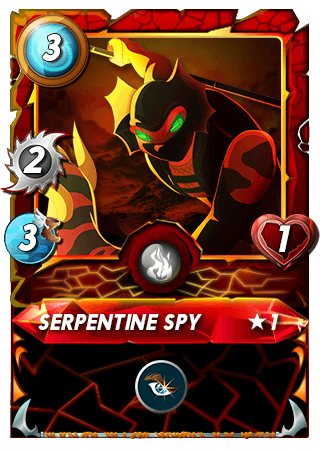 5th CARD SLOT
The Serpentine Spy occupies in slot 5. It has very low health and thus needs to be protected back here. However, it's OPPORTUNITY ability combines especially well with Yodin's BLAST, allowing it to deal even more DPS via the splash damage.
---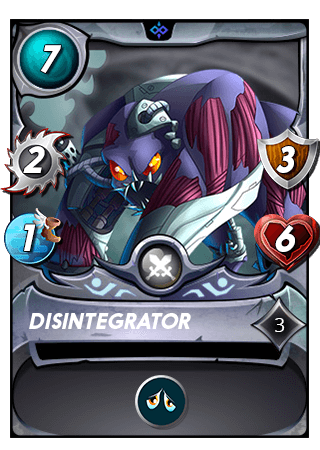 6th CARD SLOT
The Disintegrator occupies the last slot. In an all melee ruleset, it's DEMORALIZE ability is absolutely crucial as it reduces all physical damage by 1! 😱 Putting it back here also serves a dual purpose of protecting the backline DPS units from SNEAK attacks.
---
⚔️🛡Battle Action Report🛡⚔️
---
As you can see, both of us fielded very different units in our matchup. The opponent basically went for an ALL DRAGON lineup (with Neutrals) while I went with FIRE.
🐉DRAGON🐉 VS 🔥FIRE🔥
My opponent used the Chromatic Dragon as his tank in the 1st slot, which was a VERY good choice. given it's high HP and ENRAGE ability. Not to mention, it also has the PIERCING ability, which ensures it will deal any "rollover" damage that would normally be negated by a unit's armour.
His Goblin Mech occupied the 2nd slot, most likely as the next backup tank in the list. This was followed by a Sand Worm for it's SNEAK damage. A Red Dragon followed next in the 4th slot with it's dual magic and melee attacks, ensuring that it can continue chipping off at my forces even though it wasn't in the frontline slot.
His Serpent of the Flame and Djinn Chwala rounded off the rest of his deck. The Djinn Chwala served an important purpose protecting his team from SNEAK attacks with it's THORNS ability.
My choice of the Main Tank was the Chain Golem in the 1st slot. It has the SHIELD ability allowing it to take a lot more damage than usual. It is followed by Fineas Rage in the 2nd slot, acting as the DPS and backup tank.
Grum Flameblade was in the 3rd slot as the backup "finisher" mop up unit, while I also had a Sand Worm for it's SNEAK attacks. My Serpentine Spy likewise was also in the team to target the opponent's "weakest" unit via OPPORTUNITY attacks. My Disintegrator completed the team, sitting behind as SNEAK protection whilst also conferring a debuff on my opponents with it's DEMORALIZE ability.
The battle started out with all our units just duking it out pound for pound. It was a high mana game with 60 mana as the limit. The rulesets were UP CLOSE & PERSONAL AND STAMPEDE.
The first round ended with both sides trading blows and no casualties to speak off. This wasn't surprisingly given that both of us picked very tough units as our tanks.

Round 2 likewise ended in a stalemate. However, his attacks were taking a toll on me, as my units were pretty much in the red and about to fall over any moment.

The 3rd round finally saw both our Main Tanks dying. However, I also lost my Disintegrator as his Sand Worm killed it off. This was looking really bad for me. Without the DEMORALIZE ability, I would be taking a lot more damage from now on. 😱

The 4th round suddenly saw a surprising turn of events as BLAST damage from my units managed to turn the battle from THIS (picture below on the left) to THAT (picture below on the right)! 😱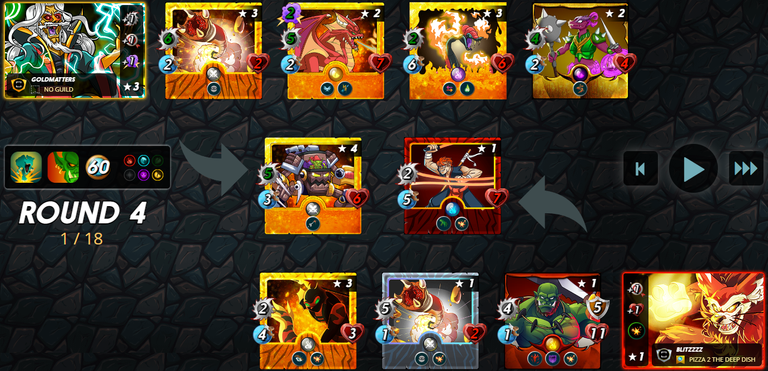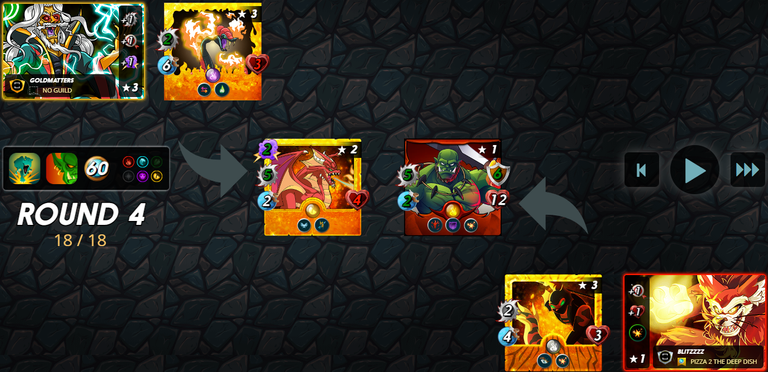 The game was wildly in my favour by now. Even though his Main Tank was still standing, the BLAST damage destroyed all his other units and my Grum had now entered the battlefield having activated his BLOODLUST too! 😈

It was all over for the opponent now as my remaining units mopped up his entire army in the next round. 💀💀💀
Talk about doing WAY MORE than it was supposed to!!! 😱🤯🥳 All i expected was for Yodin to possibly provide some buffs to my team and perhaps give me a more dignified loss against such an outmatched opponent. However it ended up being the entire reason for my win! Even though my entire team was basically outmatched in terms of levels and DPS, the BLAST damage from Yodin eventually enabled me to catch up to the opponent. 🤣
Well as you can see here in this GIF of my battle, the results were pretty good! 👍🏻👍🏻👍🏻
This was truly an eye opener! 😁🏆
Slowly, but surely, I wore down the opponent's team and the match was won when the tide of battle turned right at the end. My team selection proved to be the edge I needed to eventually overpower my opponent. 💪🏻
---
🔮🔮🔮Hindsight is 20/20🔮🔮🔮
---
Would I have done anything differently? 🤔 This might have seemed like a disadvantage at the start but I ended up winning handily. IF I had to use the same cards again, there would be no better lineup than what I had already used for the match. Any other combination MIGHT have resulted in a loss for me. I'm really satisfied with the results against such a worthy opponent. 🏆🥇
---
💭🧐💭Ending Thoughts💭🧐💭
---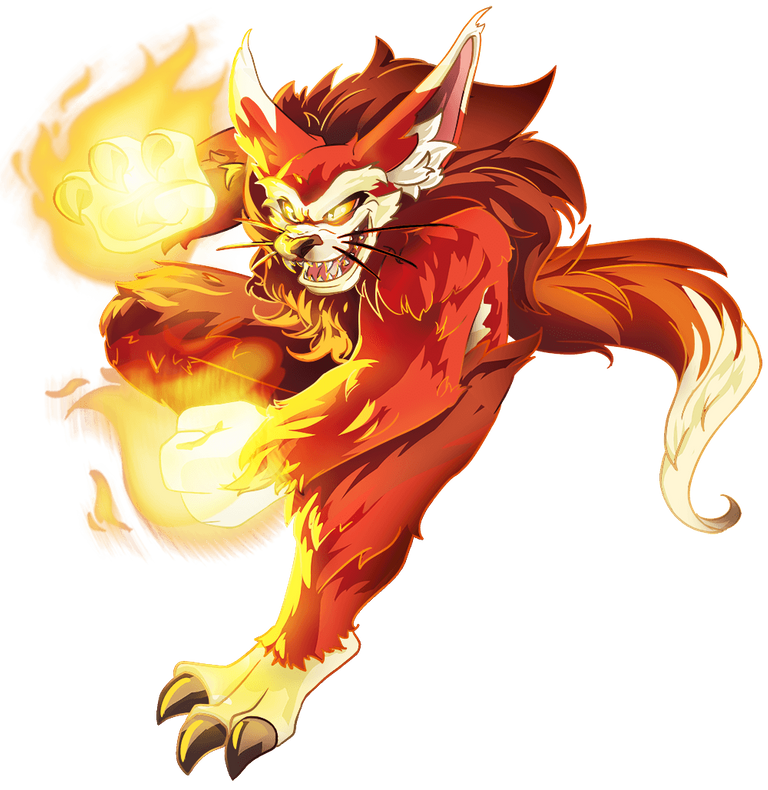 ---
I definitely can appreciate Yodin Zaku and it's strengths. This is one of those cards which are very strong if surrounded with the proper team. The role it brings to the battlefield will give a player the edge in squeezing out every tiny advantage to get the win. 👍🏻
For any players looking to try out Yodin Zaku, I hope this article has given you some insight into its potential. 😉
---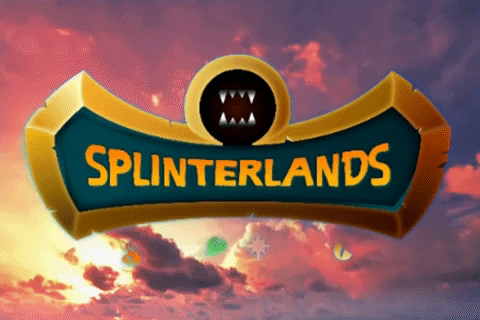 To any new players who wish to explore the world of Splinterlands, do feel free to sign up with my REFERRAL LINK 😊.
---

I am also a member of the SPLINTERLANDS PIZZA guild and the PIZZA community.
PIZZA is an active gaming and creative arts crypto community on the HIVE blockchain. Popular games on HIVE like SPLINTERLANDS, RISING STAR, EXODE, HASHKINGS, WOO, BANG!DEFENSE have their own PIZZA communities here.
Don't miss out more events that are always being organised. Join the PIZZA DISCORD. Even if you aren't interested in the 💰🍕🎁GIVEAWAYS & AIRDROPS💰🍕🎁, there is a vibrant and friendly community there awaiting you.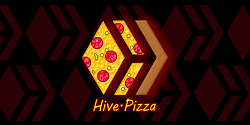 CLICK THIS LINK TO JOIN PIZZA DISCORD!!!
---
---