Daily Splinterlands Rewards - March 25 & 26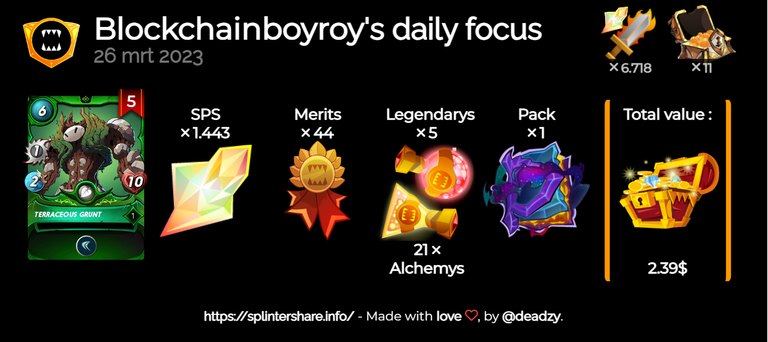 Hey there! I wanted to share my latest gaming achievements in Splinterlands with you. Over the past two days, March 25 and 26, 2023, I managed to earn a total of 24 Gold chests - 13 on the first day and 11 on the second day. To make things even more exciting, 1 of those chests contained packs!
These past two days have been challenging, but I'm proud of my accomplishments. Despite facing many obstacles and setbacks, I persevered and continuously tried to improve my gameplay. Yesterday, I earned 12 chests, which made today's achievement of 11 chests all the more significant. It demonstrates my commitment and dedication to playing Splinterlands, and I'm looking forward to unlocking even more rewards and achievements in the future.
I missed a day of uploading because of soccer. Saturdays are always tough for me.
The recent energy structure change made the game more challenging than usual, but I'm still having a blast playing and can't wait to see what other achievements I can earn in the days and weeks to come. Thanks for reading!
---
---