CRYSTAL JAGUAR (ENG/ITA) SHARE YOUR BATTLE Weekly Challenge!
---
👉ENG VERSION👈

---
Good morning friends!
Here we are at another appointment with the challenge organized by the friends of @splinterlands, Splinterlands is one of the most beautiful games of the Blockchain !!
Today we catapult into the KHYMERiA island inhabited by the LIFE element, an island inhabited by noble knights but also ferocious animals like the one we will analyze today.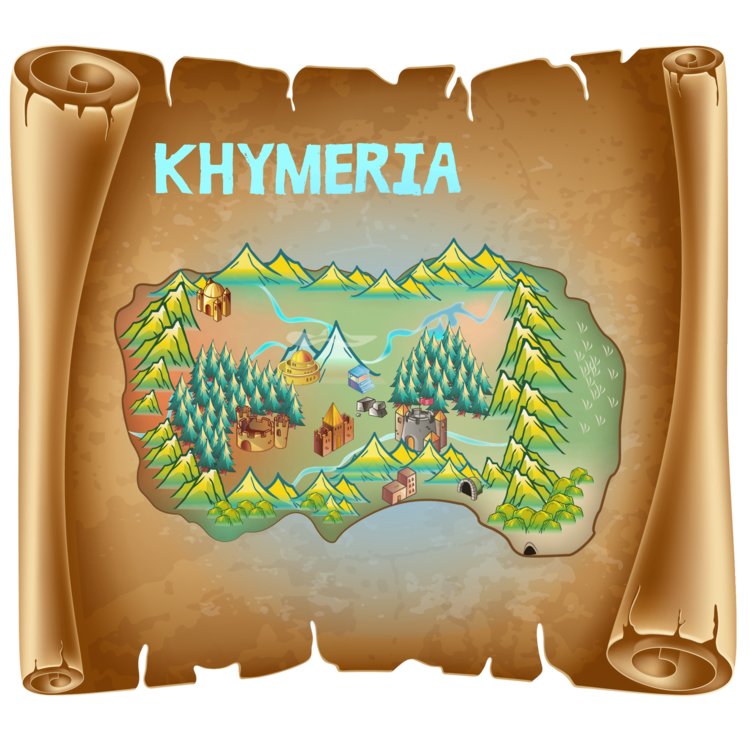 Hanni ago during the Obliteration of Light, a family of little cats rested in the caves of the Crystal Forest and luckily or unfortunately they were saved from the wave of destruction that swept the island.
All finished they came out of their lair transforming themselves into big and ferocious gigantic cats.
Today we are talking about these cats armed with sharp teeth and completely made of crystal, today we are talking about:
CRYSTAL JAGUAR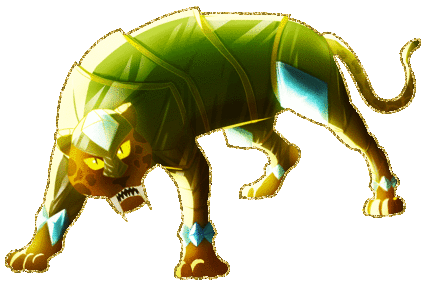 This ferocious cat is part of the UNTAMED collection, it is a common card of the LIFE element but can also be used by DRAGONS.
It has a MELEE attack and can be upgraded to level ten.
Beware of RULESETs that do not allow the use of this card such as KEEP YOUR DISTANCE which does not allow the use of monsters with MELEE attack and ODD ONES OUT which only allows the use of monsters with odd mana cost.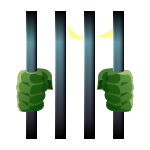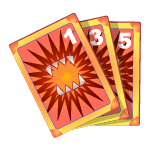 This ferocious but wonderful and shining cat has a mana cost of four so easy to put into battle but is not seen often and perhaps because there are stronger monsters with that cost.
It is a possible TANK but being made of crystal it is not as resistant as it seems especially at low levels.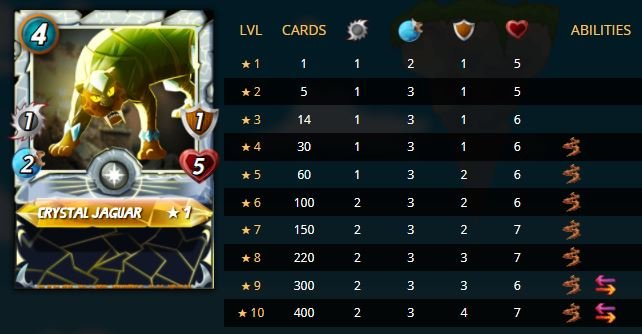 Its attack is certainly not formidable despite its sharp teeth, it starts from one up to a maximum of two at level six and then no longer varies from a very low attack which makes CRYSTAL JAGUAR not so dangerous.
The speed at level one is two and increases to three already from the second level to remain so for the entire evolution of this card, speed is not low but not so important.
The shield is one of the strengths of this monster starts at level one with one of ploughing and increases up to a maximum of four by upgrading the card to level ten while life, another force point, starts from five by increasing up to seven upgraded the card to the utmost.




CRYSTAL JAGUAR has interesting abilities but they only show up at level four.
The first is THORNS, when hit by a monster with a MELEE attack this ability returns part of the damage to the sender.
The second ability that appears at level nine is RETALIATE, when CRYSTAL JAGUAR is hit by a monster with a MELEE attack he has a chance to counter the enemy that hit him.



We just have to see CRYSTAL JAGUAR in action!
---
LEEET'S GOOOO!
---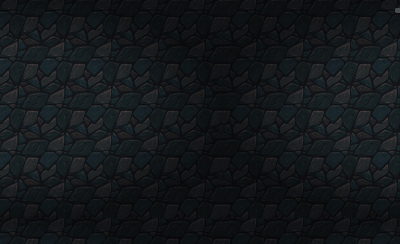 ---
RULESETS: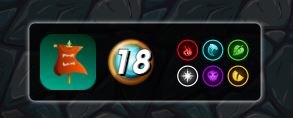 STANDARD: No changes to Rulesets in-game.
MANA: 18
---
DEPLOYMENT: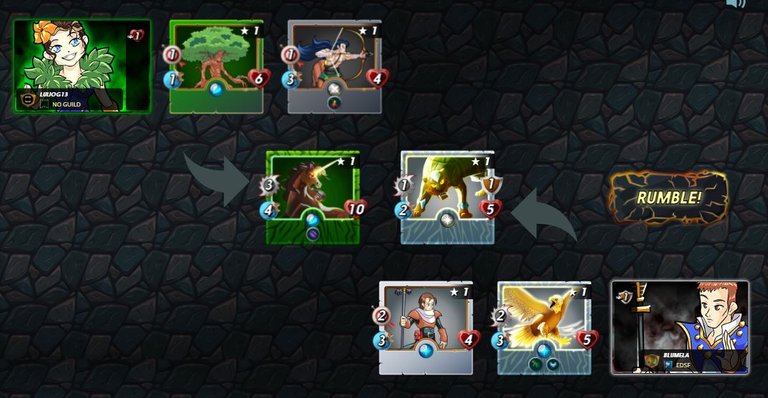 For this game, I chose the LIVE element by deploying the Summoner TYRUS PALADIUM RARE card with a cost of three in MANA.
This paladin has the power to increase the shield of friendly cards by one.
My opponent took to the field with the EARTH element by deploying the Summoner LYANNA NATURA RARE card with a mana cost of three.
This Summoner can increase the life of friendly cards by one.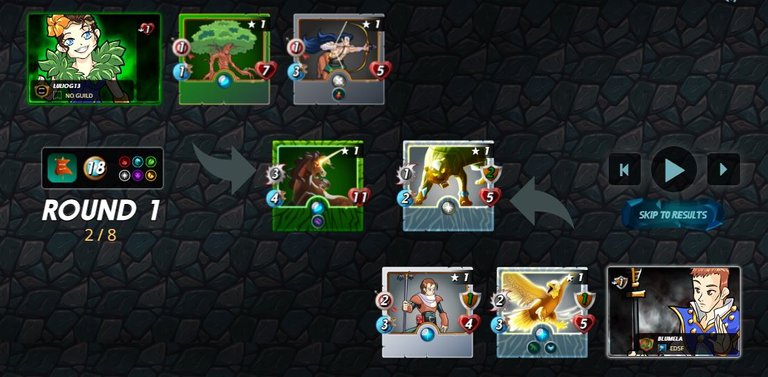 ---
I have placed our CRYSTAL JAGUAR challenge card in the front row, not too convinced but its armour with the addition of the power of the Summoner should guarantee the absorption of a few hits, I have not relied much on its attack of one.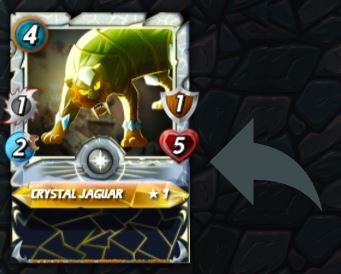 In the second row, I inserted the LUMINOUS EAGLE RARE card of the LIFE element with a MANA cost of six.
He has a MELEE attack but despite this, he can attack from the second row thanks to his REACH ability, plus he has the FLYING ability which increases the chance of dodging.
In the third and last row, given the little MANA available, I inserted the PEACEBRINGER RARE card of the LIFE element with a MANA cost of four.
She has no skills but a decent life and a RANGED attack of two I often use this card and it often gives me satisfaction.

---
My opponent has deployed UNICORN MUSTANG powerful TANK of the EARTH element, a RARE card with a MANA cost of eight has a very strong attack of three and a huge amount of health of ten.
He also has the VOID ability which reduces the magic damage taken in this useless game.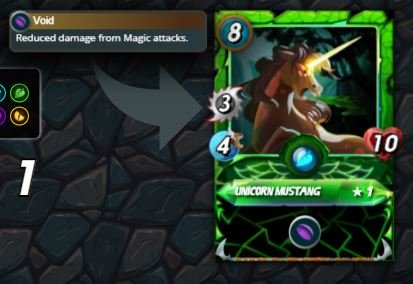 In the second row, he has deployed an EARTH ELEMENTAL RARE card with a MANA cost of three, at the basic level he has no skills.
She has a RANGED bout of one and a middle-high waist of six.
In the last row, she placed CENTAUR common NEUTRAL card with a MANA cost of four.
She uses RANGED attacks and possesses the SNIPE ability that prioritizes cards with RANGED, MAGIC, or non-front row stance attacks as a target.


It took eight rounds to finish the game with my victory.
CRYSTAL JAGUAR turned out to be a bad attacker by repeatedly missing the opponent tank but despite this, the defence was excellent also thanks to his shield.
He absorbed several hits before falling into battle allowing allied cards to take down opposing cards one by one.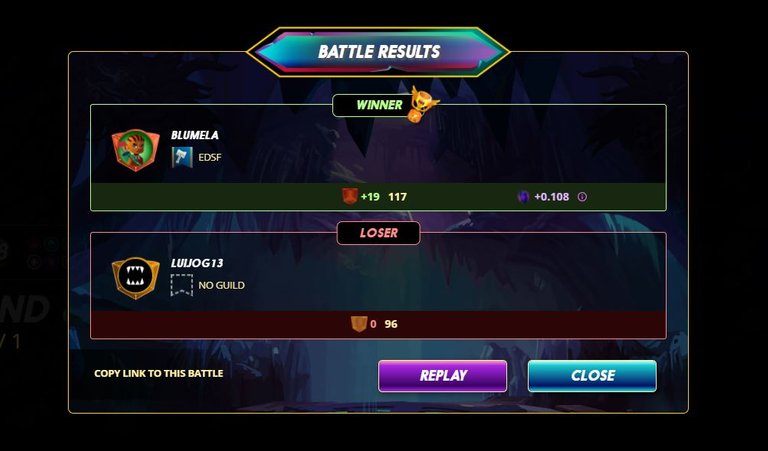 HERE under the REPLAY LINK!
https://splinterlands.com?p=battle&id=sl_883c929626f562b3d8d2dceca554a20d&ref=blumela

I'm not sure I want to upgrade this card I am not very happy even if I think that once upgraded the abilities of this monster are a positive revolution turning it into an excellent TANK.
At a low level, it is certainly inferior to other cards with the same cost in MANA and it is probably for this reason that it is not seen in battle.
---
If you haven't tried this game yet my advice is to do it this is my link referral you can use the link if you like it or not but the point is always the one game to try! :-)
https://splinterlands.com?ref=blumela
If you don't like using it;) below !.
If you too want to participate in the challenge organized by the team every week, you will find all the information on the fantastic monsters of the game below !!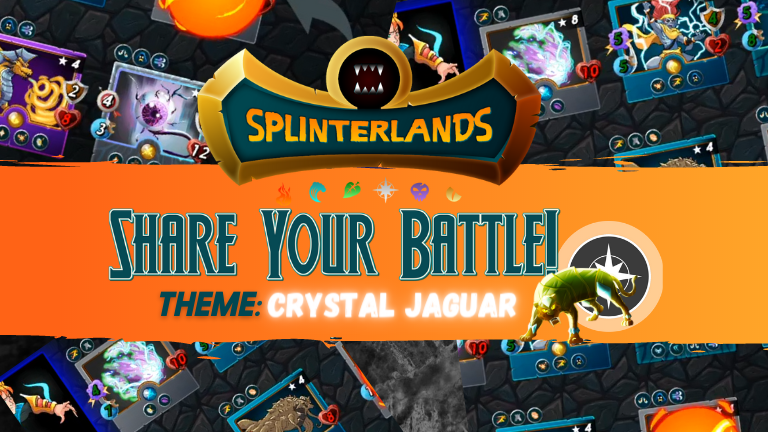 SHARE YOUR BATTLE Weekly Challenge! CRYSTAL JAGUAR

Have fun and see you in battle !!
The photos and gifs are screenshots taken from the Splinterland game I own or from splinterlands source.

---
---
👉ITA VERSION👈

---
Buongiorno amici!
Eccoci ad un altro appuntamento con la challenge organizzata dagli amici di @splinterlands, Splinterlands uno dei giochi più belli della Blockchain!!
Oggi ci catapultiamo sull'isola KHYMERiA abitat dell'elemento LIFE, isola abitata da nobili cavalieri ma anche ferocissimi animali come quello che analizzeremo oggi.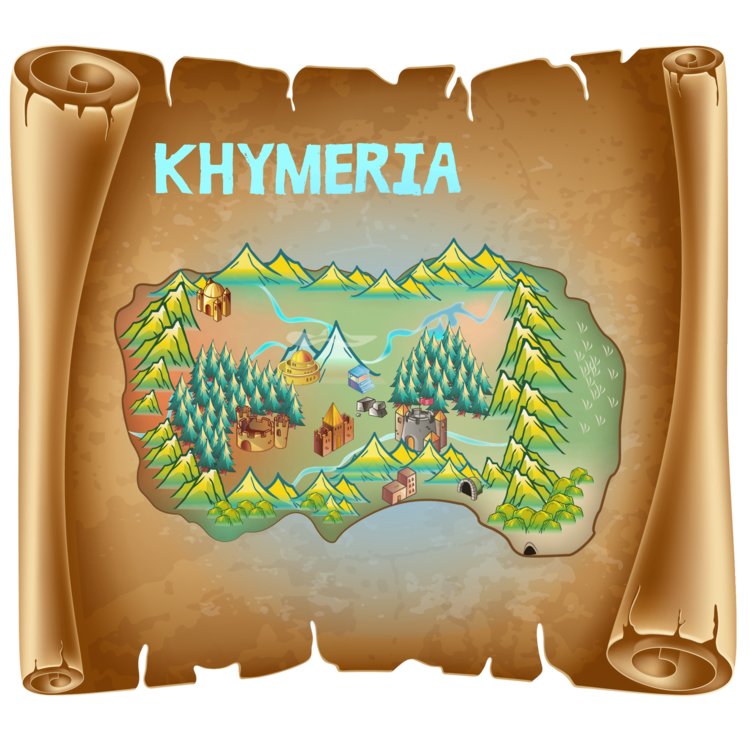 Hanni fa durante la Obliterazione della Luce una famiglia di piccoli gatti riposava nelle grotte della Foresta di Cristallo e fortunatamente o sfortunatamente si salvarono dall'ondata di distruzione che travolse l'isola.
Finito tutto uscirono dalla loro tana trasformandosi in grossi e feroci gatti giganteschi.
Oggi parliamo di questi gatti armati di denti aguzzie completamente fatti di cristallo, oggi parliamo di:
CRYSTAL JAGUAR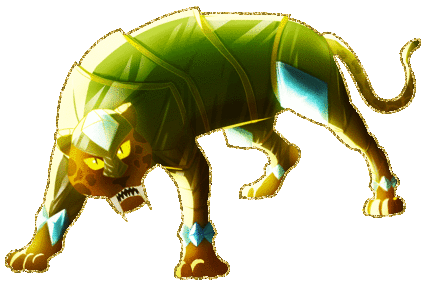 Questo feroce gattone fà parte della collezione UNTAMED, è una carta comune dell'elemento LIFE ma può essere utilizzato anche dai DRAGON.
Possiede attacco MELEE e può essere potenziato fino a livello dieci.
Attenzione alle RULESET che non permettono l'utilizzo di questa carta come: KEEP YOUR DISTANCE che non permette l'utlizzo di mostri con attacco MELEE e ODD ONES OUT che permette il solo utilizzo di mostri con costo in mana dispari.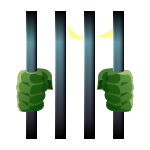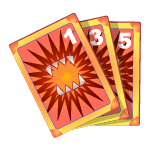 Questo feroce ma meraviglioso e splendente gatto ha un costo in Mana di quattro quindi semplice da inserire in battaglia ma non si vede spesso e forse perchè ci sono mostri più forti con quel costo.
E' un possibile TANK ma essendo fatto in cristallo non è cosi resistente come sembra soprattutto a livelli bassi.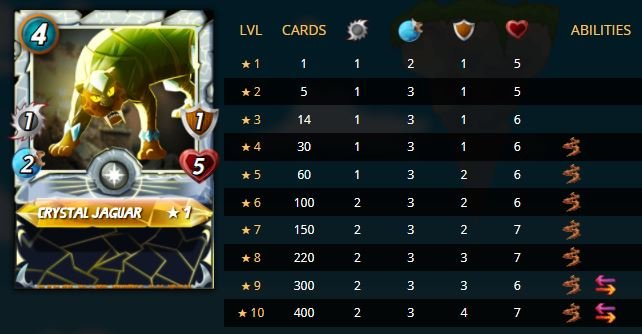 Il suo attacco non è certo formidabile nonostante i suo denti aguzzi, parte da uno fino a un massimo di due a livello sei e poi non varia più attacco mlto basso che rende CRYSTAL JAGUAR non così pericoloso.
La velocità a livello uno è di due e aumenta fino a tre già dal secondo livello per restare cosi per tutta l'evoluzione di questa carta, velocità non bassa ma nemmeno cosi importante.
Lo scudo è uno dei punti forza di questo mostro parte a livello uno con uno di aramatura e aumenta fino a un massimo di quattro potenziando la carta a livello dieci mentre la vita, altro punto forzsa, parte da cinque aumentando fino a sette potenziata la carta al massimo.




CRYSTAL JAGUAR ha interessanti abilità ma che si presentano solo a livello quattro.
La prima è THORNS, quando viene colpito da un mostro con attacco MELEE questa abilità restituisce parte del danno al mittente.
La seconda abilità che appare a livello nove è RETALIATE, quando CRYSTAL JAGUAR viene colpito da un mostro con attacco MELEE ha delle chance di contraccare il nemico che l'ha colpito.



Non ci resta che vedere in azione CRYSTAL JAGUAR!
---
LEEET'S GOOOO!
---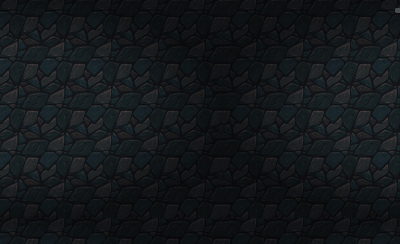 ---
RULESETS: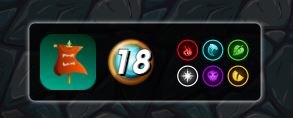 STANDARD: Nessuna modifica di Rulesets in partita.
MANA: 18
---
SCHIERAMENTO: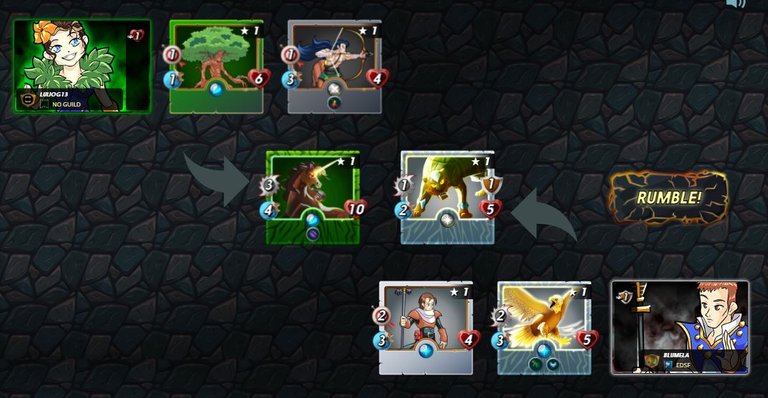 Per questa partita ho scelto proprio l'elemento LIVE schierando il Summoner TYRUS PALADIUM carta RARE con costo in MANA tre.
Questo paladino ha il potere di aumentare di uno lo scudo delle carte amiche.
Il mio avversario è sceso in campo con l'elemento EARTH schierando il Summoner LYANNA NATURA carta RARE con costo in MANA di tre.
Questo Summoner è in grado di aumentare di uno la vita delle carte amiche.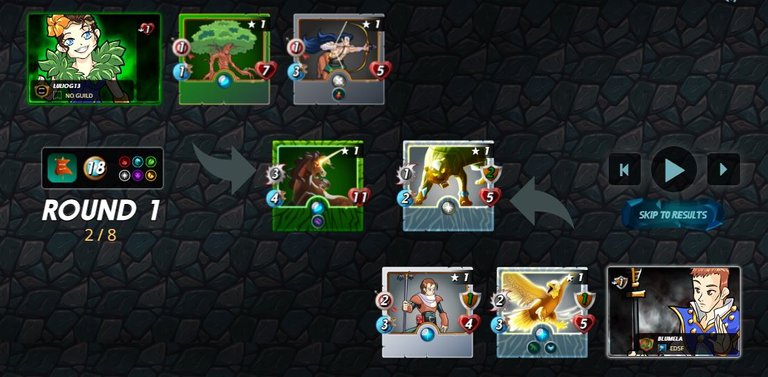 ---
Ho posizionato in prima fila proprio la nostra carta challenge CRYSTAL JAGUAR, non troppo convinto ma la sua armatura con l'aggiunta del potere del Summoner dovrebbe garantire l'assorbimento di qualche colpo, non ho fatto molto affidamento al suo attacco di uno.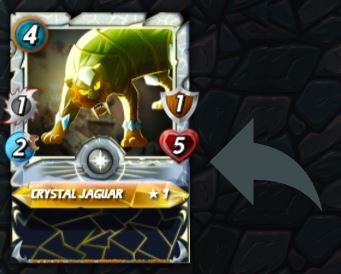 In seconda fila ho inserito LUMINOUS EAGLE carta RARE dell'elemento LIFE con costo in MANA di sei.
Possiede attacco MELEE ma nonostante questo può attaccare dalla seconda fila grazie alla sua abilità REACH, in più possiede l'abilità FLIYNG che aumenta le probabilità di schivata.
In terza e ultima fila dato il poco MANA a disposizione ho inserito PEACEBRINGER carta RARE dell'elemento LIFE con costo in MANA di quattro.
Non possiede abilità ma una discreta vita e un attacco RANGED di due uso spesso questa carta e spesso mi da soddisfazioni.

---
Il mio avversario ha schierato UNICORN MUSTANG potente TANK dell'elemento EARTH, carta RARE con costo in MANA di otto possiede un attacco fortissimo di tre e una quantità di vita enorme di dieci.
Possiede anche l'abilità VOID che riduce il danno magico subito, in questa partita inutile.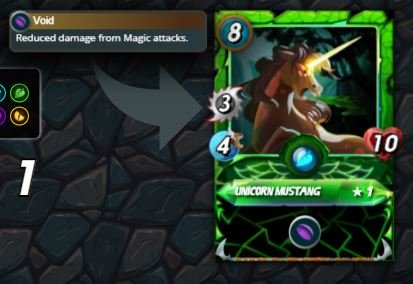 In seconda fila ha schierato EARTH ELEMENTAL carta RARE con costo in MANA di tre, a livello base non possiede abilità.
HA attacco RANGED di uno e una vita medio alta di sei.
In ultima fila ha posizionato CENTAUR carta comune NEUTRAL con costo in MANA di quattro.
Utilizza attacco RANGED e possiede l'abilità SNIPE che da priorità come bersaglio a carte con attacco RANGED, MAGICO o senza attacco posizione non in prima fila.


Sono serviti otto round per concludere la partita con la mia vittoria.
CRYSTAL JAGUAR si è rivelato un pessimo attaccante mancando ripetutamente il tank avversario ma nonostante ciò la difesa è stata ottima anche grazie al suo scudo.
Ha assorbito parecchi colpi prima di cadere in battaglia consentendo alle carte alleate di abbattare uno a uno le carte avversarie.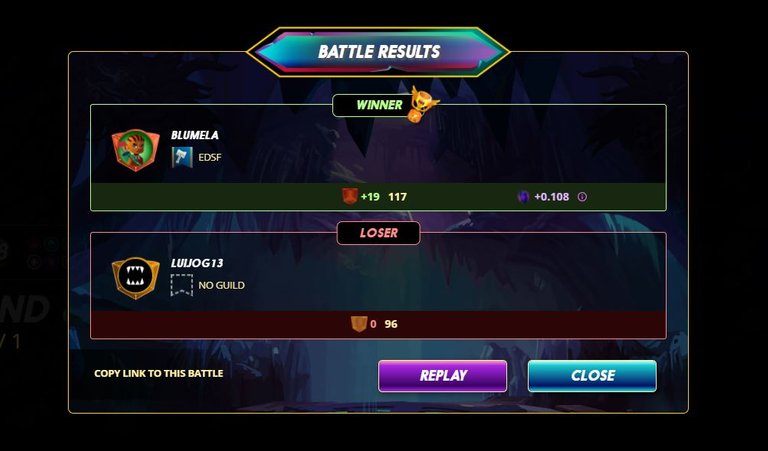 QUI sotto il LINK del REPLAY!
https://splinterlands.com?p=battle&id=sl_883c929626f562b3d8d2dceca554a20d&ref=blumela

Non sono sicuro di voler potenziare questa carta non mi trovo molto bene anche se credo che una volta potenziata le abilità di questo mostro siano una rivoluzione positiva trasformandolo in un ottimo TANK.
A livello basso è sicuramente inferiore ad altre carte con pari costo in MANA e probabilmente è per questo motivo che si vede poco in battaglia.
---
Se ancora non hai provato questo gioco il mio consiglio è quello di farlo questo è il mio link refferal puoi utilizzare il link se ti fa piacere oppure no ma il punto è sempre quello gioco da provare! :-)
https://splinterlands.com?ref=blumela
Se non vi fa piacere utilizzarlo ;) qui sotto!.
Se vuoi partecipare anche tu alla challenge organizzata dal team ogni settimana, sui fantastici mostri del gioco qui sotto trovi tutte le informazioni!!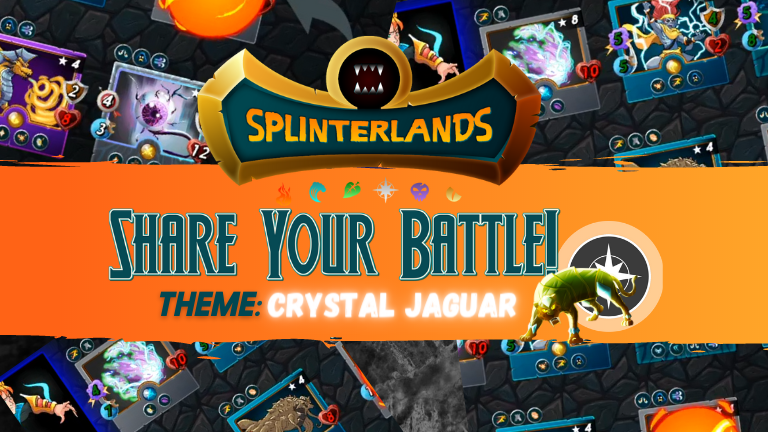 SHARE YOUR BATTLE Weekly Challenge! CRYSTAL JAGUAR

Buon divertimento e ci vediamo in battaglia!!
Le foto e le gif sono screen shot fatti al gioco Splinterland in mio possesso o di fonte splinterlands.

---
---