Silent but Violent -Using Silent Sha-vi in Battle!
This week's Share Your Battle challenge features Silent Sha-vi! This is a challenge that I had mixed feelings about, because Silent Sha-vi is a card that I love which is unfortunately in a splinter which I do not. I am not a big fan of the Death splinter and will usually reroll it as a daily quest if I get the chance to do so. With that said, I am not opposed to doing a heel turn and throwing down the Death cards from time to time!
Silent Sha-vi is a melee monster of the Death splinter. I own a level 2 copy, but thanks to my summoner it's going to be temporarily demoted to level 1 for our battle today. Even at level 1, Sha-vi comes equipped with a very decent 2 damage and 3 speed, to go along with a respectable 5 health. Fittingly for a Death splinter creature with "silent" in its name, it also has Sneak. This works out well for it, because the Death splinter has plenty of great tank cards and having Sneak allows Silent sha-vi to still have its place in Death lineups.
This week's challenge was posted on the first day of a new season, which is always tricky. Everyone is in a hurry to climb their rating and bringing their A-game, which means that bringing a sub-optimal lineup is very likely to end in a loss. And to top it off, I had an Earth splinter quest and therefore didn't have large amounts of Death cards available. On the bright side, it did mean that when I brought a Death lineup it was going to be a bit of a surprise to my opponent.
If you wanted to jump right to the action, the Battle Link is right here. Want to hear some more about the lineup? Read on further!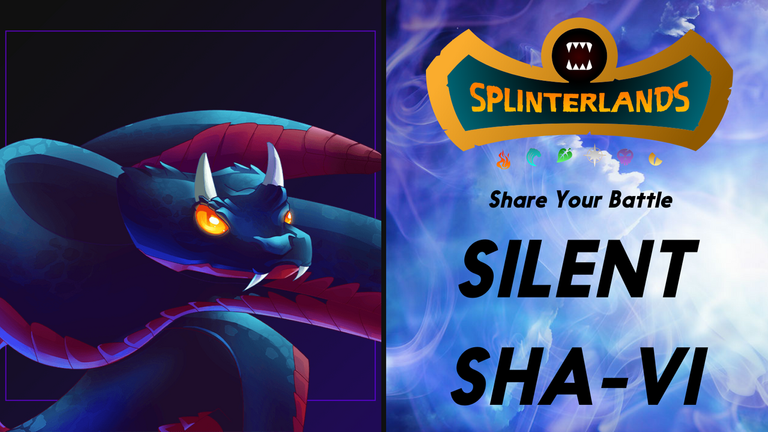 ---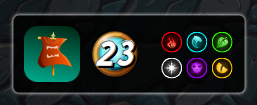 Here is the ruleset for our battle. This works well to try bringing Silent Sha-vi into battle because it has a medium-low mana cap. That gives me enough space to bring a decent tank to pair Silent Sha-vi with, along with some additional supporting damage.
---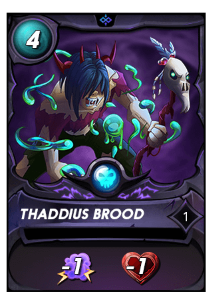 I was really debating which summoner to bring here. My opponent's match history showed a lot of Life splinter teams, and Contessa L'ament is perfect against ranged lineups. On the other hand, Thaddius Brood is a solid all-around summoner and his -1 health debuff to the opposing team makes their monsters easier to pick off - especially if my team has a lot of indirect damage. In the end I went with Thaddius, but it was not an easy decision.
---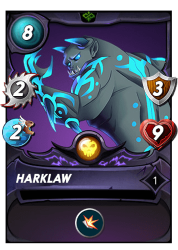 I started off my lineup with a big, bad tank. As I mentioned in the introduction, the Death splinter has some premium tanks, and Harklaw is one of them. His combination of Shield plus a beefy combination of 3 armor and 9 health meant that he should be able to hold up to melee and ranged attacks for a good long time. Oh, and he pitches in on offense too - 2 damage and 2 speed is no slouch!
---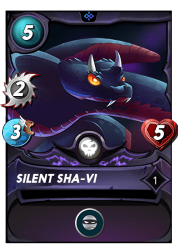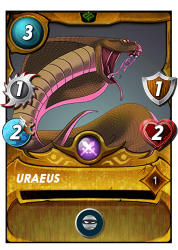 I packed the middle of my lineup with indirect damage. Silent Sha-vi is our guest star of the week, and hits the enemy back line with 2 points of Sneak damage. I paired Sha-vi with a sidekick in Uraeus, who would also pitch in attacking the back and could hopefully chew through my opponent's monsters that much more quickly.
---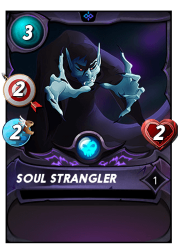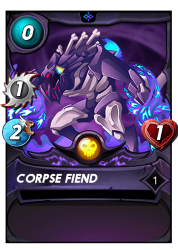 My back line was a bit more damage, plus a meat shield. Soul Strangler is a super efficient ranged attacker with 2 ranged damage for just 3 mana. It is awfully squishy though, so I threw Corpse Fiend in at the back to try and stall for additional time just in case my opponent also had indirect damage in their lineup.

With the lineup set, it's off into battle! When I see the selected teams I am a little disappointed in my summoner choice - if I had brought Contessa instead of Thadius then it would have been an easy win since then the only monster which could actually deal damage to Harklaw would have been the Shieldbearer. I am going to have to win this battle the hard way, though it isn't all bad - Harklaw should still be great against the melee and ranged damage from my opponent's team, and once the Shieldbearer is gone then my sneak damage will be primed to take out the Pelacor Arbalest.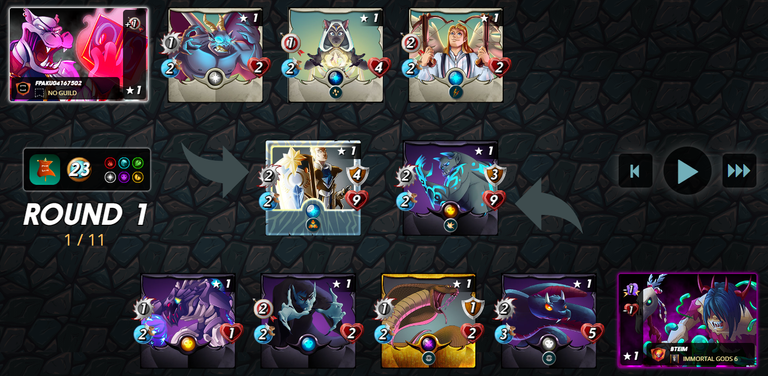 ---
After the first round, the battle is looking awfully close - Harklaw and Shieldbearer have both taken heavy damage. But of our teams really don't want the main tank to fall, because my opponent's ranged damage monsters can't attack from the front, and my Sneak monsters will become regular old attacking-the-front monsters if my tank goes down.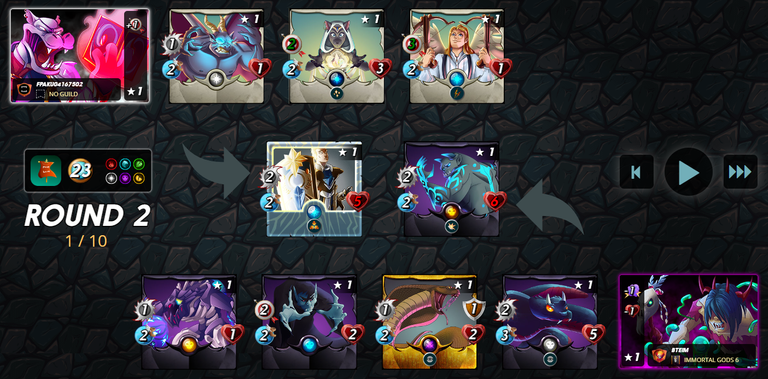 ---
It ended up being just as close as it appeared - in the second round Shieldbearer went down, with Harklaw left on just a single point of health! Here you can see that Sha-vi's 3 speed will come in handy. In the third round Sha-vi strikes first to knock out the Pelacor Arbalest, Soul Strangler kills Gargoya Scrapper, and then the Venari Crystalsmith is stuck at the front unable to attack. Game over! And again, if you wanted to see the whole battle for yourself, you can see it right here.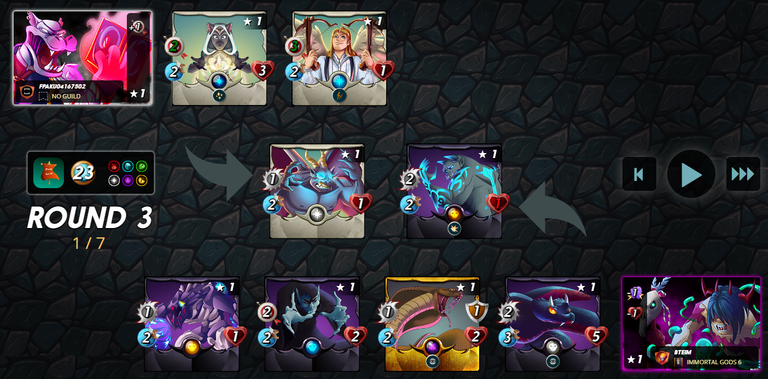 ---
Despite the slightly sub-optimal summoner choice, my strategy for the battle worked out perfectly. Harklaw stood strong at the front and tanked all of my opponent's physical damage, while my monsters with Sneak were able to tag-team with Harklaw in order to take out my opponent's tank and then the rest of their lineup. Silent Sha-vi did a great job of helping to knock out the Shieldbearer, and then even landed the killing blow on the dangerous Pelacor Arbalest.
I am a big fan a Silent Sha-vi. While I don't particularly enjoy playin with the Death splinter, it definitely has its niche in the game, and if I'm playing with Death then there's a strong chance that I'll be bringing Silent Sha-vi into battle!

Thank you so much for reading all the way to the end. Interested in seeing some more of my writing in the future? Be sure to give me a follow! In the meantime, if you'd like to see some of my recent posts:
---
Thinking about giving Splinterlands a try but haven't signed up yet? Feel free to use my referral link: https://splinterlands.com?ref=bteim, and be sure to reach out to me if you have any questions!
All images used in this article are open source and obtained from Pixabay or Unsplash. Thumbnails borrowed with permission from the Splinterlands team or made in Canva.
---
---