Beginners Guide to Splinterlands Play-to-Earn : How to purchase the summoner's book using Cryptocurrency

Welcome to this post, here I give a complete guide on how to start playing splinterlands The most popular Card Strategy and Trading game in the Metaverse, you don't believe me? Well, take a look for yourself by signing up above.
As a beginner just finding your way into splinterlands, it is very easy to feel overwhelmed by the amount of details around. Whatever it may be though, you would eventually come to terms with all those details, as long as you make an effort to. The first step necessary for you to fully dive into this world full of Monsters, Magic, and Lore is to pay the Great Summoners homage by sacrificing only but a few dollars in exchange for Divine Guidance and WOAH, some trinkety rewards chests.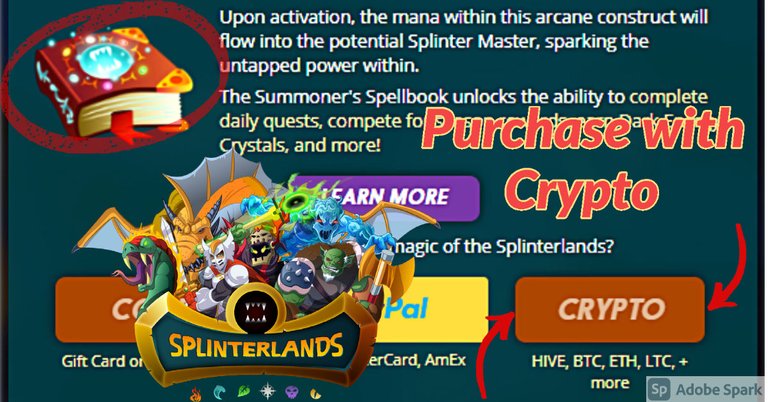 These are but the following steps that would be your guide;
Sign-Ups (Get started by Signing up and Logging In)
Purchase Summoners Book Using Crypto (TRX, LTC, BTC?)
How to transfer Crypto while Mitigating fees
Confirming your Purchase
Brief Intro to Game, Conclusion

Get Started by Signing up and Logging In
The easiest process of them all, if you haven't already, you need to visit the Splinterlands website to create an account, my referral link is included here which you can use; Splinterlands Sign up. After signing up, you would need to verify your email after which you can log in to the game.
Lo and Behold, you are about to become a Great Warrior!
Purchase Summoners Book Using Crypto
For this next step,
Visit the shop page In-game
Click to purchase the summoner's book as you see it
From the list, you are given different Cryptocurrency options (I do recommend that you use those with the lowest fees for transfer, particularly ; (Tron) - TRX
Once this step has been initiated, a unique TRX address would be generated for you. It would state the exact / lowest amount of TRX(or any other coin you decide to use) you need to deposit for the transaction to be successful which in this case is approximately $10.
Make absolutely sure to leave this tab open because closing it and re-opening would reload with a new market price. You want to have something specific in mind while completing this process.

How to transfer Crypto while Mitigating fees
Transferring crypto is really quite easy, trading and converting it might prove to be a hassle but that's why this post has been created. Follow the steps accordingly (adding tweaks where necessary) or skip those you're already familiar with. For Instance, I use Binance as the example Crypto Broker, hopefully, you fall into one of the following categories;
You Have a Verified Binance and Hold enough crypto worth $10 or greater
You have a Verified Binance Account but do not hold enough crypto approximating $10
You do not have a Binance Account that has been verified for making transactions such as this.
NOTE: Please note that you are free to use other trusted crypto broker platforms and Binance is just being used for generalization here (Kucoin, Huobi, etc). Some processes described might be different but yet are likely to be very similar - A little browsing might suffice or you can just drop me with questions below.
Top-Down Explanation
Start from STEP 1 (If you don't have a Verified Binance account), Skip to SETP 4 (If you don't hold crypto worth $10 and above), Skip to STEP 6 (If all is well, you just need to transfer).
SETP 1: To Verify your Binance account, Login to your account ->; Go to Identification in the Top Right Menu ->; Click on Verify.
SETP 2: The verification process Begins, You need to first Fill in your Names ->; Submit Documentation accordingly to the country you reside in ->; You might also need to Download the Binance app to complete Face Verification.
SETP 3: Wait for a Couple of Hours(Ranging to a Few Days, Sadly, I know you can't wait to start Battling 😢) to receive the status of your verification process. It should be successful if you used the right documents and followed the correct steps.
SETP 4: Next, you need to Purchase some Crypto. There are generally a couple of ways to do this. (A) Directly using your Credit/Debit Cards, (B) Through the P2P(Peer-2-Peer) Marketplace on Binance, (C) Sending Crypto from your other wallets. I recommend the first method as it's easiest and cheapest.
SETP 5: By Purchasing Using your Cards, you can visit the 'Buy Cards' section in Binance, ->; Pay with Credit/Debit Cards, ->; Choose the currency (USD), Select the Crypto you want to purchase (TRX). This should be about +10 from what you are required to deposit on splinterlands (A remedy for fees associated)
SETP 6: Verify your card details and confirm the purchase, you can immediately find your TRX crypto in your Fiat/Spot wallet ready to be used.
SETP 7: Visit the Withdrawl Section in Binance, ->; Change the Tab to Crypto as seen below. Select TRX as the coin you are withdrawing. In the case of 'selecting a supported network', just leave this blank for now. Instead, Go back to the previous Splinterlands Tab, and copy the unique deposit address. Paste this back in Binance, and complete the withdrawal process. (If you have crypto in your Binance account which isn't TRX, you can convert it as follows then come back to this step).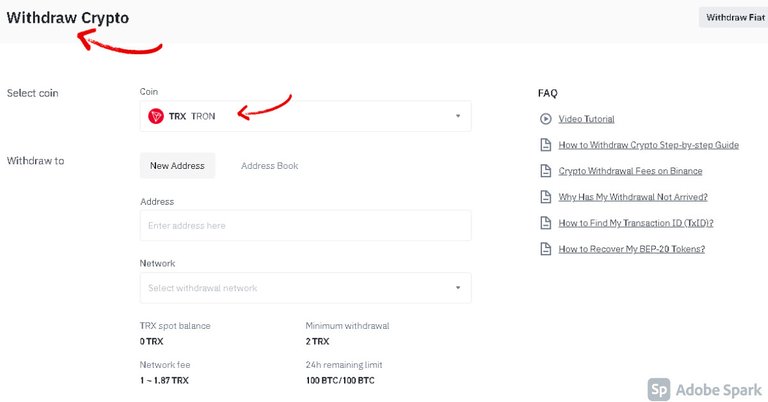 SETP 8: Go to the Margin Trading section in Binance, in the search box, search for the coin which you hold. For example, if you hold BTC, go to (BTC/TRX). When this loads, you can convert your BTC coin to TRX according to what is required of you from splinterlands(The interactive slider makes this process easier. Again make sure to add a couple extra TRX for fees.\

I hope you didn't get bored already with those steps, depending on your level and experience with Crypto trading Platforms like Binance, this can take you anywhere from 10 minutes to over an hour. But, after this process has been completed successfully, you now have access to the Kingdom of Monsters, Summoners, and Lore in Splinterlands. Before that though, you can now change your name into something more of your choosing. Like I was known as 'NEOPHYTE' before, now I'm 'CHEL-KOBY'.
Brief Intro to Game, Conclusion
In Splinterlands, your ultimate goal is to build your Team (Made up of Monsters and a Summoner) that can stand to the end of Battle as many times as you can. There is always an ongoing season in Splinterlands which lasts for 14 days, during which you have ample time to win battles to increase your ratings and climb higher in the league table. If the Gods see you fit, they can even ascend you to a higher Ranked Level (That blows my mind way too!).
In These ranked leagues; Bronze, Silver, Diamond, etc, you compete with other players with similar ratings which makes it easier to Win battles, albeit, always deadly strategic. You start off initially with some sets of base cards given generously by splinterlands teams, these cards collection consists of the 7 core splinter elements (Fire, Water, Life, Earth, Dragon, and Death) with attributes and special powers that when deployed strategically can be the difference between victory and defeat. To see a typical card in action, read my post about AntMiners - the Scavenger, a Monster of the Fire Element.
All in All, this is enough chatter by me, you would have to learn most of the ropes by urself. Only time would tell, do you become a Merciless Exterminator or Peace-Loving Warrior?
---
---