Notes on Splinterlands and Axie Infinity (From a Gamer who plays Both)



Play to Earn a newly coined term in the blockchain gaming industry used to mean games where players can earn tokens, assets, NFTs with a real-world value that can be traded for fiat(In most cases). For all the games we played in the past, in which we had invested hundreds of dollars just to derive "pleasure & fun", we start to wonder where all the money went, and why we didn't get any back, and if games like those would continue to have a market in the future?.
In this blog post, I would like to share my experience and insights playing the two most popular and rewarding Play2Earn Games on the planet while answering some of the questions, gamers like you and me have asked till today.
It still amazes me, sometimes, the fact that we are able to earn from playing games. Let me rephrase that - what really amazes me is that we haven't been able to in the past, as simple as that. We have heard a lot of noise about how big gaming corporations make huge revenue yearly from their games.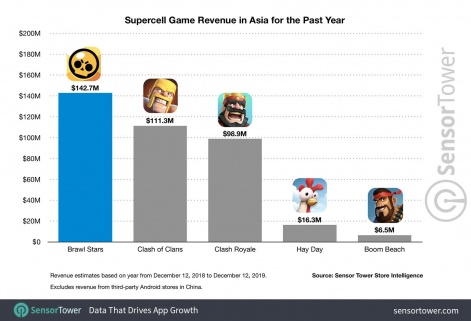 These hundreds of millions of dollars all came from the players, but they didn't think it necessary or sane to give a share of that back to those players - Is the Gaming industry the biggest taker of them all? Maybe Not, remember how you absolutely enjoyed that time you spent playing. Let's get down to the details;
The reason we didn't get any of those revenue shares back was that the idea of Play2Earn, players' ownership of in-game assets were not yet founded. It would be absurd for Gaming studios to give you the money they earned from their game, with their assets, it was all theirs.

Would game like those, let's mention, so you get the full picture (Brawl Stars, Fortnight, Clash of Clans) continue to have a market in the future? Well, hell Yes they would!. It still remains a fact that after this eye-opener of Play2Earn, I'm still willing to put my money in AAA games titles. Why? simply because they have the quality we gamers crave for, they make me lose myself in intense hours of fun, and I never feel like I'm drilling or farming while playing. The answer is that 99% of blockchain games do not have the quality, gameplay interface, graphics to keep gamers hooked. We mostly play them for the incentive at the end of the road, and still, reserve time for normal AAA titles.
Now, let's talk about the future; The future (2023 or 2030)? . One thing is for certain if a blockchain game promises Mad Ass Quality and the Ability to Earn while playing, Do we also have ALOT of these titles to make our choices from? Then No, the regular gaming market would start to fall and fast.
Splinterlands Vs Axie Infinity
No doubt, both are the most lucrative blockchain games for players and a lot more than that. They also have an economic system that seems to favor the long-lasting profitability of the game for both the founders and the players, Yet they aren't perfect and hold a lot of differences that gamers can question and compare singularly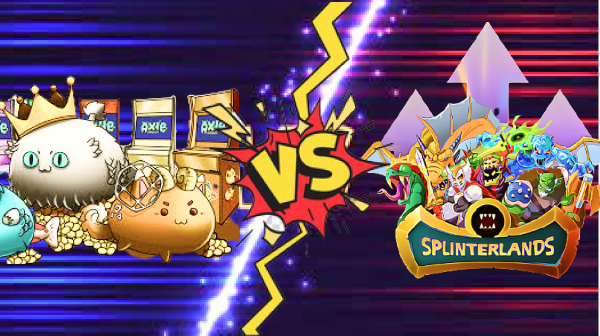 I started playing Splinterlands on September 8, i.e over a month ago. I also started my first Axie Adventure as a Scholar around Oct 21. I would highlight key differences between these two that you would want to look out for if you either play one or both of them.
Battle, Seasonal Structure, and Player Progression
Both Axie Infinity and Splinterlands have a similar Battle Structure for Players. We can say they both have a PVP Battle style where you compete with other players and Axie Infinity, an Idle PVE style where you compete with In-game Enemies, In Splinterlands, there is the game mode called "Practice" where you can also play, as the name implies, to practice your cards, monsters line-ups and teams.
The idea here is "Idle vs Active". All players have a rank that represents their seasonal positions, and in the Idle mode, that rank is unaffected with Battle Results BUT in the active mode, your Rank is. Climbing the leaderboard is a matter of getting more wins than losses in the Active Battle Mode. In Splinterlands it is called Battle and in Axie Infinity Arena


I can remember vividly my very first impressions in Splinterlands - I found it to be intensely difficult to identify the cards (Monsters). They were hundreds of them, and I was dismayed by how other players out there could manage to and for the different splinters (Water, Earth, Life, Fire, Death, and Dragon) at that. I stuck to the Death Elemental because it seemed like the easiest to understand and it was also the most effective for winning my battles.
Just recently, I was accepted as a scholar in Axie Infinity, precisely on the 20th of this month and I started playing on the 21st. Was it also hard? Well not quite as splinterlands, because my cards were pretty limited i.e ( I started with just three Axies and those, in turn, have just a couple of cards that needs getting accustomed to. Although when Battling in the Arena, it gets more complex as you need to study and have an idea of your opponent's cards to prepare your attack and deflect theirs.
So what's the catch, let me give it out straight
In Splinterlands as a new player(generally this is our point of view), you find it difficult to understand the Monster Cards and how to prepare them for battle. Although the Cards are very explicit on their own, and the Tutorial Guide to Gameplay at the start also does a pretty good job of explaining the Mechanics of the games (the nitty-gritty details that you must know of the head), SO you start to Battle. And any dedicated Battler starts to really understand how this works - A couple of Wins and Defeats later AND it feels like you are drowning in Strategies! Yes, that's the core of Splinterlands, and the more you play, the more you gain experience in this regard.
Lastly, you find out that some cards combo would 9/10 of the times, prevail against others. Battle mode becomes easier(but not too easy) as you climb your rank. The more you advance, the tougher it gets because you meet people with better strategies of how the Splinters and their respective Monsters work.
In Axie Infinity? Well, experience does matter but luck plays an even larger role. No, I don't mean in Battle - what I do mean is in Match Making. There are about Nine Classes of Axies in Axie Infinity (Plants, Reptiles, Dusk, Birds, Aqua, Mech, Beast, Bug, Dawn), it is an official fact that some Classes are better or superior over others in dealing damage. In fact, here's the showcase diagram.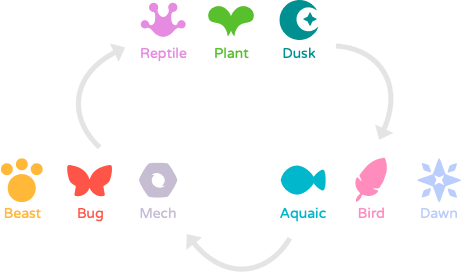 If you meet an opponent with a superior team, and if they play their cards right 90% of the time, then it's almost certain that they would WIN the match (Because all their attacks are multiplied in their effect). Knowing this, you bank your faith and hope to meet either a team that your Axies are superior over or a sleepy-edge gamer who doesn't play their cards right. Easy as that!. I choose not to delve into gameplay fairness in this regard because it's a very grey area in consideration.
My Sis was saying though - If it's based on skill alone, the more skillful players would always win and those who invested over $750 to purchase their axies would be left with nothing (In my mind, I was saying, but I'm the more skillful player so I don't care. Let me win all my Games! xD)
Conclusion - Splinterlands and Axie Infinity have a Mid - Range Gameplay Complexity that requires focused effort to master, once established they come off easy to the average gamer. They BOTH have lucky Cards Structure(so that everyone at least gets a win and no one becomes too pumped) and Experience is also utilized in Winning All the Battles in which YOU get Lucky (as your opponent is also wishing for you to make a mistake).
Although Splinterlands is also a couple of steps higher in the Ladder of the requirement of Experience/Knowledge/Strategy(Call it Whatever) mainly because it gives you the feature to pry into your opponent's previous battles (the splinters they used not the outcome of course) and prepare accordingly, this gives a rightful edge to the more Monster Savvy players.
Winning Mechanics and Rewards System
Yeah, I get it - Rewards are the main Deal Ain't it?. Well, it is for me!. I always like to take things very carefully, and I consider most things to be grey areas because all the information needed to make grounded judgment might not be in the light!
Therefore, it is with great caution that I say this; Axie Infinity would pay you ten times faster than Splinterlands! Yeh, is that too blunt, Nah not at all? Axie Infinity Ought to pay you 100 times faster than Splinterlands.
Earlier I revealed to you the Dates I started playing both Games, Splinterlands and Axie Infinity. What I didn't reveal was what I have been able to make from them both. Anyway, like I said right above, I've been able to make more than 10x what I made in Splinterlands from Axie infinity in just 2 weeks.
Splinterlands is a fantastic game, if it wasn't a Play2Earn blockchain game, I would probably be happy to stack up my Monster Cards to gain more power. I've invested less than $50 in Splinterlands, both the initial $10 to purchase the summoners book and in the overall purchase of cards. Why just $50?
Because currently, it would take way more than that for me to turn my investments into steady returns that I can re-investment or do whatever I want with AND I don't have that kind of funds available atm. In other words, If you invested a good amount of funds into Splinterlands, then it could be every bit as profitable as Axie Infinity in the short term
When you win a Battle in Splinterlands, you are rewarded with DEC tokens. Dec is the in-game currency that players can earn repeatedly and withdraw to their wallets. The more you play and Win, the more DEC you stand to win. It isn't just as linear (may I say ) as that though. Completing The Daily Missions and End of Season which lasts for 15 days rewards you with Chests that are randomly distributed AND if you are lucky, that 2 Dec per WINs in Ranked Battle Mode can turn to $20 worth of DEC by the end of the day (read - when you open your chests). You are rewarded with DEC tokens in the hundreds, Monster, and Splinter cards (Occasionally and with varying levels of rarity), these Cards in turn have a value that can appreciate over time to be worth more! There are the basic details of how the reward system works in splinterlands. Very well NOT linear!
Axie Infinity is a very rewarding game, it's an instantly rewarding game, that doesn't depend on the supply or demand associated with Cards (as in Splinterlands). The more you play, the more valuable your rewards become. For every Arena Battle Won, you are given SLP tokens. SLP is the in-game token of Axie Infinity and at the end of 2 weeks from your first SLP collected, you can claim your tokens and move them to an external Ronin wallet. Depending on your In-game MMR, you collect SLP accordingly after every Win;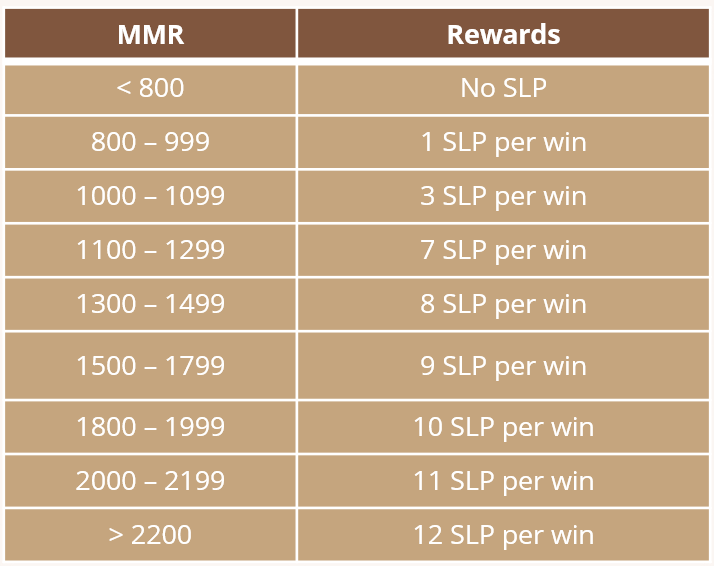 You don't always have to compete in PVP to earn SLP, because you can also earn SLP in Adventure mode. Adventure mode gives all players a MAX of 50 SLP to be farmed Daily Playing in PVE Style - Talk about a Real Idle Miner xD. It's almost therapeutic for me.
My first impression after playing this game was, apart from the complexity of the Axie's card, this is a damn rewarding game I can't believe I would earn as much in just 2 weeks devoting 2 hrs daily of my time when I couldn't in more than 4 hrs of Splinterlands in a month. Yeah, first impressions can be poisonous!
Did we all forget that Axie Infinity requires about $850 dollars to start playing today and Splinterlands just $10??? Lol, put that $ 850 dollar in Splinterlands and see where that takes you is what I told myself. There you have it, Both are massively lucrative games - the best in the industry now and for more time to come.
We seem to confuse the fact that these games have some magic reserve of free money to give away just because they are tagged as Play2Earn. No, the more money you bring in, the more you can take out!. Splinterlands gives all players the ability to get started small, and work their way from there, and that seems to have been misinterpreted by many players who expected big returns for just $10. The only reason I can make lucrative income playing axie infinity is that I play as a scholar, Someone behind the curtain invested that cash - not me.
Gameplay Mechanics and Community
Gameplay Mechanics and how fun A game is to play? Based on Play2Earn Games alone, people play them just for the incentives they get back in return. That, but yet it can get painfully boring and dreading when you continuously have to do something you absolutely cannot stand - it's really hard and takes dedication. Games simply shouldn't be like that, Any Game that is, Play2Earn or not would not last very long.
For this section concerning how fun is derived from playing, it's fair to say that Splinterlands is the easy winner here. I can play splinterlands for hours with a genuine interest in improving my experience and testing out the different Splinters, there might be a motive on most days such as to complete my daily quest or improve my rankings but I really enjoy every moment of it(When I win and When I Lose). Unfortunately, The same cannot be said for Axie Infinity
Playing Axie has been more of a daily task than having fun while gaming and I think many gamers out there would agree with me. Because of the quick (not easy), sure-fire way of earning SLP, many people put up with it. If at all, Adventure remains the best part of the game - Maybe because I can spend more time deploying my cards or because it is just more slow-paced and I don't risk losing points on the leaderboard anytime luck chooses to look past me!.
Splinterlands being part of Hive is the best part of the picture for me, Hive has been essential to its growth, and in turn, it has brought a healthy percentage of interaction to Hive from people like me, who try to blog about it AND have now developed the trust to try out other games on the Hive blockchain.
While Axie Infinity has no such dedicated community on a blockchain of its own, it does have massive discord and Reddit channels where people engage, share tips, complain, and boast of their earnings. Definitely not such as healthy a community as we over here strive to be.


If you read up till now, thanks for staying and reading. I hope my first impressions and further insights have been relayed as best as I could. Not meaning to bore you with too many details, I reserve those for further guides that I would create. I hope you enjoyed it and don't mind giving me love. Until next time 💕.
---
---