RON token is Live | A Summary from Axie Infinity on RON, and Liquidity Staking

For three months, Axie Infinity players could freely farm the RON token. RON is the governance token of the Ronin Sidechain, that has been announced over three months ago months and officially released on the 27th of January on Ronin. The main utility of RON is to pay for Transaction Fees and operations on Katana Dex and Ronin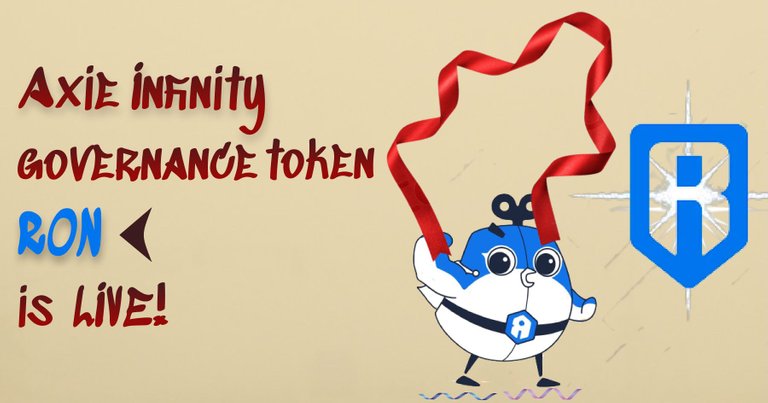 For the past three months, prior to release, players aware of this opportunity were able to stake ecosystem tokens like SLP, AXS along with WETH (Wrapped Ether) to earn RON, the RON rewards remained unclaimable until just a few days ago after it's release. It is no doubt that the expectations of RON were big because;
(1) it is the governance token of Axie Infinity Blockchain Game AND the entire Ronin Sidechain,
(2) With over 200k MAU AND Monthly transactions on Ronin Bridge surpassing that on Ethereum Mainnet, the newly released RON Token is set to grow enormously.
Now that RON token has launched, the opportunities to mine/farm/gather it is yet still plentiful. This post would give you the summary and brief details about farming RON and its Utility;
Incentives to Earn RON
Ronin Sidechain validators will need to hold and stake RON to participate in validating blocks. Rewards would be in RON AND RON from gas fees.

You can participate in Governance of the Ronin Network, by becoming a validator OR Holding RON & Staking to a Validator. You Earn RON as rewards in return

RON will now be used to pay for gas fees which will result in a huge reduction in dropped transactions. This also means that accounts will be able to make more than 100 transactions per day - which was the limit previously
How to Earn RON by Staking And It's Distribution
Staking SLP & WETH : Total Distribution is 132,930.51 RON per day

Staking AXS & WETH: Total Distribution is 24,169.18 RON per day

Staking RON & ETH: Total Distribution for Pool is 84,592.15 RON per day
NOTE: This Distribution will last until December 31st, 2022
NOTE; Up till February 3, 2022, the RON/ETH & SLP/ETH Pool would receive 500000 RON per day.
Short Guide;
To obtain Ronin ecosystem tokens for staking, you can either earn them by playing Axie Infinity or by purchasing directly from an exchange. If you purchase from an exchange(like Binance) you need to send them to your Ronin Wallet successfully to start staking. This Guide on staking AXS can guide you through the process.
The staking pair we see in all Pools above - WETH(Wrapped Ether), can easily be exchanged with Ronin ecosystem tokens like SLP, AXS & RON. While you can also purchase this on centralized exchanges, it is easier and faster to swap your SLP (For example) into WETH to begin Staking. You can do that on the Katana DEX here
Extra Details on RON and it's Impact
To become a validator on Ronin, you are required to stake 50,000 RON once Ronin DPoS(Delegated Proof of Stake) is live

RON stakers can select any validator of their choice.

Validators take a commission from their delegatees stakes

Stakers receive weekly rewards (Staking issuance reward + gas fees + Dapp fees)- commission)

RON is very environmentally friendly and has a very low carbon footprint because of its POA(Proof of Authority) consensus
That rounds up this summary of RON, the Governance token of the Ronin Network. Most of the information and details shared in this post have been summarized from the official Ronin Litepapaer and Axie Infinity Lunacian Substack. To get more in-depth information about the entire Ronin Ecosystem, consider visiting the Helpful Links below.
Thanks for Reading, Feel free to Leave a comment if you have any questions or Info in mind
Chel_
Helpful Links
---
---