Top 10 Mobile Play2Earn Blockchain Games in Q1 2022
For someone like me who spends most of my time on a PC, and plays (read test run) many Blockchain Games, still yet on a PC, it was a big challenge having the awareness and information about Blockchain Mobile Games. This post is inspired by my attempt to solve this shortcoming because I love to know what Genre of Blockchain Games are available and their Earnings(Incase I feel the urge to start playing one), And also for recommending to my friends.
Yeah, because the major inspiration for this post is after my buddies asked me what games they can engage their time with and earn following the recent catastrophic(For some) update announced by Axie Infinity!.
Basically, Axie Infinity recently shut down the Adventure Mode of Earning SLP with the aim of getting the Price of SLP back up following its recent poor performances(In the month of Jan especially). Due to this update, Arena Mode remains the Only option to Earn SLP and Climb the Leaderboard to Earn AXS tokens. And Well, let's just say it isn't comfortable for everyone, especially those with Uncompetitive Axies for Arena Mode, and engaging in alternative Games is what comes to mind for Thousands of Scholars & Axie Players out there.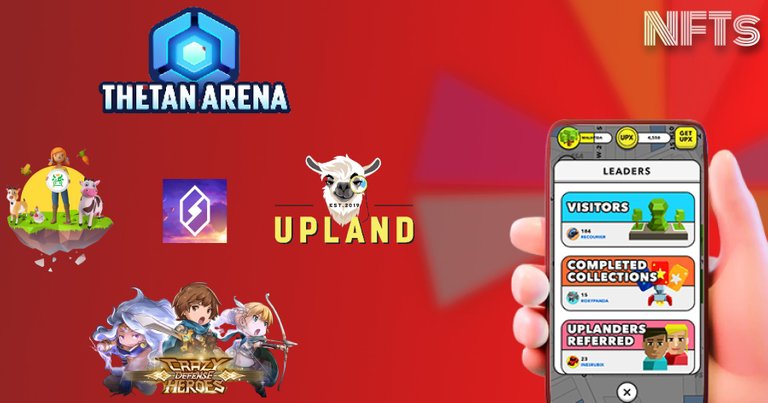 With that said, Let's get my Brief Intro Running (I just love Intros)
Intro to Mobile Play2Earn Gaming
I felt utterly naive when I tuned up and focused my smarty brains on the mobile blockchain gaming sector to accomplish the request of my friends. I've been soo immersed with PC Blockchain Games up to the point that I felt they were the only worthy existing Blockchain Games - In fact, I couldn't have been more wrong about this.
Mobile Blockchain Games are(the reason I love mobile games ) very easy to play, not to mention how comfortable and portable it feels. There are lots of advantages and comfort to be derived with mobile games as opposed to PC games but let's still take that with a pinch of salt (a better expression might suffice yet), because, 1 main factor I see gamers struggle with is - the Blockchain Wallet Linking, Marketplace NFTs side of It(That phrase sounded very explicit in my mind.
As I saw with almost all the games I'm gonna review later on in the post, players still need to transact over the Web(i.e out of the mobile app) for some resources usually wallet linking, or trading their NFTs, and Boy do I hate browsing on mobile.
Another factor that should pointedly stand out is that Most Mobile Browsers do not support Wallet Extensions. So it still kind of boils down to Creating your account on a PC and Playing on Mobile, but yet still transacting on PC from time to time. This isn't totally uncomfortable but at times it can be. Axie Infinity has done this quite well and limits re-syncing of accounts on mobile with a 2 weeks interval, and playing @risingstargame on Mobile is also pretty comfortable.
SO with all these said, what's the conclusion? Well, I believe that mobile games have great prospects and are already doing very well at the moment, with two such Games even gaining Spots in the Top 10 Blockchain Games ranked by 24 Hrs Users. It's a Tradeoff I would no doubt go along with - comfort, reliability with occasional transaction processes on the web (through a PC ofc). Now, with no more intro left to share, let's dive in!
Top 10 Mobile Blockchain Games to Earn with Right Now
Right this very instance, these are a curated list of Mobile games that you can earn while playing. These games have all been tested by me and the helpful details are summarized in a way that you understand what the game is, how to play and what earnings are like. There are Rough Estimates here and there, and I believe all the tips can help guide you in selecting which games are the best match for you!
Crazy Defense Heroes
| Game Cover | Desc |
| --- | --- |
| | Crazy Defense Heroes(CDH) is a Tower Defense Game Created by the Animoca Studies. |
Crazy Defense Heroes(CDH) is a Tower Defense Game Created by Animoca Brand. The Animoca Brand I found out is also the Developer of many unique titles both on the blockchain and off it; Some of their Other titles include; Crazy Kings, Revv Racing, and the very Popular Casual Gaming Metaverse - GAMEE.
But what do we know about CDH? - In Crazy Defense heroes, your mission is to defend your kingdom and tower gates from intruder monsters, by deploying defense towers filled with Heroes to impede their Attack.
You can advance through levels and Gain Experience Points as your progress while earning Star Chests Filled with Epic and Rare Resources. You can also Compete in Tournaments where XP is used as a Ranking factor among players.
Earnings; In Crazy Defense Heroes, you Can Earn by Playing to Accumulate Tower Tokens which can be Traded on External Exchanges like Kucoin, Uniswap V3, Bitmart, etc. There are two main ways to earn in Crazy Defense Heros which are by Unlocking Star chests after winning Stars from Battle Mode and by competing in tournament events against other players and attaining XP levels in the leaderboard.
Crazy defense Hereos regularly hold these kinds of tournaments for players to compete in, and as I write there's an ongoing tournament in the aforementioned Earning modes above. The team releases detailed information on what levels you need to achieve in other to be rewarded with Tower token by the end of the tournament, usually a month.
Crazy Defense Heroes is a very fun game with cute graphics that requires strategy and daily playing to progress. Because it is very fun to play, you end up mastering these techniques without problems. If you love Tower games or Relaxing Games in general, or you are just looking for a real game to earn from, You should give this a try, because apart from its unique and beautiful gameplay, it currently stands at Number 4 for Top Blockchain Games By 24 Hrs Users Activity, as tracked by Dapp Radar
Explore Helpful Links
Your reading shouldn't end here, explore further to increase your gamer advantage and experience i.e increase your earnings
Current Tournaments Info Released by Animoca & CDH for the Ongoing Competition Season
..
..
Upland
| Game Cover | Desc |
| --- | --- |
| | Upland is a Real Estate Blockchain simulation game based on the geographic location of the United States of America. |
Upland is a Real Estate Blockchain simulation game based on the geographic location of the United States of America. In Upland, you start off without any properties or Assets and the Goal is to create an enterprise of High Value Returning Properties and Estates. The Core Gameplay of Upland is Acquiring Buildings, Selling and Earning Income from your Buildings, but it also extends into other game modes like the Treasure Hunt
Upland is a (can I say) super addictive game because it took me completely by surprise. I never anticipated a classic game should be so relaxing yet challenging and the Login difficulties and Loading bugs you face when signing up did not help at all for my first impression of Upland. But when you work past those, you discover the grand ecosystem and Immense Value in this Metaworld, which is in most ways as competitive as Top Blockchain PC Games like Splinterlands.
The message I'm intently trying to pass here is that; Remove all doubt in your minds about Mobile Games; not being as profitable, or FOMO while playing them because we feel that PC is where the real deal is at. For example, if you find that Mobile is the better suit for your playing style, schedule, Go strong with it and these games would earn you passive income.
The in-game token and mode of transaction in Upland is using the UPX token. You can earn them In-game by successfully completing Treasure Hunt missions, Selling Buildings, or better still getting other players to visit your buildings - and more ways I'm still exploring 🙂.
The Upland team regularly releases a lot of updates about the game, there are so many ongoing competitions for example where you could earn UPX or general information about their expanding borders in the metaverse. Fortunately, with Upland, these updates left the impression of "worth it" in the views of a gamer and as an investor, but there are lots you would discover in this Meta Real estate World.
In Upland, as you grow in assets your level grows along and your ranking level, for example, you start off as a Visitor and you can attain the level of Uplander when you get to accumulate 10000 UPX, there are also higher status levels are you grow. Upland has also lowered the bar for incoming players to get in and grow their empire, by providing Avenues and States that have low-priced (with good growth opportunities) Houses for the first couple of Investments you need to make.
Explore Helpful Links
..
..
Crypto Bytes
| Game Cover | Desc |
| --- | --- |
| | Crypto Bytes is among the longest crypto games developed in 2018 with a real sustainable economy. |
Crypto Bytes is a Farming Simulation developed on Blockchain in 2018, this also makes it one of the longest crypto games with a real sustainable economy. It is a super cute game with High-quality 3d graphics and should run very smoothly on most devices.
In Crypto Bytes, the goal is to Raise Livestocks, Grow Crops, Sell or Exchange Livestock Produce for other Assets. There is a wide range of Assets in CryptoBytes as you can expect from Farming Games; These are ranging from Livestocks like Goat, Hens, Cows, to Crops like Corn, Fruit feed, and further to fantasy Assets like Super Livestock Feed and Superheroes.
The in-game token in CryptoBytes is CBX and TRX (Tron Crypto) is also Integrated heavily in the Game, as a means to purchase assets. The main ways to earn CBX and TRX are by Selling Assets you grow on the Farmland or Trading NFTs following its price Movement in the market. Because, ALL Assets have a market price tied to CBX which Fluctuates according to Demand and Supply, i.e it isn't fixed.
Crypto Bytes is a game that requires, time, strategy, and patience to maximize your income. In fact, the ways to make a suitable profit are not readily discernable like in most games I've come across, But if you look deeper, make the effort and flip numbers you start to see the trend outline.
It's really a question of how much do I invest in farm assets?, and how do the produce I receive in return affect my income?, what do you use your income to buy?, do you exchange it(for say TRX) or refill your farm assets bag?; In fact, there are lots of interesting questions to ponder over with CryptoBytes, but the only best plan I can think of is; To Reinvest, any other ideas (like saying cashing out for a profit immediately) is not going to work, because the game has been built to be sustainable and engage players with long-term growth in mind and Love for the farm life.
Like Upland, it's very helpful that Crypto Bytes has starter packs that meet the requirement of many players, Its starter packs are what you can invest in to start growing your farmland and the price ranges from $20 to about $200. Don't worry the lowest starter pack is suitable to start the game supplying you with the essentials, and the highest starter pack gives you more flexibility and also requires more investment to utilize all the assets you receive. Besides that though, Crypto Bytes gives you some essential assets to start for free for your first 7 days in the game, which you can use to get off the ground fast if you constantly play daily. Happy Farming!
..
..
Sky Weaver
| Game Cover | Desc |
| --- | --- |
| | Sky Weaver is a Trading Card Game built with Polygon Layer 2 for the Ethereum Blockchain. |
Sky Weaver is a Trading Card Game built with Polygon Layer 2 for the Ethereum Blockchain. It's a free2play turn-based card game where players can collect free cards, purchase them from the marketplace while ranking up on the Leaderboard to win more cards. Sky weaver is a fun game with a very simplistic gameplay, For Example, In comparison to the most popular Blockchain TCG Splinterlands which contains more details to keep up with.
In Skyweaver, you start with a tutorial battle against a Bot which works you throughout the game mechanics including Card Types, Strengths, Symbols, Turn-Based Attacks, Card Shields, etc. By the End of this Tutorial, you would have obtained enough XP and leveled up to start participating in Seasonal Challenge and Conquests against other Players.
Skyweaver Cards Structure consists of Base Cards (Which are rewarded through tutorial levels), Silver and Gold Cards which you can win by participating in Ranked Battles (I.e Leaderboards). All Skyweaver Cards belong to One of Eight Elements; Light, Metal, Mind, Air, Water, Dark, Fire, Earth with a Unique Prism of Either; Strength, Agility, Intellect, Heart, OR Wisdom
You earn in Skywaever by Trading Cards in the In-game Marketplace, you can buy and sell cards with USDC as the base token, which can be transferred in or out of the Game through the Sequence Wallet, and other Ethereum/Polygon Based Wallet
Skyweaver is a very fun to play the game, and it should be considered for the following reasons;
It is Free2play, absolutely no stop wall to continue playing and earning (as long as you play and rank well in the leaderboard)
It is more simple to understand without unnecessary details that become complex
It is very fun to play with great realistic graphics,
low gas fees when trading cards because of bridging by the Polygon Network
..
..
Thetan Arena
| Game Cover | Desc |
| --- | --- |
| | Thetan Arena is a Battle MOBA Game with a high gameplay quality built especially for Mobile Devices (IOS and Android) |
Thetan Arena is a Battle MOBA (Multiplayer Online Battle Arena) Game built especially for Mobile Devices (IOS and Android). It is perhaps the highest gameplay quality of the mobile games we have on the list, added to this, is the fact that it takes the look of some of the most popular MOBA Game Style and Mechanics we've seen. For example, it looks very similar to Brawl Stars by SuperCell.
In Thetan Arena, perhaps the name reveals, you battle with other players in a large arena dome. It has several event types that you can choose to play from ranging from the popular Death Match where you are teamed up in thress to fight enemy players of the Opposing Team, and even a Practise Mode.
Being a blockchain Game, what are the blockchain elements? Well, the first thing to keep in mind is that an Avatar Or Collection of Avatars serves as NFTs and is required to play the game. First of, let me mention that you are given 3 free Avatars to form your team which you can start playing with, NOTE: That this can not earn you any reasonable crypto prizes, but then Avatars can be traded freely today in the In-game Marketplace, with prices ranging from expensive Avatars at $1500(which can be considered overpriced) to as cheap as $15(if you think that's cheap).
The reward system is the kind that excites me; As you progress you get to unlock many Prizes ranging from Avatars to their In-game Token THG(Thetan Gem) & THC (Thetan Coin) and you also advance in the World Leaderboard of Players. You gain points with every Victory and Lose Points with every Battle Lost, Pretty Chill, right? Hold up ya, It's a pretty challenging game because think of the thousands of players that have mastered the MOBA gaming style - For one I used to be very ruthless when playing Brawl Stars and Thetan Arena isn't too hard to master. But overall, it is a very awesome looking and fun game to play and I highly suggest you check it out.
As this Article promises to show you 10 of the Mobile Blockchain Games you can earn from today, the following 5 games has been written without additional Details to save you the added time of reading through them. Luckily, they are all very easy to get up to speed with. I figured that I covered the games with more details right above, So Check them out;

Spells of Genesis
| Game Cover | Desc |
| --- | --- |
| | Spells of Genesis (SOG) is among the 1st few blockchain mobile game ever made. SoG combines Trading Card Game with point-and-shoot gameplay mechanics. |
Explore Link
Crypto Treasures
| Game Cover | Desc |
| --- | --- |
| | Crypto Treasure is a fun Crypto Games with multiple ways to earn different coins, by Playing MiniGames, Unlocking Chests & Collectibles and Earning Gold |
Explore Link
Crazy Kings
| Game Cover | Desc |
| --- | --- |
| | Crazy Kings is a Tower Defense Game developed by Animoca Studios(The creators of Crazy defense Hereos). This is a Free2Play Game That you can earn TOWER tokens by Competing in the Leaderboard... |
Explore Link
Kingdom Karnage
| Game Cover | Desc |
| --- | --- |
| | Kingdom Karnage is a Card Strategy Battle Game built on Enjin Blockchain. Players can Build Card decks, explore dungeons, Battle in PVP, while earning JENJ (JumpNet Enjin) |
Explore Link
War of Ants
| Game Cover | Desc |
| --- | --- |
| | In War of Ants, the Player raises colony of War Ants that battle in PVP, protect the Queen, and steal chests full of Loot. |
Explore Link
Conclusions
So there you have it, some of the highest rated mobile Blockchain Games that exist today. As expected, some of these games are still in Early Access and developments haven't been finalized, so expect to see regular updates for them. I hope you have fun playing them, because some titles are very fun and addictive like For Example; Thetan Arena, CDH. As well, not all of the Earning means you can find in these games would suit your style, so lots of options have been provided to choose freely from.
Have Fun Playing & Earning!
---
---