DEC price is up, Fairly certain I know why.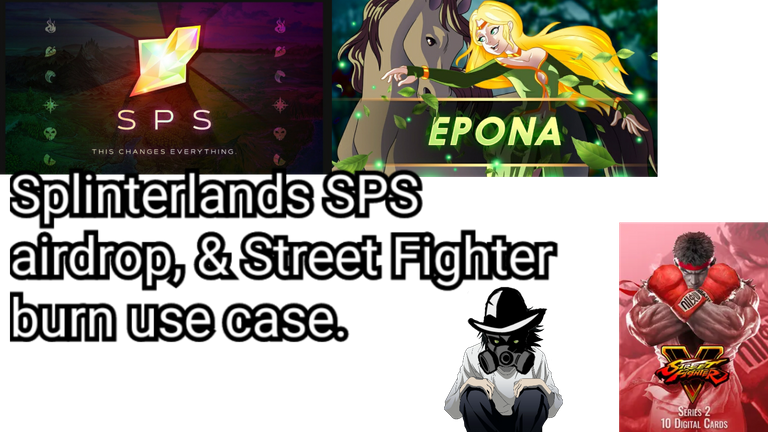 Splinterlands will begin their SPS Splintershards distribution by the end of this month, DEC Dice Packs have picked up in average sale price as well. Since all of this seemed to happen instantly a month ago when the Untamed packs sold out in a day I will be more on top of the DICE packs as we count down the last 100,000 packs.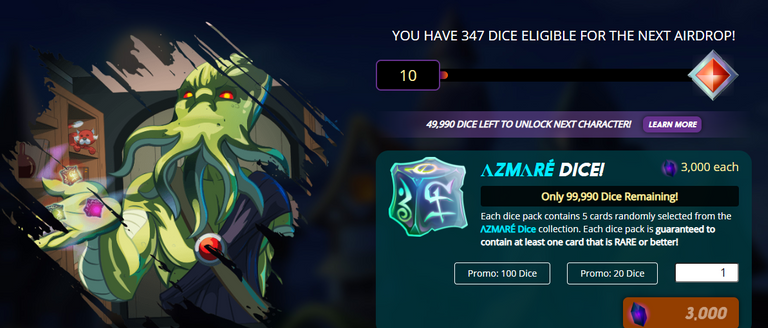 SPS Splintershards
Not much more to report on the Splintershards distribution accept I recently got information stating that it will begin before the end of the month. We should expect a Hive post from Splinterlands about the details of SPS distribution by next week.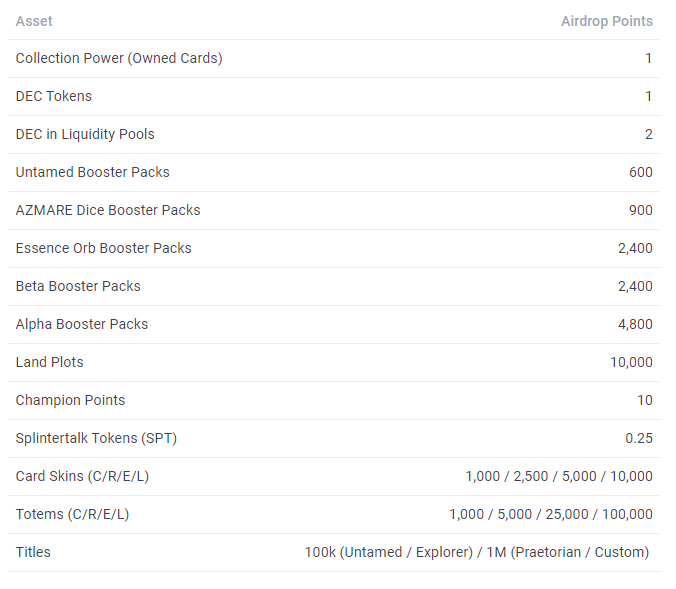 Given the Splinterlands SPS Distribution will incorporate a Airdrop mechanism based on points shown above.
https://sps.splinterlands.com/airdrop
Given this is yet another form of potential secondary income from ownership of specific Splinterlands assets the market has been going insane. Splinterlands Rentals shot up the NFT prices almost over night the demand will likely be much more effected by this airdrop system.
Meaning the Splinterlands assets and their crypto DEC are doing good now but by next month they will be doing better then ever before.
Keep in mind I'm an optimist and this is just my personal opinion.
Next airdrop reward for DICE packs announced
The second to last DICE pack airdrop is almost here, Its taking a little longer then I first would have thought to sell the last Dice packs but the Airdrop is increasing in frequency.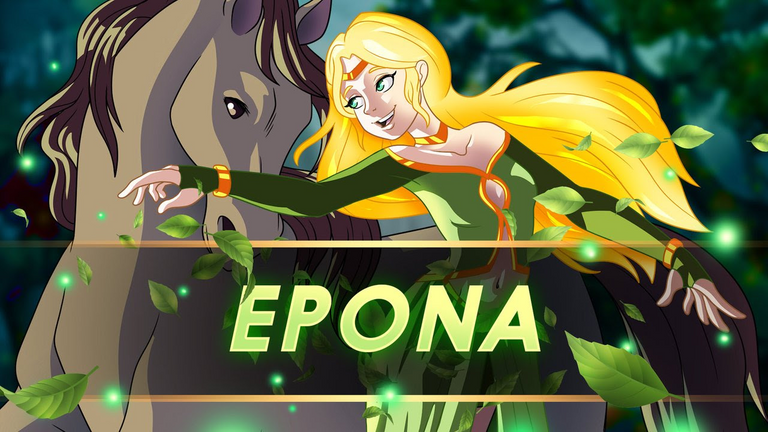 As with all other DICE airdrops, Epona is a 1-Mana Legendary with some great abilities. Anyone who has purchased DICE for DEC will have a chance to receive the airdropped card, which will also be available after the airdrop in all unopened DICE packs.
Only 1/3rd the original number of Dice packs remain, 200,000 of the 300,000 have been sold just100,000 to go.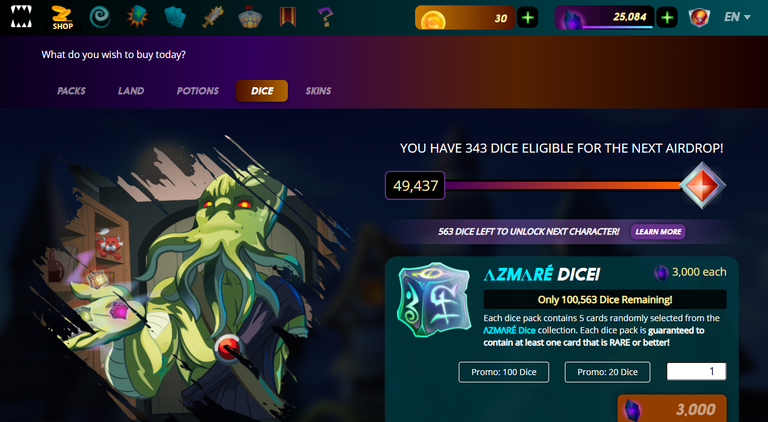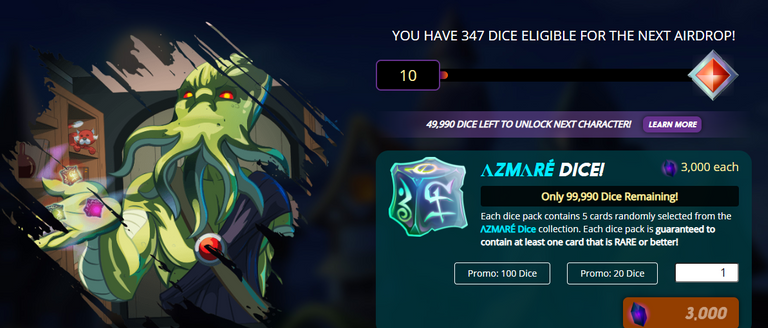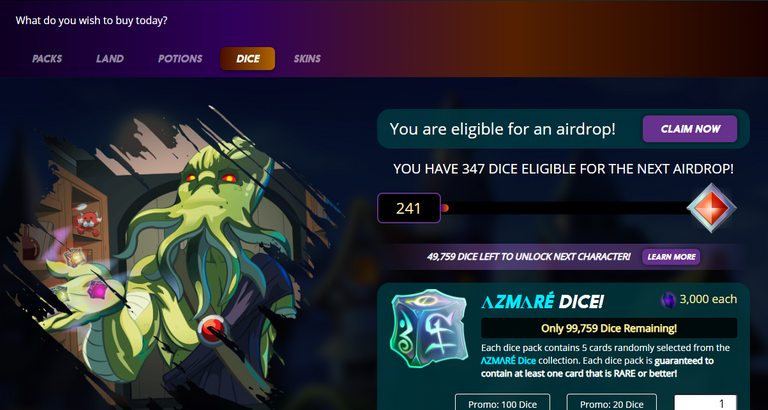 Airdrop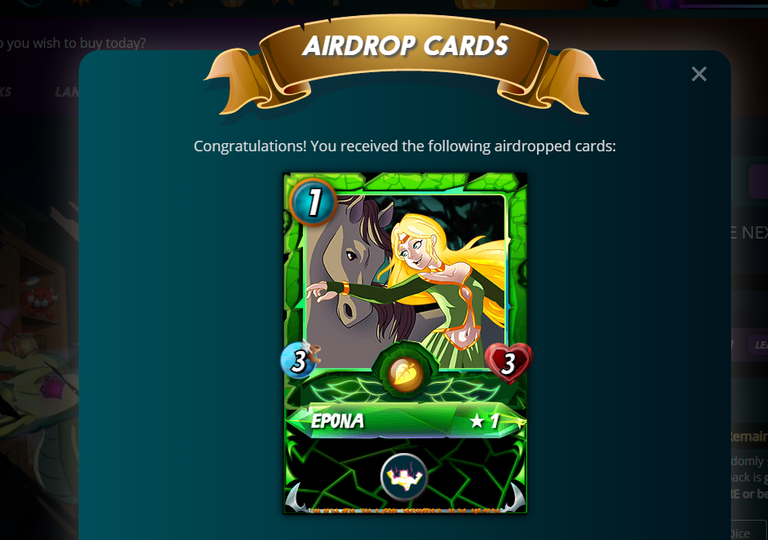 Dice packs


You see this card above price is $2.75 I'm paying $2.50 a pack so with that fairly common card I profited $0.25 I have 4 other cards that are now free.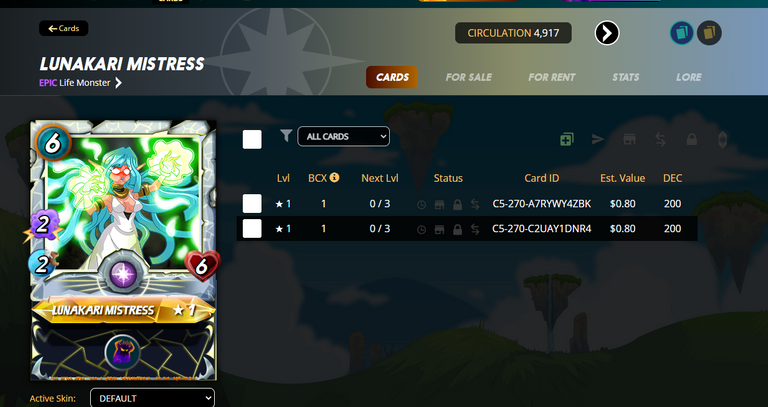 This card was the same Dice pack, My NFT sales have been blustered by Splinterlands Dice pack & I will be sad to see them go. That pack isn't a best case scenario and I still profited $1 + another 3 NFTs.
Using 5 potions of both the legendary potions and Gold potions on each pack I have opened 4 Dice packs in the last 2 days. Two of which where not profitable about a $2 loss on each so with just those 2 packs I would be down $4.
When I continuously run the same Dice pack with potions I then got this pack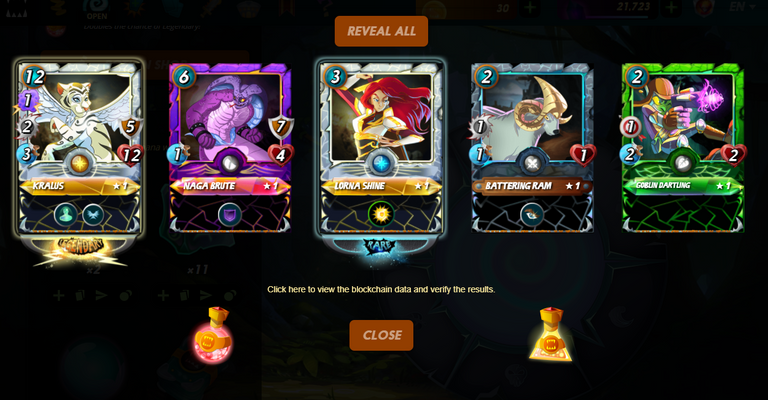 The card on the left is worth $16 and I have already sold it, 3 of them less then $0.10 a piece and the 3rd card in is a little less then a dollar. So lets call it $18 all together profit plus like 16 NFTs I'm not counting, minus my costs roughly $10 I'm profiting $8 & 16 NFTs not bad.
This is all odds based given Dice packs contain almost 1/3 legendary NFTs when using 10 potions you almost double your odds. With an already favorable ratio this means most times you will break even or profit when you stick to the same system long enough.
Quest rewards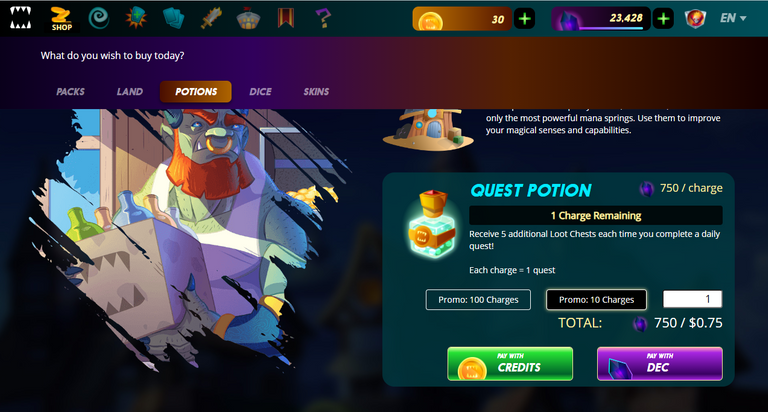 Its going to Sound a little repetitive but always use potions, todays daily quest & $0.75 for a quest potion gets me ...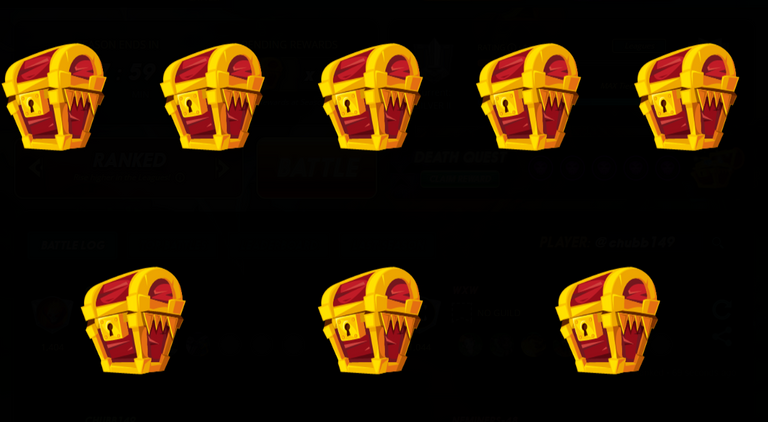 So what's in the chests Money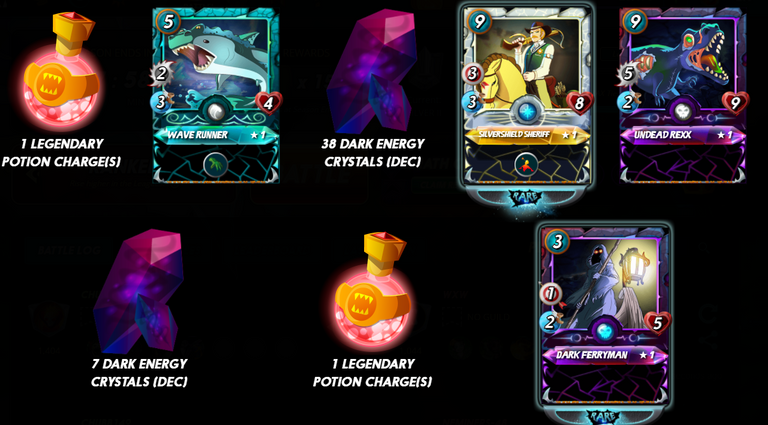 I profited a few cents but that's not the point I'm always talking volume so when done repetitively you tend to profit based on my research. This is my own subjective opinion but if I'm not using potions its not worth playing or opening packs.
Just got an Airdrop
Anyone on shapeshift to exchange crypto in the last few months should look into their Airdrop I just got $250.
So lets keep this explanation short but Shapeshift just announced a high yield liquidity pool for ETH and their FOX crypto. This was announced along side their FOX token airdrop for users. So FOX simultaneously spiked in value and was given to me for free. I then spend $13 on GAS and & exchanged my FOX tokens
https://etherscan.io/tx/0xd1dc142da9c8bcd83b5f70658569870815e9cbf7ecb7a5e6e97355c19c010556
Above is the transaction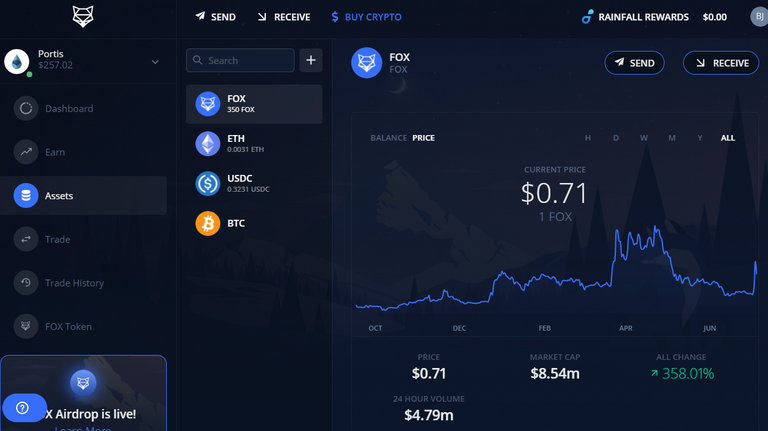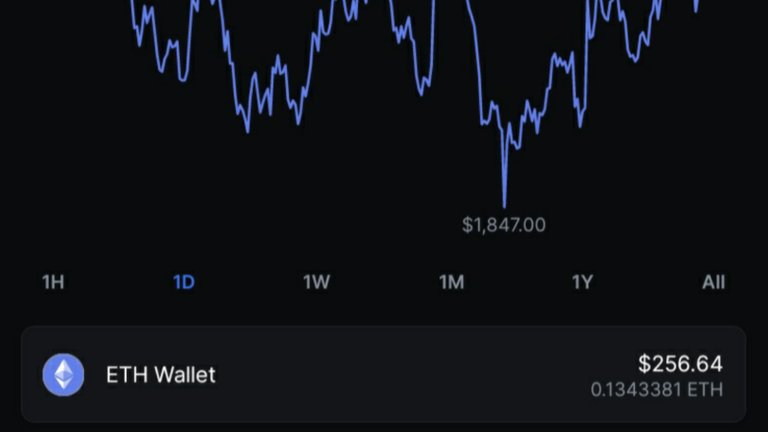 Now over on my coin base debit card
NFTs & staking
While the general idea of NFTs may be the same as crypto not every NFT can be staked or farmed for/with. Generally speaking when Staking does occur its for a 3rd party system or part of the NFT project.
Though technically Renting and the SPS airdrop system of Splinterlands wouldn't be considered staking. Both systems do share some striking resemblances, Mostly at its base its a form of gradual return for the ownership of an NFT.
With the SPS Airdrop system in particular this gets to be difficult to say how much of a return or how often you would expect to see a meaningful amount.
This being said the Rental system is fairly similar to staking but we dont stake the asset to the company but to one another via a rental. I'm quite impressed by this rental system its popularity not to mention the practical nature of it all.
See Rplanet is o for NFT staking but the method in which old NFT collections are devalued while depreciating staking returns ensue for the affected colection. This doesn't seem logically sustainable the way things currently are.



It seems the WAX market fells the same as I do because lately the rush for each colection to offer something similar to their own land plot mining or asset staking.
The list of NFT projects involved in something like this is ever expanding and many up and coming projects stand a chance of reaching greatness. For my money however Splinterlands will offer the best system when everything is said and done.



See the NFT sale figures dont lie, the Splinterlands colection in my opinion is headed for great things. Renting and SPS are just the most recent developments without them this colection would still be headed for greatness, the journey is just faster with them added.
Street fighter
Anyone that reads my NFT posts regularly knows many WAX collections that should cost more but short sell shortly after launch. Street Fighter is one such colection where most would see danger I see potential.

These packs originally sold for $10, look what I just paid



63 WAX roughly $8 USD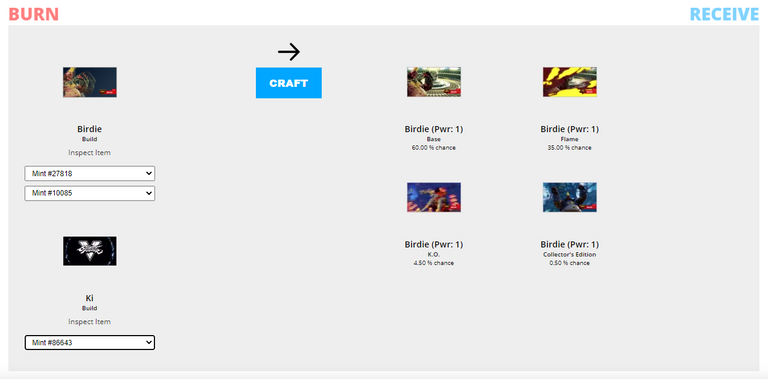 So if the packs are tanking why buy? To utilize their burn use case to produce the rarest assets in the colection.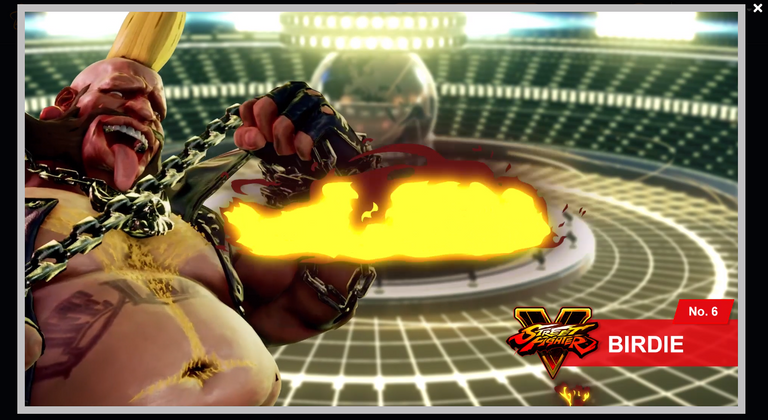 I have only gotten the flame rarity and the base rarity Riau sells for almost half the pack price that I just got.



So not every pack is a total loss if I get at least one of those, I'm not saying break the bank. However doing this has actually made me money on the Robotech colection which is functionally the same.



Just bought in when the market flooded & burn through the odds eventually you hit the top tier the question is cost & how long can you buy the NFTs to burn.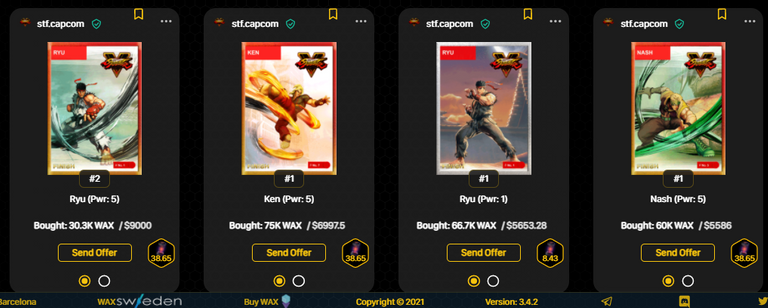 This image above is street fighter collections top sales, the markets just panic selling like it always does.
Given this will likely keep short selling for a few months there is no rush just snab deals if you think the price is right.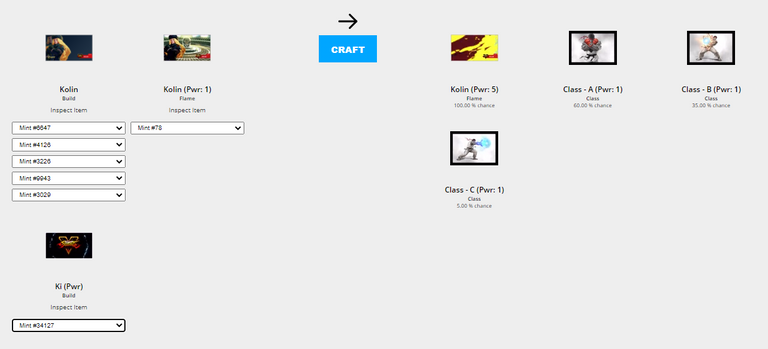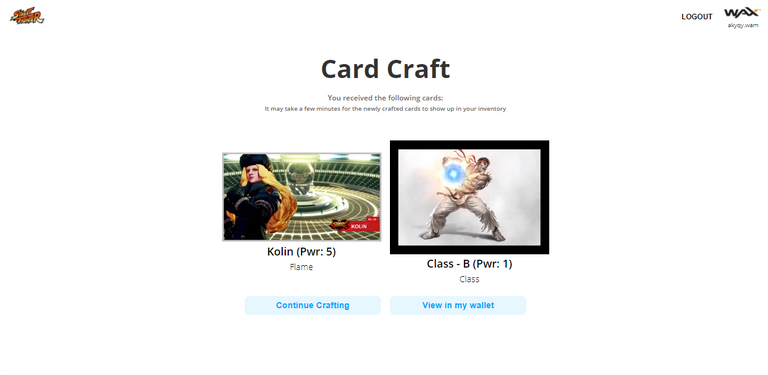 Lets face it Capcom has survived this long I doubt its going anywhere
Michigan marijuana
Here is some lemon Haze indoor grown by my friend in his indoor grow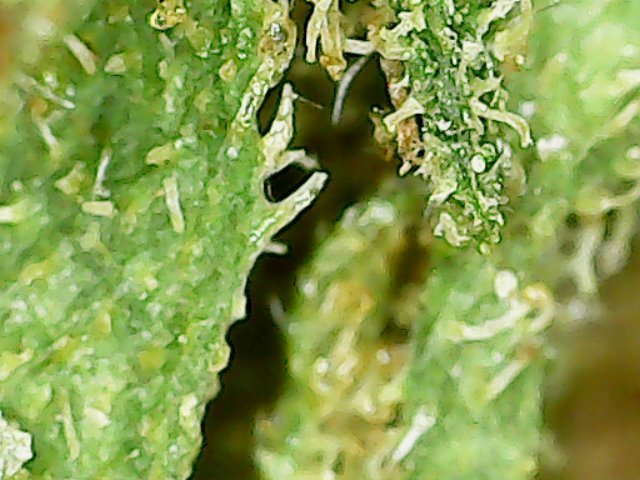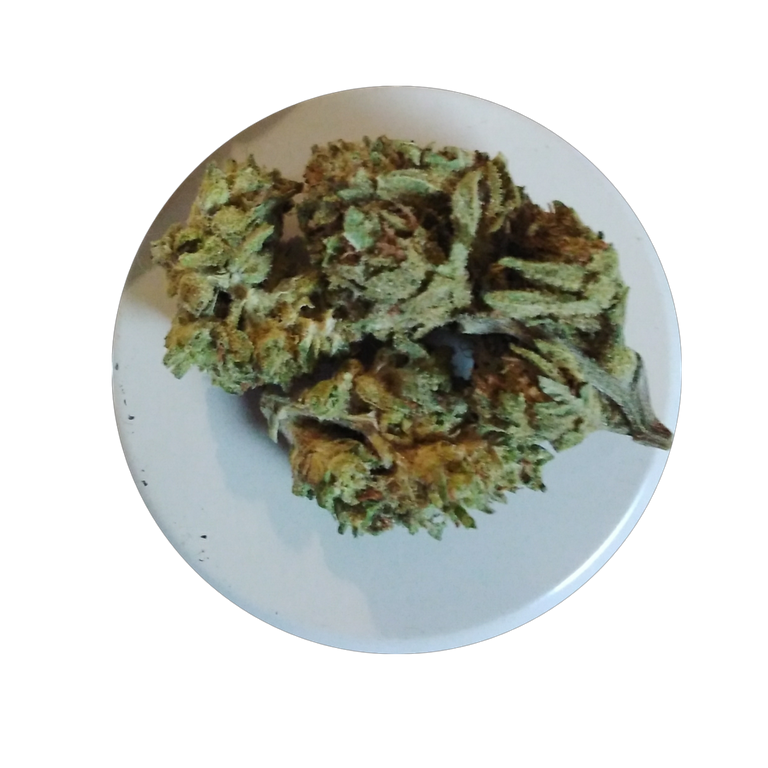 Honestly this is some better pot then some of the dispensary weed feature, I know a few growers in my area. Given the outdoor garden featured was fairly popular ill do m best t getting s many different grows as I can featured tis summer
My older hill Billy friends grow I shown you seen the post & I will likely be following that grow all the way tell harvest.
I may even get a few of them on Weedcash but that's a stretch as most people around here are crypto illiterate. The pipe shop owner will let me feature them so I may do a custom pipe, & I'm already allowed to feature Sun provisions grow from their Instagram or if I'm there when the grower is take photos personally.
Michigan is a difficult place to grow correctly but when the proper steps are taken you can produce some of the best weed. So ill do my best to try and show the best of what Michigan has to offer our cannabis.
Free NFT 1 time airdrop URL
I try to include a single claim airdrop URL for WAX wallet users containing free NFTs, It may only be claimed by the first lucky person to click the link. After claimed once the URL will no longer be active. The lucky reader should receive 6 NFTs if you received less then 6 check your whitelist settings.
https://wax.atomichub.io/trading/link/207680?key=5JWfpr4iayN9gZBaUswrAkCoUXkdQ2oYVGdfhAWvSzVkpKmqH57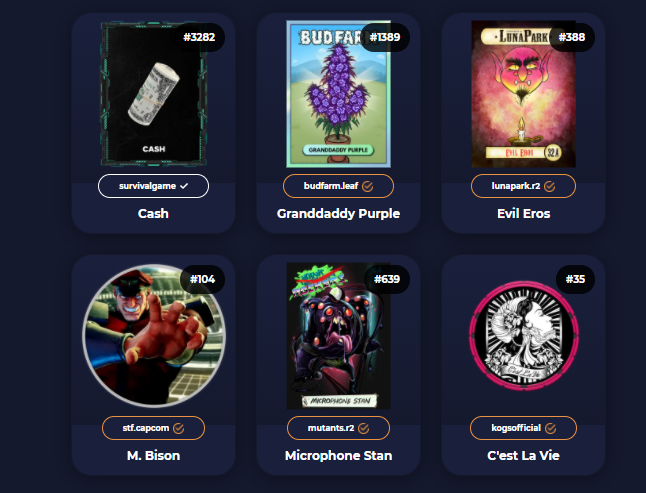 Once claimed please let the other readers know in the comments it helps.
Perhaps your interested in purchasing any of my NFTs from my ever expanding collection you may do so here.
My stock constantly rotates so it changes daily
https://wax.atomichub.io/explorer/account/akyqy.wam
Prospectors topping the NFT sale value for 3 days now also a free to play game check it out at the link below. BTW they have roulette so the Martingale system works here however no site reward and its not a large project so doing this could be detrimental. this game is free it makes real crypto give it a shot its not bad honestly you can make quite a bit on it.
https://prospectors.io?waxref=akyqy.wam
more free WAX games, rewarding free NFTs/Crypto
https://alienworlds.io/
https://rplanet.io/
https://collect.social/referral?r=akyqy.wam
Rising star is a totally free HIVE game no input for steady output my kind of investment.
https://www.risingstargame.com?referrer=chubb149
Up to 5 NFTs on Womplay each of which adds to my accounts EOS bonusses daily. Nice little system of improving payout through involving their NFT collections which increases their Utility value. Making it a investment not a frivolous expenditure this helps market demand increasing price.
---
---