Analysis of the new cards of the "Rewards" edition : Legendary Cards [EN-ES]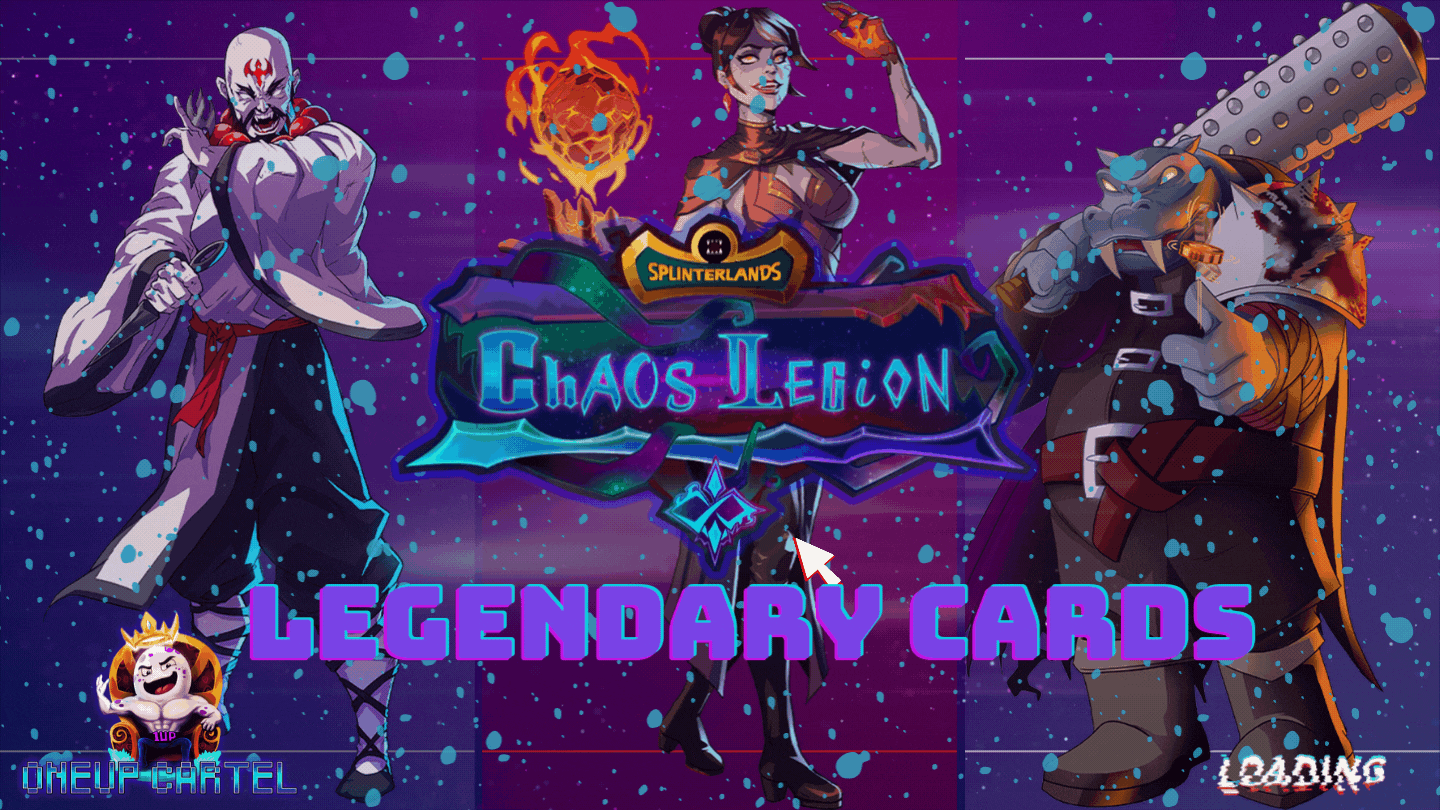 Image created in Canva
Hola Hivers y Splinterlords de la comunidad💜
Hi Hivers and Splinterlords from the community💜
Ya hace varios días que la nueva actualización de las "Recompensas Clasificatorias" se lanzó oficialmente en el juego y con ella vinieron 12 nuevas cartas de la edición de "Recompensas" con una nueva y fabulosa habilidad llamada "Escudo de Reflejo", de la cual, hice especialmente una publicación al respecto comentando mi análisis de la misma y del impacto que tendría en algunas de las cartas más poderosas que se utilizan actualmente en el "Meta".
It's been several days since the new "Ranked Rewards" update was officially released in the game and with it came 12 new cards from the "Rewards" edition with a fabulous new ability called "Reflex Shield", of which, I specially made a post about it commenting on my analysis of it and the impact it would have on some of the most powerful cards currently used in the "Goal".
---
Sin embargo, en ese último post, no abarque realmente las cartas, ya que, no poseía la información necesaria para poder analizarlas a fondo, pero, gracias a que todo ya está funcionando mientras hablamos y estas cartas ya se encuentran en el mercado, en esta oportunidad pretendo abarcar una análisis de estas nuevas cartas comenzando por sus rarezas como es mi costumbre, teniendo en cuenta esto, comenzaré por las cartas "Legendarias" y así sucesivamente con el resto, siempre y cuando les vea una utilidad de impacto en el juego.
However, in that last post, I did not really cover the cards, since I did not have the necessary information to analyze them in depth, but, thanks to the fact that everything is already working as we speak and these cards are already in the market, in this opportunity I intend to cover an analysis of these new cards starting with their rarities as is my custom, taking into account this, I will start with the "Legendary" cards and so on with the rest, as long as I see a useful impact on the game.
---
Ahora, para no demorarme más y sin más preámbulos comencemos…
Now, without further ado and without further ado, let's begin...

Legendary Cards of the "Rewards" Edition"
Para comenzar con el detalle de estas cartas, comenzaré de la más importante a la menos relevante según mi perspectiva y opinión con respecto al tipo de carta, donde además también es transcendental conocer a cuál "Splinter" pertenecen y que habilidades poseen, resaltando que, esto último hay que abarcarlo, puesto que, dependiendo de sus habilidades es que podremos medir el desempeño de la misma en el campo de batalla. Así que, en tal sentido, iniciaré con la descripción de cada una:
To begin with the detail of these cards, I will start from the most important to the least relevant according to my perspective and opinion regarding the type of card, where it is also transcendental to know which "Splinter" they belong to and what abilities they possess, highlighting that, the latter must be covered, since, depending on their abilities is that we can measure the performance of the same on the battlefield. So, in that sense, I will start with the description of each one:

Venator Kinjo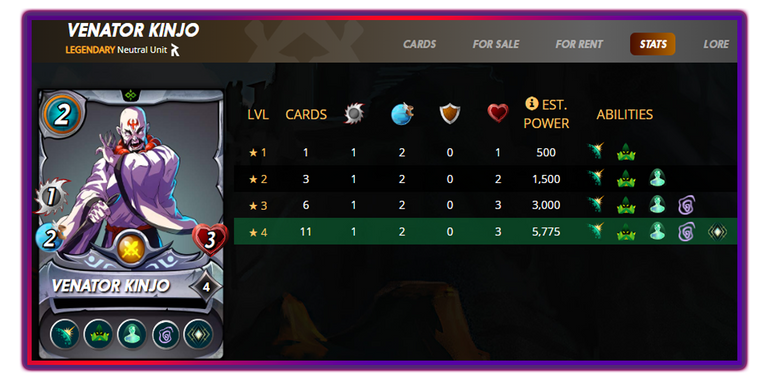 En mi opinión, esta es la carta que por mucho supera a las demás "Legendarias" que recientemente salieron en la nueva actualización de las recompensas clasificatorias, esto es por el simple hecho de ser una carta tipo "Neutral", las cuales como ya todos deben saber, se pueden combinar con cualquier "Splinter del Juego", por lo que, su utilidad en el campo es innegable y más cuando se trata de una carta de rareza "Legendaria". Tomando esto en cuenta, "Venator Kinjo" posee las siguientes características resaltantes que la hacen una carta bastante útil a pesar de que no lo parezca:
In my opinion, this is the card that far exceeds the other "Legendary" cards that recently came out in the new update of the qualifying rewards, this is for the simple fact of being a "Neutral" type card, which as everyone should already know, can be combined with any "Splinter of the Game", so its usefulness in the field is undeniable and even more when it is a card of "Legendary" rarity. Taking this into account, "Venator Kinjo" has the following outstanding features that make it a quite useful card even though it may not seem so:
---
Características resaltantes:
Outstanding features:
Mana: La cantidad de mana para poder invocar esta carta es sumamente bajo, de hecho, como dato adicional y curioso, esta es la única carta de la edición de recompensas y del tipo "Neutral Legendaria" que, posee una cantidad de mana tan baja de tan solo 2 puntos, lo que permite adecuarse prácticamente en cualquier estrategia de batalla y servir como un fuerte soporte y apoyo para el resto del equipo.
Mana: The amount of mana to be able to summon this card is extremely low, in fact, as an additional and curious fact, this is the only card of the rewards edition and of the "Legendary Neutral" type that, possesses such a low amount of mana of only 2 points, which allows it to fit in practically any battle strategy and serve as a strong support and support for the rest of the team.
---
Habilidades: La combinación de habilidades que posee esta carta es única, y es realmente buena para poder brindar apoyo desde el lado defensivo como el ofensivo, sin mencionar que también tiene su propia protección gracias a la nueva habilidad lanzada hace unos días. Basándose en esto, las habilidades "Reflection Shield, Camouflage y Immunity", ayudan a que esta carta sea un hueso bastante duro de roer, devolviendo el daño causado por varias de las habilidades reflectivas más complicadas de manejar en el juego, destacando que, gracias a su otra habilidad esta no puede ser objetivo de ataque al menos hasta que se encuentre en la primera posición, lo que quiere decir que, siempre será la última carta a derrotar en el campo de batalla y siendo inmune a habilidades como "Poison" o la reglas "Noxious Fumes".
Abilities: The combination of abilities this card possesses is unique, and it is really good at being able to provide support from the defensive as well as the offensive side, not to mention that it also has its own protection thanks to the new ability released a few days ago. Based on this, the abilities "Reflection Shield, Camouflage and Immunity", help this card to be a pretty tough nut to crack, returning the damage caused by several of the most complicated reflective abilities to handle in the game, highlighting that, thanks to its other ability it can not be targeted at least until it is in the first position, which means that it will always be the last card to defeat on the battlefield and being immune to abilities like "Poison" or the "Noxious Fumes" rules.
---
Por otro lado, las habilidades "Slow y Amplify", le dan un espectro más ofensivo al resto de cartas de nuestro lado del campo, ya que, con "Slow", todas las cartas de nuestro oponente pierden -1 punto de velocidad, lo cual es muy importante y puede ser determinante para ganar una batalla, del otro lado tenemos a "Amplify", que incrementa el daño reflectivo a nuestro adversario en +1 punto, si es que tenemos cartas con "Magic Reflect, Return Fire y/o Throns" de nuestro lado del campo, lo que puede ser realmente útil al momento de jugar con una estrategia que se base en disminuir el daño causado por estas habilidades.
On the other hand, the abilities "Slow and Amplify", give a more offensive spectrum to the rest of the cards on our side of the field, since, with "Slow", all the cards of our opponent lose -1 point of speed, which is very important and can be decisive to win a battle, on the other side we have "Amplify", which increases the reflective damage to our opponent by +1 point, if we have cards with "Magic Reflect, Return Fire and/or Throns" on our side of the field, which can be really useful when playing with a strategy based on reducing the damage caused by these skills.

Countess Sinash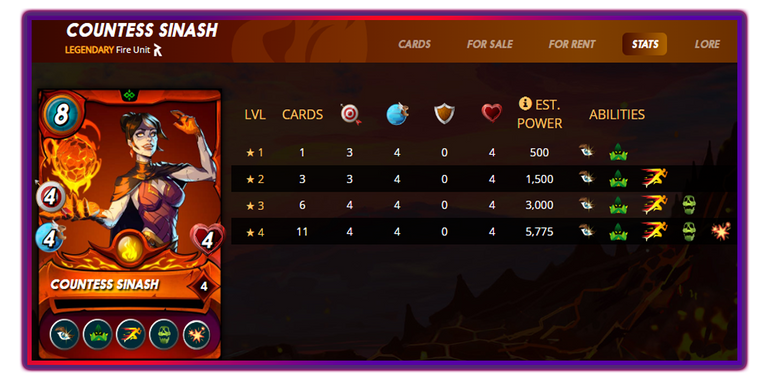 El segundo lugar es complicado de decidir porque ambas cartas me gustan, sin embargo, en mi opinión "Countess Sinash" se merece este puesto por su combinación de habilidades y estadísticas principales que hacen que sea una carta realmente poderosa en el campo de batalla desde tan solo su nivel 1, de hecho, esta carta podría tener el primer lugar de este análisis, pero la anterior como comente es "Neutral" y se puede combinar con cualquier equipo, es esto lo que la hace realmente especial, pero, en poder y destrucción, "Countess Sinash" es por mucho la más letal de estas 3.
The second place is complicated to decide because I like both cards, however, in my opinion "Countess Sinash" deserves this place because of its combination of abilities and main stats that make it a really powerful card in the battlefield from just its level 1, in fact, this card could have the first place of this analysis, but the previous one as I commented is "Neutral" and can be combined with any team, this is what makes it really special, but, in power and destruction, "Countess Sinash" is by far the most lethal of these 3.
---
Características resaltantes:
Outstanding features:
Ataque y velocidad: El ataque y velocidad de esta carta son realmente buenos, ya que, desde tan solamente su nivel 1, posee una gran fuerza capaz de destruir hasta las cartas con mucho más poder y nivel si es que logramos utilizarla bien. En su nivel 1 posee +3 puntos de ataque de rango, que, si logramos combinar la misma con un "Yodin Zaku", su poder sería aún más destructivo, por otro lado, su velocidad es muy buena y aunque la misma no sufra cambio alguno en el resto de sus niveles, 4 puntos es más que suficiente para poner a sufrir a cualquier que la enfrente en el campo de batalla.
Attack and speed: The attack and speed of this card are really good, since, from only its level 1, it possesses a great strength capable of destroying even cards with much more power and level if we manage to use it well. In its level 1 it has +3 rank attack points, which, if we manage to combine the same with a "Yodin Zaku", its power would be even more destructive, on the other hand, its speed is very good and although the same does not suffer any change in the rest of its levels, 4 points is more than enough to put to suffer anyone who faces it in the battlefield.
---
Habilidades: Las habilidades de esta carta son extremadamente poderosas, además su combinación hace que la misma una vez este en el campo, sea un gran dolor de cabeza para cualquier estrategia, puesto que, con "Opportunity y Camouflage" juntos desde el nivel uno, esta carta se enfoca en atacar a las cartas más débiles sin tener realmente peligro de ser detenida, ya que, con Camouflage", esta carta no es objetivo de ataque hasta que esté en la primera posición de la batalla.
Abilities: The abilities of this card are extremely powerful, plus its combination makes it a big headache for any strategy once it is on the field, since, with "Opportunity and Camouflage" together from level one, this card focuses on attacking the weakest cards without really being in danger of being stopped, since, with Camouflage", this card is not a target of attack until it is in the first position of the battle.
---
Por otro lado, "Swiftness, Affliction y Blast", son una combinación nunca antes vista en el juego y que representa un aumento de poder para uno de los "Splinters" que sinceramente yo veía más débil con respecto a la versatilidad del mismo, ya que, todos sabemos lo letal que es el "Splinter de Fuego" con el "Yodin Zaku", pero sin este, en mi opinión puede ser contrarrestado, no al 100%, pero si un buen número de veces, pero, teniendo en cuenta que esta carta, aumenta la velocidad de todos los monstruos de nuestro lado, con "Affliction" impide que una carta con "Heal" pueda regenerar sus puntos vitales y adicional con un "Blast" causa daño adyacente a su objetivo, el equipo de "Fuego" se vuelve realmente interesante para mí.
On the other hand, "Swiftness, Affliction and Blast", are a combination never seen before in the game and that represents an increase in power for one of the "Splinters" that I honestly saw weaker with respect to the versatility of it, since, we all know how lethal the "Fire Splinter" is with the "Yodin Zaku", but without it, in my opinion it can be countered, not 100%, but a good number of times, but, taking into account that this card, increases the speed of all monsters on our side, with "Affliction" prevents a card with "Heal" from regenerating its vital points and additional with a "Blast" causes damage adjacent to its target, the "Fire" team becomes really interesting for me.

Jared Scar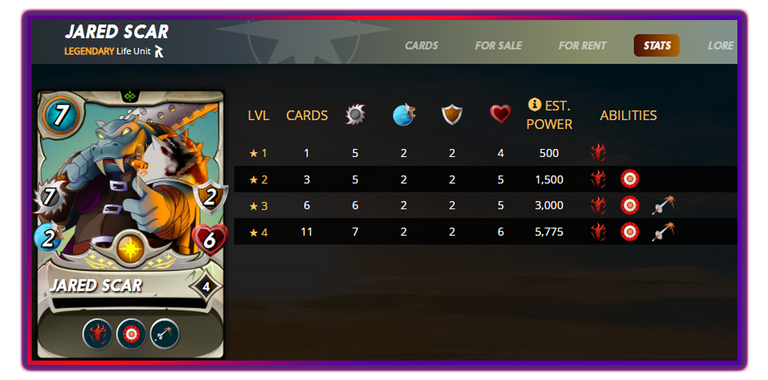 El tercer y último lugar es para "Jared Scar", una carta sumamente poderosa y útil, con una combinación de habilidades muy interesante y peligrosa que, puede combinarse en varias reglas de batalla para obtener mayores probabilidades de salir victorioso siempre y cuando logremos posicionarla en un buen lugar en nuestra alineación. La razón por la que obtiene el último lugar de preferencia en este análisis, es que su velocidad no ayuda para poder adelantarse a un ataque y obtener la ventaja, caso contrario a lo que podemos observar con "Countess Sinash", sin embargo, esto no quiere decir que sea una carta mala, solo debemos saber exactamente cuándo usarla.
The third and last place goes to "Jared Scar", an extremely powerful and useful card, with a very interesting and dangerous combination of abilities that, can be combined in several battle rules to get higher odds of being victorious as long as we manage to position it in a good place in our lineup. The reason why it gets the last place of preference in this analysis, is that its speed does not help to be able to anticipate an attack and get the advantage, contrary to what we can observe with "Countess Sinash", however, this does not mean that it is a bad card, we just have to know exactly when to use it.
---
Características resaltantes:
Outstanding features:
Ataque: Es natural que resalte esta poderosa característica intrínseca que posee esta carta, ya que, desde tan solo su nivel 1, posee +5 puntos de ataque, siendo realmente fuerte para incluso una carta legendaria de dicho nivel, además, en el transcurso de su evolución por sus 4 niveles que puede alcanzar, esta carta puede obtener un total de +7 puntos de ataque, lo que hace de esta carta un rival con un poder de ataque abrumador y bastante peligroso, siempre y cuando como comente anteriormente, logremos utilizarla correctamente, ya que su velocidad de tan solo 2 puntos, es una desventaja, pero que en reglas específicas, como por ejemplo, donde los más lentos ataquen primero, es casi que obligatorio que debemos colocarla si nuestra "Splinter de Vida" se encuentra disponible para luchar.
Attack: It is natural to highlight this powerful intrinsic characteristic that this card possesses, since, from just its level 1, it has +5 attack points, being really strong for even a legendary card of that level, in addition, in the course of its evolution for its 4 levels that it can reach, this card can get a total of +7 attack points, which makes this card an opponent with an overwhelming attack power and quite dangerous, as long as as as I commented above, we manage to use it correctly, since its speed of only 2 points, is a disadvantage, but that in specific rules, such as for example, where the slowest attack first, it is almost that mandatory that we must place it if our "Splinter of Life" is available to fight.
---
Bloodlust: Para nadie es un secreto que esta habilidad nació en los "Brawls" y que solo las cartas de la edición "Gladius" la poseían, sin embargo, con el lanzamiento de "Chaos Legión" se incorporó esta habilidad al gran "Grum Flameblade", siendo la primera carta de una edición regular en obtenerla, ahora con "Jared Scar" y esta vez en el "Splinter de Vida", tenemos que, es la segunda carta en el juego que posee esta poderosa habilidad, así que, es realmente peligroso y poderoso, tomando en cuenta que, cada vez que esta carta derrote a un enemigo en el campo, podrá doblar, todas sus estadísticas principales haciéndola aún más fuerte de lo que es; y si tomamos en cuenta sus otras habilidades como "True Strike y Piercing", esta carta traspasara todos los escudos y además no fallara ningún ataque, así tenga 2 puntos de velocidad. Así que si, esta es una carta muy fuerte y no por estar en este último lugar no quiere decir que hay que subestimarla.
Bloodlust: For nobody is a secret that this ability was born in the "Brawls" and that only the cards of the "Gladius" edition possessed it, however, with the release of "Chaos Legion" this ability was incorporated to the great "Grum Flameblade", being the first card of a regular edition to obtain it, now with "Jared Scar" and this time in the "Splinter of Life", we have that, it is the second card in the game that has this powerful ability, so, it is really dangerous and powerful, taking into account that, every time this card defeats an enemy in the field, it can double, all its main stats making it even stronger than it is; And if we take into account its other abilities such as "True Strike and Piercing", this card will break through all shields and will not miss any attack, even if it has 2 points of speed. So yes, this is a very strong card and just because it is in this last place does not mean that it should be underestimated.

Conclusión
Con este análisis, culmino este post donde detallo lo más importante de estas nuevas cartas legendarias, las cuales fueron lanzadas hace unos días con la actualización de las recompensas clasificatorias en "Splinterlands" que, nos trajo 12 cartas nuevas de la edición de "Recompensas" y con esto 3 nuevas cartas "Legendarias" que fueron el eje principal de esta publicación. Para otra oportunidad, analizaré las cartas nuevas cartas "Épicas" que nos trajo este lanzamiento.
With this analysis, I culminate this post where I detail the most important of these new legendary cards, which were released a few days ago with the update of the qualifying rewards in "Splinterlands" which, brought us 12 new cards of the "Rewards" edition and with this 3 new "Legendary" cards that were the main focus of this publication. For another opportunity, I will analyze the new "Epic" cards that this release brought us.
---
Sin más a que hacer referencia nos vemos en la próxima…
Without further ado, I will see you in the next issue...
---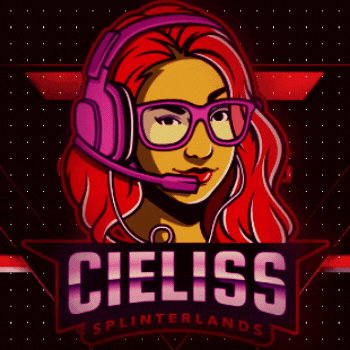 ¡I invite everyone to join Splinterlands, the best game based on chains of blocks, full of adventures, battles, and strategies where you will have fun and get rewards according to your league!
---

---

Join the official Spanish community here Discord
---
---