Analysis of the new "Rewards" edition cards with the "Chaos Legion" frame (Part 1 - Legendary Cards)

It is a pleasure to be here and create content of one of the games that I am most passionate about playing, which of course is @splinterlands, this time I want to make analysis content regarding the new cards that are emerging, in short, all or most of the players in the community, should know the new 21 cards of the bounty edition with the framework of the new edition "Chaos Legion", in that sense and based on them, I will make a series of publications in order to observe in detail each of these new cards.
To cover this analysis, the publications will be made by rarity, in this way I can give a better order to the content and a more detailed explanation of each one. I am sure that many players are excited about these new cards, because in our daily quests, we already had very few rewards because most of the old ones ran out of print very quickly. I hope this series of posts can help new players in getting to know these cards in depth.
Without further ado, please join me...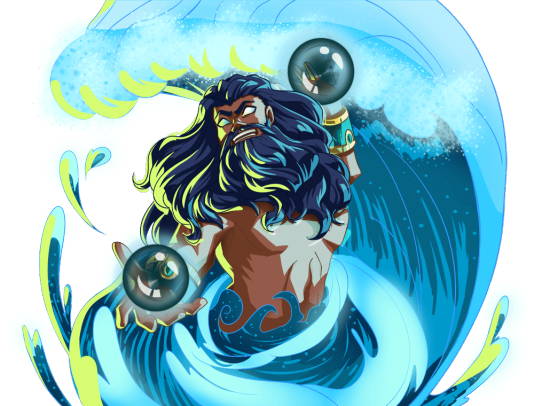 This is, if you will, the most emblematic and powerful card of the 3 new legendary cards of the Rewards edition under the "Chaos Legion" frame, in fact, the market and the players see it that way, since, it is the most expensive card of the 3, having a price per BCX of $110 at the time of writing this article. However, it does not mean that the rest of the cards are not, but this card is unique in its kind, at least for now and I will explain why later.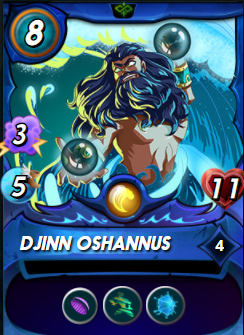 Design
Its design is incredible, as soon as I saw it, it gave me the feeling of observing the true protector of the seas, I mean the Olympian god "Poseidon", also the frame of "Chaos Legion" is fresh and light, but it gives a personality to the cards that I like a lot, I certainly have nothing to say about it. Although now that I think about it, it would be cool to have a stand of cards representing a god in the game (Just kidding).
Main stats
It is a card with very good stats to start with, first its health is great, just at level 1 it has 10 health points, in the rest of the levels until reaching the 4th, it reaches 11, on the other hand, its attack power rises from 2 at level 1, to 3 at level 4, finally, and one of the stats that I particularly like, is its speed, at all levels from 1 to 4 is 5 points of speed. This monster does not possess a shield, but it really doesn't need one.
Abilities
This is the highlight of a card, because, depending on the skills it has, we can see its performance and importance on the battlefield. When I said before, this card is unique in its kind, I said it because it has new abilities that had not been seen in the game until the cards were officially released. I will describe the abilities below, but before doing so, I will not take into account its level, in that sense, I am taking the card's stats as if it were at maximum level.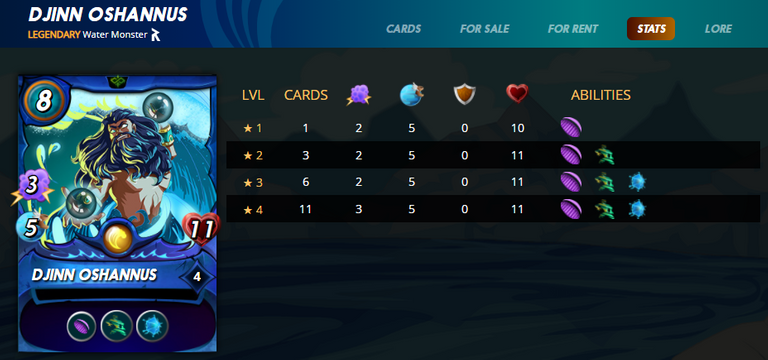 Void: We all know this ability, simply whoever attacks this card with a magic power, reduces the damage.
Phase: An incredible new ability, which gives this monster the possibility that magic attacks can miss using the same hit/fail calculation for melee and ranged attacks).
Forcefield: Another one of the most incredible abilities of this new edition. To explain a little bit what it does, is that, those monster attacks that have an attack higher than 5 points, only cause 1 point of damage to this card.
Final Appreciations
This is a card in my opinion very strong and very useful in battle, it can certainly cause some setbacks to really strong cards, I mean some summoners that always make things difficult for us in the field. On the other hand, we must as always know how to use the card, not everything is brute force and there will always be ways to neutralize this type of cards, so do not be overconfident.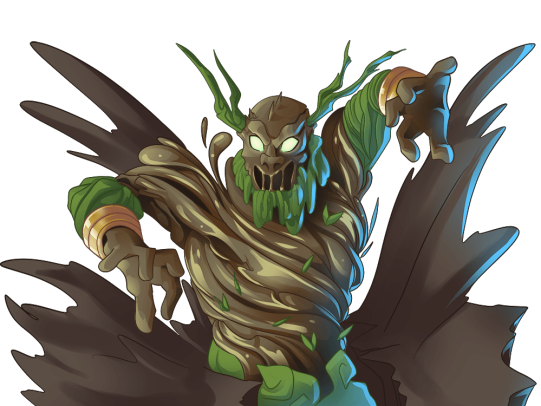 It is another of the legendary cards of the "Rewards" edition with the "Chaos Legion" frame. In my opinion a very good card, with stats a little low, but of course it can somehow give an advantage in the field. In fact there are several very good strategies that could be used, but that would be material for another publication.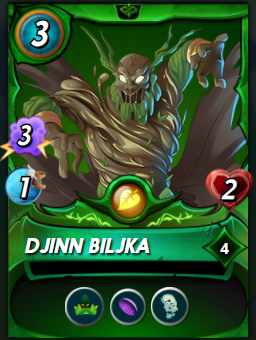 Design
Its design is very good, the truth is that each edition that is launched to the market, is surpassing the previous one. Regarding what I think about its appearance, at first glance it looked like the strongest creature that hides in the swamp, that monster that children fear, but that in the end they support, since they end up being protectors of the planet. This is just my thoughts (laughs) but overall, I love the way it looks.
Main stats
This card has 2 life points from level 1, which do not change until level 4, on the other hand, its attack strength is increasing from 1 point of magic attack, to reach 3 points at level 4. Finally, and something that I do not like much, is its speed, which is always 1 at all levels. What can radically change the use of the cards are his abilities and there is one in particular that is very good.
Abilities
Just as I mentioned in the previous card, the highlight are the abilities, so we will analyze a little bit the ones this card has. What I can see is that it has a new ability that is very useful and even more so if we know how to use it, since it can give us quite an advantage on the battlefield. I could say that it is a card that helps both offensively and defensively. To know more details about this card, let's take a look at its abilities: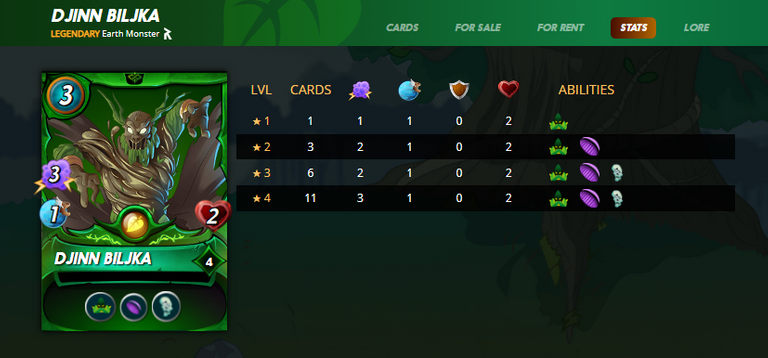 Camouflage: This ability gives the monster a unique protection that has not been seen in the whole game, this is because the only way for this card to be the target of an attack is to be in the first position, so, it can be a quite useful sniper in many types of battle.
Void: We already know what this ability does, it just reduces the damage of magical attacks.
Weaken: Finally, we have the ability of weakness, which reduces by one life point all the cards in my opponent's field. If you ask a very important skill, it can mean the gap between winning and/or losing a battle.
Final Appreciations
This card in my opinion can be very useful in battle, however, as well as it can give us some advantage in battle, it can also be a weakness if we do not know how to position it on the field, in addition its use should be specifically in some battle rules, since it can easily succumb to a monster when it is already in the first position. The objective of those who fight against it is to eliminate the rest of the team as quickly as possible, so that it remains alone in front.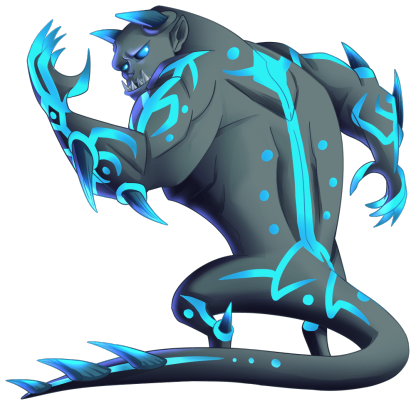 The last legendary card added in the "Rewards" edition under the "Chaos Legion" framework is "Harklaw". This is a death splinter card, it is not a ranged card, so its attack is frontal, and it is resistant to ranged and melee attacks, but that is not the only interesting thing about it. Compared to the other two legendary cards, this may be the one with the lowest value, however, it does not mean that it is weak in the field, on the contrary, I find it very useful and can be a real headache for many in just its level 1.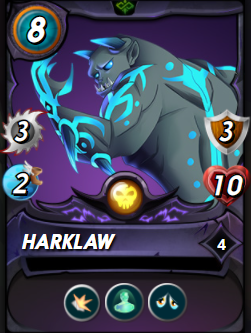 Design
Its design is amazing, super cool, the darkness behind in conjunction with the frame of the card is great. Regarding "Harklaw", both its background color and the shiny details on its body look excellent. In general terms and as I said before, every time the designs look much better than the previous ones, although of course, the more classic ones are also very good, creating a card editing pack is not an easy job, so, many congratulations to all the design team of "Splinterlands" for it.
Main stats
His main stats are very good, just at level 1 he is a tough opponent to beat. On the other hand, his shield and speed do not change, in all his levels the shield has 3 points and the speed is 2, I understand it because he is a heavy and corpulent monster, which makes him a great contender for melee attack. Last but not least we can see that its attack points start at level 1 with 2 and at level 4 it ends with 3.
Abilities
Again the most important thing of a card and more in the stage of the game in which we are now, what I mean by this is that, the skills are very important and this monster is very resistant thanks to the set of skills it has, plus as if that were not enough, it can weaken the attack points of his opponent at one point, something that has become a feature of the death team, I mean to weaken the melee attack points of the enemy monsters with a series of combined cards. Now, to analyze their abilities, please join me: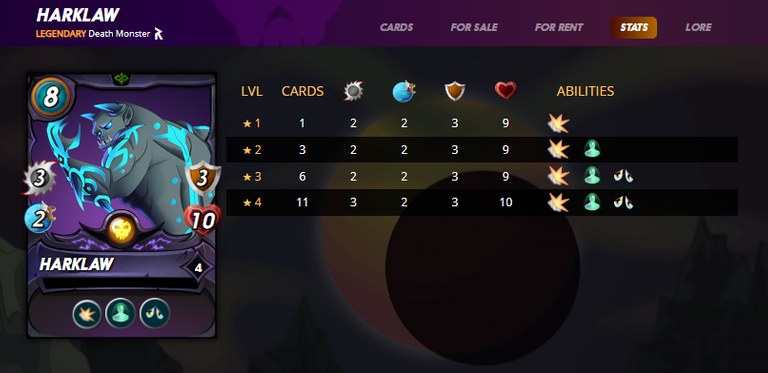 Shield: This is the main defense of this card, this "Shield" ability allows the monster to decrease the damage received for melee and ranged attacks.
Immunity: A great ability that allows it not to be affected by the negative effects of some battle rules or some abilities of enemy monsters, which makes it even more resistant and difficult to defeat. To be able to enjoy it you must have it at level 2.
Demoralize: An ability that allows you to reduce the attack of all monsters in the field that have melee attack. Not bad, because it gives much more protection and time to "Harklaw" to cause lethal damage on the battlefield.
Final Appreciations
A very good card and really useful in the field, I am one of those who often use melee attacks to destroy my opponents, they are not my favorite attacks, but I would definitely use this card as a tank to face many, I'm sure it will be difficult to beat him. On the other hand, like any card, it has weaknesses even though it is very resistant, so the magic attack I can easily defeat it and last only 1 to 2 rounds on the field, but as I always say, we must know how to use our cards in the environments that have more advantage, this will help them to increase the time spent on the battlefield.


I have finished for now analyzing the legendary cards with the new "Chaos Legion" frame of the rewards edition, I have loved doing it and I plan to make some strategic contents to use them or at least make some simulations because the truth is that I don't own them yet, but I know I will have them as a reward very soon. On the other hand, very soon I will be releasing the 2nd part of this post, analyzing the epic cards that are also really good and powerful.
I have many ideas of content about "Splinterlands" and ideas that I would like to share with you and that the creators can observe it for the evolution of this game, I say this because I am a player quite committed to this type of strategy games based on collectible cards, but well another story to tell, I will see you soon "SplintersWarriors" until next time.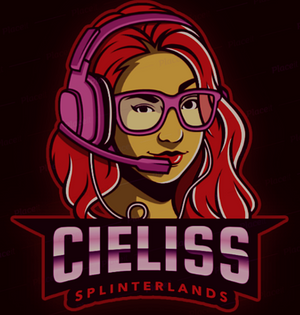 ---

---

Join the official Spanish community here Discord
---
---