Splinterlands Weekly Challenge | The Occult Power of "Scavenger".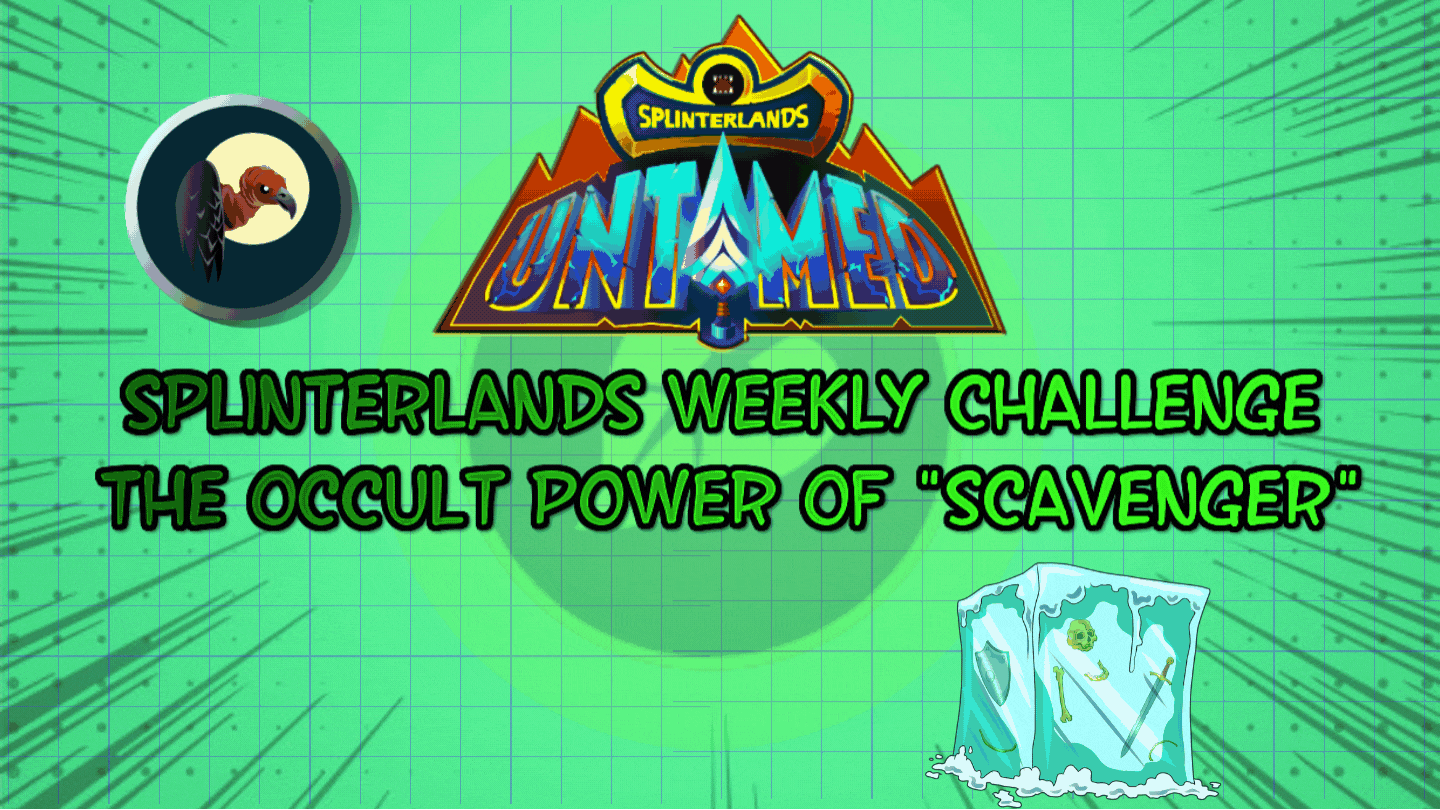 Image creada en
Canva
Greetings to all Splinterlords in the community, We are facing a new week of challenges in the @splinterlands community and although I have not been able to participate in the past ones, I am here to catch up with them and show in this opportunity, what the "Scavenger" skill is capable of in the battlefield. Also, as usual, I want to thank the entire core team of "Splinterlands", especially @carrieallen, for encouraging us to show all our skills and strategies in front of all the great players who make life in this game.
Now, having said that, I will start describing how was my battle using this great skill. Join me...


This is one of the sections that I like to detail in my publication of challenge, since, I make a study of what is the ability or card, in order to know all the power scope that it has. Then, we have that "SCAVENGER" is an ability in the game that very few cards have, usually, the cards that have it, do not have many life points; and this is because, every time a monster leaves the field, this card consequently gains an additional point of life.
Some who like to play with a lot of power in their decks, with monsters with high hit points, will say that some of the cards with this ability are not useful, but it is totally the opposite, this ability is not about brute force, it is about strategy and endurance, you must remember that the last one standing with at least one life point is the one who wins the game and it does not matter how you do it, what matters is that you can win based on a real battle strategy.
A clear example of strategy and staying power is the card "Gelatinous Cube", which by the way I used in my battle. This card has no attack points, but knowing how to use it, at least at a level around 8 or 10, the attack power will not matter, its resistance is such that not even the cards with the highest attack power can knock it down with a single blow, it regenerates very fast and additional as the battle develops and some cards fall in battle, it gains more life points, something fascinating if you ask me.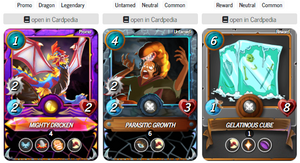 Speaking of "Gelatinous Cube" and its "Scavenger" ability, in this battle I show all the power that this ability has, and how my card despite being the target of 2 monsters with a high power in attack points, practically resists the entire confrontation without receiving even a single scratch. My strategy was such that none of my cards fell in battle, this is when I emphasize that, knowing how to place this card, the odds will always be in your favor, unless one of the rules drastically changes the conditions of the game.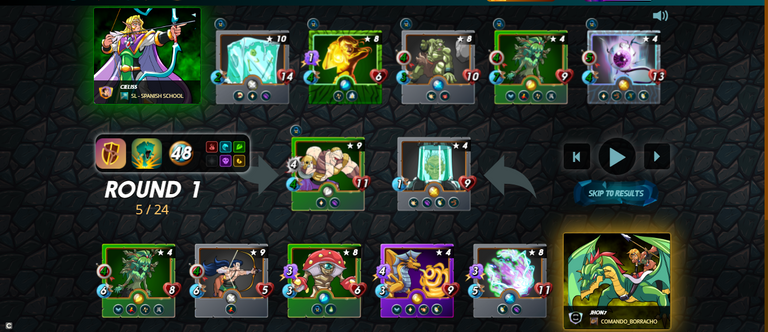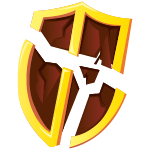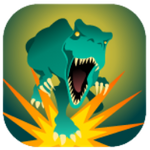 Rule of my Battle
Unprotected & Stampede with 48 Mana.

Mana: 48
Unprotected: Monsters do not have any armor and do not get armor from Abilities or summoner buffs.
Stampede: The Trample ability can trigger multiple times per attack if the trampled Monster is Killed.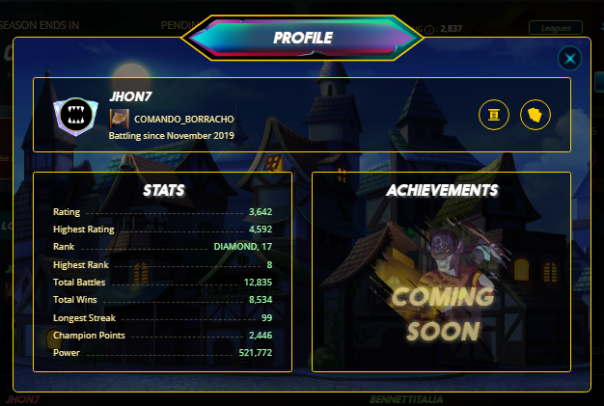 Weeks ago I implemented this new section to contemplate in my challenge, it is to evaluate the statistics of my opponent. So we have that, his Rating for that moment of the battle was 3.642, a good one, if you will, almost level with mine, so, in this sense the battle becomes much more even, being both in the "Diamond" league. On the other hand, his collection power is 521,772, a little higher than mine, which is 405,235. You may think that my opponent has an advantage, because his collection power is higher, but in reality this power does not say anything, everything is decided on the field and the player who uses a better strategy and places the rules in his favor is the one who will win in the end.



---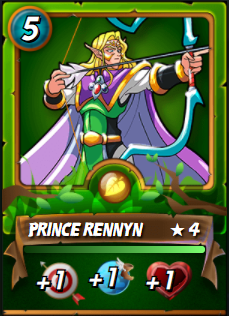 Prince Rennyn
Prince Rennyn is one of the strongest legendary summoners of the whole game, for this reason, I used him in battle, taking advantage of the total Mana allowed of 48 points to summon my cards. I used it because my strategy was to base my strongest attack on those monsters with ranged attack, therefore, my idea was to use these cards to increase their attack points, their speed and gain advantage over my opponent in that aspect, which worked very well.

---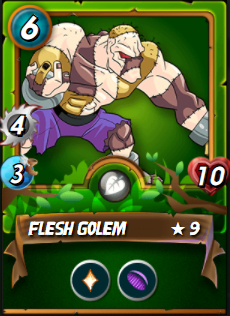 Flesh Golem
Of course my tank for the ground team could not be other than my resistant and fighter "Flesh Golem", having him in his level 9, this card has 4 points of attack, 3 points of speed, and 10 of life and of course, with the help of my summoner, he got a plus of speed and life to withstand the violent attacks of my opponent. My strategy with respect to him is that he could resist most of my opponent's attacks, so that my back team could take advantage of his great power and destroy his cards.
---

---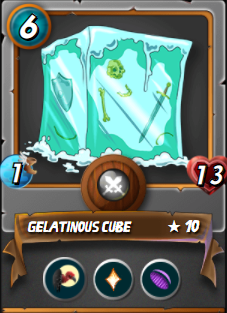 Gelatinous Cube
Not to mention this card, which, by the way, possesses the great "Scavenger" ability that I am talking about in this challenge. Combined with my "Flash Golem" in the front line, these cards formed an impenetrable barrier, capable of withstanding any enemy attack, which would ensure that my cards with the strongest attack points could do their job. All this is due to the fact that both my Flesh and my Cube have a high regenerative power thanks to their "Heal" ability and my "Cube" has the additional ability to gain an extra point in its life thanks to its "Scavenger" ability.
---

---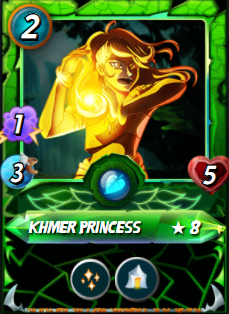 Khmer Princess
This card is incredible and I placed it in this specific place, to serve as support for all my team in the field, its powers are not focused on having a great strength, but in the ability to regenerate, not only my tank Golem in the front line, but all friendly monsters that are having the least amount of life during the development of the battle. This is thanks to his abilities that he has at level 8, which are: "Tank heal and Triage", so no matter what my opponent does, this combination of 3 on the front line is a fortified wall, impossible to stop.
---

---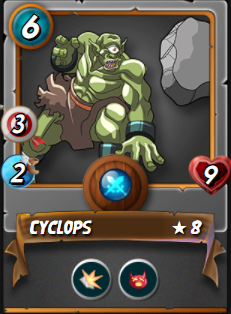 Cyclops
From this specific position begins the most powerful attack of my combination. For this I recruited my powerful "Cyclops" to the battlefield, having 3 attack points plus an additional one thanks to my Rennyn, an average speed of 2, but with an additional point due to my summoner, a large amount of life, which makes it support a good number of rounds so that everyone has a chance to attack in each turn and also 2 very useful skills. One for its own protection, such as "Shield" and the other is "Stun", which completely paralyzes my opponent's tank every turn, giving my tank and the rest of my cards the chance to destroy it.
---

---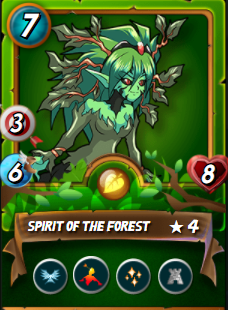 Spirit of the Forest
This is one of the strongest cards in my entire field, with super cool abilities, able to support the whole team. First its high speed of 6 points + 1, thanks to my summoner, ensures it to always attack before my opponent, secondly, its great attack power of 3 points +1 and "Snipe" will take care of the cards that attack at a distance from my opponent and those who of course have no attack. It is also another card that allows you to regenerate my tank, additional place a protective shield with 2 points of armor.
---

---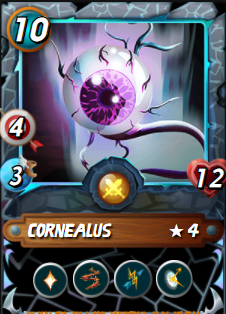 Cornealus
Finally, my powerful card "Cornealus". A very powerful monster, with abilities that allow him to defend himself from any attack, either ranged/distance, or melee, where, in addition to this, he has the "Heal" ability, which makes him able to regenerate, in conjunction with a very powerful attack power of 4 points + 1 and a speed of 3 points +1. My goal in placing it in the last position was to protect my back team and in turn, use its great strength to defeat my opponent, which worked.
---


My strategy worked perfectly, it really had no weaknesses, since, I took my opponent by surprise, where I made him believe that, because of my last battles using more magic attack than ranged, I would use a magic team again, knowing this, I wanted to focus my strategy, this time using ranged attack cards and empowering them with my summoner, so that they would attack as soon as possible and additional make them even stronger.
Certainly, I would not change anything different with respect to the "Scavenger" ability, since it can be adapted to any type of battle, just keeping in mind that we must place them in a good position, in order for them to get stronger as the battle develops.
---

Yes, the cards with this ability I use very often, especially the "Gelatinous Cube", which despite not being one of the most powerful cards in the game, I'm sure that if it is one of the most resistant monsters in the whole game, it is very cool that every time a card leaves the field, it gains even more life points, certainly a card that should always be present for our strategies.
---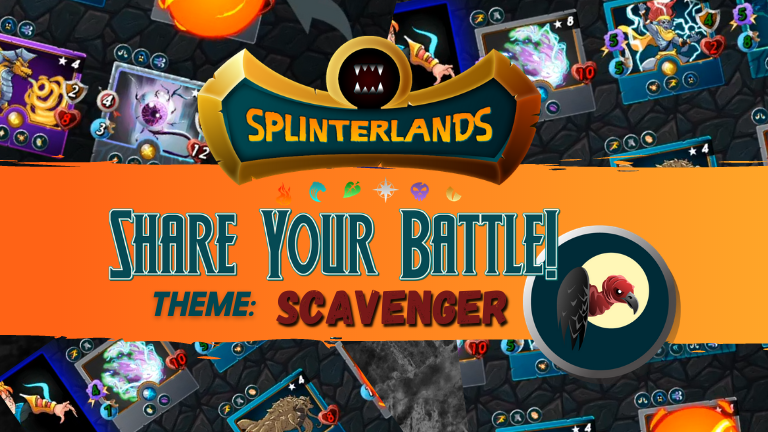 ¡I invite everyone to join Splinterlands, the best game based on chains of blocks, full of adventures, battles and strategies where you will have fun and get rewards according to your league!
---

---

Join the official Spanish community here Discord
---
---