Splinterlands Weekly Challenge | The Resistance of "Peaceful Giant" 💦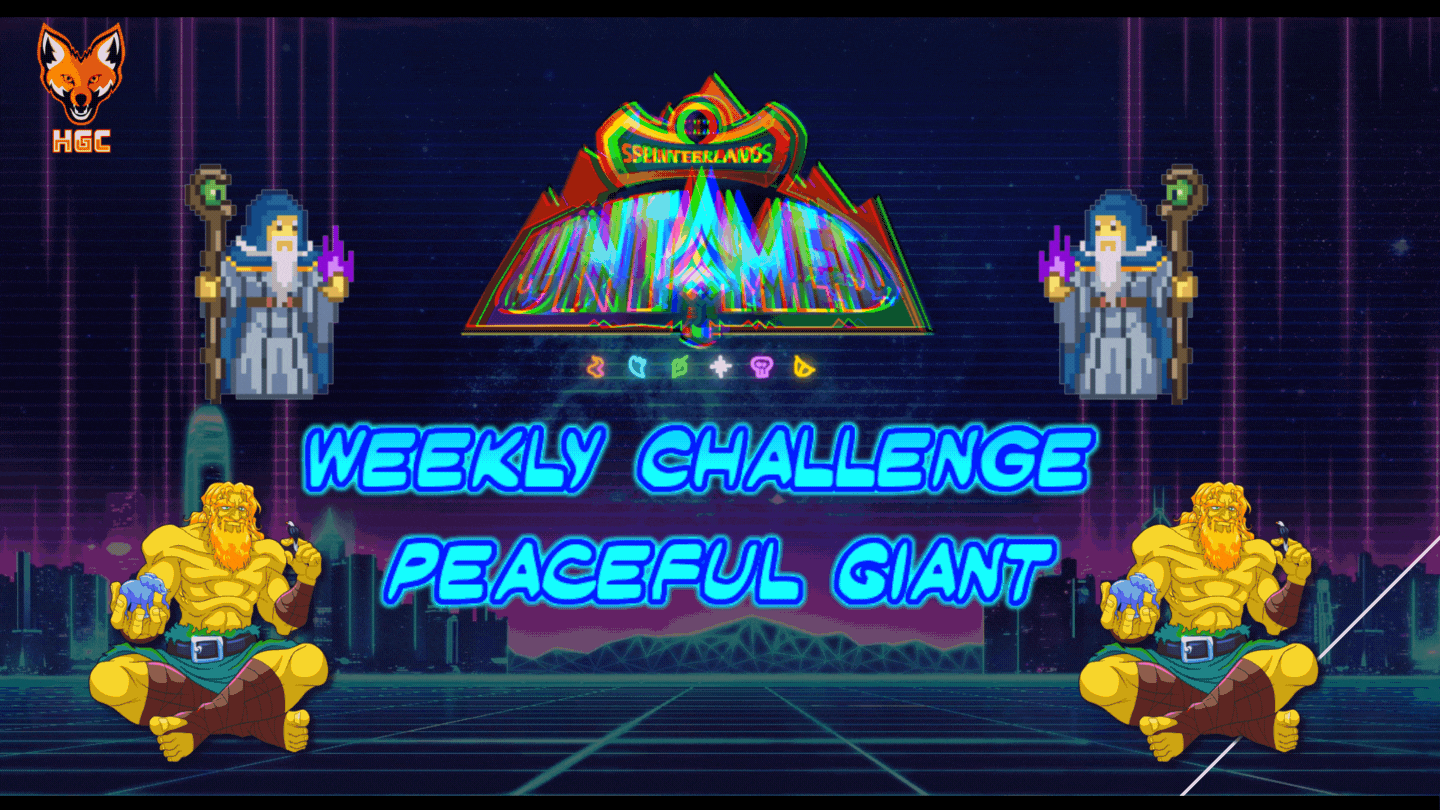 Last week I had a great battle with the card called "Fire Spitter", it is a very good card and can highlight its full potential in the field. Now, I am facing a new challenge and a card that took me by surprise, it is the "Peaceful Giant". It is a monster that I had never used in battle, I really never saw a real use for it, honestly it is not to my liking, however, thanks to these battles I learn more and more about the game and about the cards and rules themselves and how I can mesh the abilities of the cards with each of them. In the battle that I will describe in this publication, although it is a card that I do not like, I managed to give it a real use, if you want to know more do not peel off the screen.
Again as usual, I thank the entire team of @splinterlands and @carrieallen, for allowing us as players to improve every week, to improve our strategies and skills in the game, honestly this has made me improve, better understand the rules and each ability of the monsters with which I fight. In addition to meshing each rule with the abilities of my cards, this has been determinant for me, since, on that I win or lose a battle. Now without further ado, I will tell you what happened in this battle.
Now let's get to know this letter in depth, come with me...


This card belongs to the first editions that we saw born in the game quite some time ago. It is a common type card and has an intermediate mana consumption, specifically 5 energy to be able to summon it to the battlefield. In my opinion it has only one feature that makes it stand out and that, of course, is quite beneficial on the field only with certain rules, this feature is its high amount of life, which makes it very resistant. Since I don't use it, I had to head to the rental market in "Peakmonsters" in order to get it at level 7, with this level I feel comfortable using the card.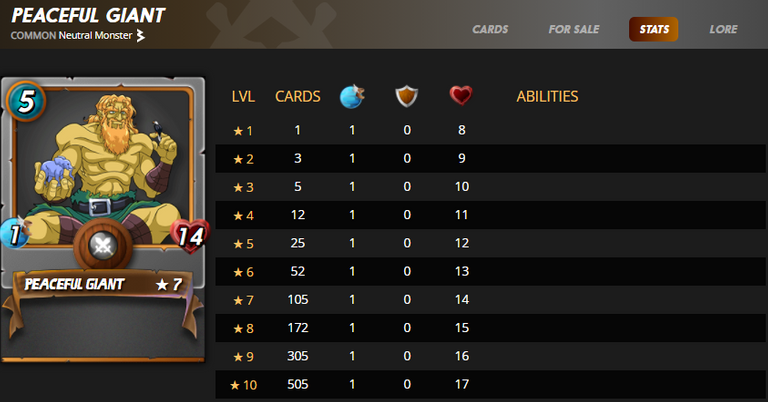 As I already mentioned, this was a very peculiar and unique battle, I was playing for several hours looking for a rule that would allow me to explore the intrinsic abilities that the card has, until I finally got one that I felt very comfortable with and I could combine the large amount of life that the "Peaceful Giant" has, the rules and the rest of my team's abilities. This made me get the victory, where thanks to the above mentioned, I put all the odds in my favor and my opponent had no chance.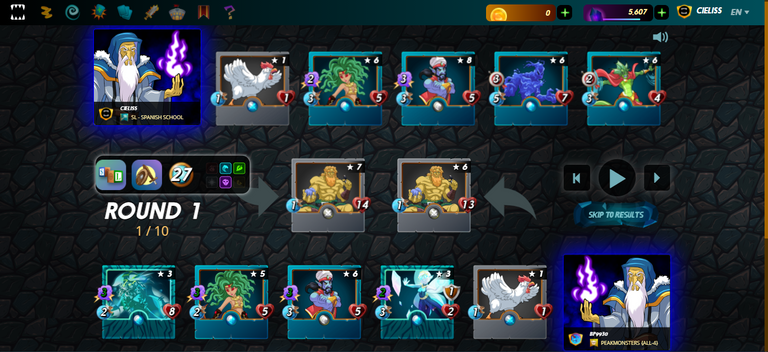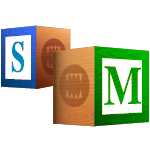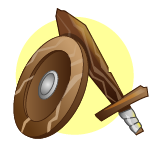 Rule of my Battle
Back to Basics and Rise of the Commons with 27 Mana

Mana: 27
Back to Basics: Monsters lose all abilities.
Rise of the Commons: Only Common and Rare Monsters may be used in battles.



---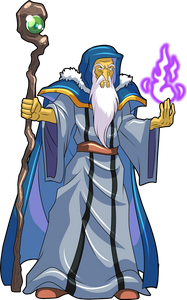 Alric Stormbringer
This was the summoner I chose for my battle, of course, I did it for a reason and that is that, when I observe that one of the battle rules corresponds to that no monster on the field can use its abilities, I prefer to use the water Splinter, this is because most of its cards possess a great magical attack, hitting directly to the life of my opponent's monsters. Of course, my opponent thought the same, but my cards had more power.

---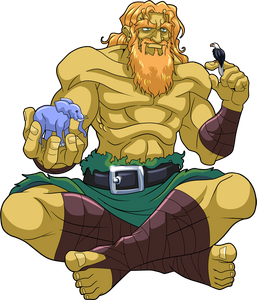 Peaceful Giant
This is the first card of my team, where its great strength and life energy, was the main reason to place it in this position, plus the battle rule corresponding to no monster has abilities, would allow my "Peaceful Giant", could receive all the damage, while my main attack team takes care of defeating his tank, which coincidentally is the same as mine.
---

---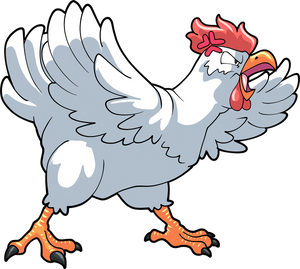 Furious Chicken
The second card of my formation, placed in this position to support my "Peaceful Giant". Its main function is to buy more time for the rest of my team to continue attacking without any problem, which worked perfectly, as I could take full advantage of the strength and speed of my cards, so my "Chicken" was the perfect decoy for my game.
---

---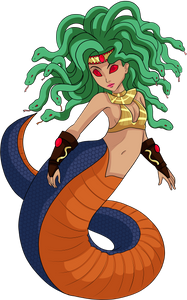 Medusa
This is one of my main magic attack cards, which I use very often with my water sliver, although it had no ability due to the rules, but what it does have is a great magic attack power and supported by my summoner "Alric", it further increases its strength, allowing me to do more damage to my opponent before falling on the battlefield, fulfilling its purpose.
---

---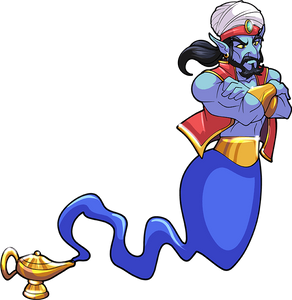 Sea Genie
This is a really useful card in battle, of course, it is stronger at higher levels, that's why it is the strongest card in my lineup at level 8, of course in terms of magic attack, having a destructive power of 4 points. This is more than enough to be able to damage my opponent and his tanks faster in turn.



---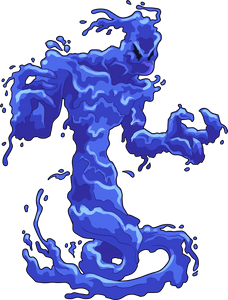 Water Elemental
This is a decisive card in this battle. Whenever I fight with the Water Splinter, this card cannot be missing in my formation, if you look closely, it has the highest speed on the field, plus its great ranged attack power with 3 points and its good health, made it stay on the field during the whole battle.
---

---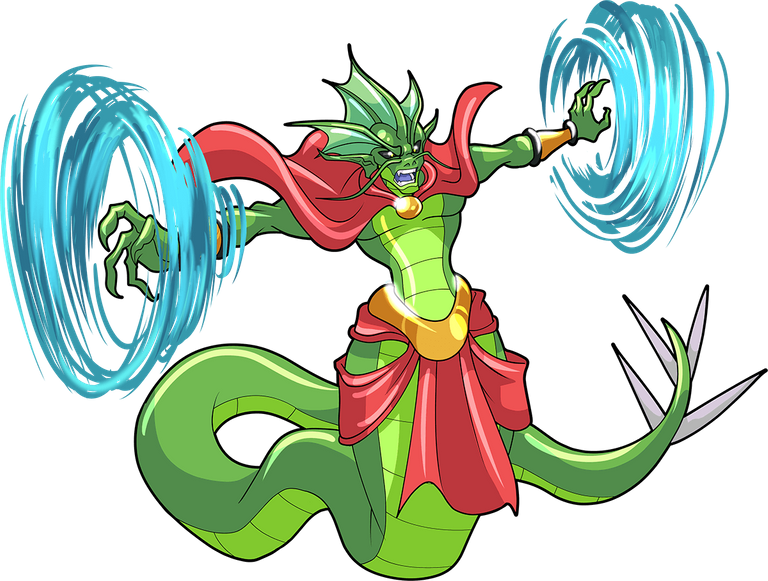 Naga Windmaster
This is the last card of my formation, it has a mid-range attack power with 2 points, however, it was also very important in the battle. Its main function was also to attack from long distance, I sought to balance my magic and ranged attack throughout my formation, along with 2 support cards that would resist all the attacks of my opponent, this card helped a lot to my "Water elemental" in attack, combining their forces and place a destructive power adding a total of 5 points.
---

---



My strategy worked perfectly, I was looking for a rule that would combine perfectly with the natural abilities of my "Peaceful Giant" and this one was perfect. Certainly, I don't like this card, probably in my future battles I won't use it, the only way, is that I don't have more options and I have to do it, but without a doubt, there are other cards of the same type or function that the "Giant" wants to fulfill and that other monsters do much better, as for example the "Lord Arianthus".
I will not try anything different, I will not try to combine it with other rules, as I said, I prefer to use other similar cards, which are much stronger and more resistant.

I have never used this card before, I have not seen any real use for it, only to be able to withstand continuous attacks from my enemies, in order to give my team more time to attack, as I showed in this strategy and in this challenge.
---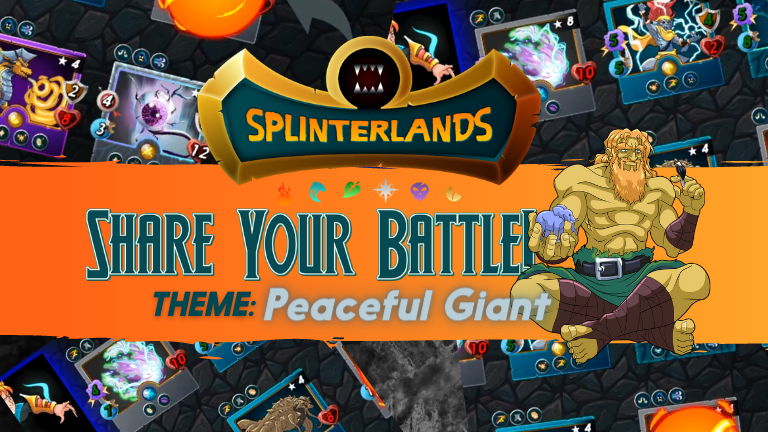 ¡I invite everyone to join Splinterlands, the best game based on chains of blocks, full of adventures, battles and strategies where you will have fun and get rewards according to your league!
---

---

Join the official Spanish community here Discord
---
---