BATTLE Weekly Challenge: ANT MINERS
Hi all Splinterlands friends,
here we are at the new BATTLE Weekly Challenge contest which has as its object ANT MINERS, a common and small monster of the element of fire but much more menacing and dangerous than it may appear. I admit that I have underestimated it until now and in the battle you find below you can instead observe how strong it is and it was decisive for my final victory!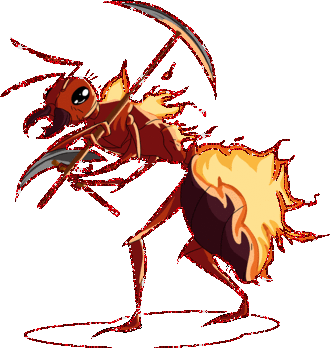 ---
There are plenty of Ant Miners cards available, I used them to maximize the monster although it far exceeds the level of the summoner, but sooner or later mo will come in handy at its maximum power! At the time of writing this post it can be purchased at a cost of $ 0.44 or about 56 DEC, while the golden version has a value of about 10 euros, especially useful for increasing the Power by 500 points or DEC.

---
ANT MINERS at the first level has very low stats: 1 attack point, 1 speed point and 1 health point, stats that increase as the monster is upgraded. Its basic ability is Scavengers, i.e. for each monster killed by the group of allies, the ant gains one health point. In my battle, observe how at the end of the challenge, ANT MINERS will gain 6 life points. A skill therefore not to be underestimated. The second Shield ability is only obtainable at level 6 and allows you to reduce damage from Melee and Ranged attacks!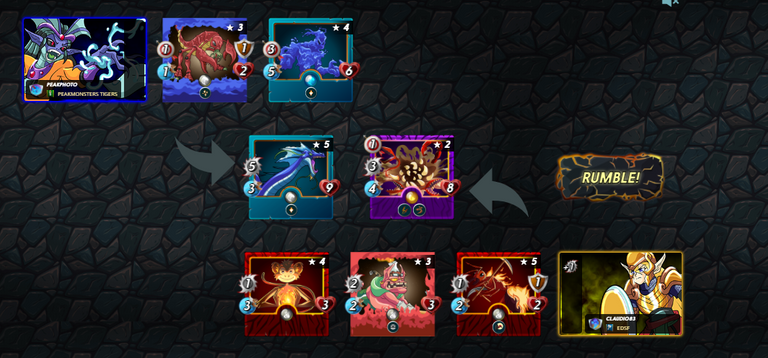 ---
Formation
THE VIGILATOR
As previously written, I consider this card to be among the strongest in the game. Its offensive power is truly impressive and is crucial in the many races in which the monster fights. In the first position she is an unstoppable war machine, very difficult to defeat without taking substantial damage. I would like to get the gold version someday, it would really be the top for me!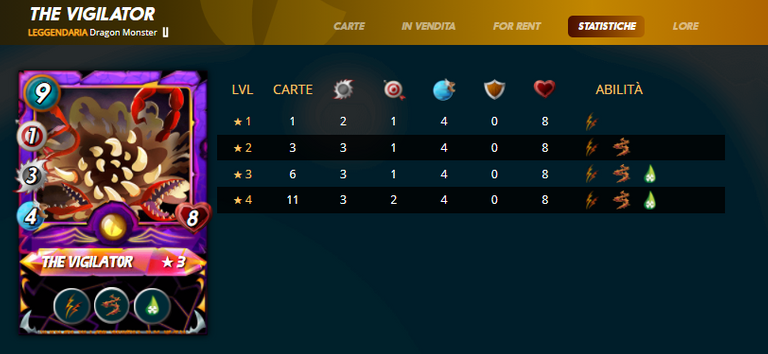 ---
ANT MINERS
The warrior ant is really brutal in combat and placed in second position, it is crucial for victory. Attack +2 for the summoner bonus, the monster cancels its opponents every turn and ends the battle with 6 life points (at the beginning it had just 1) thanks to its Scavengers ability! Incredible!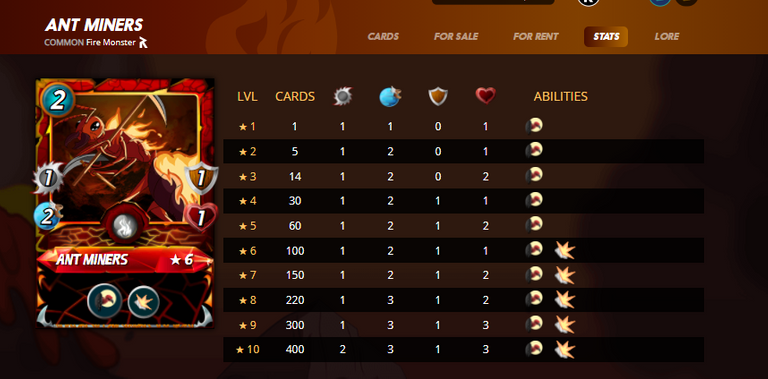 KOBOLD MINER
Another alpha card from my collection, very useful monster for attacking opponents in the queue and with his attack +3 it is certainly an excellent ally to deploy in formation, his mana is just 2 points!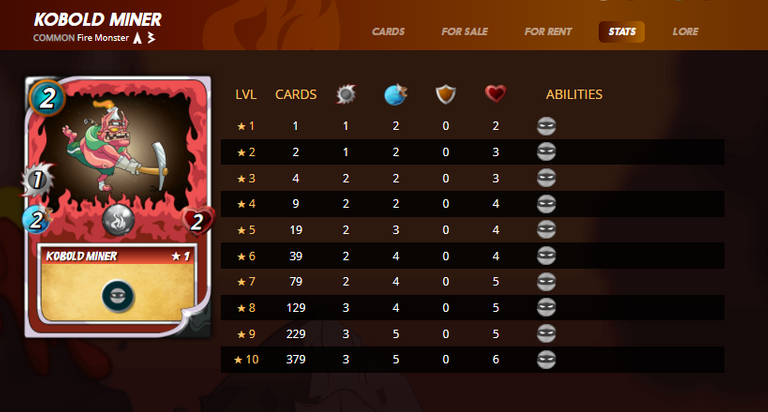 ---
FLAME MONKEY
I placed the warrior monkey in last position, I only had 1 mana point and the card was perfect for my strategy. I was hoping not to find any enemies attacking the cards in last position and I was lucky. Even though she never entered the battle, FLAME MONKEY allowed me to maintain my position and remain available to the team. Luckily for her, ANT MINERS has destroyed the opponents!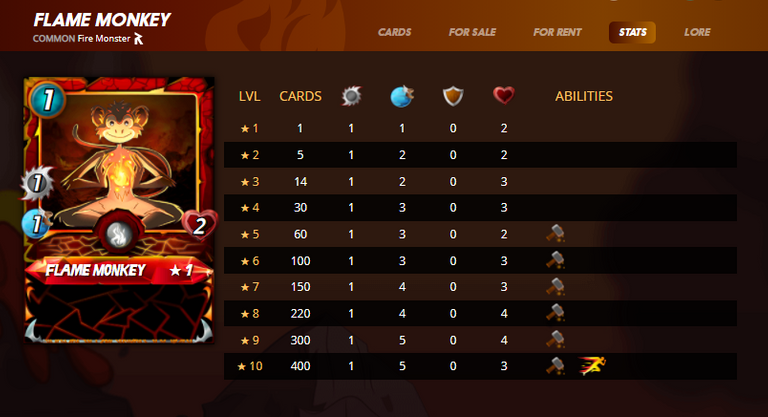 ---
Thank you for taking the time to read this post
If you have not yet signed up for Splinterlands, I invite you to try. You can use my referreal link
ITA
Ciao a tutti amici di Splinterlands,
eccoci al nuovo contest BATTLE Weekly Challenge che ha come oggetto ANT MINERS, un comune e piccolo mostro dell'elemento del fuoco ma molto più minacciosa e pericolosa di quanto possa apparire. Io ammetto di averlo sottovalutata sino ad ora e nella battaglia che trovate in basso potete invece osservare quanto sia forte ed è stata decisiva per la mia vittoria finale!
Ci sono moltissime carte disponibili di Ant Miners, io le ho utilizzate per potenziare al massimo il mostro sebbene superi di gran lunga il livello del summoner, ma prima o poi mo tornerà utile alla sua massima potenza! Al momento in cui scrivo questo post è acquistabile al costo di 0.44 $ o circa 56 DEC, mentre la versione dorata ha un valore di circa 10 euro, utile soprattutto per incrementare il Power di 500 punti o DEC.

---
ANT MINERS al primo livello ha statistiche molto basse: 1 punto attacco, 1 punto velocità e 1 punto salute, statistiche che aumentano con il potenziamento del mostro. La sua abilità di base è Scavengers ossia per ogni mostro ucciso dal gruppo di alleati, la formica guadagna un punto salute. Nella mia battaglia osservare come al termine della sfida, ANT MINERS otterrà ben 6 punti vita. Un'abilità quindi da non sottovalutare. La seconda abilità Shield è ottenibile solo al livello 6 e consente di ridurre il danno da attacchi Melee e Ranged!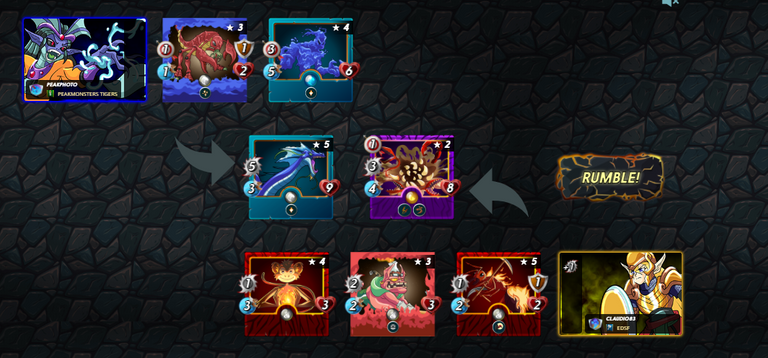 ---
Formazione
THE VIGILATOR
Come scritto in precedenza, io ritengo questa carta tra le più forti del gioco. La sua potenza offensiva è davvero impressionante ed è determinante nelle tante gare in cui il mostro combatte. In prima posizione è una macchina da guerra inarrestabile, davvero difficile sconfiggerla senza subire danni consistenti. Mi piacerebbe un giorno ottenere la versione dorata, sarebbe davvero il top per me!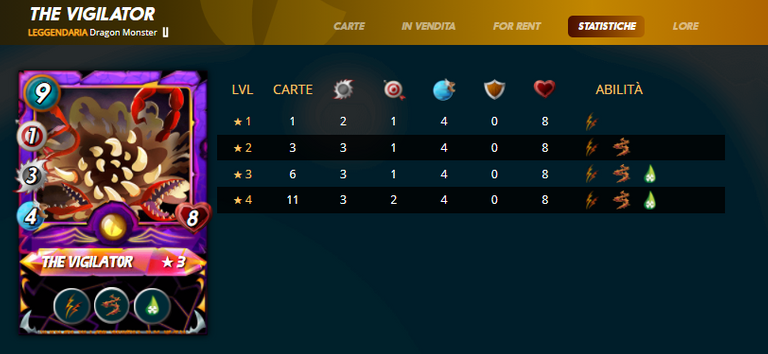 ---
ANT MINERS
La formica guerriera è davvero brutale in combattimento e posto in seconda posizione, è fondamentale per la vittoria. Attacco +2 per il bonus evocatore, il mostro annulla ad ogni turno i suoi avversari e termina la battaglia con ben 6 punti vita (all'inizio ne aveva appena 1) grazie alla sua abilità Scavengers! Incredibile!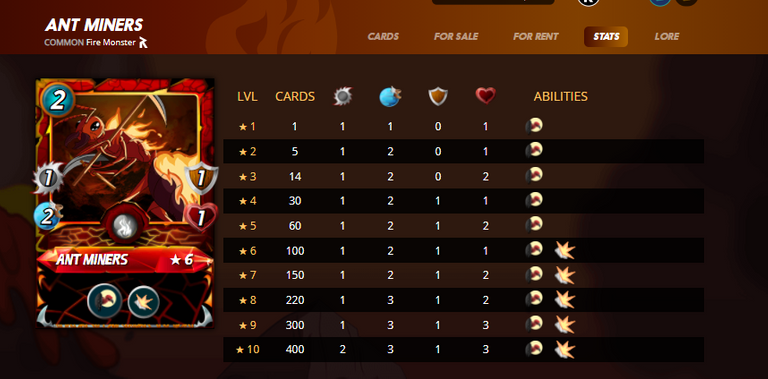 KOBOLD MINER
Altra carta alpha della mia collezione, mostro molto utile per attaccare gli avversari in coda e con il suo attacco +3 sicuramente è un ottimo alleato da schierare in formazione, il suo mana è appena di 2 punti!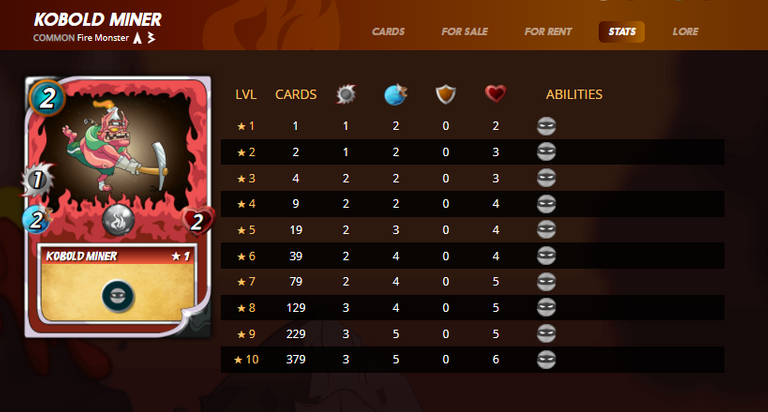 ---
FLAME MONKEY
Ho posizionato la scimmia guerriera in ultima posizione, avevo a disposizione solo di 1 punto mana e la carta era perfetta per la mia strategia. Ho sperato di non trovare nemici che attaccassero le carte in ultima posizione e sono stato fortunato. Anche se non è mai entrata in battaglia, FLAME MONKEY mi ha permesso di conservare la posizione e restare a disposizione della squadra. Per sua fortuna, ANT MINERS ha distrutto gli avversari!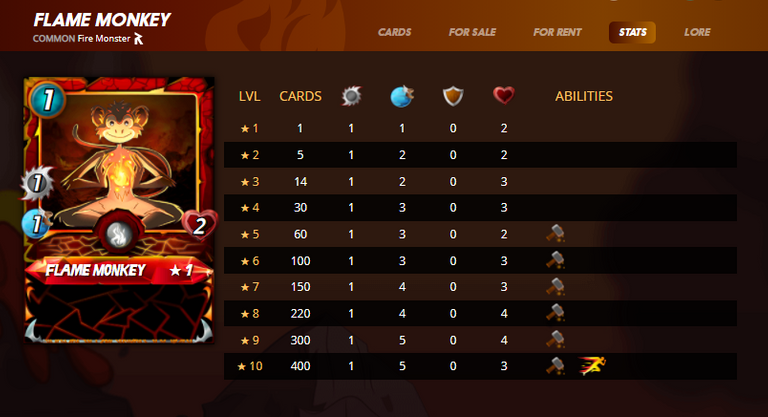 ---
Grazie per aver dedicato del tempo per leggere questo post
If you have not yet signed up for Splinterlands, I invite you to try. You can use my referreal link
---
---