Never make a giant octopus angry!
Hi all Splinterlands friends,
the Weekly Battle Challenge team is FLYING SQUID, a common monster of the Water element and belonging to the new Chaos Legion edition. The card is very interesting, with very good offensive and defensive characteristics so it can often be useful in your battle, especially if you have a lot of mana available.
As for me, FLYING SQUID is upgraded to level 5 and is a really good resource, essential for his attacks from second position, thanks to his Reach ability. The damage of 3 points per turn, of course, is difficult to absorb without consequences for the opponents. To make the most of the attack, you can also use Dragon + Water and take advantage of Daria Dragonscale's +1 attack bonus.
FLYING SQUID is also a very fast monster (speed 4 points) and this is a further element of advantages in battle: who first attacks, has more probability of victory. The defense is solid with 9 health points. The mana weighs with 7 points, an acceptable value if we consider the characteristics of the card.
At the moment the price on the market is really very cheap at around $ 0.075 due to its high supply with almost 170k cards in circulation, and we are half of the packages open in total. A great time to go shopping!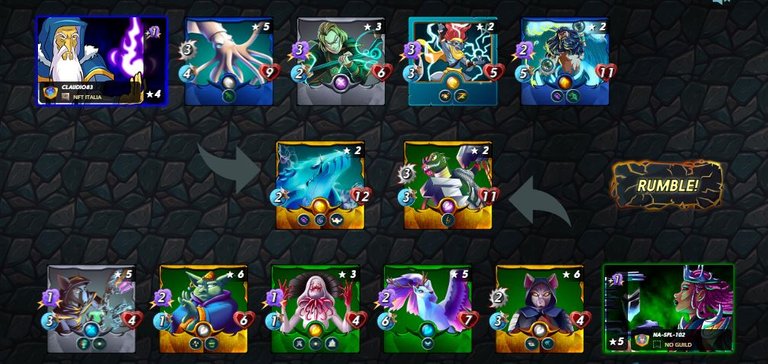 ---
BAAKJIRA
The monster is central to its abilities and in fact all allies in the first round enjoy unique perks that turn a complicated battle into a rewarding outcome. I deployed the monster in the first position because it has numerous health points and becomes a fundamental shield that allows allies to launch attacks from behind!
---
FLYING SQUID
The sea monster has high-level offensive and defensive characteristics. Deployed in second position, he launches really terrible attacks for opponents and if well protected, he can really do great damage before eventual defeat. In battle you can see how crucial it was to my final victory. Highly recommended!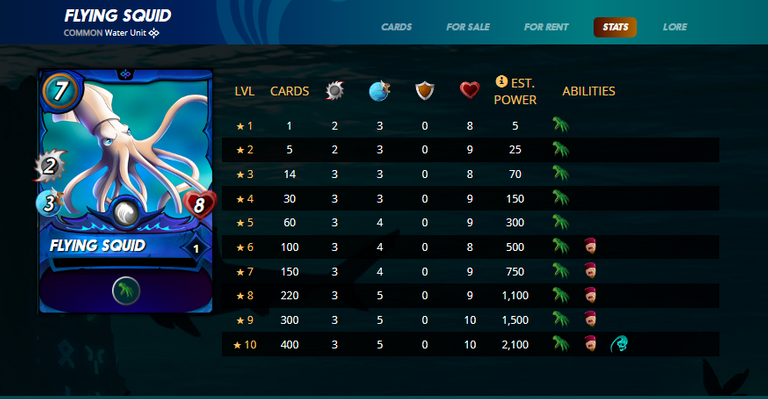 ---
RULER OF THE SEAS
In my opinion it is one of the strongest cards I know and if I could upgrade it to level 4, I'm sure it would help me climb the classic quickly! At level two it has a +3 magic attack, regardless of the summoner's +1 bonus. Imagine at level 4 and with all its abilities! It's the card that really makes a difference in battles and the low mana allows me to use it in almost any battle.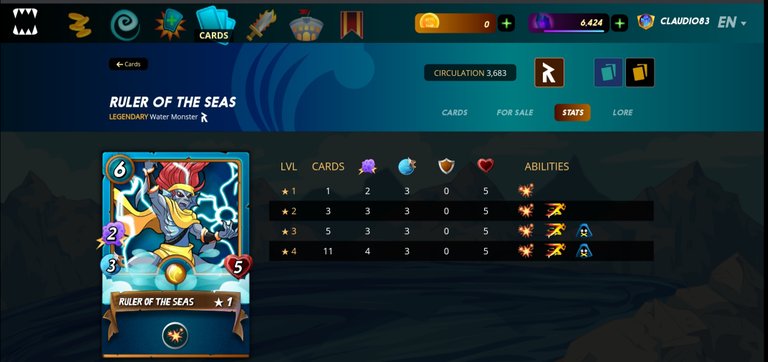 ---
MAGI OF CHAOS
Neutral epic card that I use very often not only with the Water element, taking advantage of ALRIC STORMBRINGER's +1 magic attack bonus for example. Upgraded to level 3, it is a truly incredibly powerful card, a protagonist that helps me get overwhelming victories like in this battle. It must not be missing from your deck of cards.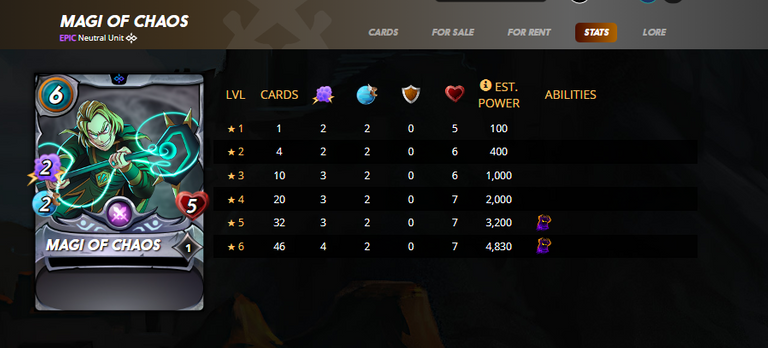 Conclusion
The @splinterlands contests are not only aimed at making us get generous upvotes but it is above all to help us discover new cards that can really be very useful in our battles and stimulate us to new strategies and more options in battle.
The low prices of the cards, also caused by the large number of printing and availability of Chaos Legion cards, is an excellent entry point for new players. In fact, it is possible to build an excellent deck of cards by spending little, compared to the cards of previous editions. It will also be interesting to observe the next airdrops CL cards in order to better determine which Summoner to upgrade and consequently the cards to buy on the market!
Furthermore, the strategy that each player sets himself, can undergo natural variations, in order to improve his deck of cards and climb the ranking of the best players, also obtaining higher rewards!
Good Game
Thank you for taking the time to read this post
If you have not yet signed up for Splinterlands, I invite you to try. You can use my referreal link
ITA
Ciao a tutti amici di Splinterlands,
il team del Weekly Battle Challenge è FLYING SQUID, mostro comune dell'elemento Water e appartenente alla nuova edizione Chaos Legion. La carta è molto interessante, con caratteristiche offensive e difensive molto buone per cui spesso potrebbe essere utile nella vostra battaglia, specialmente se avete a disposizione molto mana.
Per quanto mi riguarda, FLYING SQUID è potenziato a livello 5 ed è davvero un'ottima risorsa, fondamentale per i suoi attacchi dalla seconda posizione, merito della sua abilità Reach. Il danno di 3 punti per ogni turno, di certo, è difficile da assorbire senza conseguenza per gli avversari. Per sfruttare al meglio l'attacco, potrai anche utilizzare Dragon+Water e sfruttare il bonus attacco +1 di Daria Dragonscale.
FLYING SQUID è un mostro anche molto rapido (velocità 4 punti) e ciò è un ulteriore elemento d vantaggi in battaglia: chi prima attacca, ha più probabilità di vittoria. La difesa è solida con ben 9 punti salute. Il mana pesa con 7 punti, un valore accettabile se consideriamo le caratteristiche della carta.
Al momento il prezzo sul mercato è davvero molto economico di circa 0.075 $ a causa della sua supply elevato con quasi 170k carte circolanti, e siamo a metà dei pacchi aperti in totale. Un ottimo momento quindi per fare shopping!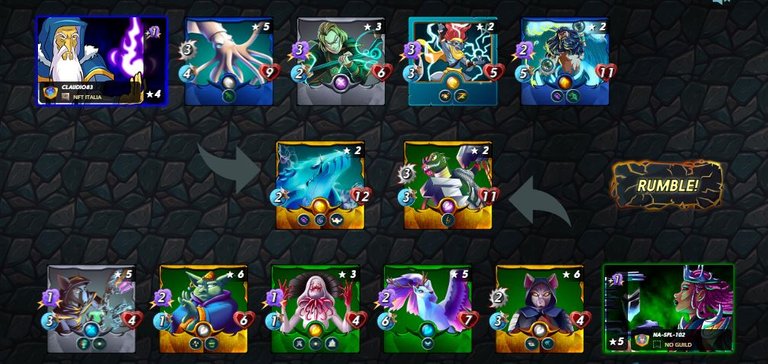 ---
BAAKJIRA
Il mostro è fondamentale per le sue abilità e infatti tutti gli alleati al primo round godono di vantaggi unici che trasformano una battaglia complicata in un risultato gratificante. Ho schierato il mostro in prima posizione perché ha numerosi punti salute e diventa uno scudo fondamentale che permette agli alleati di sferrare attacchi alle spalle!
---
FLYING SQUID
Il mostro marino ha caratteristiche offensive e difensive di alto livello. Schierato in seconda posizione, lancia attacchi davvero terribile per gli avversari e se ben protetto, può davvero fare grandi danni prima di un'eventuale sconfitta. In battaglia potete osservare quanto sia stato fondamentale per la mia vittoria finale. Consigliatissimo!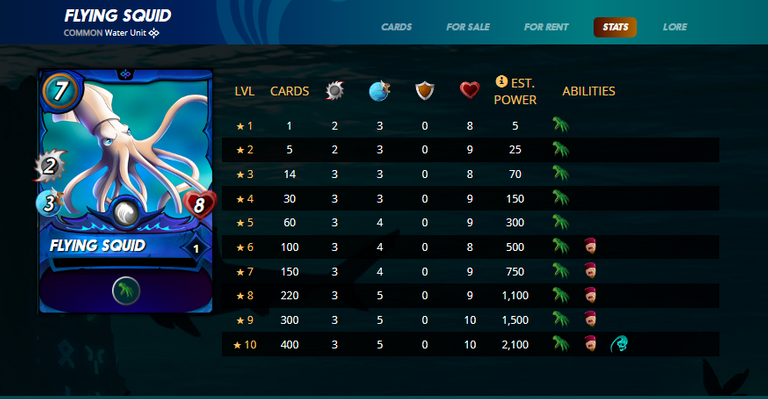 ---
RULER OF THE SEAS
A mio giudizio è una delle carte più forti che io conosca e se riuscissi a potenziarla fino a livello 4, sono sicuro mi aiuterebbe a scalare velocemente la classica! A livello due ha un attacco magico +3, senza considerare il bonus +1 dell'evocatore. Immaginate a livello 4 e con tutte le sue abilità! È la carta che fa davvero la differenza nelle battaglie ed il mana basso mi consente di utilizzarlo in quasi tutte le battaglie.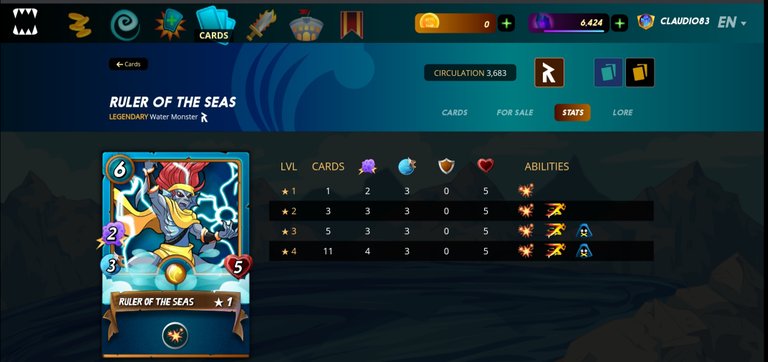 ---
MAGI OF CHAOS
Carta epica neutrale che utilizzo molto spesso non solo con l'elemento Water, sfruttando il bonus +1 attacco magico di ALRIC STORMBRINGER ad esempio. Potenziato a livello 3, è una carta davvero incredibilmente potente, un protagonista che mi aiuta ad ottenere vittorie schiaccianti come in questa battaglia. Non deve mancare nel vostro mazzo di carte.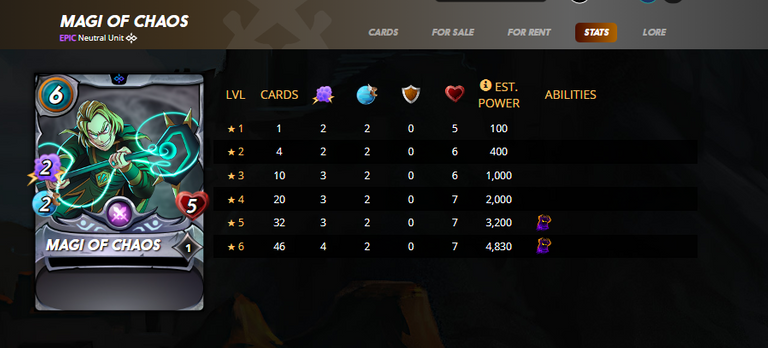 Conclusione
I contest di @splinterlands non hanno solo l'obiettivo di farci ottenere upvotes generosi ma è soprattutto quello di aiutarci a scoprire nuove carte che possono essere davvero molto utili alle nostre battaglie e stimolarci a nuove strategie e maggiori opzioni in battaglia
I prezzi contenuti delle carte, causato anche dal grande numero di stampa e disponibilità delle carte Chaos Legion, è un ottimi punto d'ingresso per i nuovi players. E' possibile infatti costruire un ottimo mazzo di carte spendendo poco, rispetto alle carte delle edizioni precedenti. Sarà interessante osservare anche le prossime carte airdrops CL per poter meglio stabilire quali Summoner potenziare e di conseguenza le carte da acquistare sul mercato!
Inoltre la strategia che ogni giocatore si prefissa, può subire delle naturali variazioni, al fine di migliorare il proprio mazzo di carte e scalare la classifica dei migliori giocatori, ottenendo anche ricompense più alte!
Buon Game
Grazie per aver dedicato del tempo per leggere questo post
If you have not yet signed up for Splinterlands, I invite you to try. You can use my referreal link
---
---