Splinterlands: 50 CL Packs Opening!
Finally the Chaos Legion Public Sale has started, I was waiting to buy my first tranche of packs which I had expected to be 100 but then I couldn't resist and I added another 50 packs, to which is added the 10% bonus for a total of 170 packs!
I had a small delay in crediting the potions but now that I have all the material available, I can finally proceed with the unpacking! I actually started to open some single packages but then I decided to proceed with the opening in tranches of 50 packages.

---
As you can see, the current value of the cards obtained is about $ 190, less than $ 200 for the purchase of 50 packs, to which you also need to add 150 legendary potions and 150 alchemical potions, equal to $ 12.69. So I invested $ 212.69 and got a current equivalent of $ 190, a negative difference of $ 22.69. Hope to have better luck with the next tranche :)
Having said that, the countervalue in this particular bearish moment of the market does not really matter, so it is physiological that even the cards suffer a decline. This turns into a great chance to go in and buy important pieces for the collection and upgrade my deck of cards.
A marked improvement is already tangible on my POWER which jumped from around 223k to 237k! My wish was to be able to exceed 250k and this forecast seems more and more in front of the 100 pa still to be opened! I hope for some particularly present piece that is missing from my collection!

---
The card with the highest value is KELY FRENDUL, Summoner of the Water element, currently its market value is approximately $ 37.50 and 500 Power!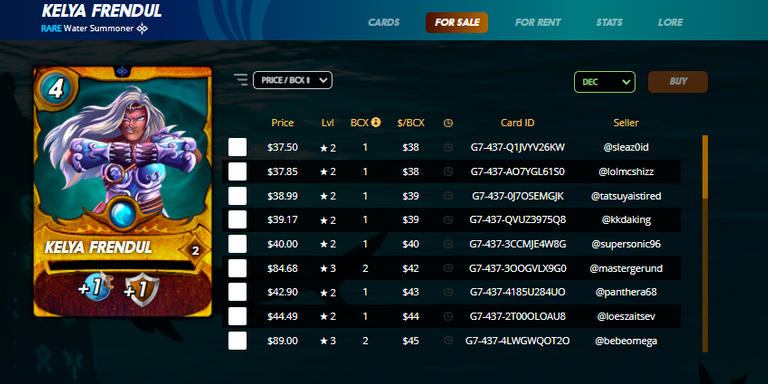 ---
Airdrop
For every million cards sold, an airdrop card is issued to the luckiest buyers, the more packages you acquire, the more chance you have of getting the special card. On the other hand, it is guaranteed to all those who have purchased 350 packages.

Among the 3 airdrop cards, I was lucky to be able to claim the legendary IZA THE FANGED, belonging to the Earth element. All the legendary monsters, due to the large number of cards in circulation, can still be purchased on the market at a very affordable price.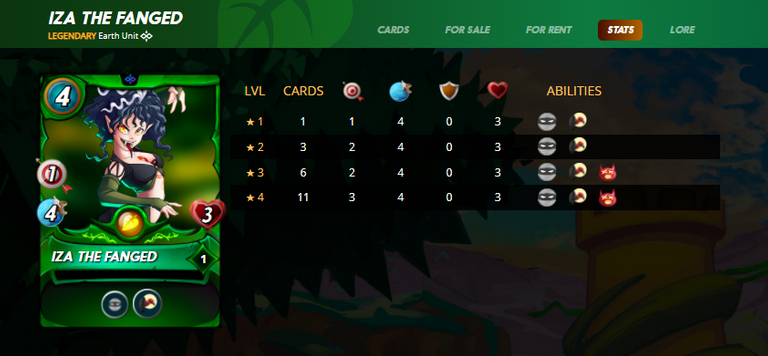 ---
IZA THE FANGED for example can be purchased at a cost of $ 6.80, a value accessible to all, compared to the legendary Untamed cards, on the other hand, much rarer and therefore more expensive. But obviously everything is proportionate to the number of users, to the value of the tokens and cards on the market. A bit like what happened with the Alpha, Beta and Untamed cards, until last year they were depreciated and it was possible to buy them even for a few cents of a dollar, now instead they are also worth a few tens.
The objective in this phase of the game is to increase POWER, accumulate cards and prepare us for LAND, the new game phase of Splinterlands. Nothing else matters :)
Thank you for taking the time to read this post
If you haven't signed up for Splinterlands yet, I invite you to give it a try. You can use my referral link
ITA
Finalmente è iniziata la Public Sale di Chaos Legion, ero in attesa di acquistare la mia prima tranche di pacchi che avevo stimato essere di 100 ma poi non ho resistito ed ho aggiunto altri 50 pacchi, a cui si aggiunge il bonus del 10% per un totale di 170 pacchi!
Ho avuto un piccolo ritardo nell'accredito delle pozioni ma ora che ho a disposizione tutto il materiale, posso finalmente procedura allo spacchettamento! Ho iniziato in verità già ad aprire qualche pacchetto singolo ma poi ho deciso di procedere con l'apertura in tranche di 50 pacchi.

---
Come è possibile osservare, il valore attuale delle carte ottenute è di circa 190$, inferiore ai 200$ per l'acquisto dei 50 pacchi, a cui bisogno aggiungere anche 150 pozioni leggendarie e 150 pozioni alchemiche, pari a 12,69 $. Quindi ho investito 212,69$ ed ho ottenuto un controvalore attuale di 190$, una differenza in negativo di 22,69$. Spero di avere maggiore fortuna con la prossima tranche :)
Detto ciò, poco interessa effettivamente il controvalore in questo particolare momento bearish del mercato, per cui è fisiologico che anche le carte subiscano un calo. Ciò si trasforma in ottime possibilità di entrare e acquistare pezzi importanti per la collezione e potenziare il mio mazzo di carte.
Un netto miglioramento è già tangibile sul mio POWER che ha effettuato un balzo da circa 223k a 237k! Il mio augurio era di poter superare i 250k e questa previsione sembra sempre più vicina a fronte dei 100 pacchi ancora da aprire! Spero in qualche pezzo particolarmente prestigioso che ancora manca alla mia collezione!

La carta con valore maggiore è KELYA FRENDUL, Summoner dell'elemento Water, al momento il suo valore di mercato è approssimativamente 37,50$ e 500 Power!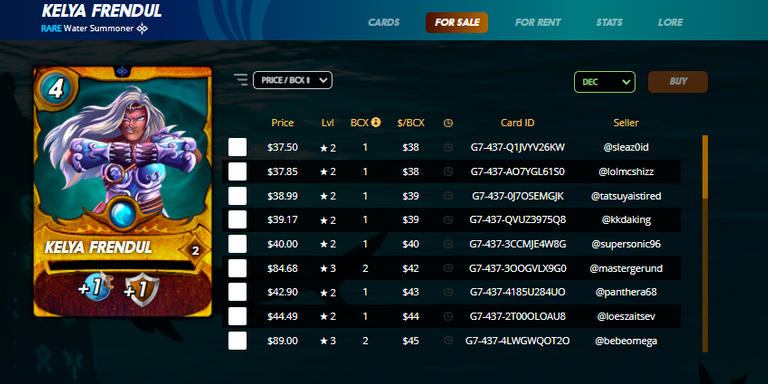 Airdrops
Ogni milione di carte vendute una carta airdrop è rilasciata ai più fortunati acquirenti, più pacchi acquisiti e più possibilità hai di ottenere la carta speciale. E' invece garantita a tutti coloro che hanno effettuato l'acquisto di 350 pacchi.

Tra le 3 carte airdrop, sono stato fortunato a poter reclamare la leggendaria IZA THE FANGED, appartenente all'elemento Earth. Tutti i mostri leggendari, a causa dell'elevato numero di carte circolante, sono comunque acquistabili sul mercato ad un prezzo decisamente abbordabile.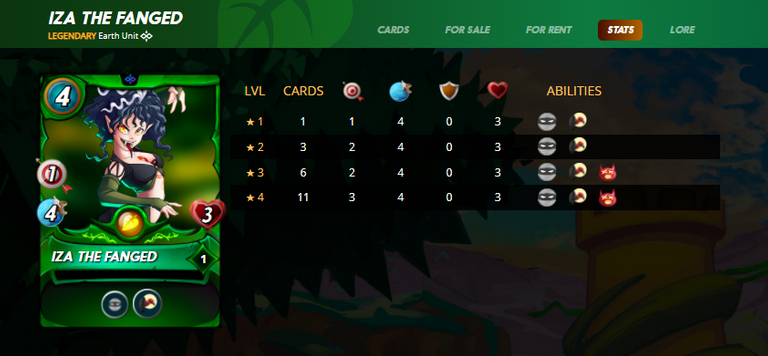 ---
IZA THE FANGED ad esempio è acquistabile al costo di 6,80 $, un valore accessibile a tutti, rispetto ad esempio alle carte leggendarie Untamed invece molto più rare e quindi economicamente più costose. Ma tutto ovviamente è proporzionato al numero di utenti, al valore dei token e delle carte sul mercato. Un pò come accadde con le carta Alpha, Beta e Untamed, fino allo scorso anno erano deprezzate ed era possibile acquistarne anche a pochi centesimi di dollaro, ora invece ne valgono anche alcune decine.
L'obiettivo in questa fase del gioco è incrementare POWER, accumulare carte e prepararci a LAND, la nuova fase di gioco di Splinterlands. Tutto il resto, non conta :)
Thank you for taking the time to read this post
If you haven't signed up for Splinterlands yet, I invite you to give it a try. You can use my referral link
---
---