Splinterlands: Public Sale, Gladius Case and Fun
Phase 2 of the sale of Chaos Legion packs has ended, it is now expected that those who have purchased VOUCHERS will be able to purchase their packs until January 16th. In fact, from day 17 the Public Sale will open and it will not be necessary to own or buy Vouchers to buy CL packs. The new edition of cards provides for a total supply of 15 million packages of which 3 million are available to Vouchers holders in Phase 1 (1 million) and Phase 2 (2 million). There will therefore be around 12 million available for the Public Sale and there is some chance that the packages will be sold out in the short term.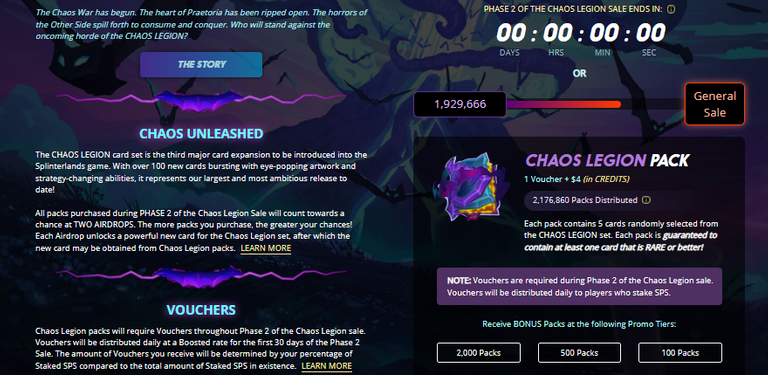 ---
So my strategy is to go in and buy the packs as soon as they are available, this will also guarantee me the opportunity to participate in the draw of all the airdrops cards provided (1 card for every million packs sold). My strategy is to buy 300 packs and guarantee the airdrop of all the cards foreseen and subsequently buy the airdrop 2 and 3 cards that I do not own, not having participated in Phase 2.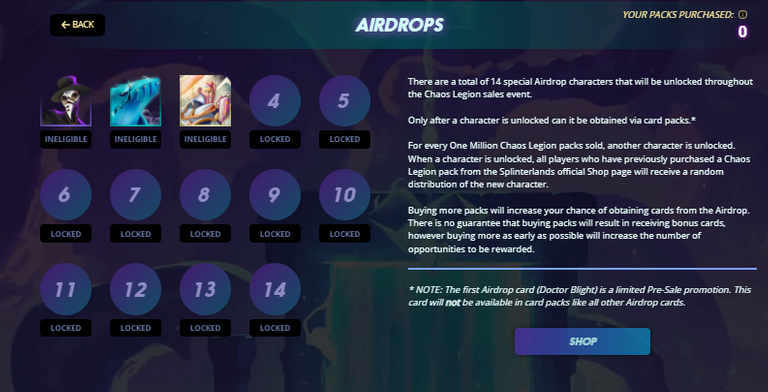 ---
The two airdrops cards are ** BAAKJIRA ** and ** URIEL THE PURIFIER **, respectively belonging to the Water and Life element, and the market price is $ 28 and $ 20, prices not high and probably further decreasing in the next hours, after all users have received and viewed the cards.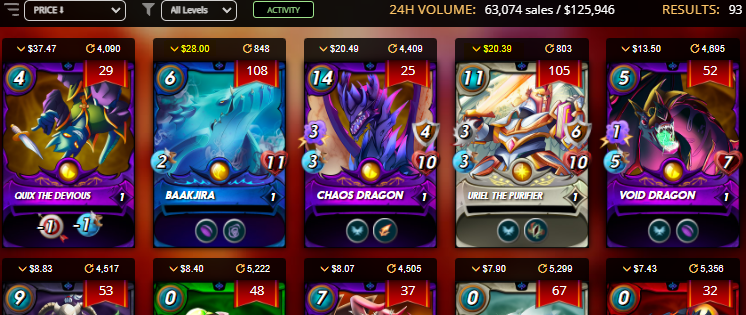 ---
In addition to the packs, I will also have to proceed with the purchase of the legendary and alchemical potions, which are essential to obtain a greater chance of obtaining legendary and golden cards. Each open pack requires 5 alchemical and 5 legendary potions for which a total of 3000 total potions will be needed in my specific case. I am really very curious to buy and open the packs, hoping to find cards that will allow me to pass and unlock the next Power level of 250k, at the moment I am stuck at 223k!
GLADIUS CASE
I recently accumulated more MERITS tokens thanks to participation in BRAWL, the battles between guilds, which allow you to obtain heroes that cannot be purchased in the Splinterlands market and can be used exclusively in BRAWL. In my opinion the GLADIUS CASE cards are on average more powerful than for example the Chaos Legion, at the moment I have 10 and therefore it is just my impression.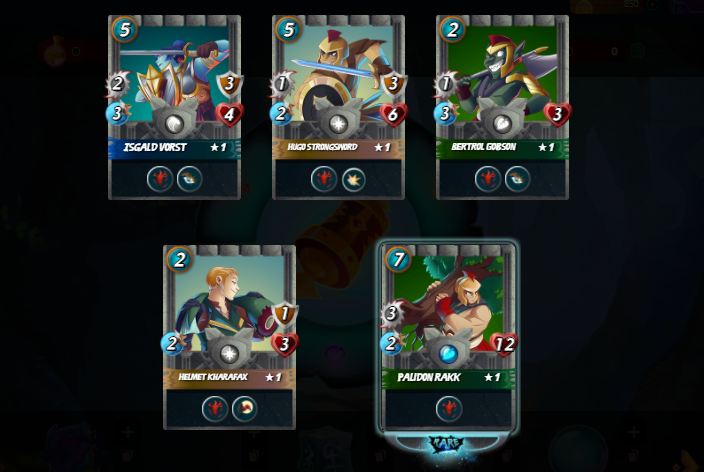 ---
The GLADIUS CASE cards, although not exchangeable, contribute to the growth of POWER, with their own DEC value and therefore are perfectly useful for the growth of their game profile.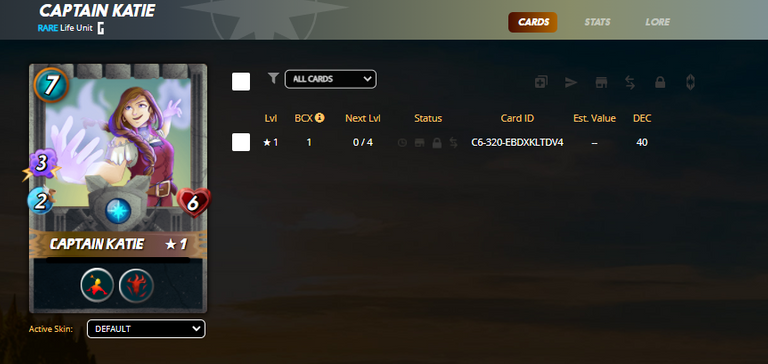 The market has generated a decline in the value of cards and tokens, a fact that obviously shouldn't cause us to panic but only focus on the game and the many upcoming news. In this case, fun must be the main component in the approach to Splinterlands. There will be time to earn or make a living, at least for some.
Thank you for taking the time to read this post
If you haven't signed up for Splinterlands yet, I invite you to give it a try. You can use my referreal link(https://steemmonsters.com?ref=claudio83))
ITA
La Fase 2 della vendita dei pacchi Chaos Legion è terminata, ora si attende che chi abbia acquistato VOUCHERS possa acquistare i suoi pacchi fino al 16 Gennaio. Dal giorno 17 infatti si aprirà la Public Sale e non sarà necessario possedere o acquistare Vouchers per comprare i CL packs. La nuova edizione di carte prevede una supply totale di 15 milioni di pacchi di cui 3 milioni a disposizione dei titolari di Vouchers nella Phase 1 ( 1 milione) e Phase 2 (2 milioni). Ne resteranno a disposizione quindi circa 12 milioni per la Public Sale e vi è qualche possibilità che i pacchi saranno sold out nell'arco di breve tempo.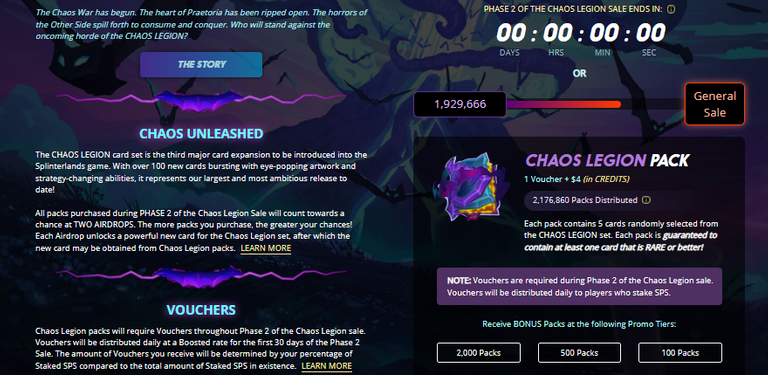 ---
Per cui la mia strategia è quella di entrare ed acquistare i packs non appena saranno disponibili, ciò mi garantirà anche la possibilità di partecipare al sorteggio di tutte le carte airdrops previste (1 carta ogni milione di pacchi venduti). La mia strategia è acquistare 300 pacchi e garantirmi l'airdrop di tutte le carte previste ed acquistare successivamente le carte airdrop 2 e 3 che non possiedo, non avendo partecipato alla Phase 2.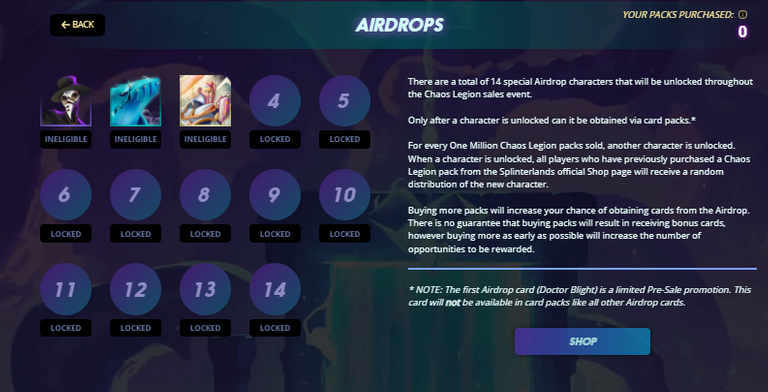 ---
Le due carte airdrops sono BAAKJIRA e URIEL THE PURIFIER, rispettivamente appartenenti all'elemento Water e Life, ed il prezzo di mercato è di 28$ e 20$, prezzi non elevati e probabilmente ulteriormente in calo nelle prossime ore, dopo che tutti gli utenti avranno ricevuto e visualizzato le carte.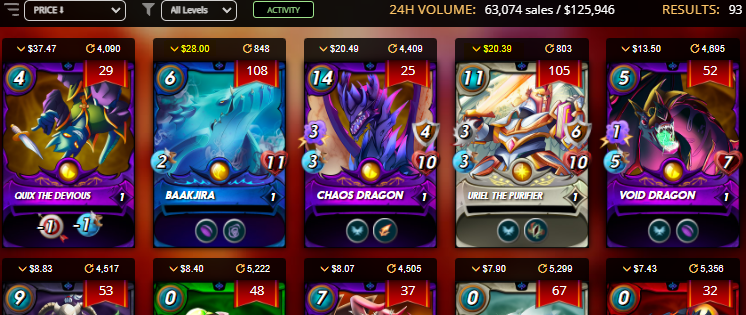 ---
Oltre ai pacchi, dovrò anche procedere all'acquisto delle pozioni leggendarie e alchemiche, indispensabili per ottenere maggiori chance di ottenere carte leggendarie e dorate. Ogni pacco aperto richiede 5 pozioni alchemiche e 5 leggendarie per cui saranno necessari un totale di 3000 pozioni totale nel mio specifico caso. Sono davvero molto curioso di acquistare e aprire i pacchi, sperando di trovare carte che mi permettano di superare e sbloccare il prossimi livello Power di 250k, al momento sono fermo a 223k!
GLADIUS CASE
Di recente ho accumulato altri token MERITS grazie alla partecipazione alle BRAWL, le battaglie tra le gilde, che ti consentono di ottenere eroi non acquistabili nel mercato di Splinterlands ed utilizzabili esclusivamente nelle BRAWL. A mio avviso le carte GLADIUS CASE sono mediamente più potenti rispetto ad esempio alle Chaos Legion, al momento ne possiedo 10 e quindi è solo una mia impressione.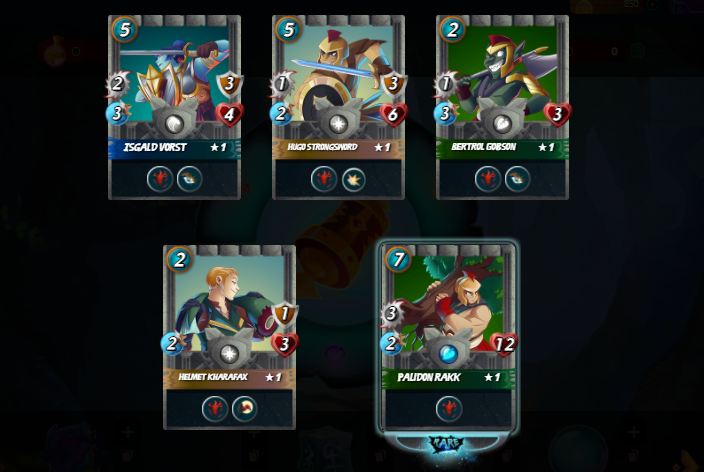 ---
Le carte GLADIUS CASE, sebbene non scambiabili, contribuiscono alla crescita del POWER, con un proprio valore DEC e quindi sono perfettamente utili per la crescita del proprio profilo di gioco.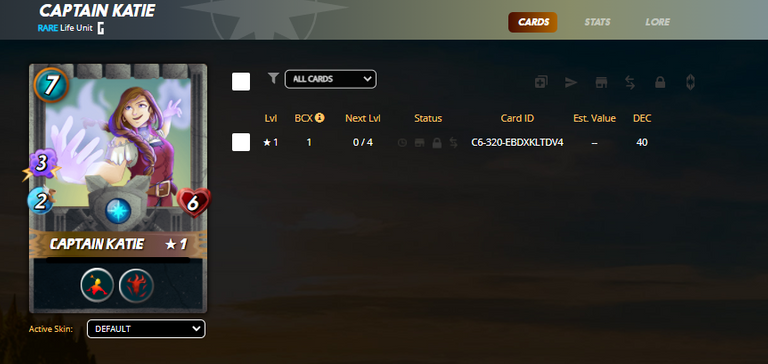 Il mercato ha generato una flessione del valore delle carte e dei token, un dato che ovviamente non deve farci salire il panico ma soltanto concentrarci sul gioco e sulle tante novità in arrivo. In questo caso il divertimento deve essere la principale componente nell'approccio a Splinterlands. Ci sarà il tempo per guadagnare o vivere di rendita, almeno per alcuni.
Thank you for taking the time to read this post
If you haven't signed up for Splinterlands yet, I invite you to give it a try. You can use my referreal link(https://steemmonsters.com?ref=claudio83))
---
---