Splinterlands Weekly Challenge: WOOD NYMPH
Hi all Splinterlands friends,
here we are on an appointment with the Battle Weekly Challenge whose theme this week is the beautiful WOOD NYMPH, a common Reward card of the Earth element, a card that I am particularly fond of because it belongs to the first cards produced at the beginning of my adventure on Splinterlands.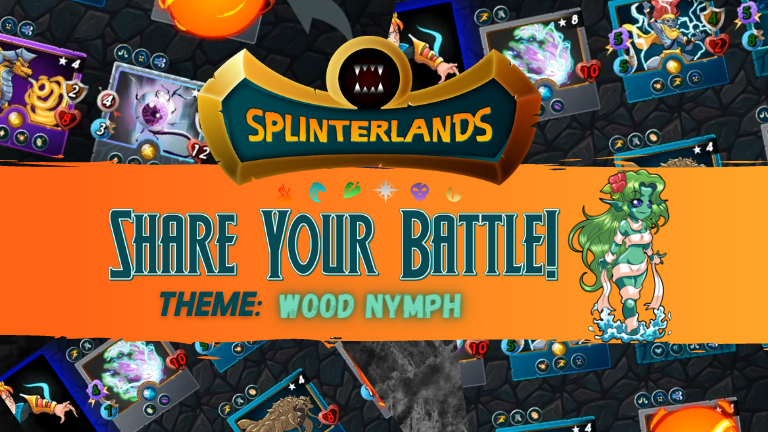 ---
WOOD NYMPH has a mana of only 4 points, particularly suitable for any type of battle and especially for those in which the rules impose a limited maximum mana. Starting at level 1, the card has Tank Heal abilities, healing the allied monster in first position each round. 6 adds the second Strengthen skill that increases the health of all allied monsters, skills that can definitely win a battle.
The card has offensive magic characteristics: at level 1 the magic attack creates +1 damage, at level 8 the magic damage is doubled to +2. The defensive characteristics are precarious having no armor points and the maximum health points is 4. Therefore it is necessary to position WOOD NYMPH away from the very first and last positions, in case of enemies with Sneak ability.
At the moment the card is available on the market at a cost of $ 4.38 or about 1200 DEC. The gold version is also available but it will take a whopping 65 $ or 18k DEC to buy it! The benefits are concrete, at the moment my card is upgraded to level 3 and the results are really satisfying, as you can see from the battle at the link below!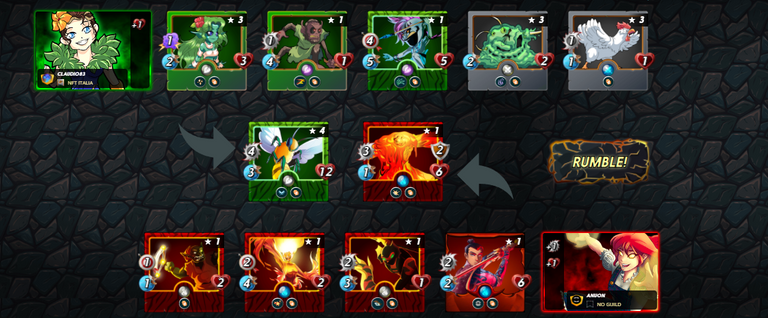 QUEEN OF NECTAR
In the first position I deployed the queen of bees, upgraded to level 4, and the heaviness of her attack (4) is well felt on the enemy monsters, pulverizing them one at a time, and dodging some attacks thanks to her ** Flying ability.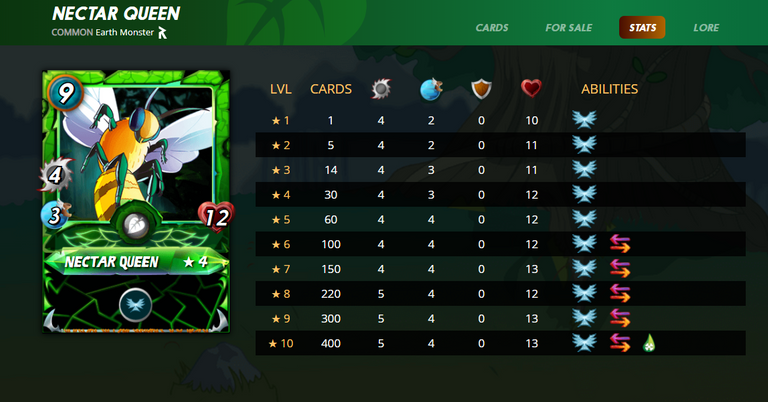 Life points (12) are an excellent defense, although it has no armor, to which the summoner's +1 life point must be added.
---
NINFA OF WOOD
I placed the card in second position, wishing I would not receive attacks from the first turn and that NECTAR QUEEN would be able to resist as long as possible. The nymph was able to offer some care to the queen and this was crucial for the final victory. Unfortunately a couple of attacks suffered KO my card already in the second round.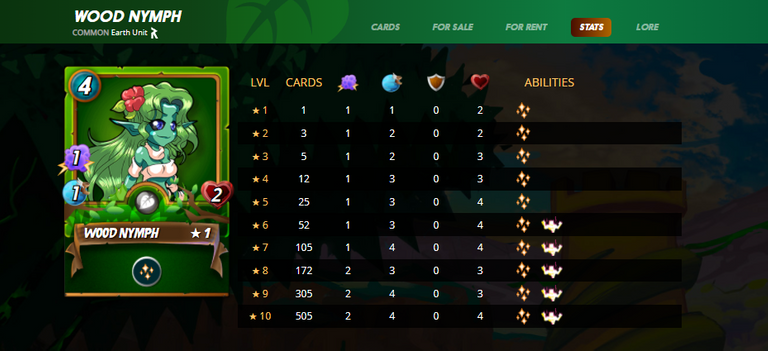 ---
BROWN
Excellent resource that allows my cards to gain speed and, paired with CREEPING OOZE, form a very interesting advantage, during not to be underestimated, which I appreciated during the various battles.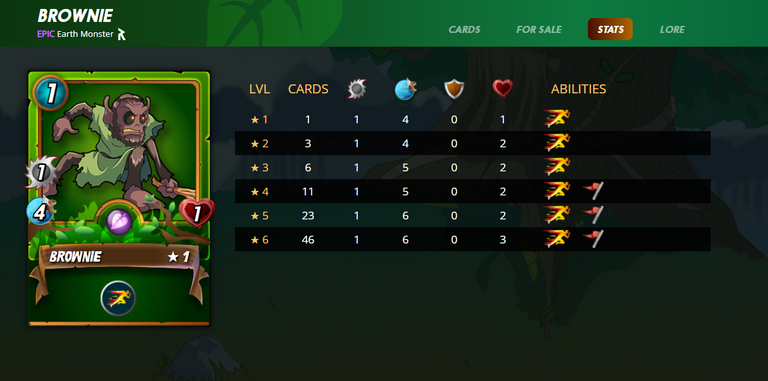 ---
MYTHICAL HEADHUNTER
MITICA has a mana equal to 8 points and this makes it a card that can only be deployed in battles with high mana otherwise you risk canceling the attack power. In fact, being a card with melee attacks, if she were to be in the first position she would not have any offensive capacity, thus introducing her to the inevitable defeat. In my battle, of which you can find the link below, I deployed MITICA in last position, trying to defend it from any attacks from the top positions. From this position she has launched attacks in series and has several opponents crushing them with her hard attack of hers.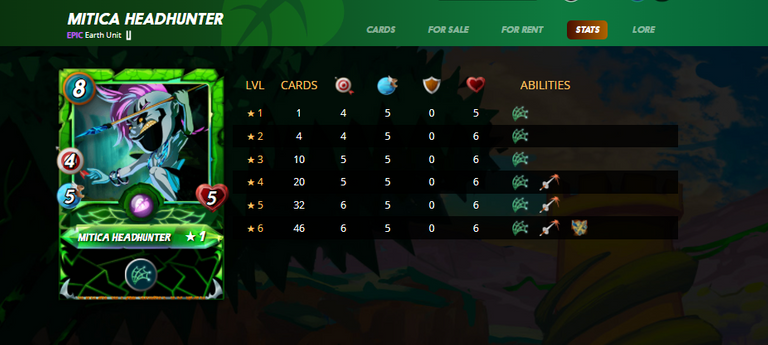 ---
CREEPING OOZE
Inevitable presence in my formation, the advantage of slowing down the opposing monsters is really enormous and often it is the extra gear to win games. Not to be underestimated, indeed I strongly recommend it!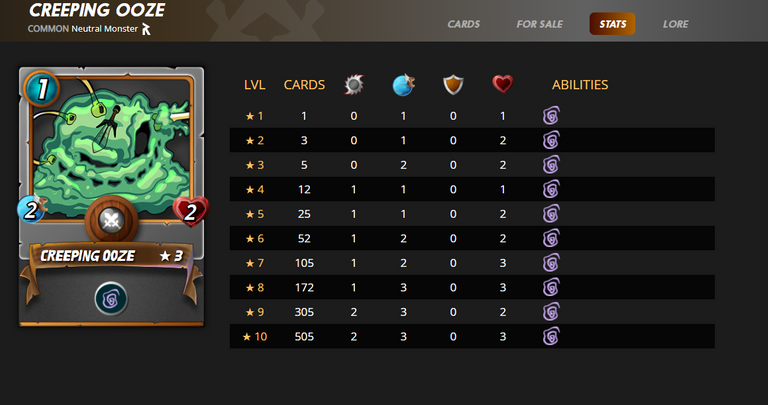 ---
FURIOUS CHICKEN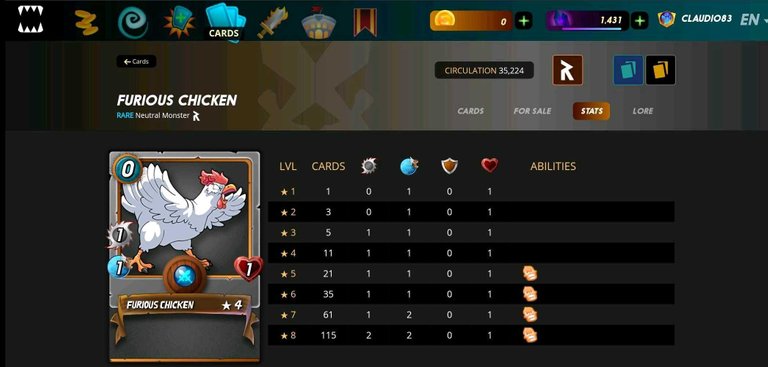 Omnipresent in my attacks, it grants me some protection from queue attacks. In addition, a level 3 has an attack +1 which is always very useful against opponents. Really a precious element😊
Good game!
Thank you for taking the time to read this post
If you haven't signed up for Splinterlands yet, I invite you to give it a try. You can use my referral link
ITA
Ciao a tutti amici di Splinterlands,
eccoci ad un appuntamento con il Battle Weekly Challenge il cui tema di questa settimana è la bellissima WOOD NYMPH, una carta Reward comune dell'elemento Earth, una carta a cui sono particolarmente affezionato perché appartiene alle prime carte ottenute agli inizi della mia avventura su Splinterlands.
WOOD NYMPH ha un mana di soli 4 punti, particolarmente indicata per qualsiasi tipo di battaglia e in particolar modo per quelle in cui le regole impongono un mana massimo limitato. Sin dal livello 1, la carta ha abilità Tank Heal, curando il mostro alleato in prima posizione ad ogni round. Al livello 6 si aggiunge la seconda abilità Strengthen che incrementa la salute di tutti mostri alleati, abilità che possono sicuramente determinare la vittoria di una battaglia.
La carta ha caratteristiche offensive magiche: al livello 1 l'attacco magico crea danno +1, a livello 8 il danno magico è raddoppiato a +2. Le caratteristiche difensive sono precarie non avendo alcun punto armatura ed il massimo dei punti salute è 4. Per cui è necessario posizionare WOOD NYMPH lontano dalle primissime posizioni e dall'ultima, in caso di nemici con abilità Sneak.
Al momento la carta è acquistabile sul mercato al costo di 4,38 $ oppure circa 1200 DEC. E' disponibile anche la versione dorata ma saranno necessari ben 65$ oppure 18k DEC per acquistarla! I benefici sono concreti, al momento la mia carta è potenziata a livello 3 ed i risultati sono davvero soddisfacenti, come potete osservare dalla battaglia al link in basso!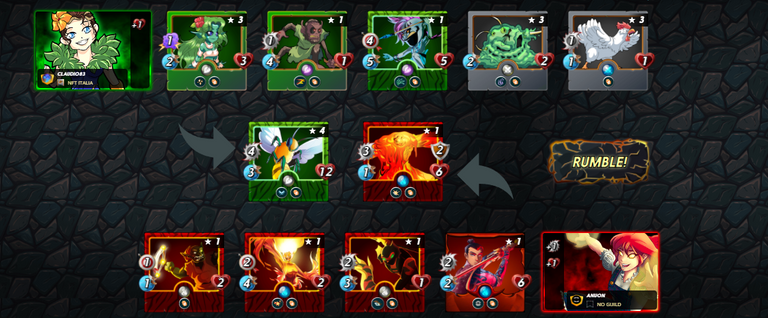 NECTAR QUEEN
In prima posizione ho schierato la regina delle api, potenziato a livello 4, e la pesantezza del suo attacco (4) ben si fa sentire sui mostri avversari, polverizzandoli uno alla volta, e schivando alcuni attacchi avversari grazie alla sua abilità Flying.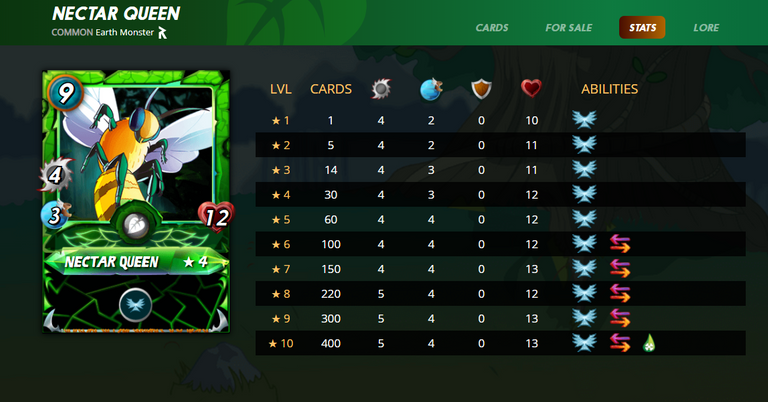 I punti vita (12) sono un'ottima difesa, sebbene non abbia armatura alcuna, a cui bisogna aggiungere il punto vita +1 dell'evocatore.
---
WOOD NYMPH
Ho posizionato la carta in seconda posizione, augurandomi di non ricevere attacchi sin dal primo turno e che NECTAR QUEEN riuscisse a resistere il più possibile. La ninfa è riuscita ad offrire un pò di cura alla regina e ciò è stato fondamentale per la vittoria finale. Purtroppo un paio di attacchi subiti hanno messo KO la mia carta già nel secondo round.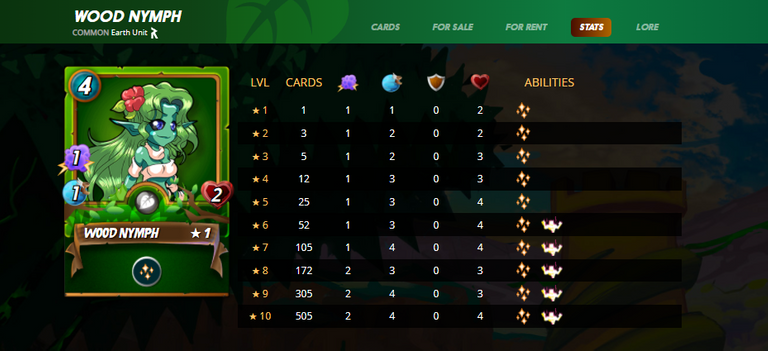 ---
BROWNIE
Ottimo risorsa che consente alla mie carte di guadagnare velocità e, in coppia con CREEPING OOZE, costituiscono un vantaggio molto interessante, da non sottovalutare, che ho apprezzato durante le varie battaglie.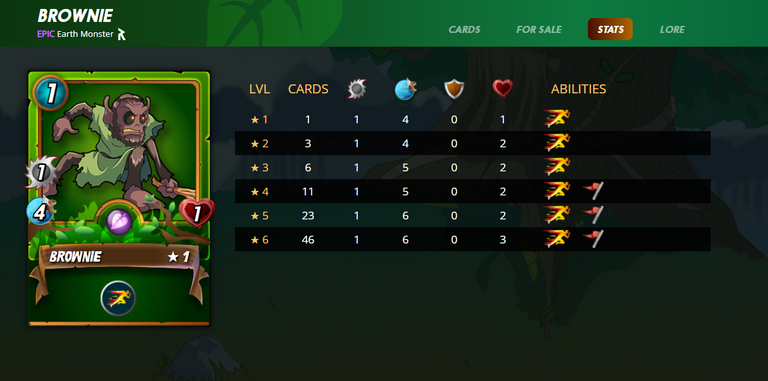 ---
MITICA HEADHUNTER
MITICA ha un mana pari ad 8 punti e ciò la rende una carta schierabile esclusivamente in battaglie con un mana elevato altrimenti si rischia di annullare la potenza d'attacco. Infatti essendo una carta con attacchi da mischia, qualora dovesse trovarsi in prima posizione non avrebbe alcuna capacità offensiva, immandola quindi alla sconfitta inevitabile. Nella mia battaglia, di cui trovate il link in basso, ho schierato MITICA in ultima posizione, cercando di difenderla da eventuali attacchi delle prime posizioni. Da questa posizione ha lanciato attacchi in serie ed ha sconfitto diversi avversari schiacciandoli con il suo duro attacco.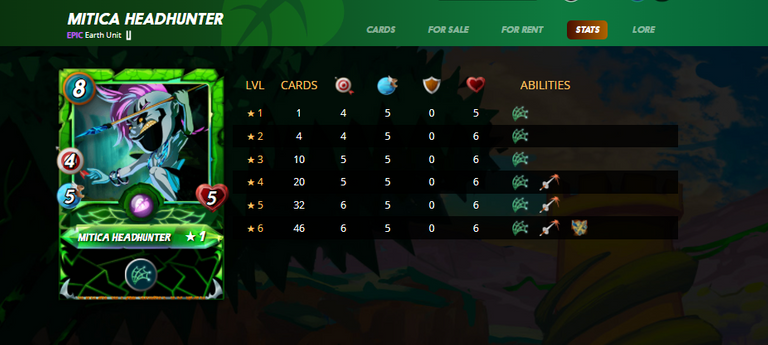 ---
CREEPING OOZE
Immancabile presenza nella mia formazione, il vantaggio di rallentare i mostri avversari è davvero enorme e spesso è la marcia in più per vincere le partite. Da non sottovalutare, anzi io ve lo consiglio fortemente!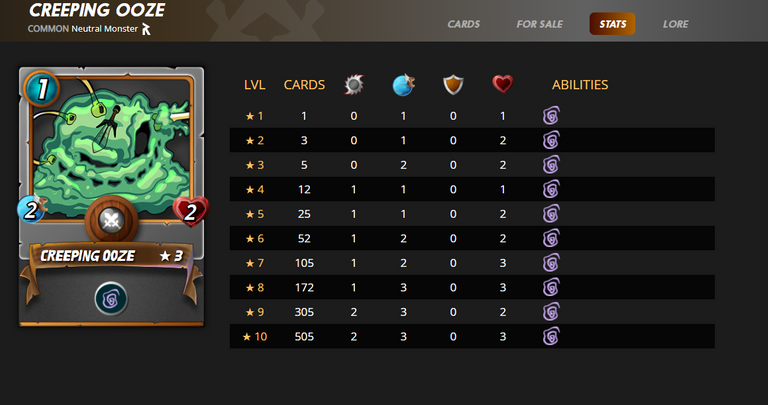 ---
FURIOUS CHICKEN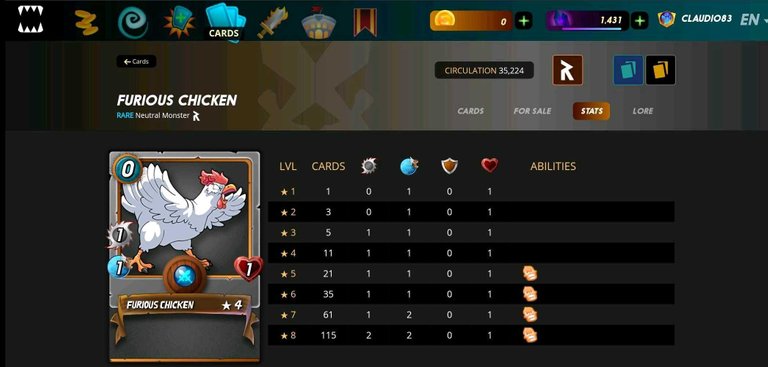 Onnipresente nei miei combattimenti, mi garantisce una certa protezione dagli attacchi in coda. Inoltre un livello 3 ha un attacco +1 che torna sempre molto utile contro gli avversari. Davvero un elemento prezioso😊
Good game!
Thank you for taking the time to read this post
If you haven't signed up for Splinterlands yet, I invite you to give it a try. You can use my referreal link(https://steemmonsters.com?ref=claudio83))
---
---