SPS stakeholders will benefit from future Splinterlands partnerships

The recent announcement of the partnership with The Major League Soccer Players Association (MLSPA), projects Splinterlands, and its players, into an exciting new adventure that will open the doors to other future collaborations, with interesting possibilities for economic growth, as well as exciting ease. access to the best #PlayToEarn games on blockhcain!

---
Splinterlands has been a pioneer in the blockchain gaming industry, and other startups rely on the team for insights and collaborations, given the exceptional growth over the past year in terms of users and assets. As I recently stated in my previous posts, I am very bullish on the SPS token, as the future of the game will require large amounts of it and this simply translates into growth in value.
Furthermore, a very interesting element, the partnership with MLSPA and those that will come in the future, all SPS holders will automatically obtain airdrops of the token of the platforms, the scheme could be very similar to that of the same governance token, distributed over a period of time 6-12 months.
There will be an airdrop for all SPS stakers
Will be a token airdrop that is for the whole platform, not just for the soccer platform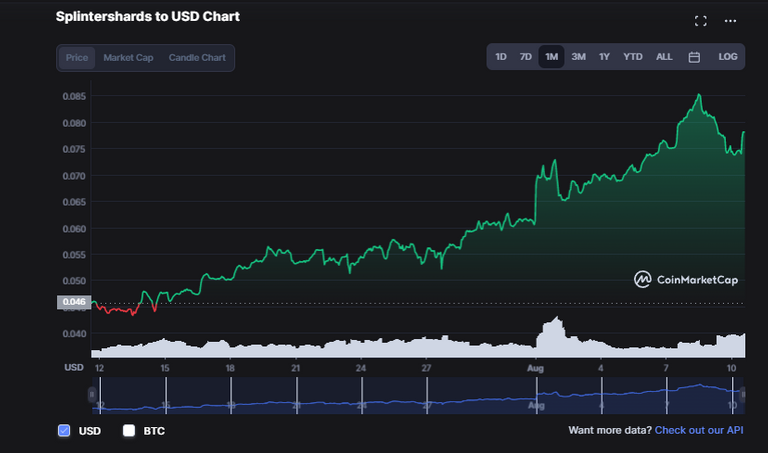 ---
This is all extremely exciting! Meanwhile, the SPS token has steadily increased its value in the last month by almost 100%. At the end of the month, the sale of Rift Watchers cards could begin, which can be purchased exclusively in SPS tokens. 80% of the proceeds will be burned and this will tangibly reduce the circulating supply, generating more value! The future of SPS and Splinterlands is very bright!
Conclusion
The @splinterlands contests are not only aimed at making us get generous upvotes but it is above all to help us discover new cards that can really be very useful in our battles and stimulate us to new strategies and more options in battle.
The low prices of the cards, also caused by the large number of printing and availability of Chaos Legion cards, is an excellent entry point for new players. In fact, it is possible to build an excellent deck of cards by spending little, compared to the cards of previous editions. It will also be interesting to observe the next airdrops CL cards in order to better determine which Summoner to upgrade and consequently the cards to buy on the market!
Furthermore, the strategy that each player sets himself, can undergo natural variations, in order to improve his deck of cards and climb the ranking of the best players, also obtaining higher rewards!
Happy Game
Thank you for taking the time to read this post
If you have not yet signed up for Splinterlands, I invite you to try. You can use my referreal link
ITA
Il recente annuncio della partnership con The Major League Soccer Players Association (MLSPA), proietta Splinterlands, ed i suoi giocatori, in una nuova entusiasmante avventura che aprirà le porte ad altre future collaborazioni, con interessanti possibilità di crescita economica, oltre all'entusiasmante facilità d'accesso ai migliori giochi #PlayToEarn su blockhcain!

---
Splinterlands è stato pionere nel settore gaming su blockchain e altre startup si affidano al team per ottenere informazioni e collaborazioni, vista la crescita eccezionale dell'ultimo anno in termini di utenti e asset. Come recentemente ho affermato nei miei post precedenti, sono molto bullish sul token SPS, poichè il futuro del game ne richiederà grandi quantità e ciò si traduce semplicemente in crescita del valore.
Inoltre, elemento molto interessante, la partnership con MLSPA e quelle che verranno in futuro, tutti i titolari di SPS otterranno in automatico airdrop del token delle piattaforme, lo schema potrebbe essere molto simile a quello dello stesso governance token, distribuito in un arco temporale di 6-12 mesi.
There will be an airdrop for all SPS stakers
Will be a token airdrop that is for the whole platform, not just for the soccer platform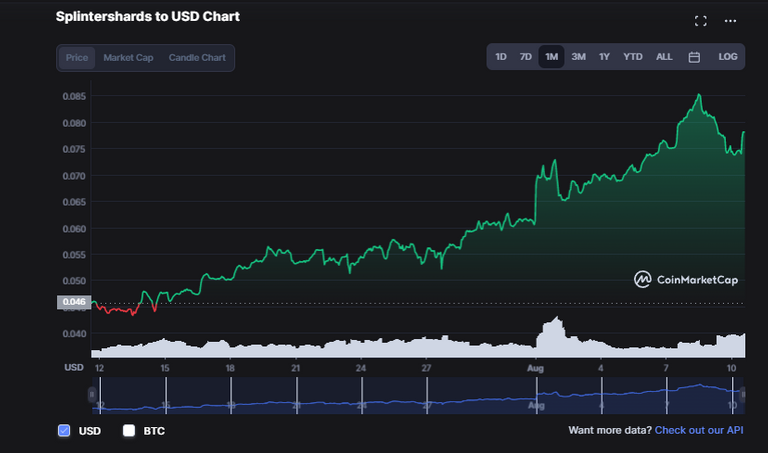 ---
Tutto ciò è estremamente eccitante! Intanto il token SPS ha incrementato costantemente il suo valore nell'ultimo mese di quasi il 100%. Alla fine del mese potrebbe iniziare la vendita delle carte Rift Watchers, acquistabili esclusivamente in token SPS. 80% del ricavato sarà bruciato e ciò ridurrà in modo tangibile la supply circolante, generando altro valore! Il futuro di SPS e di Splinterlands è davvero roseo!
Conclusione
I contest di @splinterlands non hanno solo l'obiettivo di farci ottenere upvotes generosi ma è soprattutto quello di aiutarci a scoprire nuove carte che possono essere davvero molto utili alle nostre battaglie e stimolarci a nuove strategie e maggiori opzioni in battaglia
I prezzi contenuti delle carte, causato anche dal grande numero di stampa e disponibilità delle carte Chaos Legion, è un ottimi punto d'ingresso per i nuovi players. E' possibile infatti costruire un ottimo mazzo di carte spendendo poco, rispetto alle carte delle edizioni precedenti. Sarà interessante osservare anche le prossime carte airdrops CL per poter meglio stabilire quali Summoner potenziare e di conseguenza le carte da acquistare sul mercato!
Inoltre la strategia che ogni giocatore si prefissa, può subire delle naturali variazioni, al fine di migliorare il proprio mazzo di carte e scalare la classifica dei migliori giocatori, ottenendo anche ricompense più alte!
Buon Game
Grazie per aver dedicato del tempo per leggere questo post
If you have not yet signed up for Splinterlands, I invite you to try. You can use my referreal link
---
---