My daily Splinterlands battle journal!!! Episode 027 Year 2023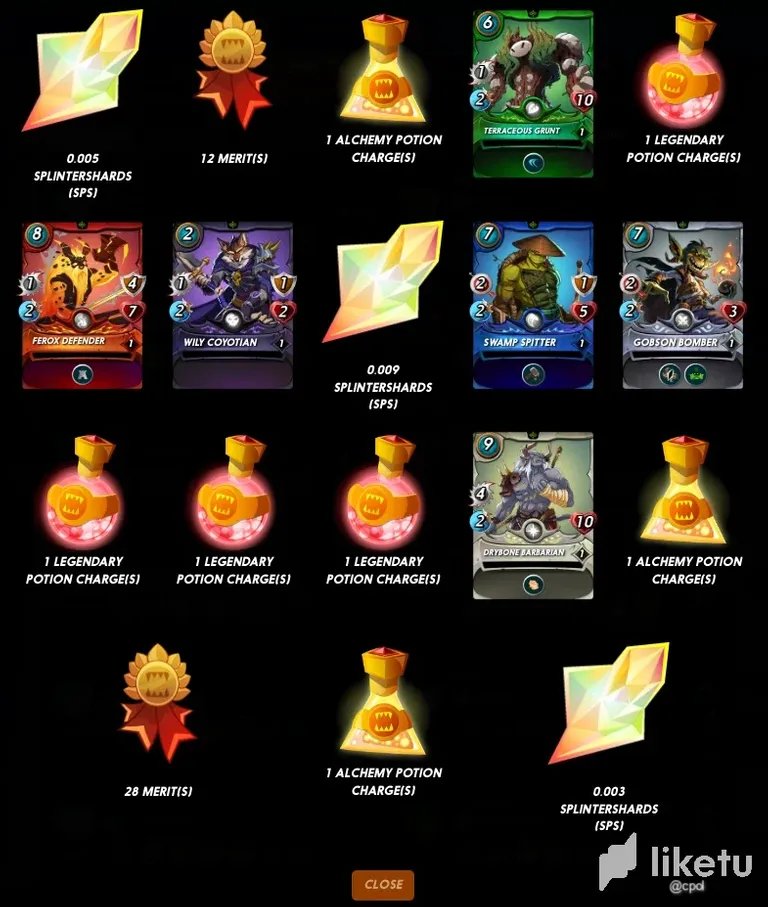 Another awesome battling day in Splinterlands! For some weird reason, my played battles had exactly the same results as the last time! However, my focused changed. Let's take a look to my rewards first!
I had in my awesome bronze 18 reward chests 0.017 SPS, 40 merits, four Alchemy Potions, three Alchemy ones, a Terraceous Grunt, a Ferox Defender, a Willy Coyotian, a Swamp Spitter, a Gobson Bomber and a Drybone Barbarian! So awesome! I thought I had enough potions to open a pack, but unfortunately, now potions are applied immediately to the reward cards, leaving me without a possibility to use in packs. I don't like to complain, but I wish I had the chance to decide how to use them. Let's hope this strategy provides me with a gold foil summoner soon!
I had a Flying focus this time and it was pretty good! I did use lots of flying cards, but almost unaware of them. It seems that I use them unconsciously all the time! I won 21 of 27 battles for a 77.8% win rate! Same as with my previous battling day! I played 23 of those battles in Wild format and four in Modern! I won for those battles 3.981 SPS, and I hit 1,399 rating points (RP) in Modern format and 1,611 RP in Wild! This means, I'm already in Silver I in Wild and pretty close to it in Modern! Nice!
Later today, I will have seven silver reward chests and for my next End of Season I will have eight more chests, 17 total! What a great start!
Today's battle is something I will like to share and it could be very useful to you, guys! Now, the dispel ability eliminates the Last Stand effect! Yes!!! Bye, bye, Llama! In this particular battle, the allowed Splinters were Fire, Death and Earth. As my opponent had a Llama in their battle history, that immediately put me on the fence! In my mind, my opponent was going to use the Llama! The mana cap was 15, which makes it impossible to use multiple sneak cards to counter a possible Llama/Kron combo. Of course, as it's so low mana, a Kron was out of the question. There were also an Equalizer ruleset that in a way is advantageous because all cards start with the same health. Nevertheless, Llama gives each of their own cards +2 health, giving to their cards the edge! Reading in twitter about the recent Splinterlands changes, I saw somewhere that Last Stand could be dispelled, so I had to try it! I chose Spirit Hoarder and set it in second position. I added Gargoya Lion in first position, just in case my opponent decided that Obsidian would be a better choice, and after all, it's a flying card for my daily focus. I finally set Acid Shooter for his Scattershot ability, which comes in handy in these scenarios with low mana! I added two zero mana wild cards in the back line, just in case my opponent wanted to throw a sneak card in there.
As predicted, Spirit Hoarder dispelled Last Stand and allowed me to win the battle. Check it out in here: https://splinterlands.com?p=battle&id=sl_59c8c552881ed6536e479065079d8e05&ref= Thank you very much for this demonstration battle, @ogdaa62197357! I checked your HIVE account and you don't seem to have any activity in there or in HIVE-Engine, whatsoever. For your name pattern with letters and numbers, I assume you are a bot! For that reason I sent you only 500 SBT! If I'm mistaken, I'm sorry and please let me know in the comments to send you an additional 500 SBT! Thank you again!
It was a pretty fun battling day and the last adjustments to the battle system made the game somewhat funner! I love specially the new cards and the surprises they will bring every day! I'm not a fan of applying potions automatically to cards, but it could potentially provides me with great rewards, something that I am always eager about! I hope you enjoy my little Splinterlands entry journal and I would love to thank you for reading it up to this point! Thank you so much!!! See you next time!
Splinterlands referral code: https://splinterlands.com?ref=cpol
My twitter account: https://twitter.com/cpolsilver
---
For the best experience view this post on Liketu
---
---