(PT-EN) Coastal Sentry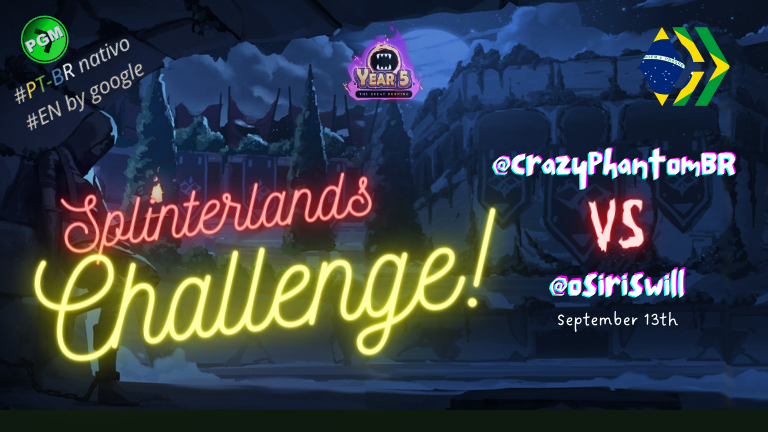 Clique aqui para ir até a versão em português
Hey guys, @CrazyPhantomBR in the area! My participation in the Weekly Media Challenge, of what is the best game in the #hive #hivebr #play2earn ecosystem that exists!! #Splinterlands!!
This post is a submission to the Weekly Media Challenge Splinterlands! Best viewed in Ecency Dark Mode!



Today my participation in the challenge will be an analysis of a game. We will see?
---
PREVIOUS ANALYSIS
I have a series of strategies and I call them by names. After the recent changes in modern mode I have had different winrate than expected, but I continue to persist. Today I'm going to bet big, and it's going to be all or nothing!
For those of you who don't understand what I'm talking about:
All or Nothing Strategy
*Bet all your chips, after all, the winner takes all. I like to add the suffix "Full" to the subtypes in this category. *
Source: [The art of War](https://ecency.com/hive-140217/@crazyphantombr/pt-en-a-arte- da), by CrazyPhantomBR
Basically this strategy consists of you betting big on a card, a specific ability, a highly focused combo, anyway... well, so you understand: I bet everything on the trample ability!
The All or Nothing strategy can lead you to victory through some means:
Luck: but in this case, you wouldn't even need a strategy!
Synergy: when our team "fits in" perfectly to counter the opponent!
In this match I was expecting an opponent with Earth Magic but I was very worried about the quality of my team. Let's see why:
---
COMPOSING THE TEAM
Everyone knows that my favorite splinter is Water. At this point I had to make an initial choice, comparing my currently available summoners:
My main summoners are:
Kelya Frendul water level 5, my own.
My main investment in the game so far.

Thaddius Brood death level 4, rented.
My favorite, as this element is what I've dedicated the most to since its launch.

Lobb Lowland level 4, my own.
A very good surprise to have managed to get this summoner to level 4 in such a short time! It's my best Earth summoner so far and now it's starting to be better used in the Gold league, which is where I intend to play!

Eternan Brune fire level 4, my own.
Practically unused, as I have few cards evolved in Splinter Fire.

Obsidian earth level 3, rented.
It's been enough to sustain Earth element battles, considering that it's not my goal to acquire cards from this element at the moment.

Possibilus the Wise water level 2, rented.
I even bought 2 bcx of this summoner, but it's still not enough to put him at level 2, so I'm renting it.

Bortus water level 1, starter.
A difference to be able to exploit careless opponents who insist on using Kelya in situations that exploit magic.

Pembrook Nymph water GF level 3, my own.
It became a little faded after I started using Possibilous.

Yodin Zaku ~~level 1, leased.
Every season restart I've been trying to get this summoner for a fair price. However, after the first few days, renters end up canceling.
Well, the ruleset Unprotected removes shields from all monsters. This leaves the hit points completely exposed! Ideal for highly powerful melee attacks, which would usually stop at shields.
So my options were good for any occasion. I preferred to bet heavily on my favorite card: Coastal Sentry!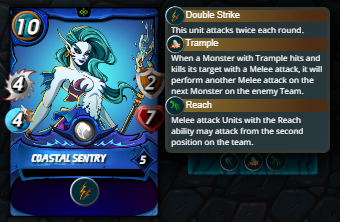 This card has the fantastic double attack ability, which makes it a destruction machine. In my opinion, its attack is high, its speed is medium-high and it has good hit points and shields. A very complete card, so much so that I have it at level 6 (however, I can't use all of its abilities as I'm stuck in the Silver league).
Does he take the first position on the team? No, certainly not. We need her to be alive and protected because the strategy consists of using the trample skill and not the Double-strike skill.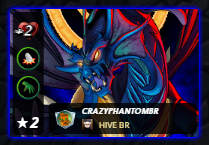 To do this we need the summoner Possibilus the Wise to lead the team, distributing the desired skill Trample to everyone. When a monster with trample ability defeats an opponent, it attacks again.
For this reason we want Coastal Sentry to be able to defeat a monster with its two attacks and eventually get two extra attacks! This would be perfect for our strategy!
The rest of my team are cards that aim to favor melee attacks, and enhance the cards' attributes, whether increasing their physical attack as well as speed and even a sacrifice with resurrection!

---
OPPONENT TEAM
The opponent chose Obsidian level 2 summoner, which already reassured me a little as your cards would be limited by the level of your summoner. However, a magical team is always a challenge!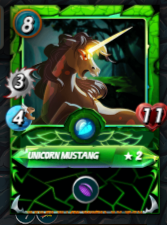 In front Unicorn Mustang at level 2, which is a classic for Earth teams. After him, four magical monsters followed, all powered by the summoner. This is a problem!
To make matters worse, the card that is perhaps the most challenging, Doctor Blight, at level 1 (at least I wouldn't get poisoned!).

The opponent used the card Oaken Benemoth which is unusual, at least for my games. His team was well chosen and there was no problem in his strategy. But I bet bigger, and with big bets we get big rewards!
---
BATTLE
The battle took place in the Silver I league and can be watched via the link:
https://splinterlands.com?p=battle&id=sl_e8d1c60d33ffa799e659f878f3b1d3ab&ref=crazyphantombr
Round 1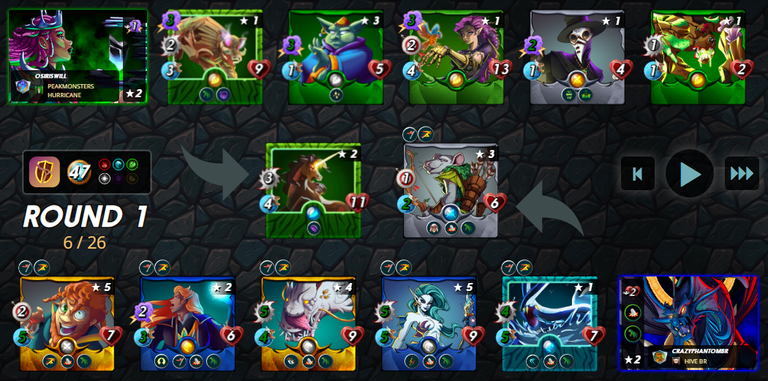 Here we see the opening of the battle after the bufs and debufs.
Round 2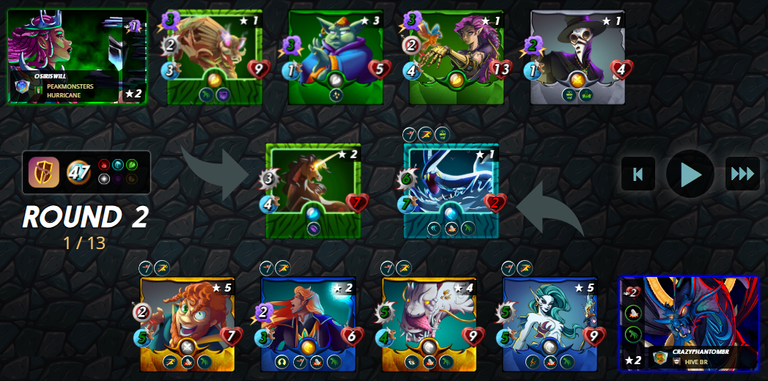 At the end of the first round I had already lost my sacrifice card and was on the verge of losing my first attacker. However, we can already see the attack power of Coastal Sentry enhanced and ready to begin the exterminations!
Round 3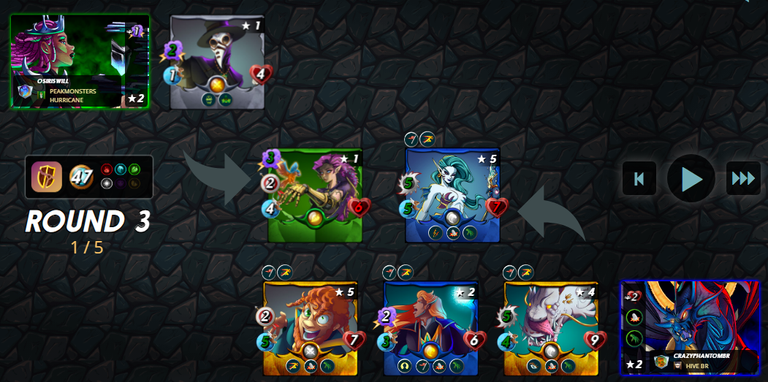 It's incredible how the game completely turned around just with the performance of Coastal Sentry who carried out three attacks, turning the match in my favor!
---
POSTER ANALYSIS
Coastal Sentry is a sensational card and cannot be ignored when on the battlefield! Games without shields leave cards too exposed to melee attacks, which can be enhanced by suitable summoners, or even by abilities present on other cards, as was the case here.
Our strategies to exploit the Trample were very successful and my team presented synergy that the opponent unfortunately was not able to support!
End of the game!
---

CrazyPhantomBR supports the PGM project
I invite you to learn about the PGM project.
A community aimed at gamers of all generations!
If you haven't played Splinterlands yet, use my recommendation link:
https://splinterlands.com?ref=crazyphantombr
---

CrazyPhantomBR supports Brazilian curators
@Hive-BR and @Brazilians
I invite you to discover the curation projects of the Brazilian HiveBR communities!
Delegate HP to the hive-br.voter account and earn net Hive daily!

---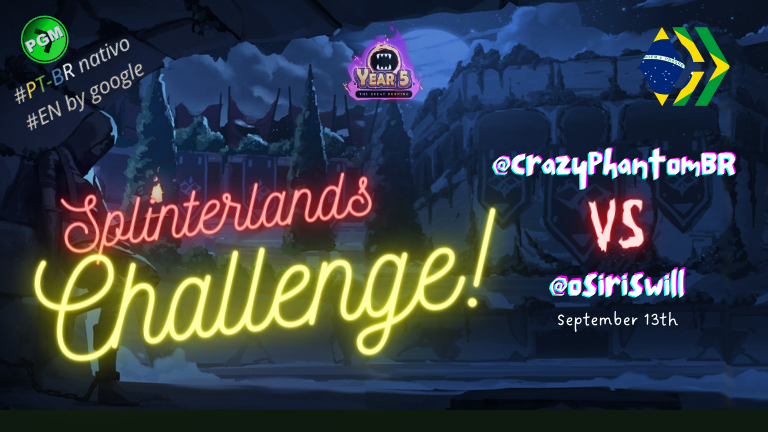 )
Fala galera, @CrazyPhantomBR na área! Minha participação no Desafio de Mídia Semanal, deste que é o melhor jogo do ecossistema #hive #hivebr #play2earn que existe!! #Splinterlands!!
Esta postagem é uma submissão ao Desafio de Mídia Semanal Splinterlands! Melhor visualizada no Ecency Dark Mode!



Hoje minha participação no desafio será uma análise de uma partida. Vamos ver?
---
ANÁLISE PRÉVIA
Eu tenho uma série de estratégias e chamo elas por nomes. Depois das mudanças recentes no modo moderno tenho tido winrate diferente do esperado, porém continuo persistindo. Hoje vou apostar grande, e vai ser tudo ou nada!
Para você que não entende o que estou falando:
Estratégia do Tudo ou Nada
*Aposte todas as suas fichas, afinal o vencedor leva tudo. Gosto de adicionar o sufixo "Full" nos substipos desta categoria. *
Fonte: A arte da Guerra, por CrazyPhantomBR
Basicamente essa estratégia consiste em você apostar alto em um card, uma habilidade específica, um combo altamente focado, enfim... bom, para você entender: eu apostei tudo na habilidade trample!
A estratégia Tudo ou Nada pode te levar a vitória por alguns meios:
Sorte: mas neste caso, você nem precisaria de estratégia!
Sinergia: quando o nosso time "encaixa" perfeitamente para counterar o adversário!
Nesta partida eu estava esperando um adversário com Earth Magic mas estava muito preocupado com a qualidade da minha equipe. Vamos ver porque:
---
COMPONDO O TIME
Todo mundo sabe que eu splinter favorito é o Water. Neste ponto eu tive de fazer uma escolha inicial, comparando meus summoners disponíveis no momento:
Meus principais invocadores são:
Kelya Frendul water level 5, meu próprio.
Meu principal investimento no jogo até o momento.

Thaddius Brood death level 4, alugado.
Meu preferido, pois este elemento é o que mais me dediquei desde o lançamento.

Lobb Lowland level 4, meu próprio.
Uma surpresa muito boa ter conseguido colocar este invocador em level 4 em tão pouco tempo! É meu melhor invocador Earth até o momento e agora começa a ser melhor aproveitado na liga Ouro, que é onde pretendo jogar!

Eternan Brune fire level 4, meu próprio.
Praticamente sem uso, pois tenho poucos cards evoluídos no splinter fire.

Obsidian earth level 3, locado.
Tem sido suficiente para sustentar as batalhas do elemento Earth, tendo em vista que não é meu objetivo adquirir cards deste elemento no momento.

Possibilus the Wise water level 2, locado.
Cheguei a comprar 2 bcx deste invocador, mas ainda não é suficiente para colocá-lo em level 2, portanto estou locando.

Bortus water level 1, starter.
Um diferencial para poder explorar adversários descuidados que insistem em utilizar a Kelya em situações que exploram magia.

Pembrook Nymph water GF level 3, meu próprio.
Ficou meio apagada depois que passei a utilizar o Possibilous.

Yodin Zaku ~~level 1, locado.
Todo reinício de temporada tenho tentando pegar este invocador mediante um preço justo. Porém, depois dos primeiros dias os locatários acabam cancelando.
Pois bem, o ruleset Unprotected remove os escudos de todos os montros. Isso deixa os pontos de vida totalmente expostos! Ideal para ataques melee altamente poderosos, e que geralmente parariam nos escudos.
Então minhas opções eram boas em qualquer ocasião. Eu preferi apostar pesado no meu card preferido: Coastal Sentry!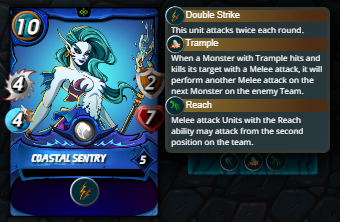 Este card tem a habilidade fantástica de duplo ataque, o que a torna uma máquina de destruição. No meu julgamento seu ataque é alto, sua velocidade é média-alta e tem bons pontos de vida e escudos. Um card bem completo, tanto que a tenho em level 6 (porém não posso usar todas as suas habilidades pois estou preso na liga Prata).
Ele assume a primeira posição na equipe? Não, certamente não. Precisamos que ela esteja viva e protegida pois a estratégia consiste no uso da habilidade trample e não na habilidade Double-strike.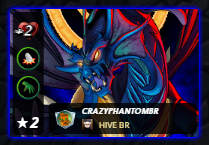 Para isto precisamos que o invocador Possibilus the Wise conduza a equipe, distribuindo a habilidade desejada Trample para todos. Quando um monstro com habilidade trample derrota um adversário, ele ataca novamente.
Por este motivo queremos que Coastal Sentry consiga derrotar um monstro com seus dois ataques para eventualmente conseguir obter mais dois ataques extras! Isso seria perfeito para nossa estratégia!
O restante da minha equipe são cards que visam favorecer o ataque melee, e potencializar os atributos dos cards, seja aumentando seu ataque físico como também velocidade e mesmo um sacrifício com ressurreição!

---
TIME ADVERSÁRIO
O adversário escolheu invocador Obsidian level 2, o que já me tranquilizou um pouco afinal seus cards seriam limitados pelo level do seu invocador. Contudo, uma equipe mágica sempre é um desafio!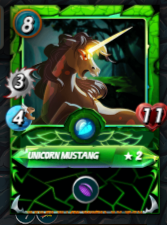 Na frente Unicorn Mustang em level 2, que é um clássico para equipes Earth. Após ele, seguiram quatro monstros mágicos, todos pontencializados pela invocadora. Isso é um problema!
Para piorar, o card que talvez seja o mais desafiador, Doctor Blight, em level 1 (ao menos eu não seria envenenado!).

O adversário utilizou o card Oaken Benemoth que é incomum, ao menos para minhas partidas. Sua equipe foi bem escolhida e não havia nenhum problema em sua estratégia. Mas eu apostei mais alto, e com grandes apostas temos grandes recompensas!
---
BATALHA
A batalha ocorreu na liga Silver I e pode ser assistida através do link:
https://splinterlands.com?p=battle&id=sl_e8d1c60d33ffa799e659f878f3b1d3ab&ref=crazyphantombr
Round 1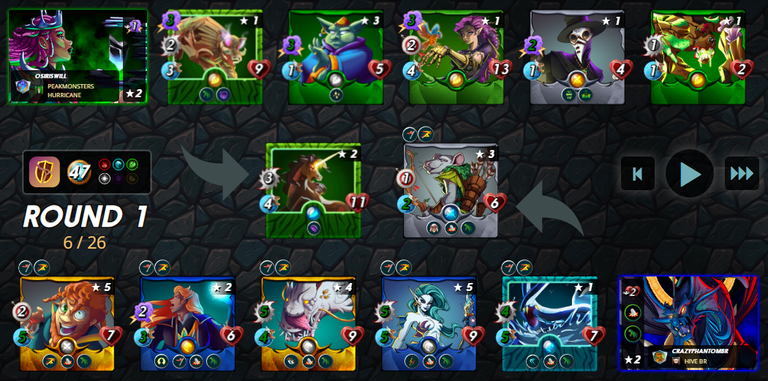 Aqui vemos a abertura da batalha após os bufs e debufs.
Round 2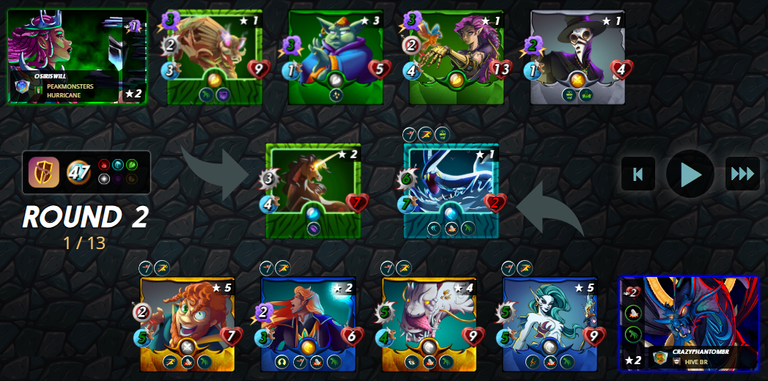 Ao final do primeiro round eu já havia perdido meu card de sacrifício e estava na iminência de perder meu primeiro atacante. Contudo já podemos ver o poder de ataque da Coastal Sentry potencializado e pronto para iniciar os extermínios!
Round 3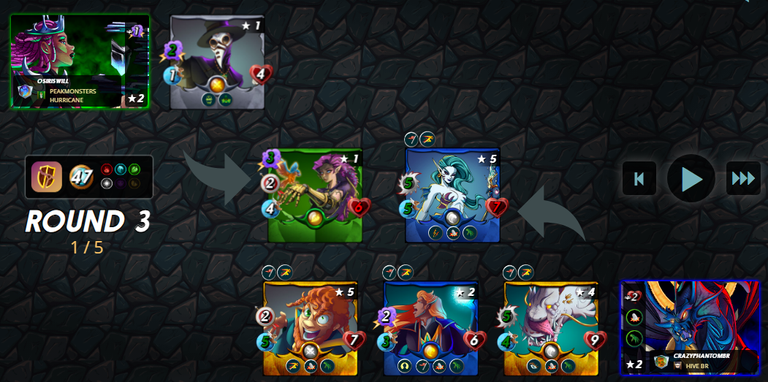 Incrível como o jogo virou completamente só com a atuação da Coastal Sentry que realizou três ataques, virando a partida em meu favor!
---
ANÁLISE POSTERIOR
A Coastal Sentry é um card sensacional e não pode ser ignorada quando em campo de batalha! Partidas sem escudos deixam os cards expostos demais aos ataques melee, que podem ser potencializados pelos invocadores adequados, ou mesmo pelas habilidades presentes em outros cards, como foi o caso aqui.
Nossas estratégias de explorar o Trample foi muito bem sucedida e minha equipe apresentou sinergia que o adversário infelizmente não foi capaz de suportar!
Fim de jogo!
---

CrazyPhantomBR apoia o projeto PGM
Te convido a conhecer o projeto PGM.
Uma comunidade voltada para gamers de todas as gerações!
Se você ainda não joga Splinterlands utilize meu link de recomendação:
https://splinterlands.com?ref=crazyphantombr
---

CrazyPhantomBR apoia as curadorias brasileiras
@Hive-BR e @Brazilians
Te convido a conhecer os projetos de curadoria da comunidades brasileira HiveBR!
Delegue HP para conta hive-br.voter e ganhe Hive líquida diariamente!

---
---