(PT-EN) Life x Life, vitória com Portal Spinner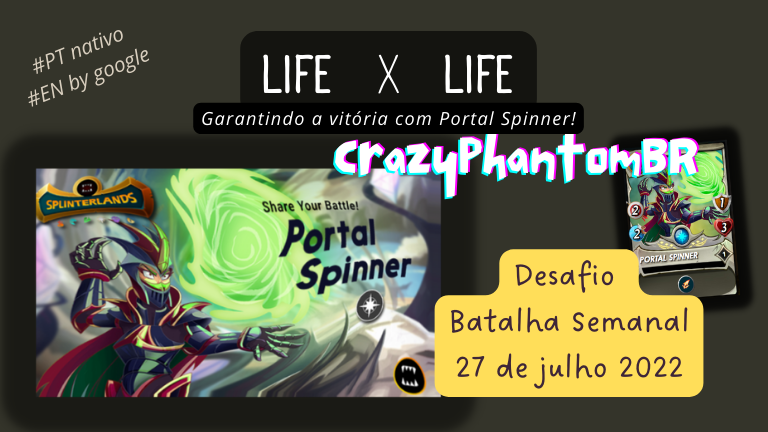 #PT first, #ENG depois, #Ecency forever😅
Fala galera, voltei a participar aqui direto para um desafio da batalha semanal, deste que é o melhor jogo #play2earn que existe!! #Splinterlands
Esta postagem é uma submissão ao desafio de batalha semanal Splinterlands!
Hoje vamos de Splinter LIFE em busca de aplicar em campo de batalha a carta da semana: PORTAL SPINNER, que é uma que eu utilizo quando tenho partidas com mana suficiente para montar minha escalação de LIFE completa. Quando temos pouco mana, acabo por deixar ela de fora. Vamos brincar e ver se dá certo?



ATRIBUTOS DA CARTA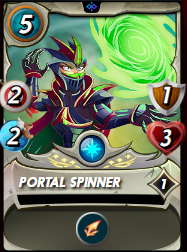 Nome: PORTAL SPINNER
Mana: 5 UNIDADES
Splinter: LIFE
Edição: CHAOS LEGION
Raridade: RARA
Habilidade: SCATTERSHOT - Ataca alvo aleatório
Como eu não tenho esta carta acabei alugando ela em LVL 1 mesmo, que para meu uso é mais do que suficiente. Tenho evitado alugar na folhagem OURO, declinando do bônus de 10% no cálculo de Focus Point. Mas enquanto escrevia esta postagem acabei vendo o valor baixo da cotação da carta, então acabei comprando uma também. Isso tem acontecido frequentemente: eu faço o desafio semanal e acabo comprando a carta :D


VALOR DE MERCADO: U$0,07
De acordo com o site CardAuctionz, esta carta regular em LEVEL 1 vale hoje U$0,07, o que para mim justifica sua compra. Acabei de comprar uma carta que estava anunciada por U$0,07, o que na conversão acabou custando
117 DECs. Baratinho, não?

MINHA OPINIÃO SOBRE A CARTA
O PORTAL SPINNER é uma carta muito poderosa, principalmente se combada com GENERAL SLOAM. possui pouca vida mas compensa isso com um escudo. Seu ataque à distância é de 2 unidades, podendo chegar a 3 com o summoner correto. A habilidade que possui pode ser um ponto positivo ou negativo, a depender da batalha. Você não pode contar que ela vai ajudar a derrubar o tank, nem que ela vai atacar a retaguarda. Não tem como prever o seu comportamento. Nem você, nem seu adversário... então...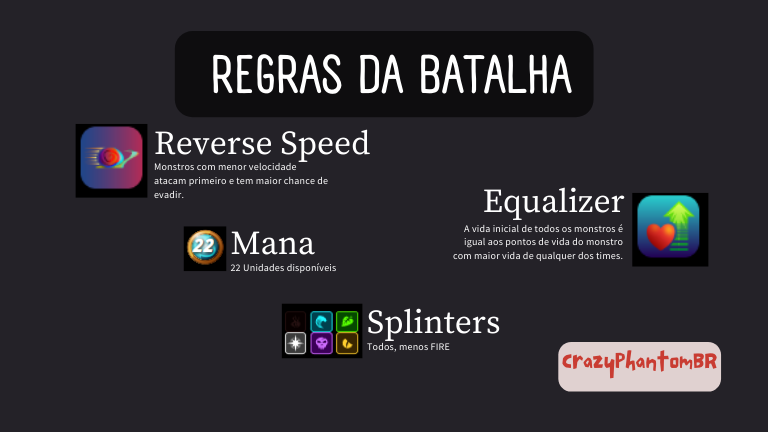 O TIME QUE EU DECIDI MONTAR
Essa batalha ocorreu na liga PRATA III onde estou porque tenho testado um dia na liga PRATA III e outro dia na liga BRONZE I, e pode ser assistida por este link
Escolhi jogar com GENERAL SLOAM, LVL 1, que ganhei a poucos dias em um baú de bronze :D maximizando assim meu dano à distância. Meu plano foi o seguinte: explorar a regra EQUALIZER usando a galinha furiosa e algum outro monstro de baixo mana, colocando-os como tanques. Após isto, todos os monstros de ataque à distância que eu pudesse, dando preferência a um com cura.
Meu time ficou com as seguintes posições:
FURIOUS CHICKEN, cuja função principal era explorar o EQUALIZER e fazer o adversário gastar vários ataques;
GARGOYA SCRAPPER, com a mesma intenção, montando um tanque
XENITH ARCHER, começando com os monstros de ataque;
VENARI CRYSTALSMITH, cuja função seria tentar manter os dois tanques vivos o máximo de tempo possível, através de sua cura;
PELACOR ARBALEST, estrategicamente colocado para atacar duas vezes com DOUBLE STRIKE;
Portal Spinner, na última posição para explorar melhor seu escudo, barrando um eventual SNEAK solitário.
Achei esse time muito bom. Existe um risco de o adversário usar o unicórnio Mustang com tankheal, ou a Kelya com a serpente que evade. Mas estou com muita esperança que minha estratégia prevaleça.

A LUTA
Meu adversário usou MOTHER KHALA LVL 2, achando que poderia potencializar seus monstros com ponto de vida extra. Usou o tanque BLINDING REFLECTOR, que não possui habilidades especiais. Percebo que meu time está com 6 pontos de vida, e deduzo que foi devido ao adversário utilizar a DJINN RENOVA. Isso não caracteriza um erro, mas como veremos, não é um caso de sucesso. O adversário compôs seu time com dois SNEAK e um OPPORTUNITY, o que compromete a situação do meu PORTAL SPINNER.
Round 1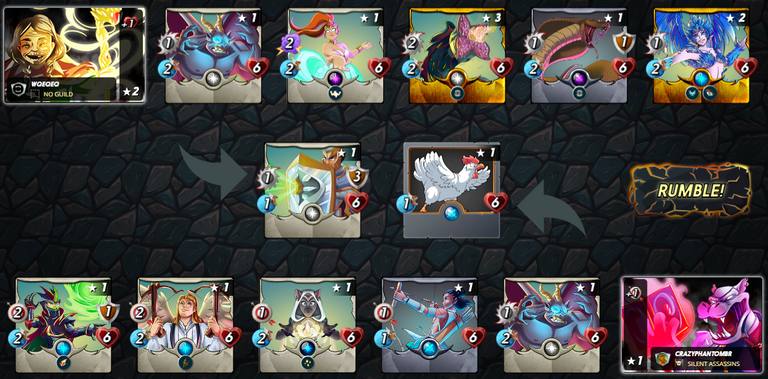 Perceba que o adversário possui 8 pontos de vida, enquanto eu possuo apenas 6. A diferença se dá pelos buffs da Mother Khala associado à habilidade da Djinn Renova. No primeiro round nada de extraordinário acontece.
Round 2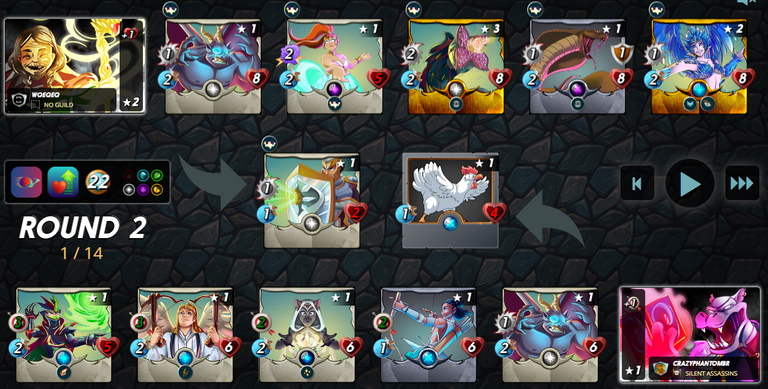 O buff do General Sloam é definitivamente substimado pelo adversário. Estamos quase derrubando sua linha de frente. Enquanto isso, seus SNEAKs não conseguiram parar nosso Portal Spinner que causará um dano elevado no adversário.
Round 3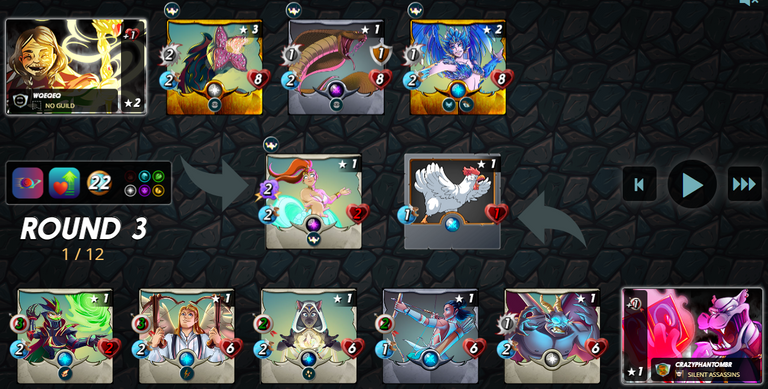 Duas cartas adversárias estão eliminadas, enquanto nossa galinha furiosa continua sustentando a linha de frente, isso graças ao Tank Heal do Venari CrystalSmith. Nossa estratégia claramente prevaleceu.
Round 4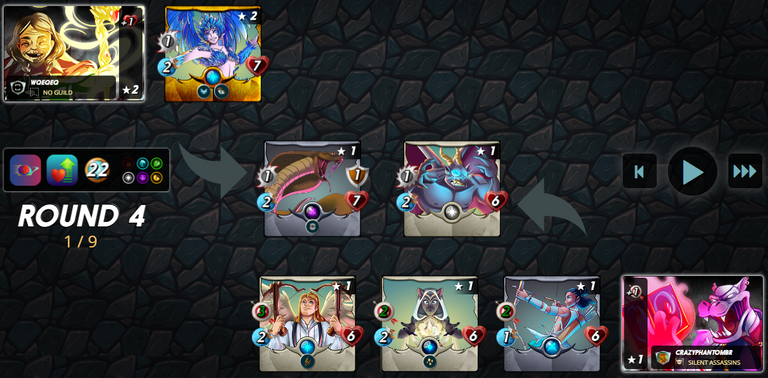 Perdemos o Portal Spinner, mas garantimos a partida. O dano inimigo é de 1 + 1= 2 pontos por Round, enquanto meu Tank Heal é de 2 pontos por Round. A vitória está garantida.
Round 5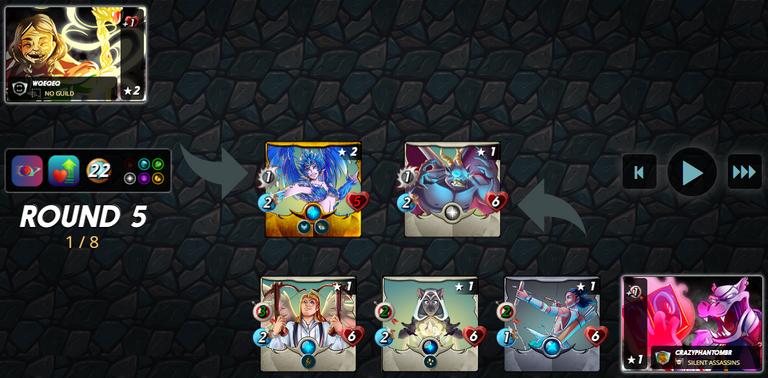 A luta acaba nas mãos do Pelacor Arbalest.
O time adversário se esvaiu em sangue e se retira do campo de batalha.
Nada mais a fazer, retiro meu time quase completo de campo, com apenas duas baixas.
Resultado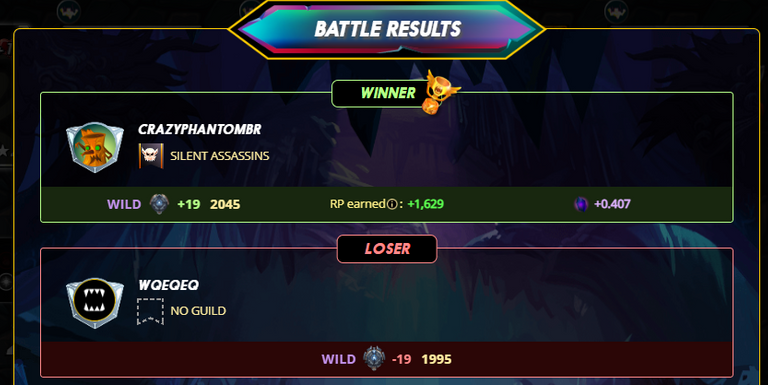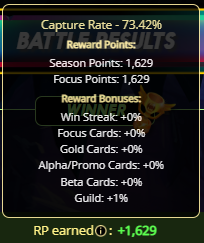 O que acontece aqui é que meu ECR está na casa dos 70% desde que parei de insistir em jogar somente na liga PRATA III e acima, pois estou jogando um dia na BRONZE e outro na PRATA e testando as recompensas diárias.
Devido ao meu Focus Point ser com habilidade FLY, não ganhei nenhum bônus. Ainda assim, 1,629 pontos de RShare. Baixo, mas ajuda!
A batalha ocorreu na liga PRATA III, apensar do meu rating esta em 2,000. Não estou mais alugando CP para jogar nas ligas mais altas. Vejo que meu adversário também é tem na casa dos 1900 pontos, o que parece justo.
---

O que achou da minha luta? o que teria mudado? Venci com facilidade devido ao ótimo trabalho do meu time buffado pelo General Sloam. A posição estratégica do Portal Spinner também contribuiu, e seu escudo garantiu um round extra dele em campo, o que foi de grande ajuda.
Se curtiu, deixa um comentário aí sobre a luta.
Se você ainda não joga Splinterlands venha fazer parte da comunidade!!! Se quiser, utilize meu link de recomendação:
https://splinterlands.com?ref=crazyphantombr
Muito obrigado a todos e até a próxima!!!
xxxxxxxxxxxxx ENG by google xxxxxxxxxxxxxxxxxxxx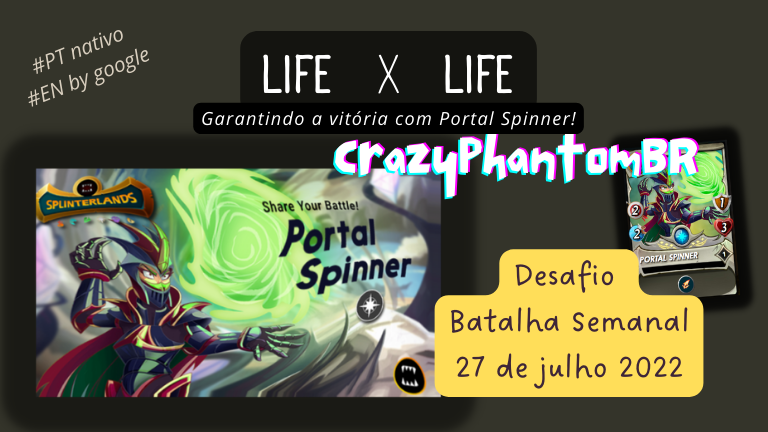 #PT first, #ENG later, #Ecency forever😅
Hey guys, I came back to participate here directly for a challenge of the weekly battle, this is the best game #play2earn there is!! #Splinterlands
This post is a submission to weekly battle challenge Splinterlands!
Today we go from Splinter LIFE looking to apply the card of the week on the battlefield: PORTAL SPINNER, which is one I use when I have matches with enough mana to build my full LIFE lineup. When we're low on mana, I end up leaving it out. Let's play and see if it works?



CARD ATTRIBUTES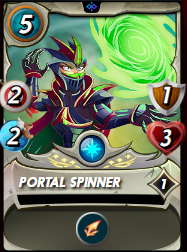 Name: PORTAL SPINNER
Mana: 5 UNITS
Splinter: LIFE
Editing: CHAOS LEGION
Rarity: RARE
Ability: SCATTERSHOT - Attacks random target
As I don't have this card I ended up renting it at LVL 1, which is more than enough for my use. I have avoided renting on GOLD foliage, declining the 10% bonus in the Focus Point calculation. But while writing this post I ended up seeing the low value of the quote on the letter, so I ended up buying one too. This has happened often: I do the weekly challenge and end up buying the card :D


MARKET VALUE: U$0.07
According to CardAuctionz, this regular card at LEVEL 1 is now worth $0.07, which in my opinion justifies its purchase. I just bought a card that was advertised for U$0.07, which in the conversion ended up costing
117 DEC. Cheap, no?

MY OPINION ABOUT THE LETTER
PORTAL SPINNER is a very powerful card, especially if combined with GENERAL SLOAM. it has low health but makes up for it with a shield. Its ranged attack is 2 units, it can reach 3 with the correct summoner. The skill it has can be a positive or negative point, depending on the battle. You can't count on her helping to take down the tank, nor that she'll attack the rear. There is no way to predict their behavior. Neither you nor your opponent... so...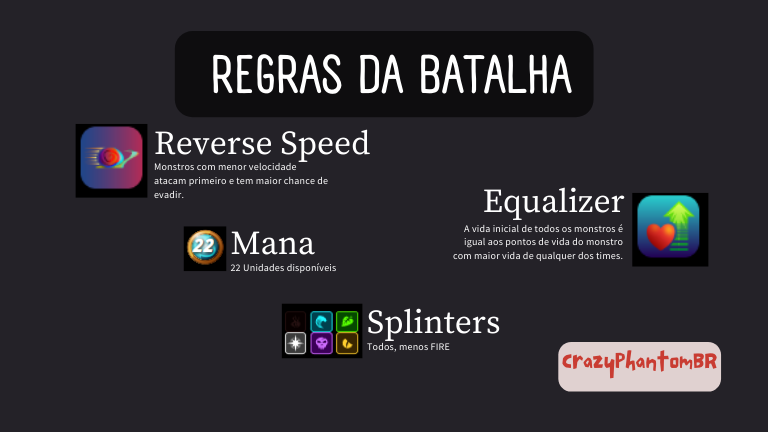 THE TEAM I DECIDED TO BUILD
This battle took place in the SILVER III league where I am because I have tested one day in the SILVER III league and another day in the BRONZE I league, and can be watched by [this link](https://splinterlands.com?p=battle&id=sl_456f7a5a494c7e4181b1eeb6f43392cf&ref= crazyphantombr)
I chose to play with GENERAL SLOAM, LVL 1, which I won a few days ago in a bronze chest :D thus maximizing my ranged damage. My plan was this: exploit the EQUALIZER rule using the angry chicken and some other low mana monster, placing them as tanks. After that, all ranged monsters I could, giving preference to one with healing.
My team was in the following positions:
FURIOUS CHICKEN, whose main function was to exploit the EQUALIZER and make the opponent spend several attacks;
GARGOYA SCRAPPER, with the same intention, assembling a tank
XENITH ARCHER, starting with the attack monsters;
VENARI CRYSTALSMITH, whose function would be to try to keep the two tanks alive as long as possible, through their healing;
PELACOR ARBALEST, strategically placed to attack twice with DOUBLE STRIKE;
Portal Spinner, in the last position to better exploit your shield, barring an eventual solitary SNEAK.
I thought this team was really good. There is a risk that the opponent will use the unicorn Mustang with tankheal, or Kelya with the snake that evades. But I am very hopeful that my strategy will prevail.

THE FIGHT
My opponent used MOTHER KHALA LVL 2, thinking it could power up his monsters with extra health. Used the BLINDING REFLECTOR tank, which has no special abilities. I notice that my team has 6 life points, and I deduce that it was due to the opponent using DJINN RENOVA. This is not an error, but as we will see, it is not a success story. The opponent made up his team with two SNEAK and one OPPORTUNITY, which compromises the situation of my PORTAL SPINNER.
Round 1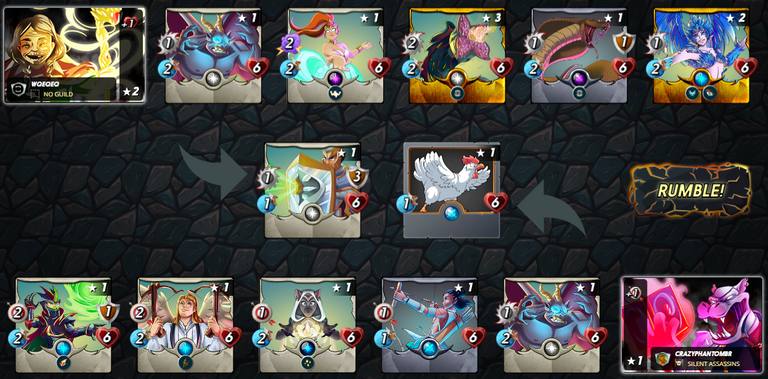 Note that the opponent has 8 life points, while I only have 6. The difference is due to the Mother Khala buffs associated with the Djinn Renova's ability. In the first round nothing extraordinaryit happens.
Round 2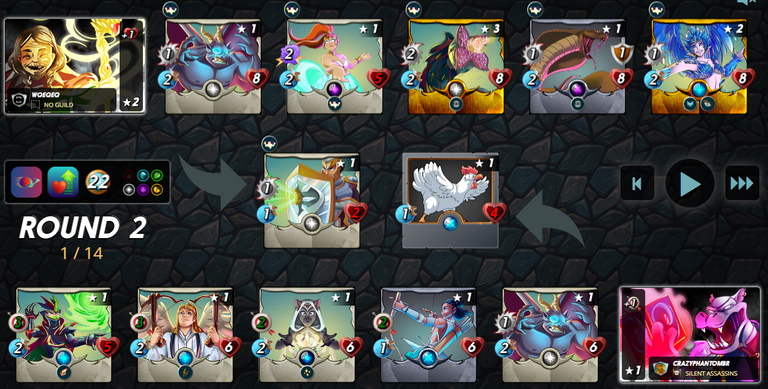 General Sloam's buff is definitely underrated by the opponent. We're about to take down your front line. Meanwhile, your SNEAKs couldn't stop our Portal Spinner which will do a lot of damage to the opponent.
Round 3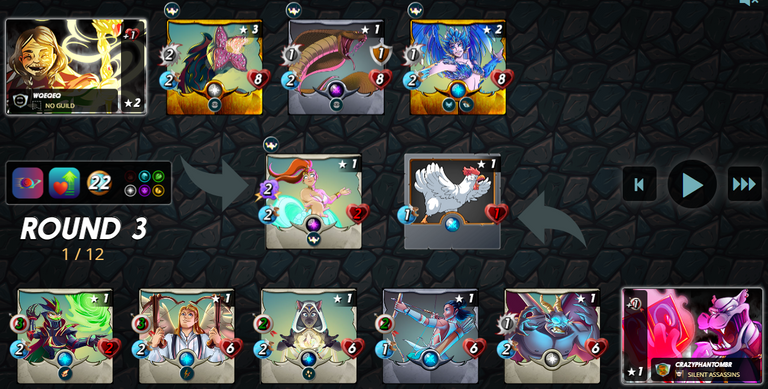 Two opposing cards are eliminated, while our angry chicken continues to sustain the front line, thanks to Venari CrystalSmith's Tank Heal. Our strategy clearly prevailed.
Round 4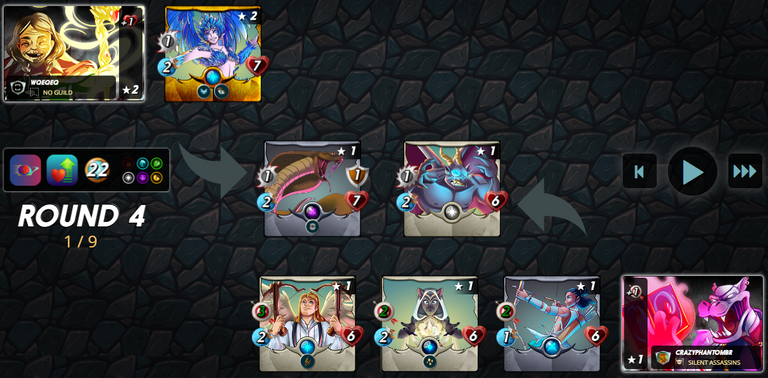 We lost Portal Spinner, but we guarantee the match. Enemy damage is 1 + 1 = 2 points per Round, while my Tank Heal is 2 points per Round. Victory is guaranteed.
Round 5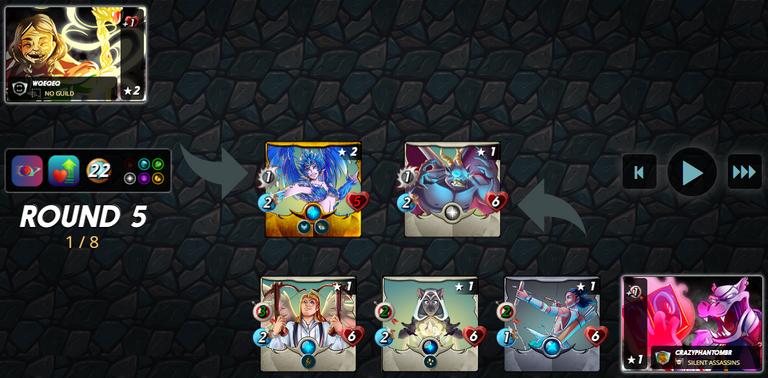 The fight ends in the hands of the Pelacor Arbalest.
The opposing team has drained of blood and withdraws from the battlefield.
Nothing more to do, I withdraw my almost complete team from the field, with only two casualties.
Result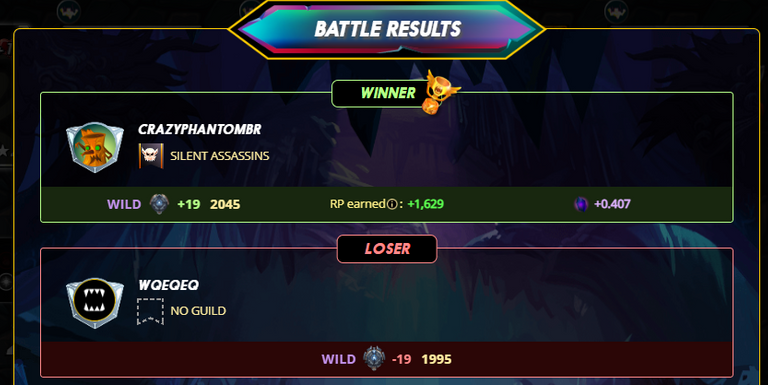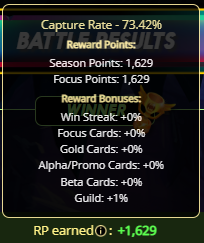 What happens here is that my ECR is in the 70% since I stopped insisting on playing only in SILVER league III and above as I am playing one day in BRONZE and one day in SILVER and testing the daily rewards.
Due to my Focus Point being FLY skill, I didn't get any bonuses. Still, 1,629 points from RShare. Low but help!
The battle took place in the SILVER III league, even though my rating is 2,000. I am no longer renting CP to play in the higher leagues. I see that my opponent is also around 1900 points, which seems fair.
---

What did you think of my fight? what would have changed? I won easily due to the great work of my team buffed by General Sloam. Portal Spinner's strategic position also contributed, and his shield secured him an extra round on the field, which was of great help.
If you liked it, leave a comment there about the fight.
If you still don't play Splinterlands come join the community!!! If you want, use my recommendation link:
https://splinterlands.com?ref=crazyphantombr
Thank you all so much and until next time!!!
---
---