Burning and Jumping the Gun in Splinterlands
Does Yea or Nay on these Proposals Matter? It's Now a Matter of Trust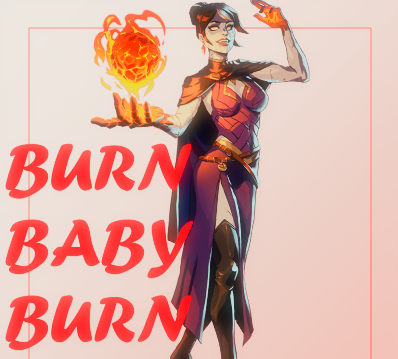 It's hard when you're always afraid
You just recover
When another belief is betrayed
So break my heart if you must
It's a matter of trust
-Billy Joel in A Matter of Trust
Trust is not absolute, it is a spectrum. There's trust in people and institutions that applies to different situations. There's also a level of trust that is held that requires one to consider the source in a given situation. Trust is a tricky thing as a loss of confidence or even trust in an individual or institution is incredibly hard to earn back.
"Trust the plan" and "trust the leaders" are common refrains, but one small slip-up or mistake can result in distrust and even outright hostility. There's a reason why large public companies hire Public Relations (PR) firms and in the past (less so in the present), public facing governmental employees had PR experience. There's a way to present information without destroying a brand, company or country.
Trust is not necessarily about dishonesty or nefarious behavior, it can be a matter of competence given a particular situation. Trust and confidence go together and when something is done to disrupt it, it is damaging regardless of intent.
Here we are with several votes in question being fired at the community by @sps.dao (basically Steem Monsters - referenced as "Corporate" in the rest of the article) asking to do different things in rapid succession.
Getting DEC value to peg ($.001 per DEC) has become a new priority.
It fits with the theme of Share of Customer emphases over player/participant growth in 2022. In the bear market, the decision has been to retrench, retreat, and wait for a new hype cycle rather than be proactive in targeting new target markets, which is basically anyone without an OpenSea account or the unfortunate experience of playing Axie Infinity. There's a level of contentment with the Treehouse of 10,000-14,000 Daily Active Users.
With the intention of returning DEC back to peg value, there were several proposals and actions taken:
Jawboning about the need to tighten DEC supply.
Chaos Legion pack burning discussion with a subsequent non-binding proposal.
Three new proposals geared toward tightening supply, two of which would provide DEC sinks.
The objective is to not necessarily discuss the proposals and the merits, but rather that two of these proposals were even made in the first place. It was an extreme lack of creativity and immediate change that shows a disturbing desperation and impulsiveness from "Corporate". It is much like the way the kneejerk $8 blue checkmark subscription fee proposal from Chief Twit, Elon Musk, eroded trust in his command of the company.
It should be noted that the community deserves blame for setting a precedent earlier by tolerating drastic ranked play changes in the middle of the season on two separate occasions.

People and organizations purchased validator node licenses with SPS and VOUCHERS and they made calculated decisions based on the value of SPS, their trust in "Corporate" to uphold value of the license and SPS, and the return on investment compared to other options. This proposal spits on the pre-planning, insults the prudence of the license holders, makes it easier for bot miners to entrench themselves into this ecosystem, and sends the message that "Corporate" will immediately change their minds in order to pursue a particular goal.
"Corporate" messaging matters less as everything is subject to change and now ecosystem participants have to hedge if they want to make a further financial commitment. What could possibly be next? Longer or shorter unstaking periods? The end of issuing out VOUCHERS? Seasonal subscription fees in DEC? Revising the SPS Whitepaper to inflate or deflate SPS? How far does this go?
The double-down came with the Riftwatchers proposal.

Another hasty proposal. More kneejerk ideas than your hare-brained uncle can come up with at Thanksgiving Dinner after 4 glasses of George Dickel on the rocks.
I'm in a hurry to get things done
Oh, I rush and rush until life's no fun
All I really gotta do is live and die
But I'm in a hurry and don't know why
-Alabama in I'm in A Hurry (And Don't Know Why)
Riftwatchers was released on September 22, 2022. Just over a month has passed since this release date.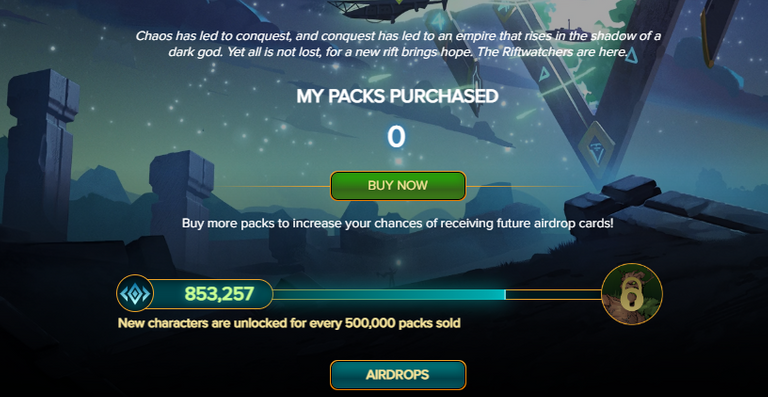 With 3 million packs to sell for 1 VOUCHER + $5 worth of SPS, there was a massive rush to purchase packs of this valuable set. However, to expect from a relatively small base that "Corporate" has not emphasized growing that this set would sell out immediately would be delusional. Only 853,257 packs were sold at this point. Now, by changing the payment method to DEC, people who unstaked their SPS to purchase Riftwatchers packs en masse lose. The value of the presale has diminished. No amount of Oshuur Constantias can make up for this.
All with the stated objective to reduce DEC supply. What a quick turnaround. Many would have kept their SPS staked if they knew that the purchasing method was going to change or that such a change was to take place.
This sort of a kneejerk response encourages people to not be early adopters and to buy packs or cards late at a massive discount. Impatience and fecklessness are what causes this to happen.
FOMO is for suckers, this is a patient person's game.
Why Not Wait Until a Massive DEC Sink Gains Momentum?
What is a massive DEC sink that is set to be enhanced considerably by a proposal passing soon? Guild buildings.

Remember how SPS rewards were reallocated to push rewards up toward the top? Did you know that vote was made before "Corporate" realized there was a massive win trading problem infecting Bronze and Silver Leagues? Changes were made and the number of battles decreased by 33%.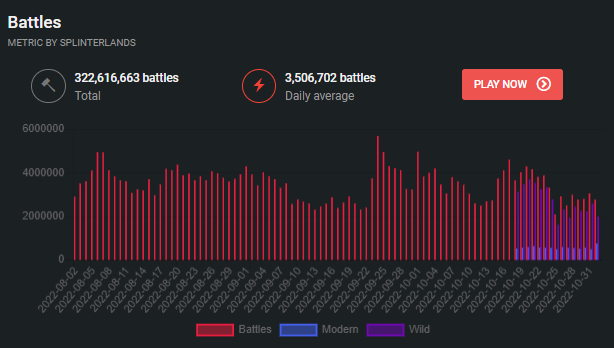 This would have been helpful to know prior to making such a change. Requests for data are now starting to become the norm, but the only way to receive it is on Discord.
In this current situation, the prudent decision would have been to let the SPS Brawl Proposal go through and see what happens next. This proposal was expected to pass before it was ever published. Now, that it is going to pass with likely 87% of the weighted vote, it's important to see what guilds do in response.
Guilds will build up their halls, arenas, barracks, and stores in order to reach higher heights. This all will result in greater SPS rewards and Collection Power through Gladius cards. Three of these buildings require DEC and crowns (Guild Halls just require DEC), which means that the passage of this proposal could have went a long way in shrinking the DEC supply without ever putting forward a desperate, kneejerk proposal.
Getting to the elusive Tier 3 requires 320,000 DEC at a minimum. Those who actually want to be competitive will need to sink at least 1.59 Million DEC into buildings. The motivation to build is now here, it's actually going to happen. SPS Rewards for Brawls are no longer a speculative event to happen, they are going to happen soon.
Of course, the biggest DEC sink has yet to be released - LAND.
What is the harm in waiting to see happens next?
Can "Corporate" handle a failed proposal like reasonable adults? No lashing out, no blame game. That's a different discussion, but recent actions point to trust has been eroded because they want to change the rules of engagement in the face of any adversity and precedents have been set. The only thing for sure is that nothing is for sure.
The community now knows that hasty changes and compensatory short-term fixes are always in the cards. More will err on the side of caution. It's a matter of trust.
---
---