The Dirty Rental Market Not-So-Secret in Splinterlands...
High Rental Revenue is Derived from Win Trading Bot Farms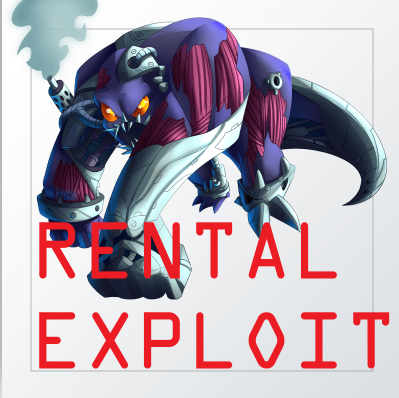 End of Season is a bit like Christmas as it is an opportunity to overcharge with rentals and then receive End of Season Rewards. However, nobody stops to ask who is actually paying for 5 DEC for a 1 BCX Scavo Hireling or 10.5 DEC for a 1 BCX Xenith Archer. The answer is that the ones who are paying are not only bots, but they belong to the largest bot farm in the ecosystem that happens to engage in win trading.
1 BCX Neutral Cards have surged in value on the rental market.
To be more specific, starter neutral cards have jumped in value on the rental market and there are a few reasons behind this.
The starter card penalty has forced bot farming accounts to rent 1 BCX cards to prevent the starter card penalty from being incurred.

Bot farms that are engaged in win trading and not engaged in win trading need to fill decks with starter cards to execute the strategies necessarily for Bronze and Silver League play.

Neutral cards can be played with any splinter and are playable with almost every rule set and focus.

Permissions and pricing from bot owner settings that are passed along in the authorizations put a greater price priority on getting neutral cards.
An ecosystem participant named 'denmarenting' picked up on this trend and shrewdly rents out overpriced Xenith Archers, 369 of them in fact, to bot farms.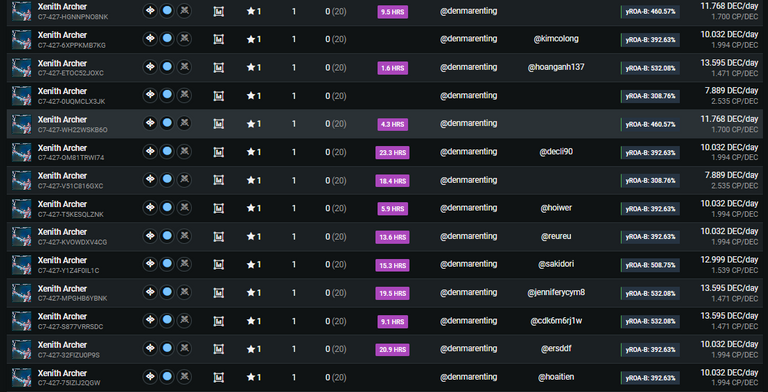 It may sound crazy, but 'denmarenting' is generating a 372% Return on Assets.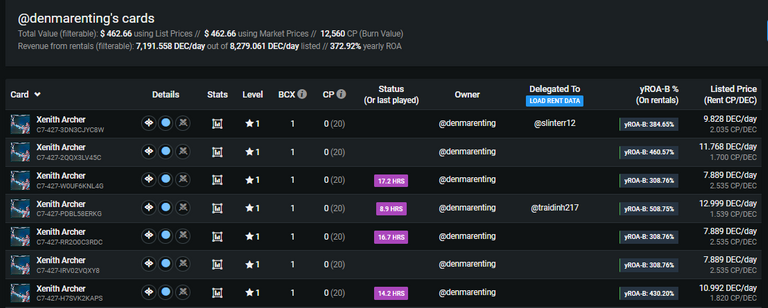 Is 'denmarenting' on the side of good or bad here? Believe it or not, 'denmarenting' is on the side of good, especially for those who are anti-bot farm. It's an opportunity to profit off the extractors from the game that are harming the game play experience. Higher cost of rentals combined with a commitment to selling at the absolute lowest price hurts the bottom line for the "A-Team" win trading bot farm.
In the first image, there are 10 rental transactions going between 10.032 DEC and 13.595 DEC per day for a 1 BCX Xenith Archer.
Here's a look at what 'kimcolong' is doing with the cards to give an idea of where this is going.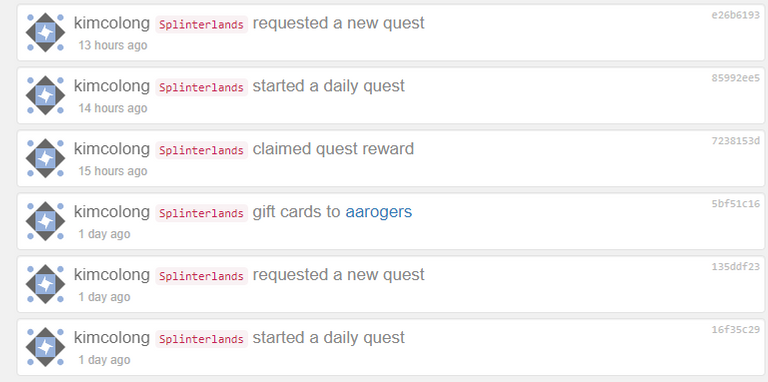 'aarogers' is a selling account for the A-Team, a known and exposed win trading bot farm.
Here's a recent match featuring 'kimcolong':

Looks like an innocent match, right? There's no blank team being fielded, but wait a second... What is with this matchup?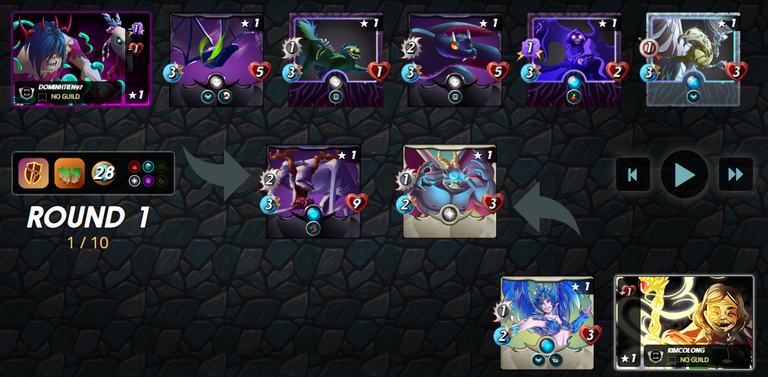 It's a Classic "Share Your Battle" post that would never get an $15-$35 upvote for the Splinterlands team. It's the most common type of match in Splinterlands, a win trade. Are these two accounts affiliated?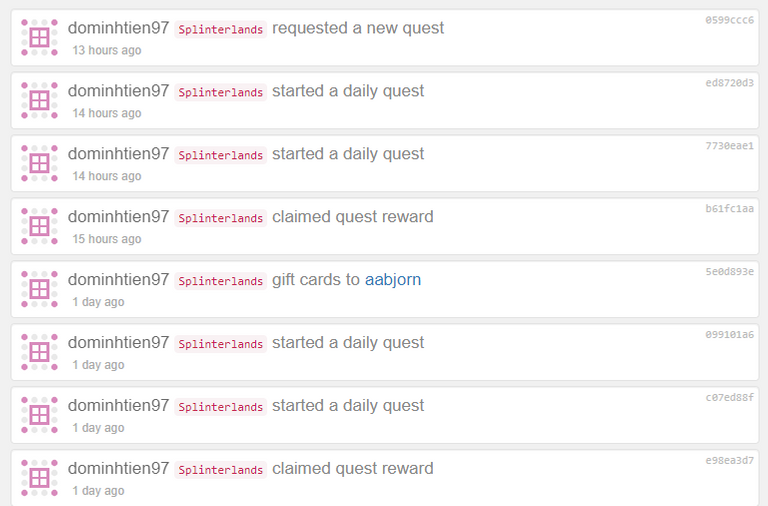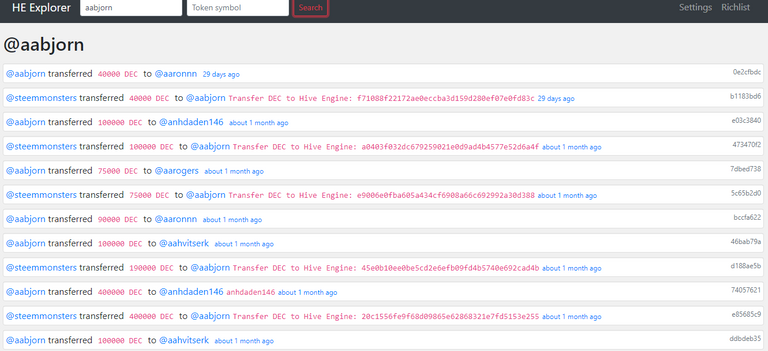 Not only is 'denmarenting' clearing 7,191 DEC a day in rental revenue, this rental account is probably a HERO (don't milkshake duck us). Those who assert that win trading is gone or that this has been addressed are either lying or willfully ignorant.
Imagine if the majority of Splinterlands matches were the equivalent of this? How would you feel about the game? Wouldn't you want an audit?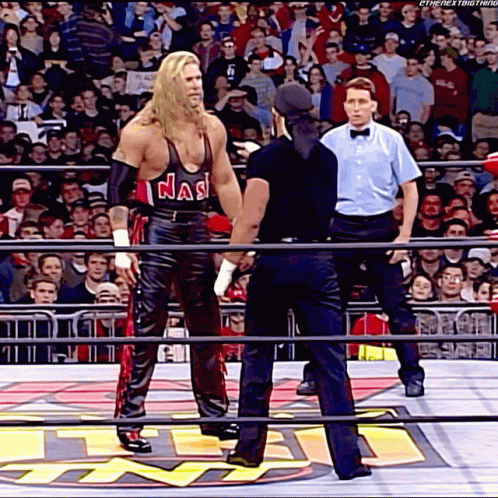 Source of the Fingerpoke of Doom
Keep Gouging the Bot Farms
Here's a suggestion for @peakmonsters, enable users to create whitelists or blacklists for rentals to enable human participants to get lower rental prices and bot farms to get much higher prices. A two-tier price model based on inputs by the user that can be copied much like Hive's blacklist or mute list may be a solution. Power users like @azircon and even @jarvie have tried to prevent themselves from renting their cards to bots in general.
Gouging the bots will harm their bottom line and enrich YOU. The impact may have been felt to an extent already, but it is still too early to tell. There was a time when the Top 50 of DEC holders were the "A-Team" dedicated seller accounts.
Getting the win trading bot farms out of Splinterlands will lead to card appreciation, improve the gameplay experience, and improve corporate partnership possibilities.
Aggroed and the development team have preached decentralized solutions and have been ambivalent on the matter of bot farms. However, price gouging and two-tier models from popular 3rd parties can squeeze the win trading bot farm organization.
There was a time when the Top 50 DEC holders were filled with the "A-Team" seller accounts that are familiar names ('Aaronnn', 'Aafloki', 'Anhdaden146', 'Aarogers', etc.) to Splinterlands marketplace participants. Now, it is just 'Dhoangphat1' left ranked at #86. Are the rental changes and rewards changes having an impact on this botnet operation? Only time will tell.
---
---