La fuerza de Daria Dragonscale en la batalla / Daria Dragonscale's Strength in Battle [ESP/ENG]
Español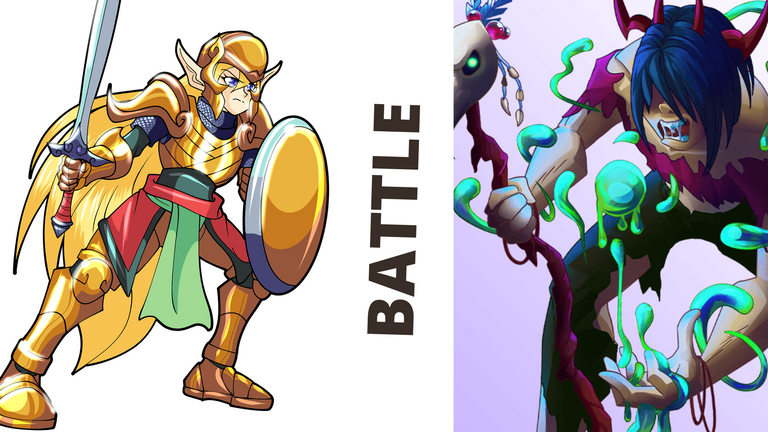 En lo que respecta a la batalla, el mazo de dragones no se queda atrás y la invocadora Daria Dragonscale es la elegida para el desafío de esta semana. Si aún no la conoces, debes saber que es una increíble invocadora de baraja de dragón épica que otorga +1 ataque cuerpo a cuerpo a todas tus cartas en la batalla y es como si dijeran que el ataque es la mejor defensa.
En la batalla elegí tener tantas cartas cuerpo a cuerpo como fuera posible para poder sacar el máximo provecho de este invocador, así que las cartas fueron:
Invocador: Daria Dragonscale
Otorga +1 ataque cuerpo a cuerpo a las cartas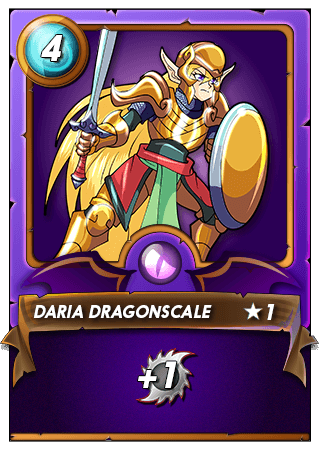 Primera posición: Djinn Chwalla
Tiene la habilidad espinas que inflige 2 daños a las cartas cuerpo a cuerpo cuando atacan a esta carta y será una gran carta para infligir daño y defender.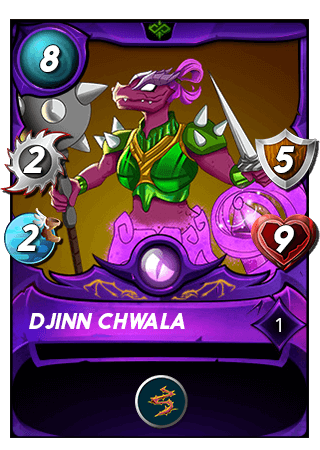 Segunda posición: Manticore
Tiene la habilidad Alcanzar que le permite atacar desde la segunda posición y la habilidad Volador que aumenta sus posibilidades de esquivar ataques de cartas que no tienen esta habilidad.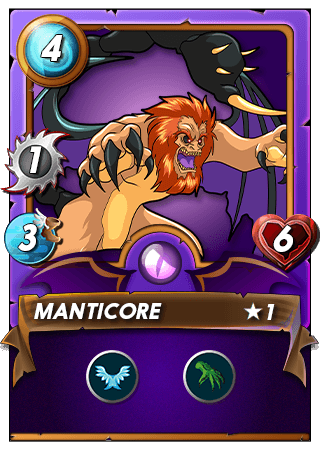 Tercera posición: Serpentine Spy
Tiene la habilidad Oportunidad que lo hace atacar la carta enemiga con la salud más baja.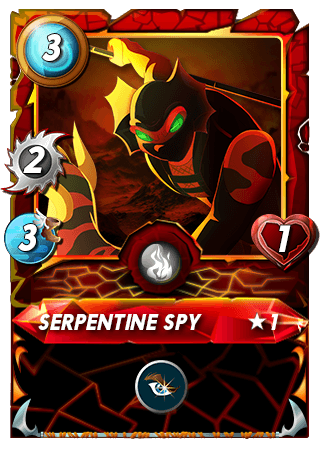 Cuarta posición: Goblin Fireballer
Carta a distancia sin habilidades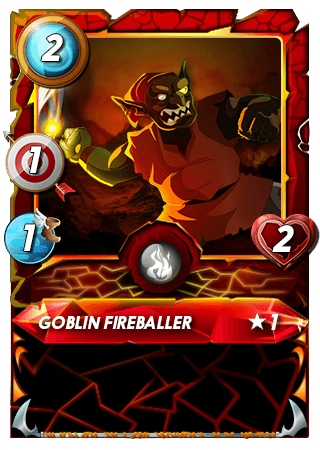 Todas las cartas utilizadas en esta batalla eran de nivel 1 y la batalla se llevó a cabo en la liga de bronce 3 y sin reglas.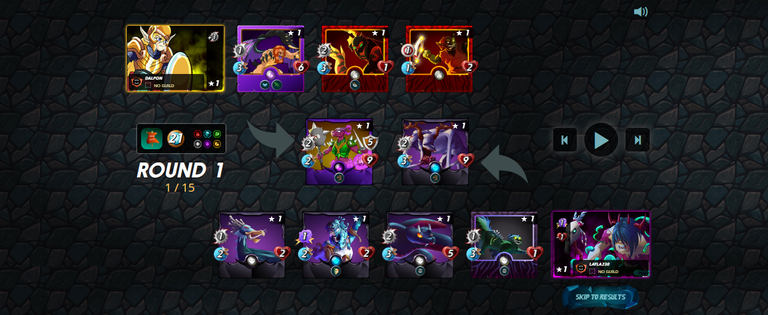 En la batalla mi oponente usó el Summoner Thaddius Brood el cual reduce el ataque mágico y la salud de las cartas enemigas en 1, en la primera posición tiene el Cursed Windeku el cual al igual que mi Djinn Chwala tiene la habilidad espinas, en la segunda posición tiene el Undead Badger con la habilidad Furtivo, en tercer lugar Silent Sha-Vi con la habilidad Furtivo, en cuarto lugar el Life Sapper con la habilidad sanguijuela de vida que le hace cobrar vida al atacar una carta y en quinto lugar el Carrion Shade.
La reducción del ataque mágico no me afectó en esta batalla y haber elegido un invocador que aumenta el ataque de mis cartas fue muy útil porque mi oponente tiene poca defensa.
Pero la gran estrella de la batalla fue el Djinn Chwala que tiene mucho ataque y mucho escudo, además de la habilidad espinas que fue la que garantizó la victoria porque la mayoría de las cartas de mi oponente son cuerpo a cuerpo, por lo que sufrieron mucho con esta habilidad
La batalla duró 4 rondas donde la mayoría de mis cartas fueron derrotadas muy temprano, pero al final quedó con Djinn Chwala y Manticore que terminaron la batalla con una gran victoria.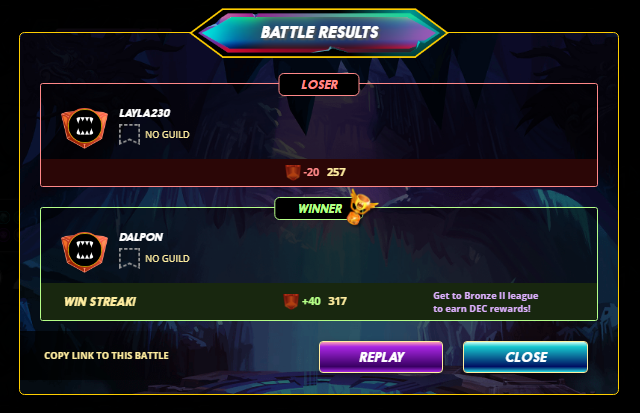 Aunque Djinn Chwala se destacó mucho en la batalla, la invocadora Daria Dragonscale fue sumamente útil porque si no fuera por ella aumentando el ataque de mis cartas cuerpo a cuerpo el resultado podría haber sido diferente, por lo que es una excelente opción para las batallas de barajas de dragones

English
When it comes to battle, the dragon deck is not far behind and Summoner Daria Dragonscale is chosen for this week's challenge. If you don't know her yet then know that she is an amazing epic dragon deck summoner that grants +1 melee attack to all your cards in battle and it's like they say attack is the best defense.
In the battle I chose to have as many melee cards as possible so that I could get the most out of this summoner so the cards were:
Summoner: Daria Dragonscale
Gives +1 melee attack to cards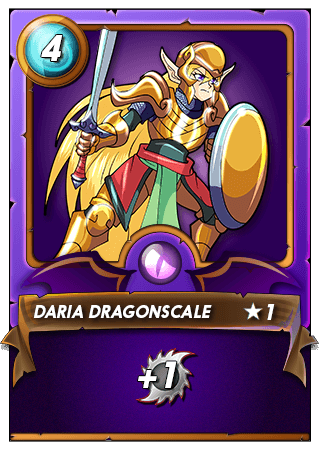 First position: Djinn Chwalla
It has the Thorns ability that deals 2 damage to melee cards when they attack this card and will be a great card to deal damage and defend.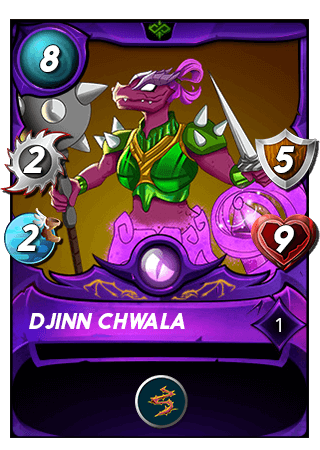 Second position: Manticore
It has the Reach ability that allows him to attack from second position and the Flying ability that increases his chances of dodging attacks from cards that don't have this ability.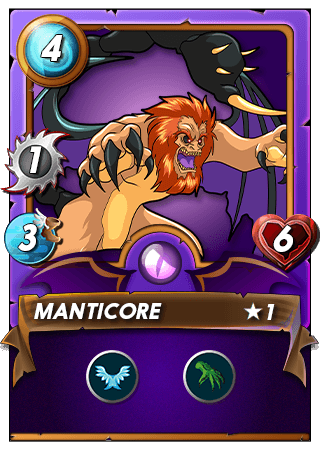 Third position: Serpentine Spy
Has the Opportunity ability that makes him attack the enemy card with the lowest health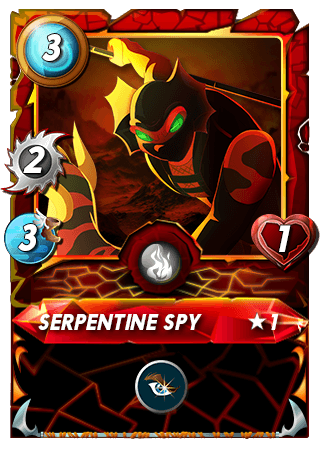 Fourth position: Goblin Fireballer
Ranged card without abilities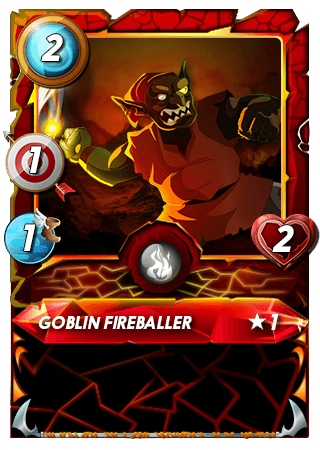 All cards used in this battle were level 1 and the battle took place in bronze league 3 and without any rules.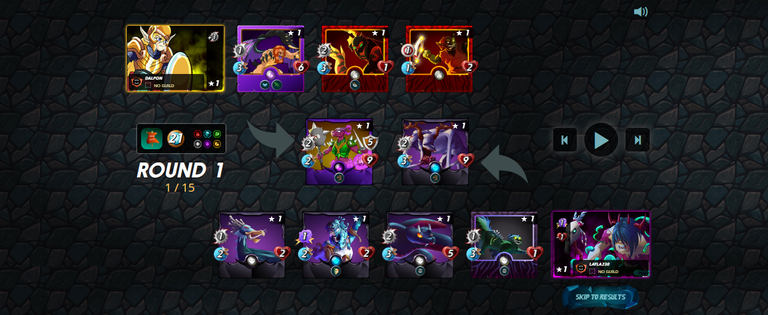 In the battle my opponent used the Summoner Thaddius Brood which reduces the magic attack and the health of enemy cards by 1, in the first position he has the Cursed Windeku which just like my Djinn Chwala has the Thorns ability, in the second position he has the Undead Badger with the Sneak ability, in third place Silent Sha-Vi with the Sneak ability, in fourth place the Life Sapper with the Life Leech ability that makes him come alive when attacking a card and in fifth place the Carrion Shade.
The magic attack reduction didn't affect me in this battle and having chosen a summoner that increases the attack of my cards was very useful because my opponent has low defense.
But the big star of the battle was the Djinn Chwala who has a lot of attack and a lot of shield, in addition to the Thorns ability that was what guaranteed the victory because most of my opponent's cards are melees, so they suffered a lot with this ability.
The battle lasted 4 rounds where most of my cards were defeated very early, but in the end it was left with Djinn Chwala and Manticore that ended the battle with a great victory.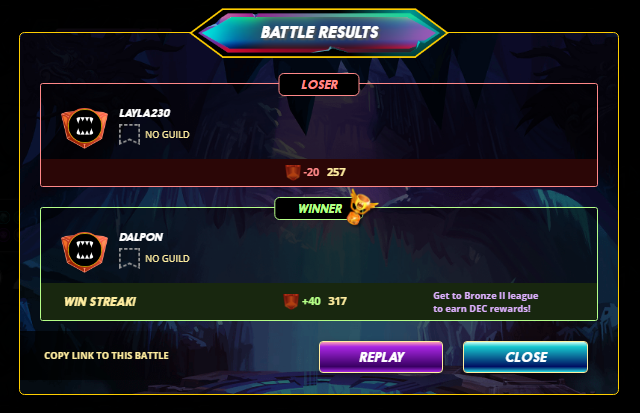 Although Djinn Chwala stood out a lot in the battle, summoner Daria Dragonscale was extremely useful because if it wasn't for her increasing the attack of my melee cards the result could have been different, so she is an excellent choice for dragon deck battles.
---
---